Zignaly copy trading bot review; How to use?
#investment
#cryptocurrency
#cryptomarket
#zig
tl;dr
If you're looking for an automated platform that enables its users to copy the trading methods of crypto bigshots to minimise the risks and maximise the profits, Zignaly is the one! Zignaly is a profit-sharing platform which uses bots to provide automated crypto trading. Making use of a cloud-based platform, Zignaly offers various levels of automation, and users can have their own automated strategies. This platform is free, and you can keep all the benefits for yourself! Let's read this article to find out all about Zignaly.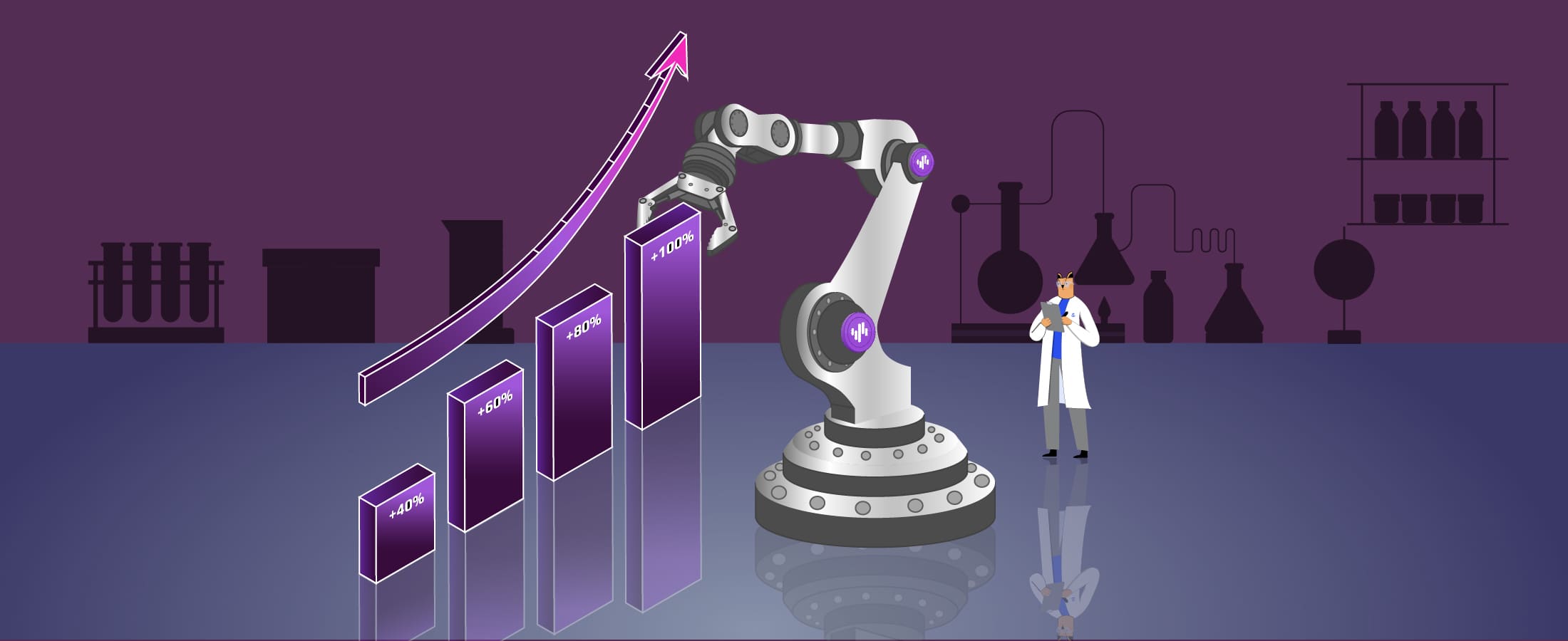 How do you rate this post?
Zignaly Top Pros and Cons
Zignaly isn't a forex trading bot. It is a crypto bot wealth management platform that aims to provide fair access to promising trading strategies and investment products for everyone. Before delving deep into Zignaly, let's quickly check its most significant positive and negative points.
Zignaly Pros
Free of charge
Easy access and usage for beginner bot traders
Various signal providers
Limitless coin pairs
Zignaly Cons
Supporting limited exchanges
Having better competitors
Zignaly Unique Features
In addition to supporting staking options, the Zignaly platform provides three main features at its core, i.e., copy trading, trading bot, and trading terminal, which will be elaborated on in the following.
Zignaly Copy Trading
If you're new to crypto trading, Zignay copy trading can be a great start for you. It is a tool that helps crypto beginners automatically copy experts' trading methods and let them do the hard work.
The users only need to connect their exchange account, select the trader they'd like to copy and set the maximum amount of funds. Zignaly ensures that the users' activities are the same as the expert they've chosen and will reach the same results.
To use copy trading, the users pay some fee to the trader, and the profile of each trader shows their reviews and success rate. In case you are an expert trader yourself, you can use Zignaly and be a trader others copy by letting others use your strategies.
Zignaly Trading Bot
Using Zignaly's trading bot, the users can apply their strategies or use a provider's strategies on auto-mode and trade automatically. Using Zignaly's trading bot enables access to unlimited pairs of coins, multi-targets, DCA rebuy strategies, getting sell signals, and more.
Zignaly Trading Terminal
The trading terminal is a bot on Zignaly that can be set to the users' specifications and enables 24/ 7 trading.
Is Zignaly Really Free?
The short version is yes, Zignaly is free to use! However, there are some things you need to know. Zignaly used to offer a 30-days free trial and a small subscription fee after that, but currently, it is free to create an account on this platform.
The free account gives access to exchanges, coin pairs, trading positions, and priority support. Crypto signals are also free on Zignaly, but to use the extra signals from trusted and tried providers, you need to pay.
The free signals are also useful and profitable, and even without them, you can trade and gain. Generally, Zignaly charges reasonable prices, up to $20 per month, for the paid options and trading strategies it offers.
Zignaly Exchanges
As mentioned earlier, Zignaly has significant positive points; however, like any other crypto project, it suffers from some drawbacks.
Maybe its biggest drawback is the limited number of exchanges it supports. Zignaly is working on adding more exchanges, but currently, there are five, including Binance, KuCoin, Bittrex, Poloniex, and BitMEX.
How Does Zignaly Share The Profit?
Zignaly is a profit-sharing platform, and simply put, the profit will be shared among the trader and users. Imagine the trader puts in $2400, and users invest $800, $480, and $320, respectively.
Out of the possible $5000 profit, $3000 goes to the trader who takes all the risks and knows the tricks of the trade. Depending on the amount of investment, each user gets a share.
In this example, the users will receive 20%, 12%, and 8% benefits, i.e., $1000, $600, and $400, respectively. The following visual indicates how Zignaly shares profits.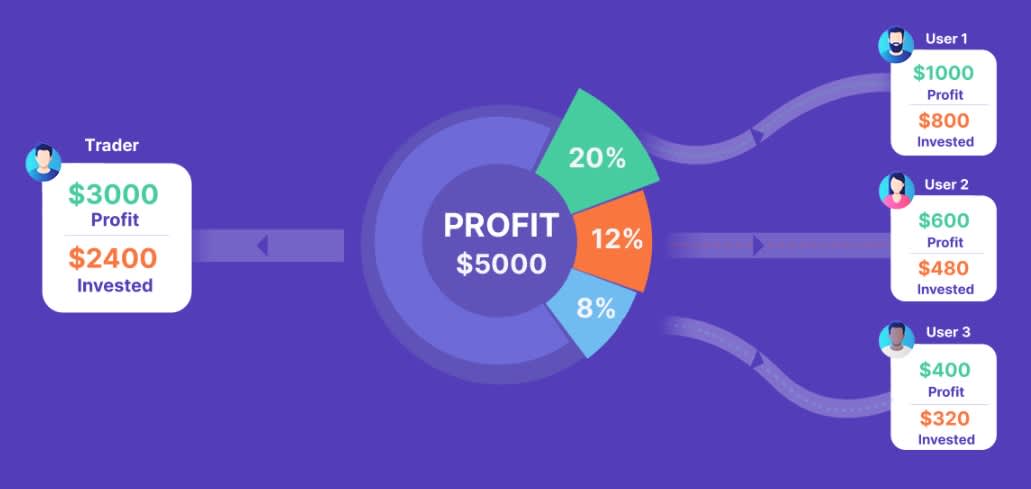 Zignaly Profit-Sharing or Copy Trading?
Each of these two methods, i.e. profit-sharing and copy trading, has its advantages and users can choose based on their priorities.
Copy trading is simply imitating the strategies used by experienced traders, and the user's gains follow the same order as the trader's.
However, in profit-sharing, the users and the trader work together, i.e., both the users and the trader invest, the trader takes care of the trade, and the profits are shared among them in the end. Also, profit-sharing can have the following benefits:
No minimum funds: Users can invest even one dollar.
No monthly fees: Fees are paid after gaining the profit, not monthly.
Full asset control: Users can decide to continue or withdraw.
Any-time Withdrawal: Users can withdraw at any time they wish and are charged with no fees for deposits or withdrawals.
Minimised risk: Users copy various strategies at the same time.
Curated marketplace: All services and providers are manually reviewed to increase safety and trust.
How secure is Zignaly?
Being a non-custodial platform, Zignaly will ensure security by protecting the funds with exchange insurance, using its internal insurance that covers up to $5M, and avoiding selling user data to third parties.
Zignaly Token (ZIG)
ZIG, the utility token of the Zignaly ecosystem, was launched in mid-2018 in private beta. ZIG can be used in crypto trading like other cryptocurrencies and also to pay for services, success fees and discounts, receive trading fee cashback and participate in the Zignaly vault. Using ZIG tokens and holding them can benefit the users as follows:
ZIG holders get rewards in ZIG and other tokens from external collaborations of Zignaly.
Paying trading fees with ZIG results in 15% cashback.
Paying success fees in the profit-sharing service will bring up to 6% discounts.
Disclaimer: Don't take this article as financial advice. You need to DYOR (Do Your Own Research) before investment.
Zignaly Financial Analysis
Compared to the crypto projects listed on Coingecko.com, Zignaly holds the #616th market cap rank today, on May 1, 2022. Zignaly's price today is $0.029320915453, with a 24-hour trading volume of $404,212.
In the previous 24 hours, ZIG's price has been down -6.3%, with a circulating supply of 0 ZIG coins and a total supply of 2 Billion.
Zignaly hit its all-time high about a year ago on Apr 15, 2021, at $0.224179, but about five months ago, on Dec 21, 2021, it experienced its all-time low at $0.02047904. Currently, AscendEX (BitMax) is one of the most active exchanges to trade Zignaly.
Zignaly Roadmap
Zignaly was co-founded by a young team of three entrepreneurs, Abdul Rafay Gadit, David Rodriguez Coronado, and Bartolome R Bordallo.
Zignaly has released its technical roadmap for Q2 2022, which you can see in the following graph retrieved from the Zignaly website. To check the roadmap details, you can visit Zignaly on Medium. Also, Zignaly has released a product roadmap, which is available on Trello.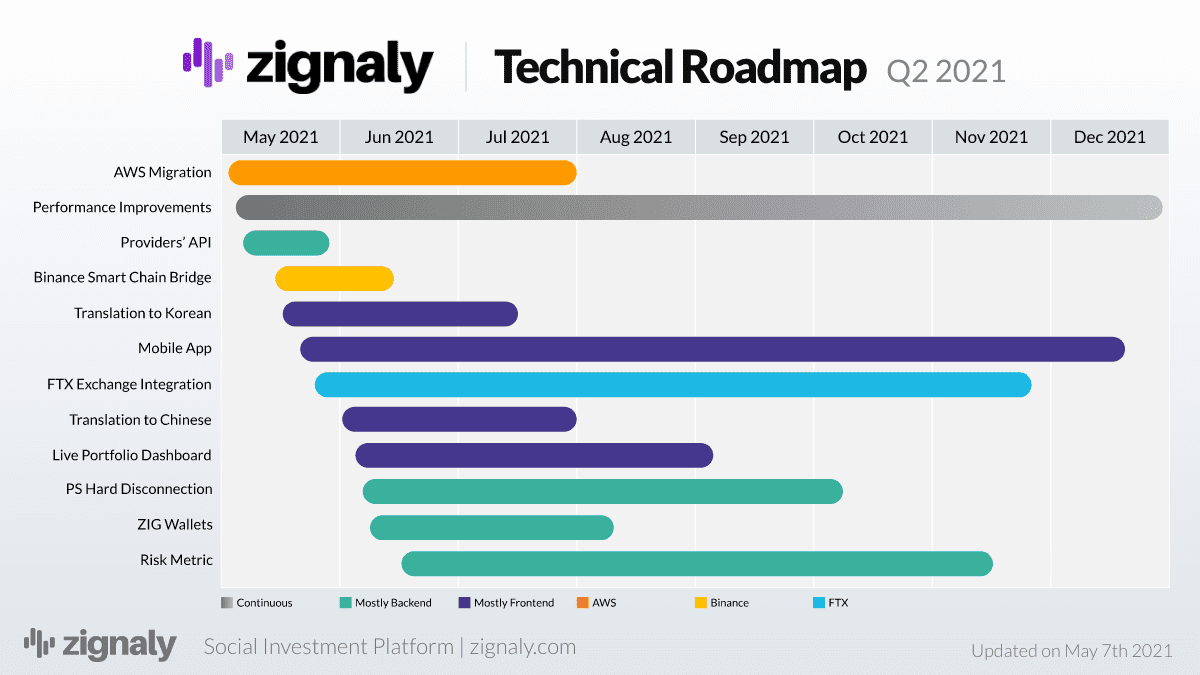 Should I Invest In Zignaly?
Zignaly seems to have taken care of some basic problems in crypto trading, the platform is simple and straightforward, and the roadmap looks promising.
However, Zignaly is a new project and cannot be regarded as a short-term investment option, and predictions based on its recent performance indicate a sell.
The point you shouldn't forget is that crypto is too volatile, and things change in a flash. To stay on top of your game, you can increase your crypto knowledge by coin reviews, hot news, and educational content provided for educational purposes only here at Cryptologi.st.
How do you rate this post?