Yieldly Price Prediction 2025 and 2030, Is Yieldly A Good Investment?
#investment
#cryptocurrency
#defi
#amm
#blockchain
#yldy
tl;dr
The Yieldly price prediction 2025 and 2030 depends on various factors like its products and services, including Yieldly's No-Loss Prize Games, YLDY Staking and YLDY Cross-Chain Swapping. Keep reading to learn about the Yieldly ecosystem and find answers to "Is Yieldy A Good Investment?" and " What Problem Does Yieldly Solve?".
How do you rate this post?
What Is Yieldly Protocol?
Yieldly price prediction 2025, like any other token's price, is directly related to the technology and idea behind it. Making the lightest and fastest digital asset exchange accessible across all major chains, Yieldly describes itself as a DeFi staking platform on the Algorand blockchain and benefits from the user experiences of Algorand and the DeFi community.
What Problems Does Yieldly Solve?
Yieldly price prediction 2025 is directly related to the problems the platform solves. But what are the issues? Yieldly is closely connected with Algorand, and Algorand provides a Proof-of-Stake security model to solve the blockchain trilemma.
But the users want more! They want more liquidity and utility for ALGO tokens. The problem, however, is the lack of the smart contract layer, which developers can build upon.
Also, the DeFi community needs bridges between Decentralised Exchanges (DEXs) to provide liquidity across the ASA chain and other prominent chains like Ethereum, Polkadot and Binance. This is where Yieldly comes into play!
What Is Yieldly Token?
Offering a suite of DeFi products revolving around trading digital assets and earning investment income, Yieldly allows users to earn crypto investment income by staking the native token, YLDY.
The next sections will explain Yieldly token price history and Yieldly token price prediction 2025. Keep scrolling!
Yieldly Price History
Considering Yieldly's price history, we are witnessing that the token came into the picture with an initial price of $0.007 on Jun 28, 2021.
The token's value has decreased by 48.68% over the last 30 days, and its Coinmarketcap ranking went from #1120 to #4725 within the previous six months.
At the time of writing this article, on Dec 6, 2022, each Yieldy token is worth about $0.00016, with a 24-hour trading volume of $10,288.84.
Yieldly Token Financial Analysis
Considering Yieldly's tokenomics, ROI, Marketcap, ATH and ATL, we will find out how the token is doing financially.
Yieldly Tokenomics
Yieldly has a total supply of 10,000,000,000 with the same maximum. The following pie chart indicates how Yieldly tokens are distributed within the platform.
Expansion & Partners - 11.5%
Private Seed Sale - 11.105%
Private Strategic Sale - 11%
Floating Liquidity For Exchanges - 3.79%
Yileldy Token Distribution
ROI
In cryptocurrency and blockchain, ROI stands for Return on Investment and refers to the amount of money you could earn or lose investing in some asset during a certain time.
Let's see how much ROI Yieldy has brought for investors.
Looking at Yieldly's price chart, we can see the token was dreadfully down over the past year with a -%99 ROI. It's clear that investing in Yeildly would leave you with nothing!
Considering Yieldly's growth rate during the past month, we can see the token was %41 down, and by investing $100 in Yieldly, you would lose $60 of your funds!
MarketCap
At the time of writing this article, on Dec 6, 2022, the market cap for the Yieldly token is about $5,287,800. However, Yieldly financial analysis indicates that its current market cap ranking is unavailable.
ATH and ATL
Yiledly touched its All-Time High at $0.033 on Dec 23, 2021. Yieldly's current price is 92.1% lower than its All-Time High but 5.646048346453127e+25% higher than its All-Time Low of $0.000000000000000000 on Jul 24, 2021.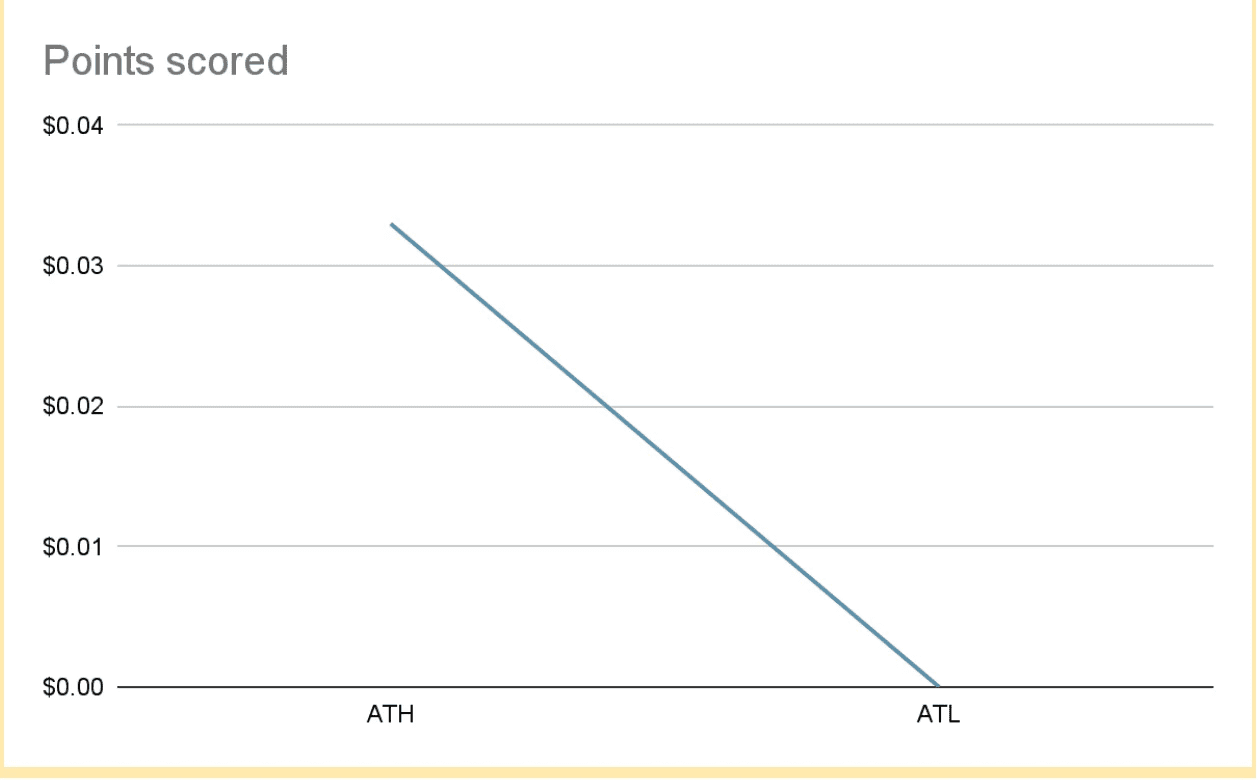 Yieldly Token Token Fundamental Analysis
Keep reading to see who is in the background of Yieldly and then consider crypto experts' opinions on the Yieldly price prediction 2025 and the following years.
Team
Yieldly was built by a young team of developers and entrepreneurs. Sebastian Quinn is the Co-Founder and CEO of Yieldly, who gained experience in blockchain and DeFi in companies like Bluzelle and Power Ledger.
The COO of the project is Kristy Bayley, who is experienced in business optimisation and engagement, capital raising and acquisition integrations and delivering cybersecurity projects like ISO27001 accreditation.
Is Yeildly Secure?
Yieldly conducts regular audits to ensure the security of the smart contracts. Yieldly's native smart contracts are written in TEAL (Transaction Execution Approval Language) and independently audited by Halborn and Runtime Verification, and Algorand Foundation conducted the peer reviews. Yieldly gets help from CloudFlare to protect its applications and public APIs.
Yieldly Roadmap
From the following image, you will find out what Yieldly has done until now and the road ahead of the project.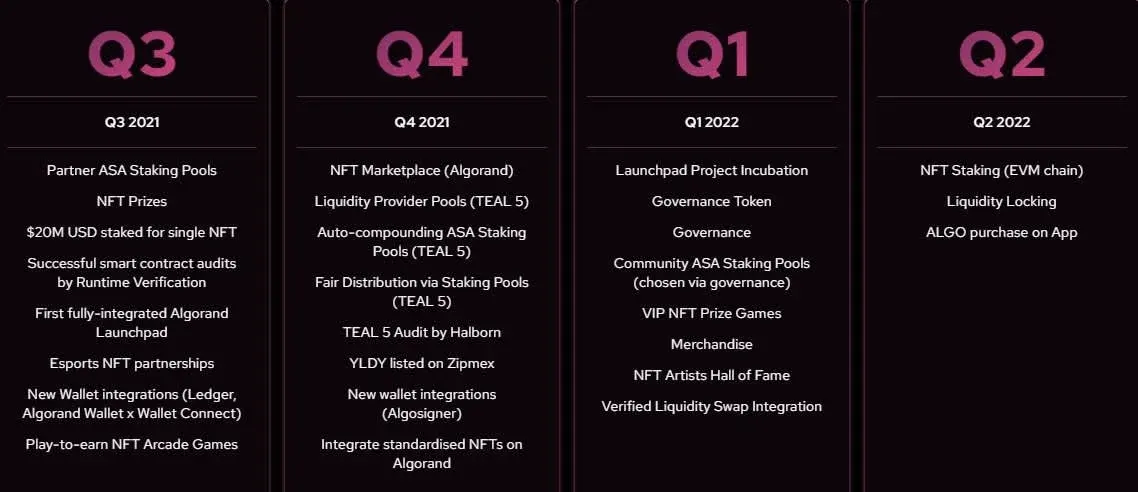 Yieldly Token Price Prediction 2023
According to the data from price actions and financial charts for Yieldly price prediction 2023, the token can reach a maximum value of $0.00018, an average price of $0.00017 and a minimum of $0.00013 in 2023.
Yieldly Token Price Prediction 2024
The average price of each Yieldly token is predicted to be $0.0051, with a minimum of $0.0044 and a maximum value of $0.00054 In 2024.
Yieldly Token Price Prediction 2025
Some crypto experts predict that the minimum and maximum prices of each YLDY token can reach $0.005 and $0.006, respectively, with an average price of $0.005 in 2025.
Yieldly Token Price Prediction 2030
Market analysts and experts predict that the Yileldy token will start the year at $0.00020 and reach an average price of $0.00021. It is also expected that Yieldly's price could come to $0.00215 at its highest.
Yieldly Price Prediction 2023 To 2030
The following table indicates how the value of the Yieldly will change from 2023 to 2030.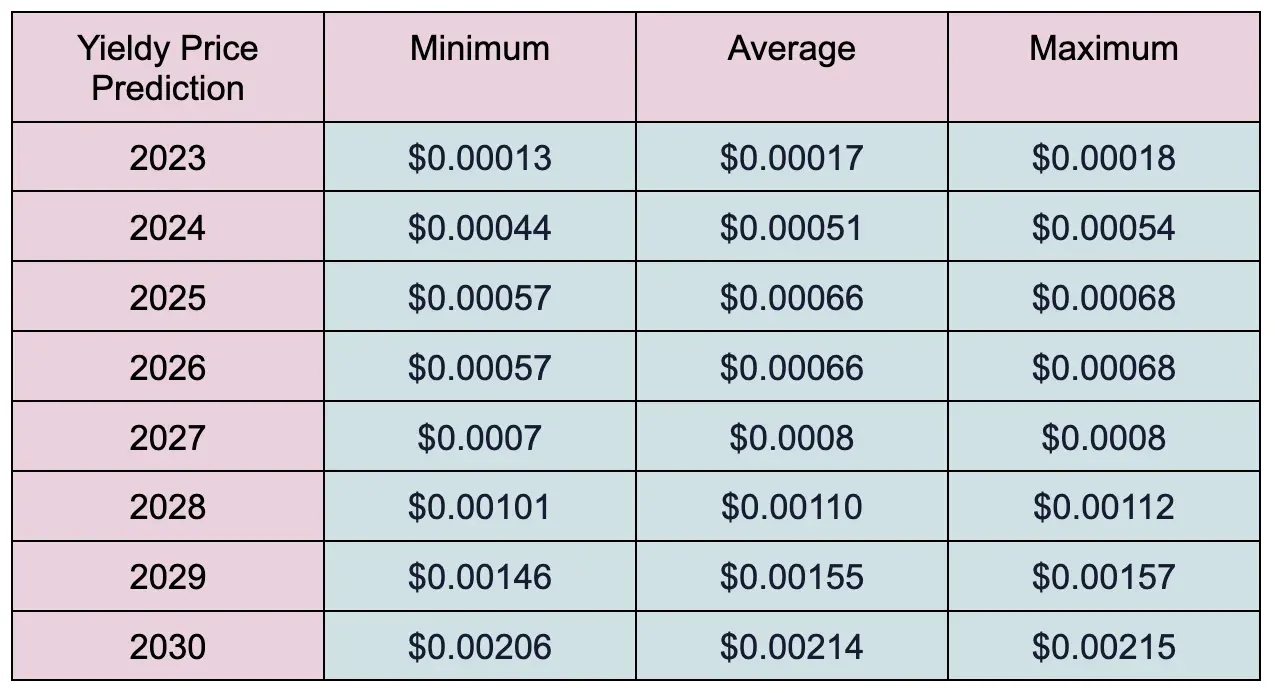 Is Yieldly A Good Investment?
That's all about Yieldly price predictions 2025 and 2030. We've witnessed that investing in Yieldly tokens over the past year would result in losing %99 of your money! Not so profitable, right?!
Yieldly's current market cap ranking, liquidity score and the number of transactions are unavailable.
These points of concern with Yieldy and its free fall in value and the lack of any roadmap for 2023 affect the Yileldy price prediction 2025, and we can't recommend Yieldly as a promising short-term investment.
FAQ
The following Q&As help you get a clear picture of Yieldly price prediction 2025 and see if Yieldly is a good investment.
Will Yieldly Be On Coinbase?
The token has not been listed on Coinbase up to now, and considering the current performance, it's not likely to happen soon.
What Will The Price of Algorand Be In 2030?
Algorand has the potential to reach an average price of $3.33, with a maximum price of $3.38 and a minimum value of $3.23.
How Many Yieldly Coins Are There?
The total supply of Yieldly consists of 10 Billion tokens. Yieldly's circulating supply is not available.
Is Yieldly On Binance?
No. Yieldly has not been listed on Binance yet.
How do you rate this post?