Yieldly Price: Will Yieldly Fly To Moon?
tl;dr
Yieldly is a new look to how value is exchanged across chains and hopes to bring changes using Algorand as it enables faster trades with more security and lower fees. The Yieldly price depends on various factors like its products and services, including Yieldly's No-Loss Prize Games, YLDY Staking and YLDY Cross-Chain Swapping. Yieldly has targeted the DeFi ecosystem and strives to build the next generation of it to allow the fastest exchanges. Keep scrolling to learn all about Yieldy, Yieldly price and more.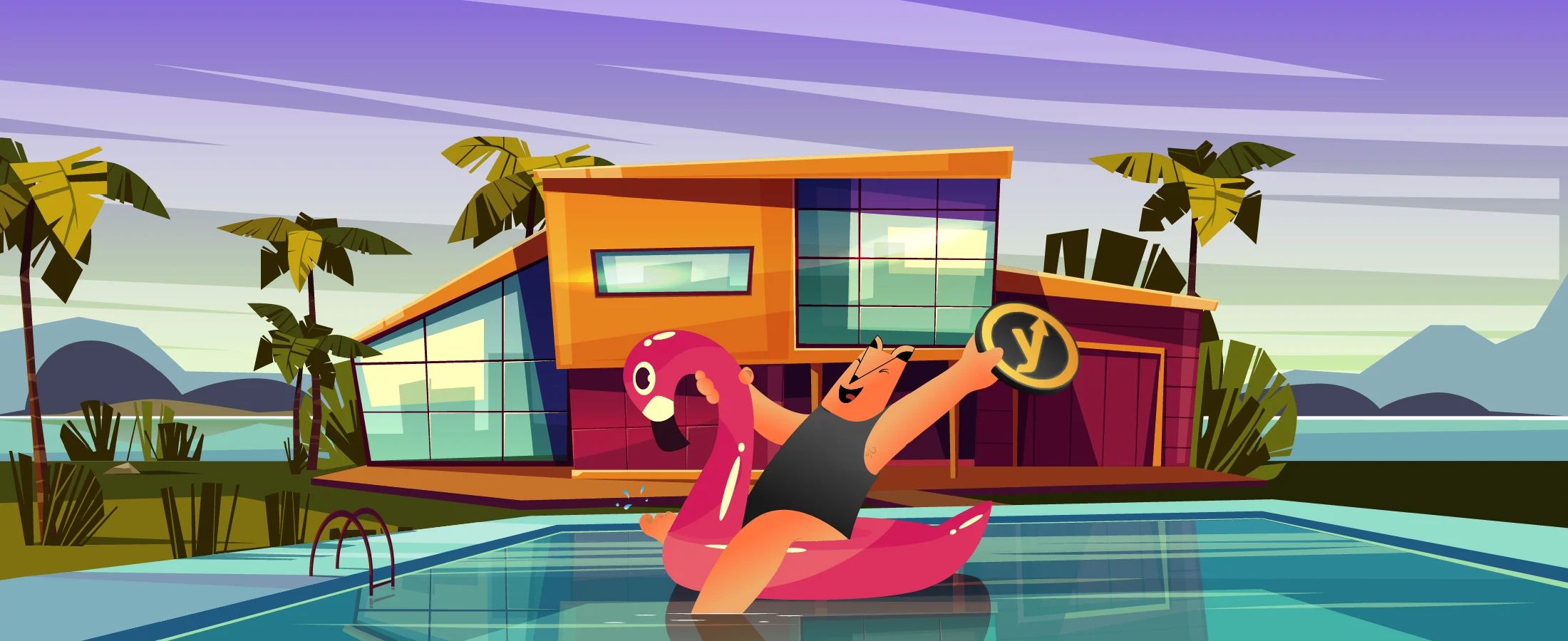 How do you rate this post?
Yieldly Price Depends on What It Offers!
Yieldly price, like any other token's price, is directly related to the technology and idea behind it. Yieldly emphasises quick, safe and easy exchanging of crypto assets and enables common people to connect with blockchain technology. Yieldly benefits from the user experiences of Algorand and the DeFi community to identify the problems and provide solutions accordingly. To learn all about Algorand, check out this article.
Yieldly Price Depends on The Problems It Solves!
Yieldly price is directly related to the problems the platform solves. But what are the issues? Yieldly is closely connected with Algorand, and Algorand provides a Proof-of-Stake security model to solve the blockchain trilemma. But the users want more! They want more liquidity and utility for ALGO tokens. The problem, however, was the lack of the smart contract layer, which developers can build upon. Also, the DeFi community needs bridges between Decentralised Exchanges (DEXs) to provide liquidity across the ASA chain and other prominent chains like Ethereum, Polkadot and Binance.
Yieldly Price and the Solutions!
The solutions to the above problems come from Yieldly and its products and services to come, which will affect Yieldly price. Yieldly's staking and No-Loss Prize Game solutions will increase the token utility and make way for future projects to develop on the Algorand blockchain. The Yieldly team strives to create a multi-chain platform thanks to cross-chain compatibility.
Yieldly Foundational Pillars Affect Yieldly Price!
Staking and reward systems are available for ASA tokens' developers using Yieldly's smart contracts. ASA tokens are Algorand's Standard Assets comparable to ERC-20 on Ethereum to easily create staking. This allows Algorand to provide other use-cases, including yield farming, NFT distribution, and social rewards systems.
Yieldly has developed the first no-loss prize game to control Algorand's rewards system and unlock liquidity on Algorand, like in PankcakeSwap and PoolTogether.
Yieldly streamlines access to Algorand and DeFi services by creating a token bridge between the Ethereum and ASA tokens.
When the smart contracts allow users to access staking and rewards systems, and when the liquidity flow increases in Algorand, Yieldly will use an automatic market maker, aka DEX, to help Algorand achieve mass adoption as a DeFi protocol.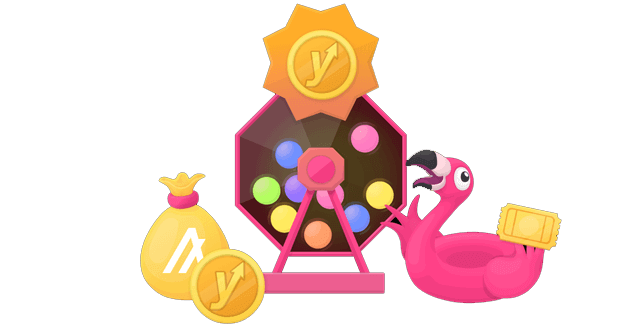 Yieldly (YLDY) Price and Financial Analysis
YLDY is an ERC-20 token native to the Yieldly platform. Regarding market cap ranking, YLDY holds the rank #1220. Today, on Jun 14, 2022, the Yieldly price is $0.002666378818 with a 24-hour trading volume of $18,450.90. In the previous 24 hours, YLDY price has been up 314.3%. Its circulating supply is 0 YLDY coins, with a total supply of 10 Billion. The Yieldly price is 92.1% lower than its all-time high of $0.03393230 on Dec 23, 2021, but 9.076048346453127e+25% higher than its all-time low of $0.000000000000000000 on Jul 24, 2021. The current liquidity score of Yieldly is 1%, making it an almost impossible sell in the current bear market. Currently, MEXC Global is one of the active exchanges to trade Yieldly.
How Does Popularity Influence Yieldly Price and ROI?
Popularity, having a community, and being supported by a group of people are factors affecting Yieldly price. Currently, Yieldly is being held in over 2000 wallets, concluding a total of over 22,000 transactions. The more people hold a cryptocurrency, the more reliable it can be. Regarding popularity on social media, Yieldly has had an eye-catching growth of 159% on Twitter. However, on Telegram and Reddit, the growth was trivial, almost 0%. Here is Yieldly on Discord and Medium. Another significant feature in choosing a project is Return on Investment (ROI). The charts at Cryptologi.st indicate that Yieldly outperformed similar projects that had -40% growth in ROI. However, the top 1500 projects showed a better performance than Yieldly, with a 3% growth in the recent year.
Disclaimer: Don't take this article as financial advice. You need to DYOR (Do Your Own Research) before investment.
Yieldly Price Predictions
As we have seen so far, the Yieldly price is affected by various factors, going through which will help us predict the Yieldly price in the coming years. The price predictions we're about to see are retrieved from Pricepredictions.net and are no trade signals but elements to help you see what crypto experts think about Yieldly and its potential to grow.
Yieldly Price Prediction For 2022
The average trading price of Yieldly is expected to revolve around $0.002 in 2022. Predictions do not show a lot of fluctuations in the Yieldly price this year.
Yieldly Price Prediction For 2023
2023 is predicted to follow the same trend as 2022, with a difference in the maximum price of Yieldly that may reach $0.003.
Yieldly Price Prediction For 2024
In 2024 the price of each Yieldly token is predicted to be $0.003 at a minimum and $0.004 at a maximum.
Yieldly Price Prediction For 2025
The minimum and maximum prices of each YLDY are forecasted to reach $0.005 and $0.006, respectively, with an average price of $0.005 in 2025.
How Secure Is Yieldly?
Yieldly conducts regular audits to ensure the security of the smart contracts. Yieldly's native smart contracts are written in TEAL (Transaction Execution Approval Language) and independently audited by Halborn and Runtime Verification, and Algorand Foundation conducted the peer reviews. Yieldly gets help from CloudFlare to protect its applications and public APIs.
Who Has Created Yieldly?
Yieldly was built by a young team of developers and entrepreneurs. Sebastian Quinn is the Co-Founder and CEO of Yieldly, who gained experience in blockchain and DeFi in companies including Bluzelle and Power Ledger. The COO of the project is Kristy Bayley, who is experienced in business optimisation and engagement, capital raising and acquisition integrations and delivering cybersecurity projects like ISO27001 accreditation. To know the rest of the Yieldly key members, check here.
Yieldly Roadmap
The following image depicts the roadmap of Yieldly, and to check more info about Yieldly's roadmap, you can check here.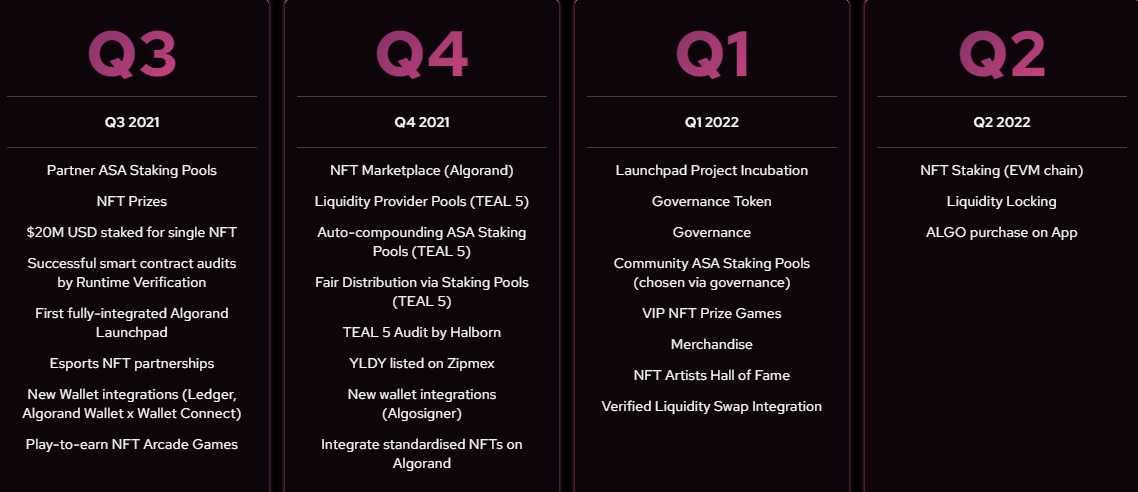 Concerning Yieldly Price, Should I Invest In Yieldly?
The bear market is hitting hard, and almost no project can escape this dark destiny! There are, of course, projects trying to survive the downward trends, but we're all together in this. The question is concerning the current situation and YIeldly price, should we invest in Yieldly or not. Well, we cannot tell you that, but we can put all the options on the table for you to see clearly and invest with open eyes. All we can say is that Yieldly cannot be a good option for short-term investments. Maybe the next bull run pays off!
Concluding Remarks
All in all, since we are experiencing falling markets, it's time to increase our knowledge of the market, monitor the projects closely and get ready for the turning point. This can be done using the free screener tool, the watchlist, and the project reviews made for you by Cryptologi.st for educational purposes. Check us out on the social media listed below!
How do you rate this post?