XEN Crypto Price Prediction 2025 and 2030: Is XEN a Good Investment?
#investment
#cryptocurrency
#cryptomarket
#decentralized
#xen
tl;dr
XEN Crypto is a young cryptocurrency project with a 1900% growth potential by 2030. With its focus on privacy, innovations and growing adoption, XEN is moving toward a bright future. But what does the future hold for its price? Read on for XEN Crypto price prediction to see if it makes a profitable investment.
How do you rate this post?
What Is XEN Crypto?
XEN Crypto is designed to follow the main objectives of creating blockchain technology, i.e., decentralisation, transparency, value exchange, and self-custody.
It also aims to solve the main problems faced by many lesser-known cryptocurrencies, i.e., being discovered too late and suffering from pre-mining and whale accumulation.
To solve these problems, XEN Crypto offers a free launch by relying on its special tokenomics, concentrating on mass adoption, and lowering entry barriers.
To this aim, XEN Crypto has also developed a unique coin called XEN, which we'll learn more about in the following section.
What Is The XEN Crypto Coin?
XEN is designed as a fork of the Monero (XMR) blockchain and is a privacy-focused cryptocurrency that uses advanced cryptographic techniques to ensure anonymous transactions.
It is also a decentralised digital asset that operates independently of central authorities. XEN token can be used for anything an ERC20 token can be used for.
It can be traded for other tokens or NFTs.
It can also be used for gaming on the Uniswap platform by creating limit orders or liquidity pools to trade XEN tokens automatically.
XEN can be bought using well-known DEXs like Uniswap or Sushiswap. XEN tokens can also be sold or traded on the same exchanges.
XEN has no cap, but as more people join the XEN minting, it will be harder to mint more XEN tokens for the sloping adoption curve, which is logarithmic and makes XEN disinflationary through time.
As participants grow in number, receiving rewards will get more difficult for new participants unless the newcomers extend the time to get their rewards.
For all these reasons, XEN's minting process is similar to Bitcoin's mining difficulty. Let's continue with more details about the XEN Crypto's top features.
XEN Crypto Features
Simplicity: XEN follows the ERC20 standard and doesn't need complicated coding. It includes no pre-minting, admin keys, or origin wallets. XEN users can easily mint XEN tokens using their own Ethereum-compatible wallets.
Free-Minting: Minting XEN doesn't need depositing funds.
Zero Supply: XEN begins with zero supply and will only be minted by its community.
No Maximum Cap: XEN has no maximum cap on the supply. It started as an inflationary token but will become disinflationary with more adoption.
No Investors: XEN is not supported by special investors or any intrinsic value. It gets support from the participating community.
Immutability: XEN is immutable, and no one can change or stop it.
Trustless: Since XEN has open-source codes, it is trustless and belongs to real people.
No Central Authority: XEN is truly decentralised as it has no control or management team. It is part of an immutable code secured by the blockchain.
Proof-of-Participation: XEN offers a Proof-of-Participation (PoP) consensus mechanism, i.e., participants own their assets through self-custody.
Fair Token Distribution: XEN's smart contract uses a fair token distribution system. All participants must follow the same immutable rules secured by blockchain. Token rewards are managed by minting-based reward time locks and the total number of participants.
No Purchasing Needed: XEN does not require purchasing because Ethereum network users can mint XEN tokens by connecting their compatible crypto wallet (e.g., Metamask).
Staking: XEN tokens' staking period is limited to 1 to 1,000 days, which can be terminated without penalties. However, the APY rewards won't be paid if staking is terminated before the mentioned period.
APY Rewards: The XEN APY rewards start at 20% on XEN Genesis and will decrease by 1% every 90 days until reaching 2%. After this, it will stay at 2% indefinitely.
Now that we know the main points about XEN Crypto and its token, XEN, it's time to analyse the factors affecting XEN Crypto price prediction. One of these factors is the token's price changes since its launch, which we'll go through below.
Read more: Spell Price Prediction 2023, 2025 and 2030: Is SPELL A Good Investment?
Price History
XEN Crypto started trading on Oct 11, 2022, at $0.00020306, which was its highest price level.
Three days later, on Oct 14, 2022, XEN Crypto price fell to $0.00007153.
The downtrend continued for another week, and on Oct 23, 2022, each XEN token traded at $0.00001246.
XEN could slightly recover and reach $0.00004914 on Nov 03, 2022.
The upward trend didn't last long, and XEN Crypto dropped to $0.00001230 on Nov 09, 2022.
The downward trend continued for over two months, and the XEN token's lowest level was recorded on Feb 11, 2023, at $0.00000105.
Today, on Feb 12, 2023, each XEN token is traded at $0.000001239428.
The following price chart depicts the XEN token's price performance since its launch.
Price history is one of the three main factors we need to consider before going to XEN price prediction. The other two are financial and fundamental factors, which we'll elaborate on below.
XEN Crypto Financial Analysis
XEN Crypto price prediction derives from its financial performance, among other factors, which is why we're going to analyse its financial factors, including tokenomics, ROI, Market Cap, ATH, and ATL, in the following subsections.
XEN Crypto, with the symbol XEN, is a cryptocurrency project or a kind of crypto asset holding the current market cap rank #907 and a live market cap of $12,216,868.
XEN Crypto has a Circulating Supply of about 6,544,688,945,994.98 and a Total Supply of undefined. Today, the XEN Crypto price is $0.00000144 with a 24hr trading volume of $3,270,493.66 indicating a 32.31% decrease in XEN price.
The current price of XEN Crypto is 99.63% lower than its All-Time High of $0.00036977 on 11 Oct. 2022,
XEN Tokenomics
XEN token allows its users to mint it for free. The only pre-requisite to mint XEN is a crypto wallet compatible with Ethereum to connect to the XEN smart contract to claim a cRank and some ETH to pay the gas.
XEN's value is derived from the gas fees, the network size, and the time spent between claiming and minting XEN tokens.
The shorter the reward time, and the more participants, the more difficult the XEN minting process. At first, the inflation rate is high, but gradually, the algorithmic inflation adjustment will reach a 0% increase rate, and the global inflation will reach a flat 2% per year.
XEN token can be minted using the following formula.
XEN reward = AMP * t * log2(dR) * (1+𝙴𝙰𝙰(𝚌𝚁𝚞))
AMP – reward amplifier
cRg – global cRank
cRu – your rank
dR – delta rank (𝚌𝚁𝙶 − 𝚌𝚁𝚞)
t – mint term days
ROI
ROI, or Return on Investment, indicates a token's profitability in various time intervals using positive and negative percentages. Here's how profitable XEN Crypto has been so far.
XEN Crypto Yearly ROI: 0%
XEN Crypto Monthly ROI: -19.78%
XEN Crypto Weekly ROI: -13.41%
XEN Crypto Daily ROI: 0.4%
Market Cap
XEN Crypto financial analysis indicates that the XEN token's market cap is $9,191,040. Its current liquidity score is 0%, meaning that it literally cannot be sold!
ATH and ATL
XEN Crypto recorded its All-Time High (ATH) price on Oct 11, 2022, at $0.00036977.
XEN Crypto recorded its All-Time Low (ATL) price on Feb 22, 2023, at $0.00000105.
XEN Crypto's current price ($0.000001239428) is 99.7% lower than its ATH but 17.2% higher than its ATL.
XEN Fundamental Analysis
Another factor we need to consider to be able to understand the XEN Crypto price prediction is the token's fundamental analysis, i.e., analysing its development team and investors and its popularity over social media platforms. Keep scrolling to find it all in the subsections below.
Team and Investors
XEN Crypto has no team members or investors, as it's meant to be a decentralised and self-custody token minted by the network participants.
Popularity
XEN Crypto's popularity charts on Cryptologist indicate that in the recent six months, XEN's Twitter followers have grown by 61%. Also, its growth rate on Reddit subscribers has increased by 102%. However, it hasn't grown on Telegram during the same period.
XEN Pros
Privacy: XEN is designed to offer users high privacy and anonymity. It uses advanced cryptography techniques to ensure that transactions are untraceable and secure.
Decentralization: XEN is a decentralized cryptocurrency, meaning that it is not controlled by any single entity. This can make it more resistant to censorship and government interference.
Fast Transactions: XEN is built on a fast and efficient blockchain, meaning transactions can be processed quickly.
Low Transaction Fees: XEN has low transaction fees compared to other cryptocurrencies like Bitcoin and Ethereum, making it a more affordable option for users.
Eco-Friendly: XEN uses a proof-of-stake (PoS) consensus algorithm, which is more energy-efficient than the proof-of-work (PoW) algorithm used by Bitcoin and many other cryptocurrencies.
XEN Cons
Limited Adoption: As a relatively new cryptocurrency, XEN has limited adoption compared to more established cryptocurrencies like Bitcoin and Ethereum. This means that it may be more difficult to use and trade.
Market Volatility: Like all cryptocurrencies, XEN is subject to market volatility and can experience significant price fluctuations.
Security Risks: While XEN is designed to be secure and private, no cryptocurrency is completely immune to security risks like hacking and fraud.
Regulatory Uncertainty: XEN may face regulatory uncertainty in some jurisdictions as a decentralized cryptocurrency. This could make it more difficult for users to buy, sell, and trade XEN.
XEN Crypto Price Prediction: 2023 - 2030 At A Glance
The following table lets you glance at the XEN Crypto price prediction from 2023 to 2030. The growth rate percentages are calculated and provided in the following sections.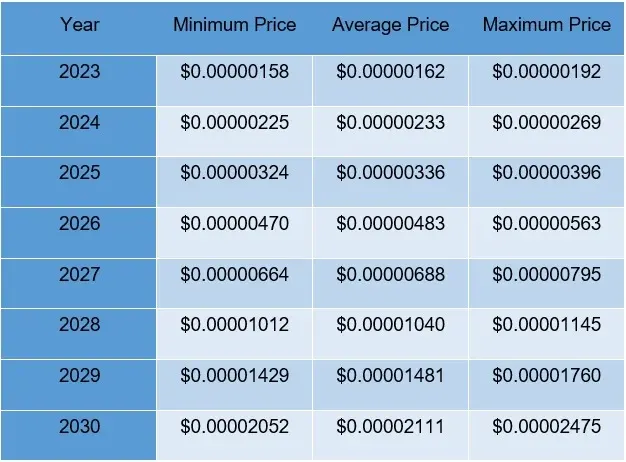 XEN Crypto Price Prediction 2023
XEN Crypto price prediction 2023 indicates that the token has the potential to see 30.70% growth on average during 2023. Its maximum growth rate is predicted to be 54.91%.
XEN Crypto Price Prediction 2024
XEN Crypto price prediction 2024 indicates that XEN tokens can grow by about 88% on average in 2024. At a maximum, the XEN token's price can grow by 117%.
XEN Crypto Price Prediction 2025
XEN Crypto price prediction 2025 expects the token to achieve a growth rate of 171% on average in 2025. It has the potential to grow by about 219% throughout 2025.
XEN Crypto Price Prediction 2030
XEN Crypto price prediction 2030 shows a possible average growth rate of about 1600% for each XEN token's trading price. Its maximum price can grow by 1900% in 2030.
Is XEN Coin A Good Investment?
XEN Crypto is following in the footsteps of successful cryptocurrencies in technology, tokenomics, and infrastructure. The best thing about it is its decentralised nature and the possibility of staking.
However, its price is revolving in low ranges, and even its 1900% growth rate predicted for 2030 is far away from 1 cent.
All in all, it may not make a profitable investment in the short term, but the bull run is ahead, and XEN Crypto has a chance to grow in price in the coming years.
FAQ
The following questions and answers will cover the most frequently asked questions about XEN Crypto and its piece prediction.
Is XEN Crypto On Binance?
No, XEN Crypto is currently not listed on Binance, but it may be in the near future.
Can I Buy XEN On Coinase?
Yes, you can buy XEN Crypto using your Coinbase Wallet.
How Much Is XEN Coin Worth?
XEN Crypto's live price is revolving around $0.000001239428 today, with a 24hr trading volume of $1,612,471.
How do you rate this post?