Hathor Coin: Will Scalability Issue Come To An End?
#cryptocurrency
#htr
#blockchain
#decentralized
tl;dr
Although the Bitcoin blockchain has been acknowledged as a revolutionary technology, it suffers from some drawbacks, i.e., the scalability issue! To tackle this issue and overcome the limitations, we need networks with novel features to validate more transactions and maintain safety, like the Hathor Network. This article is a deep dive into every aspect of the Hathor coin and helps you discover its ins and outs! Keep scrolling!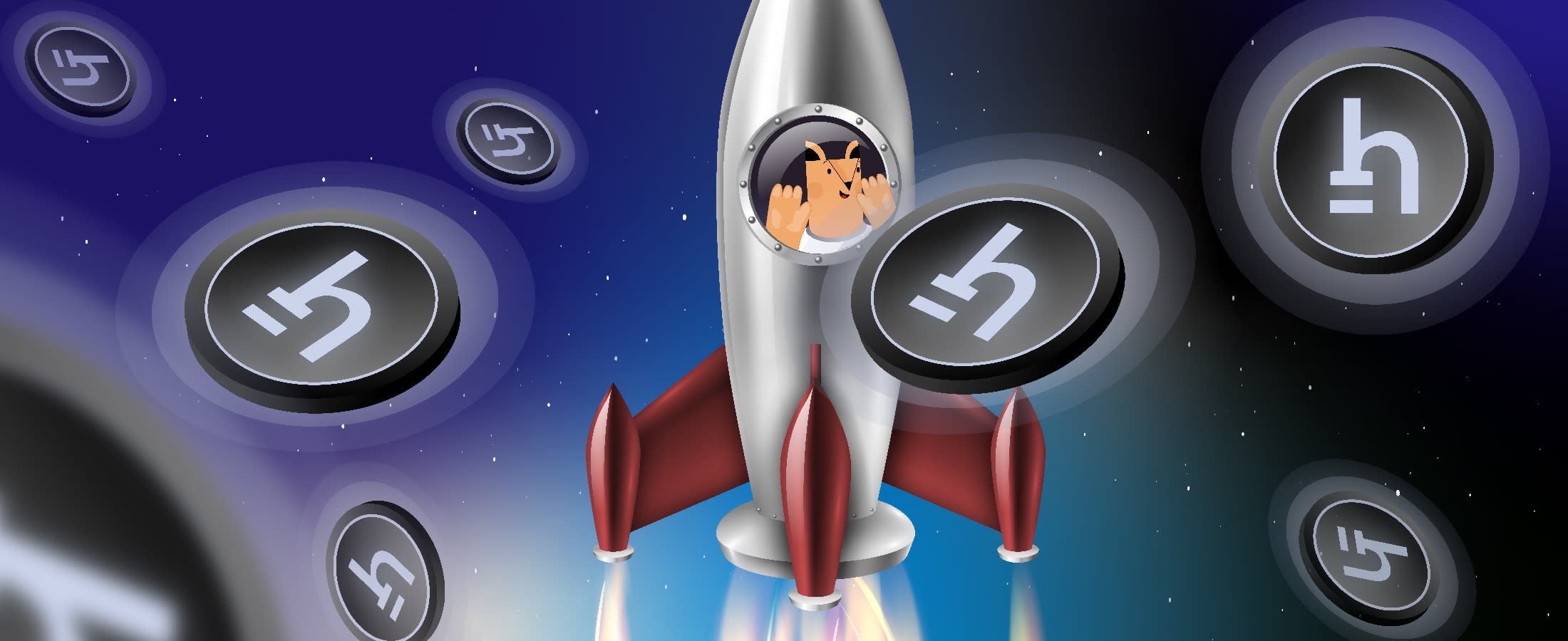 How do you rate this post?
What Is Hathor Coin?
Hathor Network is a scalable and easy-to-use distributed ledger that aims to solve the scalability issue with a novel architecture using both DAG (Directed Acyclic Graph) and Blockchain intertwined. It uses a Proof-of-Work consensus mechanism and allows everyone to create their token in less than a minute!
Hathor Network started its journey on Aug 27, 2018, and its mainnet Network was launched on Jan 3, 2020. Hathor coin (HTR) is the #458th largest cryptocurrency by market cap, with a current price of $0.14 for each Hathor coin and a circulating supply of 232,833,032 HTR coins at the time of writing this post on Jun 29, 2022.
How Does Hathor Coin Work With DAG System?
Before moving on to the Hathor Coin features, let's understand the DAG system. As mentioned earlier, Hathor Network is a blockchain inside a DAG. We already know that other blockchains like Bitcoin consist of several blocks that record all the transactions. There are no blocks in the Hathor Network and DAG system, and all transactions are recorded on top of each other as vertices. Each node in the Hathor Network sends the transactions to the DAG system through the PoW mechanism. It means, in DAG, individual transactions provide validations for one another. Each transaction must be linked to an existing and relatively new transaction, which the blocks have confirmed in order to get validated. The higher the volume of transactions, the faster a DAG validates them.
What Makes Hathor Coin Unique?
Hathor coin is the native token of the Hathor Network, a unique blockchain with eye-catching features! Let's learn more in detail.
Hathor Coin Network Is Free!
The main goal behind the Hathor coin project is to build a scalable distributed ledger for real-world applications. We know that one of the most significant issues with the Bitcoin blockchain is high transaction fees and what makes Hathor coin different is that you can process your transactions free! Yes, you read it right! Transactions are free, differentiating Hathor coin and Hathor Network from other top cryptocurrencies like Bitcoin and Ethereum.
Hathor Coin Network Is Easy To Use!
Hathor Network is easy to use as anyone can create their own token in less than a minute. No need to know about gas fee calculation, solidity, or ERC-20.
Hathor Coin Network Provides High Scalability!
Hathor Network offers a high level of scalability. It means when the number of transactions goes up, the security and speed of the network don't get compromised.
Hathor Coin Network Built-In Atomic Swap
Hathor coin network is a built-in atomic swap which allows you to exchange different tokens on the same transaction.
Hathor Coin Network Improves Nano Contracts!
Using the Nano contract in the Hathor coin network allows two or more people to transfer their funds to a special transaction over Hathor Network. Nano Contracts are similar to smart contracts, i.e., they are decentralised and not governed by any authority or intermediary.
Hathor Coin Tokenomics
Hathor Coin (HTR) is the utility token of the Hathor Network, which is used to create tokens, decentralised payments, and fast transactions with zero fees and reward miners for minting new tokens.
Hathor Coin Financial Analysis
Data from the CoinMarketCap shows that the Hathor coin trade started on Sep 25, 2020, at $0.26. On Nov 17, 2020, the Hathor coin saw a massive decrease in price and fell below the $0.083,000 level. After three months, On Nov 21, 2021, the Hathor coin reached a peak and touched its all-time high at $2.45. Despite the ups and downs, the Hathor coin's price has seen a nearly 60% drop in value over the past year, and now on Jun 29, 2022, each Hathor coin is being traded at the range of $0.14, which is %67 higher than its lowest level and %94 lower than its peak.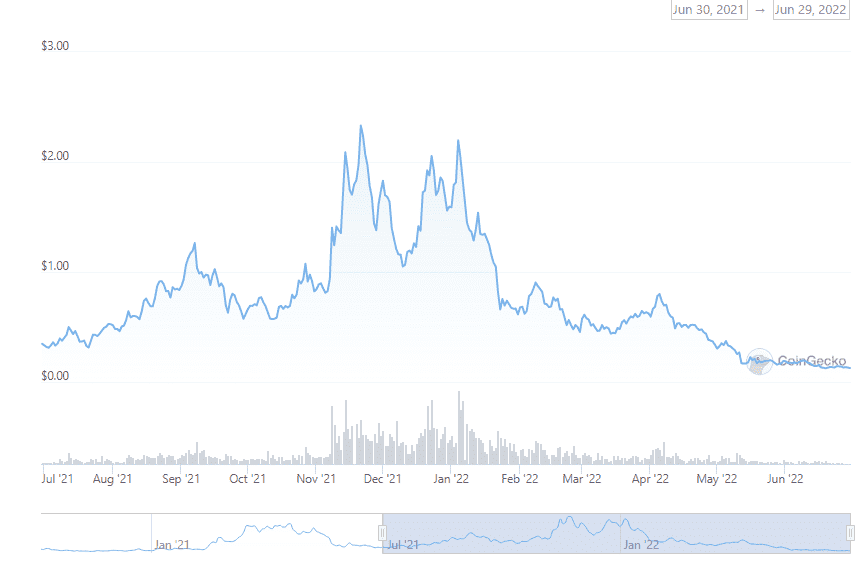 How Popular Is Hathor Coin?
Considering popularity over the last six months, we have witnessed that Hathor coin's Twitter account has seen a %13 growth and its Reddit account has reached a %17 growth while its Telegram account's had a downward trend and is %12 down.
Hathor Coin Team Members
The Hathor coin team comprises researchers and engineers who have been working on Hathor for seven years. The following image shows the Hathor coin development team.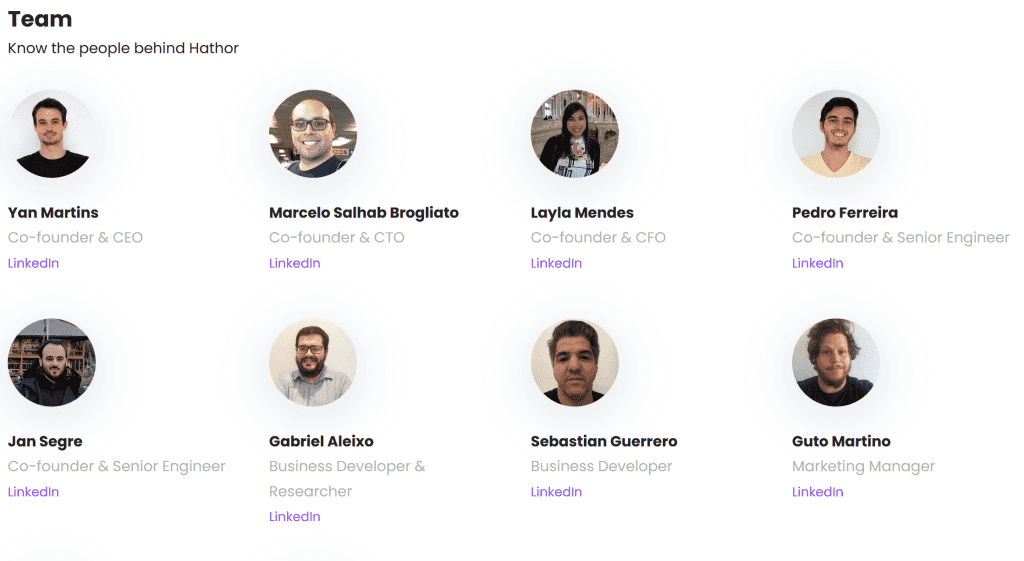 Disclaimer: Don't take this article as financial advice. You need to DYOR (Do Your Own Research) before investment.
Hathor Coin Price Prediction 2023-2025
The cryptocurrency market is dreadfully volatile, and predicting the price of cryptocurrencies won't happen without getting a headache! Various factors can cause fluctuation and change in the market. Check the essential factors you need to know before investing! Some experts predict that the price of each Hathor coin can reach $0.323 throughout 2023. In 2024 each Hathor coin can be traded at $0.48, and Price prediction.net forecasts Hathor to reach $0.67 by December 2025.
Should I Invest In Hathor Coins?
Hathor Network is built based on the PoW model to improve scalability, usability, and decentralisation and has been on the mainnet since January 2020. Despite reaching its 2021 plans to implement side DAGs for third parties, oracle incorporation and increased scale, Hathor Network has not released its roadmap for 2022. The liquidity score of %37 makes it a hard sell, and -%60 ROI over the last year means if you invested in Hathor coin, you would lose more than %60 of your funds. Hathor is a young project that shouldn't be considered a short-term investment. By and large, we are not financial advisors, and you need to do your own research. Meanwhile, follow Cryptologi.st for the free screening tools, the latest news on the top 1500 coins and project reviews to stay on top of your game!
How do you rate this post?