What Is XinFin Network? All You Need To Know!
#blockchain
#cryptocurrency
#decentralized
#xdc
tl;dr
XinFin Network has provided the first hybrid blockchain fueled by XinFin Digital Contract or XDC Coin. XinFin combines the advantages of public and private blockchains to create a transparent, secure and fast ecosystem. XinFin's consensus mechanism outfought mining and connects enterprises using its public and private states. There's a lot to know about this platform; keep scrolling to get it all.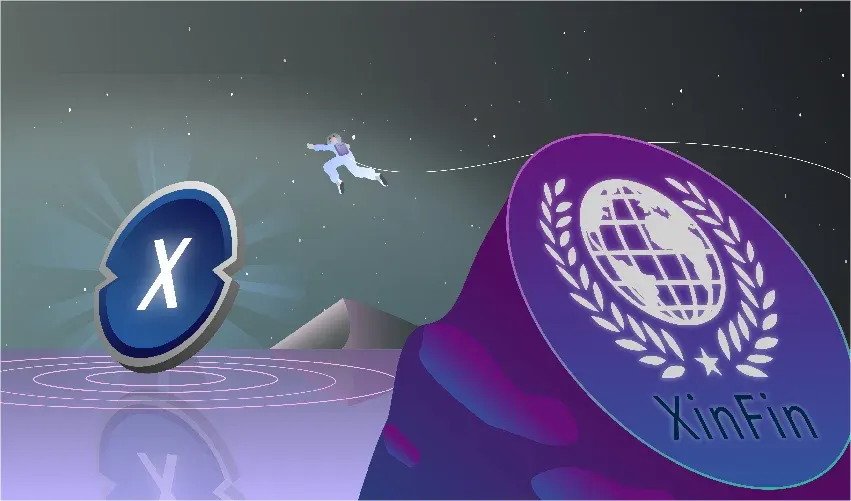 How do you rate this post?
What Is XinFin Network?
XinFin or eXchange inFinite is a decentralised, hybrid, interoperable and liquid network. This Delegated Proof-of-Stake Network (XDPoS) provides Hybrid Relay Bridges, Interoperability with ISO20022 messaging standards, and Instant Block Finality to make this hybrid architecture developer-friendly.
To learn what XinFin Network is and what it does quickly, check out this video.
Who Created XinFin Network?
XinFin Network was co-founded by Atul Khekade, Ritesh Kakkad and Karan Bhardwaj, whose work experience and history have been intertwined with the blockchain and crypto.
What Problem Does XinFin Network Solve?
XinFin Network aims to overcome the following main issues faced in the Ethereum ecosystem:
High transaction time on The Ethereum Network
High transaction fees on Ethereum
Centralisation and lack of interoperability with the Ethereum platform
What Is XDC Coin?
XDC Token fuels the XDC blockchain and is the utility token that enables users to access global trade by streamlining transactions and supporting various use cases via non-tokenized and tokenised solutions.
Child chains on the XDC01 Protocol let industries build utility tokens. XDC tokens are available on many reputable exchanges, and currently, you can trade XDC Network on Bybit, Gate.io, and Huobi Global.
XDC Token Use Cases
The XDC token is the utility token of XinFin's Hybrid Blockchain. The XDC token is used as a settlement mechanism for Decentralised Applications generated on the XinFin Hybrid Blockchain.
Another Ethereum-based token of the XinFin Network is called XDCE, which can be traded with XDC at a 1:1 ratio. These two tokens let the token holders feel free to hold tokens in either form for utility.
XDC Tokenomics
The following pie chart visualises XDC Tokenomics.
Founders, Advisors, Core Team Members, and Community - 40%
Ecosystem Development - 26.67%
XinFin Network XDC Tokenomics
Roadmap
XinFin Network has released its roadmap from 2017 to 2020. However, it's not been updated since then. Let's check out the details of XinFin Network's roadmap from 2017 to 2020.
XinFin Network Roadmap 2017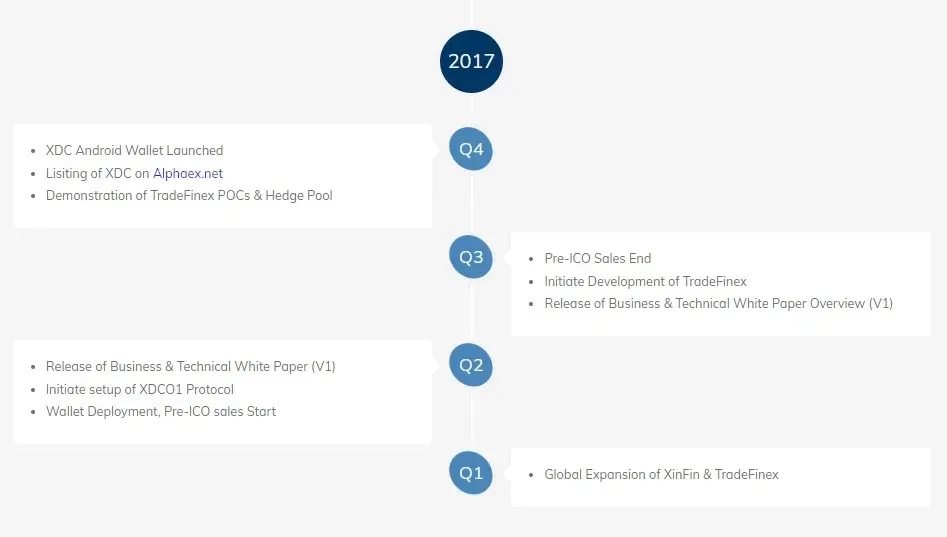 XinFin Network Roadmap 2018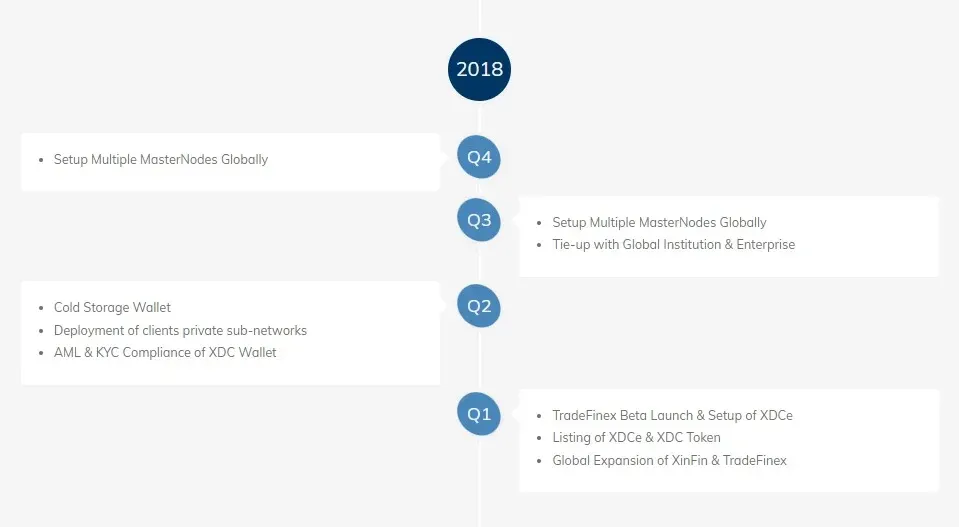 XinFin Network Roadmap 2019 Q1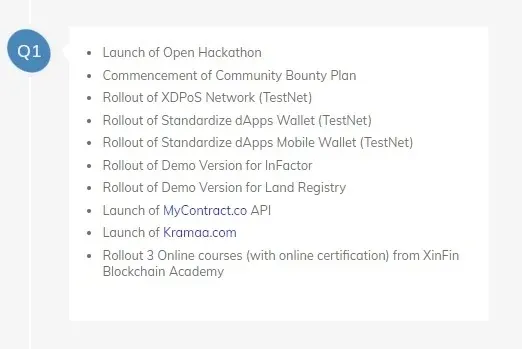 XinFin Network Roadmap 2019 Q2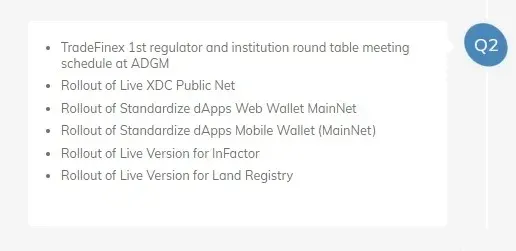 XinFin Network Roadmap 2019 Q3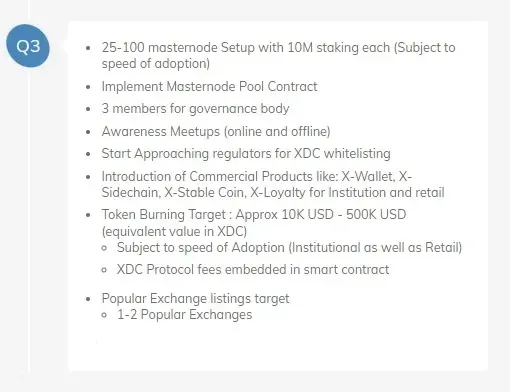 XinFin Network Roadmap 2019 Q4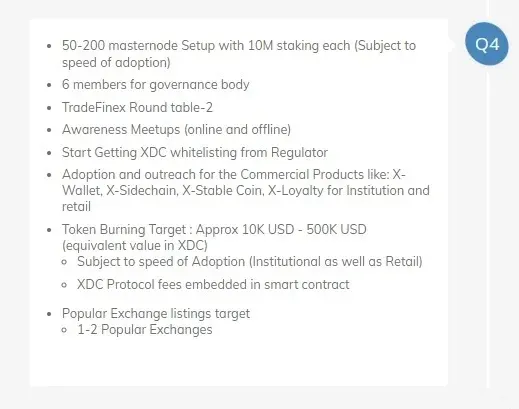 XinFin Network Roadmap 2020 Q1
Regulated Custodian Integrations and Partnership for ecosystem development and XDC adoption
TradeFinex Round table
New decentralised mobile wallet
GO Live
Add More XDC Liquidity Depth
XDC Staking / Burning Plan
Add More Exchange
When exchanges like Binance, OKex, Liquid, Huobi?
All Tier1 exchange List tokens are based on community demand, Adoption/use case, and the current market daily liquidity depth, so XinFin is Focusing on getting more adoption and liquidity depth to avoid price manipulation by the whales. XinFin is also Focusing more on bringing Local Fiat pairs against XDC to get more liquidity for the TradeFinex use case.
XDC listed on Stex Exchange
XDCe listed on FatBTC
XinFin Network Roadmap 2020 Q2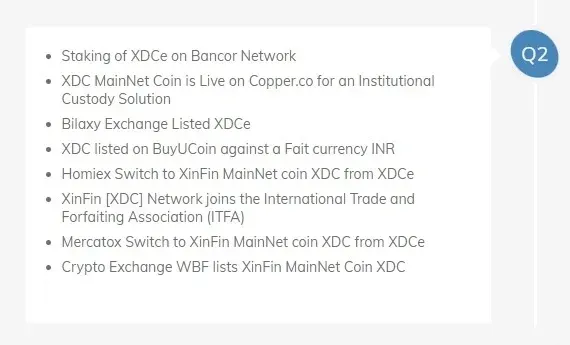 XinFin Network Roadmap 2020 Q3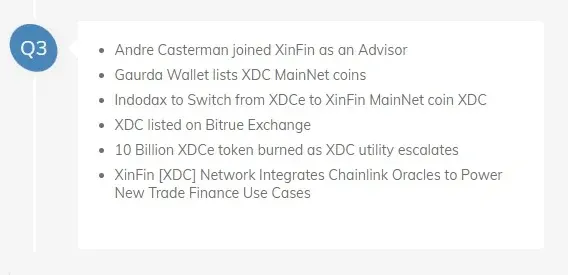 XinFin Network Roadmap 2020 Q4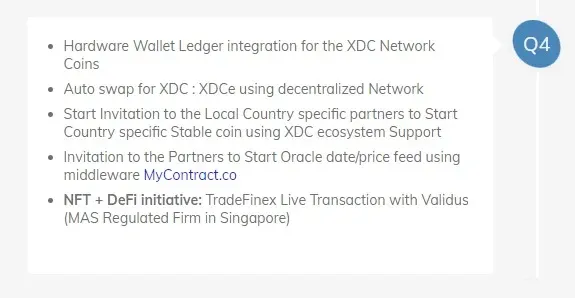 How Does The XinFin Network Work?
XinFin Network was developed to bring solutions to the problems of traditional finance by creating a permissioned blockchain. It aims to be a solution to the problem of scalability faced in Ethereum and other blockchain platforms.
XinFin Network is based on a system of 108 Masternodes with XinFin Delegated Proof of stake (XDPoS) consensus to provide low transaction fees and 2-second transactions. Processes like double validation, staking through smart contracts and true randomisation ensure security, stability and chain finality.
What Is XinFin (XDC) Blockchain?
XinFin has provided a permissioned blockchain platform to streamline trade and payment operations worldwide. The functionality of the XinFin blockchain is based on the public Ethereum (ETH) blockchain and the private Quorum blockchain.
What Are The Main Features of XDC?
While XinFin Network strives to develop its own ecosystem, it provides unique features regarding its technology and products.
XinFin Technology
XinFin Delegated Proof of Stake (XDPoS) Consensus Mechanism
Build in governance DApp
Double Validation and Randomization
Sharding according to an architecture of stable masternode
Using the above technology helps XinFin provide the following:
Low-cost transactions: about 1/100 of Ethereum's fee
2000 TPS for a powerful ecosystem for DApps and tokens
Confirming transactions in 2 seconds
EVM-compatibility increases interoperability
XinFin Products
XinFin technology enables the Network to produce the following:
XinFinScan: Present the info of tokens, blocks, transactions, finality, smart contracts, and DApps.
XinFinMaster: Lets users be a Masternode candidate, and displays statistics related to Masternode performance
XDCWallet: Allows secure storing, sending, and receiving XDC and other tokens on XinFin Network; It also lets users track rewards.
XDC vs Bitcoin and ETH
The following table visualises the comparison between XDC and Bitcoin/ Ethereum.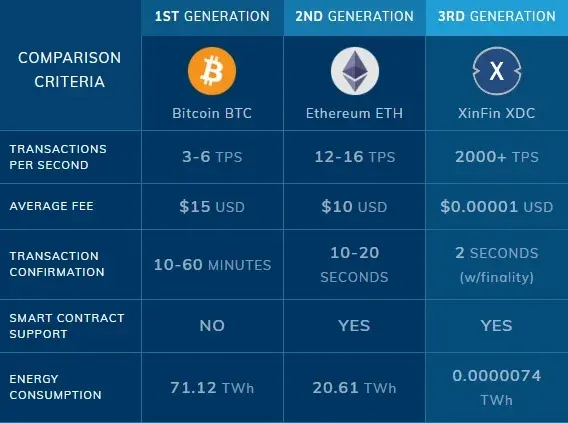 Best XDC Wallet
XinFin blockchain has developed the XDC Wallet to enable real-time payment and settlement. Designed on XDC01 Protocol, this wallet provides secure and high transaction throughput to facilitate storing the coins of the XinFin Network, XDC and XCDE.
The users of this wallet, which include retailers, developers and institutions, can get an XDC address and create private keys. The wallet is used to swap or send their XDC or other tokens, buy ENS domains, interact with smart contracts, etc.
To sign-up for the XDC Wallet, you can use Google Play Store, Apple Store or this link: https://ewallet.xinfin.org. Read all about XDC Wallet: The Wallet You Are Looking For!
How to Stake XDC?
On a PoS blockchain like the XDC blockchain, staking involves participating in transaction validation. Staking XDC Coins lets users take part in decision-making, which includes voting and generating income.
It's so easy to stake XDC.
Choose your favourite exchange.
Buy or transfer XDC coins.
Stake the tokens and start earning.
How Do I Buy XinFin?
You can buy the XinFin token XDC by following four steps:
Choose a Crypto Exchange: you can choose any exchange that supports XinFin Network. Before selecting an exchange, compare their features to find one with low fees, ease of use, or 24-hour customer support.
Create an Account: If you don't have an account on a given exchange, that's the first thing you should do. To do so, you just need to verify your email address and identity.
Make a Deposit: Choose one of the payment methods offered and make a deposit.
Buy XDC Token: Now enter your desired amount and click 'buy'. At this point, you can move your XDC tokens to your personal wallet.
The Future of XDC Coin
The future of the XDC Coin is tightly related to its performance and price. Here's XDC Coin Price Prediction: Is XDC Network A Good Investment?
Summary
XinFin Network has developed a hybrid blockchain to solve the problems with the Ethereum Network and provide faster transactions, lower fees, decentralisation and interoperability. XinFin blockchain relies on Masternodes and an XDPoS consensus to provide its solutions. To learn more about XinFin and the top 1500 crypto projects, visit Cryptologist.
FAQ
In the following, you can find answers to the frequently asked questions regarding XinFin Network and its native token, XDC.
Is XDC Built on Ethereum?
The paradigm of consortium blockchains is home to the XDC Blockchain. XinFin's architecture is different from traditional private and public blockchains. XinFin Network's blockchain is built on the Ethereum codebase to handle the system state, not transaction blocks.
How Much Will XDC Be Worth?
There are various predictions about the price of each XDC token, but here you can get a clear picture of XDC coin price prediction.
Is XDC XinFin?
Yes, Xinfin Network is the platform developing the XDC token and the XDC Network.
Is XDC A Good Crypto To Buy?
According to crypto experts, analytical charts, and short-term price predictions, XEC is predicted to be a good investment. Remember that it is not investment advice, and you need to do your own research prior to making any investment decisions in a volatile market like crypto.
Is XDC Mined?
No. XDC is a mining-free network and does not require intensive mining.
How do you rate this post?