What Is the Next Cryptocurrency to Explode in 2023?
#blockchain
#cryptocurrency
#cryptomarket
#btc
tl;dr
Ever wished to have a list of the top cryptos that will boom and make you rich even in bear markets? This article is your wish coming true! We are here to unveil which coin will boom in 2023 and can hit 100x! So buckle up and read about the next cryptocurrency to explode in 2023!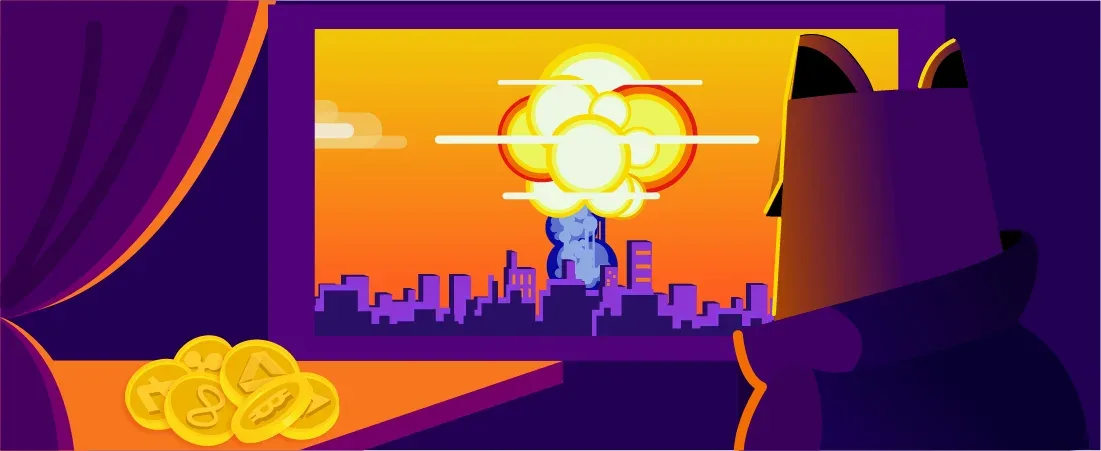 How do you rate this post?
Crypto Market Review In 2022
It goes without saying that 2022 has been a real roller coaster ride with tremendous ups and downs for many cryptocurrencies, and the market has fallen over 50% from its peak in 2021. Below, we'll summarise some of the most crucial events in 2022 in which the entire crypto market slumped.
Luna and Terra Crashing
On May 05, 2022, the crypto asset Terra, known as Luna, was worth about $87. However, after a few days, on May 13, 2022, its price went to $0.0005. As a result, this crash bankrupted many investors, and the entire crypto market saw a dreadful drop in value.
FTX Crash
On Nov 02, 2022, FTX, one of the world's largest cryptocurrency exchanges, collapsed for ten days. The crash of FTX sparked panic among many of the crypto market players.
Bitcoin Crash
Following the crash of FTX, the price of Bitcoin (BTC) and several crypto assets tumbled down. Bitcoin's price is currently about $16,500 (on Dec 28, 2022), a far cry from its All-Time High of $69,000 about a year ago.
However, every winter has its spring, and so does the Bitcoin and the crypto market. So, let's know when these withered cryptocurrencies will blossom!
How Will The Crypto Winter End In 2023?
Crypto winter or bear market describes a condition where digital asset prices fall 20% or more from their recent highs. The cryptocurrency industry has been through a rough cycle in 2022, with prices falling and the bear market beginning at the start of 2022, and it continues! So, the question is when the bull run will take over the bear market.
No one could give a certain answer to this question but if we look back at crypto market history, we realise that the current bear market is taking longer than the average bear market, which lasted nine and a half months, but it's shorter than the longest Bitcoin bear market, which lasted a full 24 months back in 2013.
Knowing the crypto analysts' expectations can give us a clearer picture of the market's future. The following section will walk you through the crypto analysts' opinions to see what they think about the crypto winter's ending!
Read more: The Best Crypto Signal Simulator For 2023
What Do Crypto Analysts Think About Crypto In 2023?
Let's read some experts' opinions and see what they think about the crypto market changes in 2023 and when is the best time to buy the next cryptocurrency in 2023.
Morgan Stanley's Mike Wilson, a well-known stock market sceptic, believes that the bear market may end in early 2023.
The Federal Reserve, the central bank of the United States, has stated that Bitcoin will lead the next bull market in 2023.
Sanyal from Analytics Insight says that market analysts predict that Bitcoin could hit $100,000 by the end of 2023, and as a result, the entire crypto market has a chance to pump itself.
However, the story doesn't end here! Whether or not crypto experts foresee a bright future in the market, we have to consider some other essential factors when it comes to choosing the next cryptocurrency to explode in 2023!
Don't know where to start? Don't worry! All you are looking for comes in the next section!
Read more: Top 10 Next Meme Coins To Explode In 2023: How To Find Them?
How To Choose The Best Coin To Invest In 2023?
The factors listed below are among the most important ones we need to consider when choosing a cryptocurrency to explode in 2023.
The Coin's Market Capitalisation
Total Coins to Be Mined and Current Supply
Investors
Whitepaper
Trading Fees
After learning about the highlights of the crypto sphere in 2022, points signalling the end of the current bear market, and reviewing the crypto experts' opinions, it's time to find out the next crypto to explode in 2023.
Read more: 10 Best Free Crypto Screeners in 2023
What Is the Next Cryptocurrency to Explode in 2023?
The world of cryptocurrencies consists of various fast-growing and new projects with high returns. In addition to introducing some of these new projects, our list of the next crypto to explode will include projects focusing on Metaverse, DeFi, Meme and NFT.
Newest Cryptocurrency to Explode In 2023
We've provided a quick snapshot of five new cryptocurrency projects that have come into being in recent months and are likely to explode in 2023.
Impt.io (IMPT)
The first among the newest crypto projects expected to explode in 2023 is IMPT which aims to provide huge gains for investors. During its presale, IMPT gained $20.5 million in just over two months after its launch.
Rewarding the investors for making a positive contribution to the environment, IMPT has set itself as a revolutionary carbon-offsetting ecosystem. It diminishes carbon footprint and makes positive environmental impacts while granting the users multiple rewards.
Dash 2 Trade (D2T)
Dash 2 trade is what every investor dreams of. It offers investors social analytics and insights to catch trending coins. It also aims to help people find out what crypto they could invest in before it becomes too late. Check out Dash 2 Trade's latest price changes.
Calvaria (RIA)
If you are looking for a gaming platform that enables earning massive incomes, Calvaria is your thing. As one of the newest crypto projects, Calvaria is a play-to-earn (P2E) gaming platform to build card decks and battle against one another.
It is based on two tokens, including RIA and eRIA. RIA can be purchased through the Calvaria presale, while eRIA is distributed to players who win the battles.
RobotEra (TARO)
Another young crypto with a high chance to explode in 2023 is RobotEra which aims to provide players with a powerful multi-dimensional Metaverse platform that integrates entertainment, creation, management, exploration, and interaction.
TARO, an ERC-20 utility token built on the Ethereum blockchain, is the native token in the RobotEra platform that serves a wide range of utilities in the ecosystem. It was launched in Sep 2022 and can be one of the new Metaverse coins to watch for in 2023.
FightOut (FGHT)
The number five next cryptocurrency to explode in 2023 is FighOut, which is a P2E gaming platform that aims to combine real-life workouts with competing in the Metaverse.
Offering you to mint your NFT Avatar, join the CFC Metaverse and start earning by playing online, FighOut strives to attract the attention of many users worldwide who want more from a crypto project.
Being launched on Dec 14, 2022, it is less than three months old but has gained a large community of followers on Twitter and Telegram.
Read more: BEP2 vs BEP20: A Free Guide to Binance Tokenisation Standards
Metaverse is one of the most popular and controversial concepts we have seen in the last few years. Let's see which metaverse coins will boom in 2023 and should be in your portfolio.
Decentraland (MANA)
We can't write about Metaverse, but don't mention Decentraland, the biggest Metaverse platform at the moment. Decentraland is the first decentralised virtual reality platform based on the Ethereum blockchain, which lets users own virtual property.
It allows users to buy and trade lands and pay for goods and services in the virtual world using MANA, the utility token at the heart of Decentraland.
Sandbox (SAND)
The second Metaverse coin that can be your next cryptocurrency to explode in 2023 is Sandbox. Sandbox is a virtual reality platform that allows users to build a virtual world using Non-Fungible Tokens (NFTs) on Ethereum. It was created in 2012, and with just one year of trading in 2021, its value skyrocketed by over 16,000%.
Enjin (ENJ)
Your next crypto to explode in 2023 for big gains could be Enjin. Enjin Coin (ENJ) is an Ethereum-based cryptocurrency, and Enjin, the company behind Enjin Coin, is one of the largest online gaming platforms.
Enjin allows game developers to tokenise in-game items on the Ethereum blockchain. Additionally, the Enjin platform aids users and other platforms to create their own NFTs and make them involved in the gaming industry. Read all about Enjin price prediction 2023, 2025 and 2030: Is Enjin A Good Investment?
Render Token (RNDR)
Cryptologist believes that the Render token could be your number five cryptocurrency to explode in 2023. The Render platform uses the Render token (RNDR) and allows users to contribute unused GPU power from their home devices for motion graphics and visual effects.
Since the token's value went from t $0.05 to $8.76 during the first months of its launch, it has the potential to be in the spotlight again in 2023 at the dawn of the next bull run.
Axie Infinity (AXS)
In the category of Metaverse projects, Axie Infinity is the Cryptologist's fifth choice for the next crypto to explode in 2023.
Axie Infinity is a Metaverse P2E platform on the Ethereum blockchain, with Axie Infinity as its native token (AXE), which has gained massive popularity during 2021's bull market.
This P2E game is filled with cute monsters called Axies, which are NFTs that can be traded on Axie Infinity's marketplace.
DeFi Coins To Explode In 2023
DeFi space, with thousands of DeFi tokens, has made big waves in the crypto industry so far. However, when it comes to investing in DeFi coins, the question is which coin will boom in 2023 and what is the next crypto to explode in 2023? The answer lies in the following sections!
Metacade (MCADE)
One of the new emerging DeFi coins that made a big pump upon its release is called Metacade. The token will come into the picture in early 2023, and its presale took place on Nov 22, 2022, and sold over an incredible $670k in under two weeks.
It can be one of the DeFi blossoms of 2023 and intends to become the first true virtual arcade for Web3 games, offering many income-earning opportunities, including
playing P2E games,
Staking MCADE, and
Posting Content That Gets Engagement From the Community.
Uniswap (UNI)
The DeFi revolution results in the creation of many new tokens every day, but the market still benefits the most from Uniswap, one of the oldest platforms on top of the DeFi services.
Even if you've searched or traded crypto space only once, you must know about the largest decentralised exchange, Uniswap, which is both a cryptocurrency and an exchange operating on the Ethereum blockchain.
Consisting of a blooming DeFi ecosystem, Uniswap allows users to make peer-to-peer ERC-20 tokens transactions without any involvement with a centralised third party. Its native token, UNI, is in charge of the exchange and is rewarded to the liquidity providers.
Aave (AAVE)
The next cryptocurrency to explode in 2023, with a high chance to boom, is Aave. It is a DeFi protocol offering a wide range of lending and borrowing services.
But that's not all! With this DeFi protocol, you can do magic! Yes magic! Holding the protocol's native token, AAVE, allows you to earn interest just by staking your tokens. Read through this article about Aave to learn how you can make the most out of this token.
PancakeSwap (CAKE)
Similar to Uniswap, PancakeSwap is an Automated Market Maker (AMM) that acts as an alternative to centralised exchanges by featuring liquidity pools where users can earn fees from staking, lending, and yield farming.
PancakeSwap is the largest decentralised exchange for BEP20 tokens, which owns CAKE tokens at the heart of its ecosystem.
It has attracted over 400,000 daily active users, with over $2.8 billion locked on the platform as of October 2022, according to Decrypt. With a big bull run in the crypto market, we can witness a huge pump in this DeFi protocol.
Avalanche (AVAX)
Another DeFi crypto likely to explode in 2023 is AVAX, the native token in the Avalanche blockchain. Avalanche, an open-source platform for launching decentralised applications, is known for its speed and fast transactions.
Meme Coins To Explode In 2023
Memecoins have perked up the crypto space and gained popularity and hype in 2021. In early 2022, crypto winter began, and most of the cryptocurrencies, from the biggest to smallest ones, disappeared and lost their value, and major players toppled.
However, every winter will end in spring, and so will the crypto market's winter! Crypto experts see that 2023 could be one of the hottest years for NFTs, and they could replicate their same success. That's why we've provided a quick breakdown of five meme coins to explode in 2023 below.
Dogecoin (DOGE)
The number one Memecoin expected to explode in 2023 is Dogecoin (DOGE). Dogecoin aimed to be a joke attached to a cryptocurrency platform and, with its deep soar in its volume, made the crypto market more mainstream.
Although major cryptocurrencies are seeing collapses in their value and are far from their high, DOGE is still considered one of the best joke coins and has a big chance to touch the moon again if the bull market begins.
Shiba Inu (SHIB)
Describing itself as a Dogecoin Killer, Shiba INU is the second coin you need to keep an eye on for 2023.
It was created in August 2020 by an anonymous individual or group known as "Ryoshi". Shiba Inu, a dog-themed meme coin, uses SHIB as its native token while offering an open-source ecosystem of decentralised applications (DApps) and protocols on the Ethereum blockchain.
If you are keen on learning about the Shiba Inu burning mechanism and getting some answers about what it is, you can freely dive into our Shiba Inu coin burn article.
Dogelon Mars (ELON)
Another dog-themed cryptocurrency with a high chance of rising if the bull run starts in 2023 is Dogelon Mars. It was inspired by other popular meme coins such as Dogecoin and Shiba Inu. Dogelon Mars Article is your free ticket to find all of your answers around its token, ELON.
Samoyedcoin (SAMO)
Inspired by Dogecoin, Samoyedcoin aimed to take the crypto world by storm. Following the rise of Dogecoin and the rapid growth of the Solana blockchain, Someyedcoin evolved.
It described itself as the Dogecoin of Solana and rose from a "meme coin" to a Web 3.0 community coin.
Doge Killer (LEASH)
Last but not least, Doge Killer could be your next crypto to explode in 2023. Doge Killer, one of three tokens in the Shiba Inu ecosystem, was initially introduced as a rebase token. It means Doge Killer is a cryptocurrency with a flexible supply that could control its price based on its demand.
By reading this article on Shiba Inu price prediction 2025, you will find out what roles Doge Killer plays in the Shiba Inu ecosystem. If you're interested in investing in meme coins only, here's a guide to find the top ten next meme coins to explode in 2023.
NFT Coins To Explode In 2023
Another eye-catching crypto category containing coins with high pump potential is NFTs. The following is a list of the top NFT platforms to explode in 2023.
Tamadoge (TAMA)
Tamadoge, a P2E crypto project, utilises NFTs in its virtual ecosystem. Its unique platform, Tamaverse, consists of Tamadoge pets and unique dog avatars which can be bought, bred and sold across the Tamaverse. Users can mint these pets as NFTs from the Tamadoge store with Tamadoge's native cryptocurrency, TAMA.
Bored Ape Yacht Club (BAYC)
Bored Ape Yacht Club (BAYC) is a collection of 10,000 unique Bored Ape NFTs built on the Ethereum blockchain. It was launched in 2021 with an initial price of 0.08 ETH.
Then by mid-October 2022, its value soared to a "floor price" of 76 ETH, or approximately $100,418. Since the value of each BAYC is dependent on Ethereum's price, by ending the crypto winter, it has a big chance to grow.
CryptoPunks
Similar to Bored Ape Yacht Club, CryptoPunks was released as a set of 10,000 NFTs on the Ethereum blockchain. These 10,000 NFTs consist of 24x24 pixel art images that were launched in June 2017 by the Larva Labs studio.
Tezos (XTZ)
Tezos, one of the most popular blockchains for NFTs, is an open-source, self-upgradable blockchain platform designed for creating and hosting decentralised applications.
In early 2021 the NFTs had significant growth, and so did the NFT use case for Tezo, the native token in the Tezos blockchain. The Tezo analysis will walk you through everything you need to know to participate seamlessly in the Tezos ecosystem.
Moonbirds
Newly released in April 2022, Moonbirds is a collection of 10,000 PFPs under the ERC-721 standard on Ethereum's network. PFP (profile picture) is one of the most popular types of NFTs that can be displayed as a person's social media profile picture. Followed by more than 200,000 users on Twitter, Moonbirds has built one of the strongest communities in the crypto space.
How To Spot The Best Crypto To Explode In 2023?
To make confident investment decisions and spot the best cryptos to explode in 2023, you need to use the best screening tools, read thorough project analyses, follow solid risk management strategies like the ARC strategy, and stay updated about the crypto top gainers. You can find it all and more in Cryptologist.
Summary
2022 is about to end, and most of the crypto investors are wondering which coins will boom in 2023 and what is the next crypto to explode! Here, we've reviewed 25 cryptocurrencies expected to explode, especially the newest cryptocurrencies that have real potential to go high in 2023. Keep an eye on Cryptologist to find more projects with high growth potential in the coming years.
How do you rate this post?