SpookySwap Analysis: The Cutest Exchange Platform!
#investment
#cryptocurrency
#dex
#boo
tl;dr
SpookySwap Finance is the largest DEX on the Fantom blockchain platform. SpookySwap is the go-to place for new projects on the Fantom blockchain or traders who want to start trading on Fantom. Keep reading to learn all the essentials and start trading!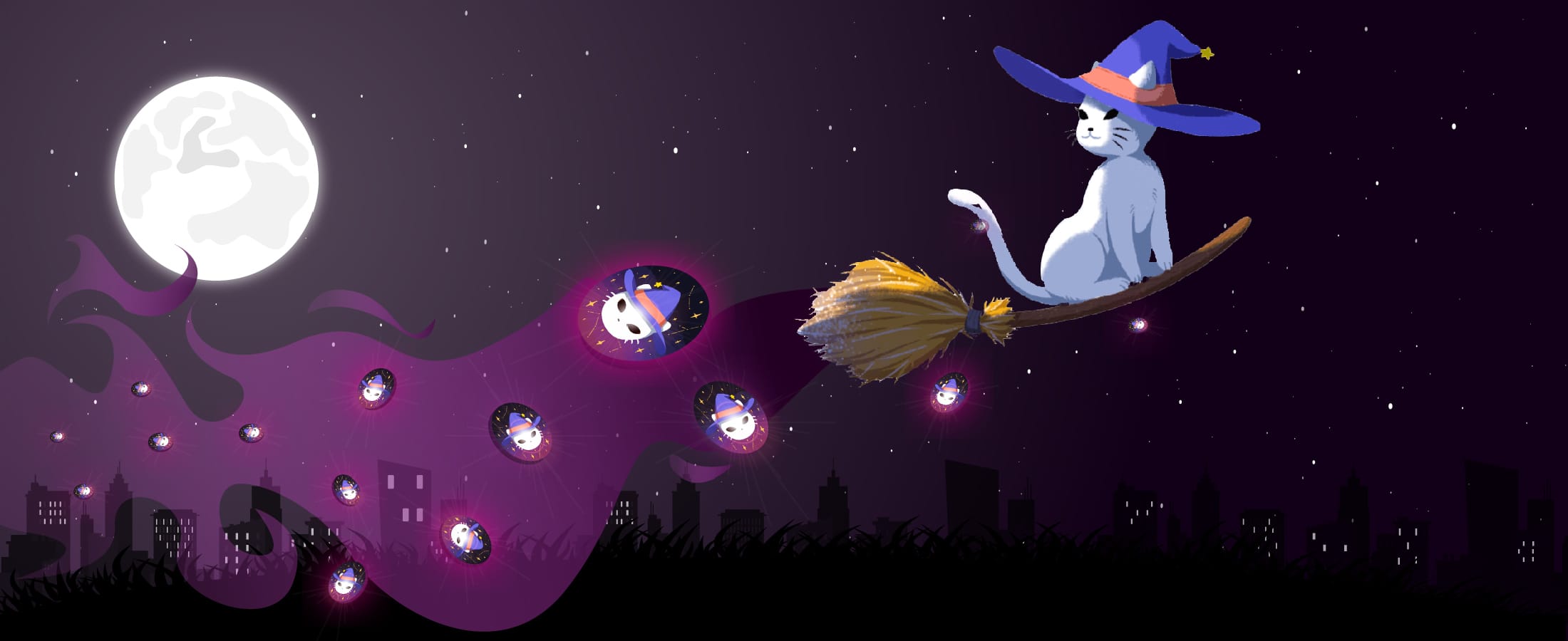 How do you rate this post?
What Is SpookySwap Coin?
SpookySwap Finance's native coin is the BOO token. Today, on 25 Oct 2022, BOO has had a trading volume of $300k in the past 24 hours.
BOO is used for a variety of features within the SpookySwap Finance ecosystem, such as staking, voting on changes to the platform, and purchasing NFTs. Even just purely holding BOO tokens allows you to earn more BOO.
Every Blockchain Has Its DEX, Why Not Fantom?
Every blockchain tends to have its own native DEX so that the trading of the tokens on the blockchain won't rely entirely on centralised exchanges, and users would have more flexibility while planning their trading strategies.
Fantom is not an exception - SpookySwap Finance is one of the DEXs on the Fantom blockchain with a relatively high daily trading volume.
The History Of SpookySwap
SpookySwap was founded in April 2021 by Claire Dunlap and Sarah Cooke, along with a team of anonymous developers. SpookySwap's governance token BOO was launched on April 25, 2021, through IDO, IFO, and airdrops to the AlchemixFinance and Alpha Finance Labs communities. These communities consist of holders, stakers, farmers, and other participants.
Along with the airdrops and fundraising methods mentioned, SpookySwap also focused on other methods of building a user base and bringing developers to the Fantom ecosystem.
These methods consisted of contests and international outreach on Twitter and BOO (Build On Opera) developer grants.
How Does It Work?
SpookySwap finance is an AMM (Automated Market Maker) responsible for creating liquidity in liquidity pools.
Similar to Uniswap's AMM algorithms, SpookySwap automatically sets the token prices and correlates them to the number of available tokens in a liquidity pool.
For example, if a token's supply in a pool decreases, the AMM increases the price of that token.
SpookySwap Features
SpookySwap offers various DEX features to enhance the DeFi experience for traders.
Swap: From this panel, you can easily swap tokens and do your trading activities.
Liquidity: You can add equal-value parts of two different tokens to a liquidity pool to become an LP and earn yield.
Farm: You can stake your LP tokens to earn BOO.
Stake BOO: Stake your BOO tokens from this panel to earn transaction fees and other projects' tokens.
Bridge: You can use SpookySwap Bridge to trade your assets from Fantom to other blockchains and vice versa.
NFT: The genesis NFT collection of SpookySwap, Magicats, which consists of 5000 NFTs, can be accessed from this panel. The panel also gives you more info about Magicats and other upcoming SpookySwap NFT collections.

Benefits of SpookySwap
SpookySwap is the largest DEX on the Fantom blockchain and offers many benefits to professional traders. Some of these benefits are:
Limited Orders
Fast Transaction Execution
Very Low Transaction Fees
Secure Trading
Expert Trading Tools
Staking Pools
BOO and xBOO Holder Benefits
Interblockchain Transactions (because of SpookySwap bridges)
Launch IDO for New Projects on Fantom
What Are SpookySwap Bridges?
SpookySwap bridges are "connectors" of SpookySwap Finance to other blockchains.
SpookySwap has integrated its own bridges to many significant blockchains, such as Ethereum, Binance Smart Chain, Arbitrum, Harmony, Cronos, Avalanche, and Polygon.
These bridges enable users to trade some tokens native to other blockchains and bring more liquidity and value to the entire Fantom blockchain.
A Glimpse Into SpookySwap's Whitepaper
When you swap on SpookySwap Finance, you pay a 0.2% trading fee, increasing to 0.22% for limit orders. Of them, 0.17% is returned to liquidity pools as a reward for liquidity providers, and 0.03% goes to the xBOO Stakers.
None of this fee goes to the treasury or developers' fund like traditional DEXs. To start swapping, you only need a BOO-friendly wallet (like MetaMask) and less than 1 cent of FTM for gas.
SpookySwap Roadmap
SpookySwap Finance's plans for 2022 have shifted from a roadmap to a quarterly priority list.
"This switch from Roadmap to Priority List allows us to better rapidly shift priorities based on the ever-growing crypto space."
According to this priority list, SpookySwap's plans are split into two main categories: Becoming the Home of DeFi, and NFT Innovation.
SpookySwap as the Home of DeFi
SpookySwap's main goal is to provide a professional network with serious trading capabilities and create the best DEX for master investors.
SpookySwap already offers unique DeFi tools, such as portfolio tools, the expert trader page, and native limit orders. SpookySwap's priorities for making their vision a reality are:
SpookySwap DEX V2
Expert Trader V2
Masterchef V2 and multi-token reward farm
Renovate the landing page
Listing on a centralised exchange
BOO price feed with Band and/or Chainlink
The ability for new projects to deploy a farm without permission
ve(3,3) Solidly NFT utilisation
SpookySwap NFT Innovation
SpookySwap's genesis NFT collection, which consists of 5000 Magicats NFTs, was minted and sold out in only five minutes.
Since Magicats is SpookySwap's genesis series, holders will receive a free mint on all upcoming NFT collections. SpookySwap's priorities for NFT Innovations are:
other NFT collections that support holders from the genesis NFT collection;
an NFT platform with a brand-new concept and design that is unlike an NFT marketplace;
ability to stake Magicats for boosting yield.
What Is BOO Token?
BOO is the governance and utility token of SpookySwap Finance. BOO gives its holders voting rights on changes to SpookySwap via the DAO and lets holders earn a share of the revenue.
SpookySwap makes it all possible by using a percentage of the transaction fees for BOO buybacks and then distributing the bought BOO tokens to the stakers.
This phenomenon incentivises BOO holders to use their voting rights wisely - the APY that users earn by staking BOO tokens increases if the DEX is used more.
Do Holders Of BOO Earn Rewards?
Yes, a part of SpookySwap's trading fees is used for rewarding BOO token holders with more BOO. Users can then stake BOO tokens in a specific pool and receive xBOO tokens representing their share of the pool.
Also, a part of the collected transaction fees is used for buying back BOO tokens. The tokens are added to the pool, increasing stakers' shares. The xBOO tokens can be staked to earn even more tokens.
BOO Tokenomics (Metrics, Allocations, Token Sale)
BOO has a max supply of 13,666,000 tokens, of which:
13% was distributed to the SpookySwap community with airdrops, additional BOO rewards for BOO stakers, and other bonuses;
2% was used for the initial liquidity on the exchange;
2% was put in a treasury controlled by the DAO;
10.3% was put into the development fund; and
The remaining 72.7% can be earned by providing liquidity to the DEX.
The developer funds are being vested, and it is estimated that the entire supply will be distributed to liquidity providers in three years. Here is the pie chart of BOO token distribution.
BOO Single Stake IFO - 4%
Developer Funds (separate from emissions) - 5%
SpookySwap Finance has a market cap of $10 million and ranks #852 in market cap rankings. BOO token has a 26% liquidity score, meaning it's a challenge to trade or sell during a bear market.
BOO has a maximum supply of 13 million, of which 73% is in circulation (9 million BOO). Below is the chart of BOO price and market cap performance throughout the past month.
BOO Token Use Case
BOO token's two main use cases are staking and governance. Regarding governance rights, SpookySwap measures the voting rights of BOO tokens in a particular way.
Instead of counting each 1 BOO as one vote, its number of votes depends on where the tokens are held.
Every BOO token in your wallet or staked in the xBOO pool has three votes, and every BOO held inside a liquidity pool of the DEX has five votes. This feature enables and encourages the holders to participate in the governance of the DAO while also providing liquidity to the DEX.
BOO Staking
Stakers of BOO tokens receive xBOO tokens representing their amount of staked BOO.
xBOO is used for earning new tokens from affiliate projects with SpookySwap and can be staked to earn even more tokens. Here's the step-by-step guide to how to do it:
Stake your BOO tokens in the buyback single-stake pool and receive the equivalent of your staked BOO as xBOO tokens. xBOO functions as your proof of deposit.
With the received xBOO, you can stake to earn other assets in the staking pool list. The staked xBOO tokens continue to participate in the BuyBack pool and earn you more BOO as well.


Bonus step: If you're a Magicats NFT owner, you can use your NFT to boost your earnings from the pools.

How To Buy BOO Tokens?
You can purchase SpookySwap Finance's BOO tokens from SpookySwap itself. Also, the BOO token is available on Huobi Global, Gate.io, TraderJoe, and MEXC exchanges.
Other Fantom-native exchanges like Tombswap and SpiritSwap have also listed this token.
SpookySwap Compatible Wallets
Various wallets are compatible with SpookySwap, making it more convenient for you to store or trade BOO tokens. SpookySwap compatible wallets are MetaMask, MathWallet, Trust Wallet, CoinBase Wallet, WalletConnect, and TokenPocket.
Summary
SpookySwap Finance is the largest DEX on the Fantom blockchain by TVL. BOO is the utility and governance token of SpookySwap and can be used in various ways, such as staking or purchasing NFTs
SpookySwap offers unique DeFi features, such as SpookySwap bridges, which make it possible to swap tokens from blockchains other than Fantom.
FAQ
Here is a list of FAQs about SpookySwap Finance with detailed answers.
How Do I Invest in SpookySwap?
You can invest in SpookySwap Finance by using the platform for trading or simply buying BOO tokens.
Who Owns SpookySwap?
SpookySwap Finance was created by Claire Dunlap and Sarah Cooke. Dunlap is the co-Founder of Midsummer Scream and Cemetery Line, and Cooke is an Instagram influencer (@the_pumpkin_queen) and the owner of GOREnaments.
Is SpookySwap Finance Safe?
SpookySwap Finance is a safe ecosystem for the daily trading of crypto assets. In fact, most decentralised exchanges are safer than centralised ones since hackers can easily grab cash from a CEX, and it won't be as easy in a DEX ecosystem.
How do you rate this post?