What Is Shiba Inu Coin Burn and ShibBurn, How Does It Work?
#blockchain
#cryptocurrency
#shib
tl;dr
Shiba in coin burning is the act of destroying SHIB tokens to reduce the supply of the token to increase its value. Shiba Inu gained a lot of attention in 2021 following the launch of its burning portal. The Shiba Inu coin burn portal is a clever way to short the supply while the demand continues to hike together with the Shiba Inu value. This article focuses on ShibBurn and answers all your questions plus, "Will Shiba Inu Reach $1"?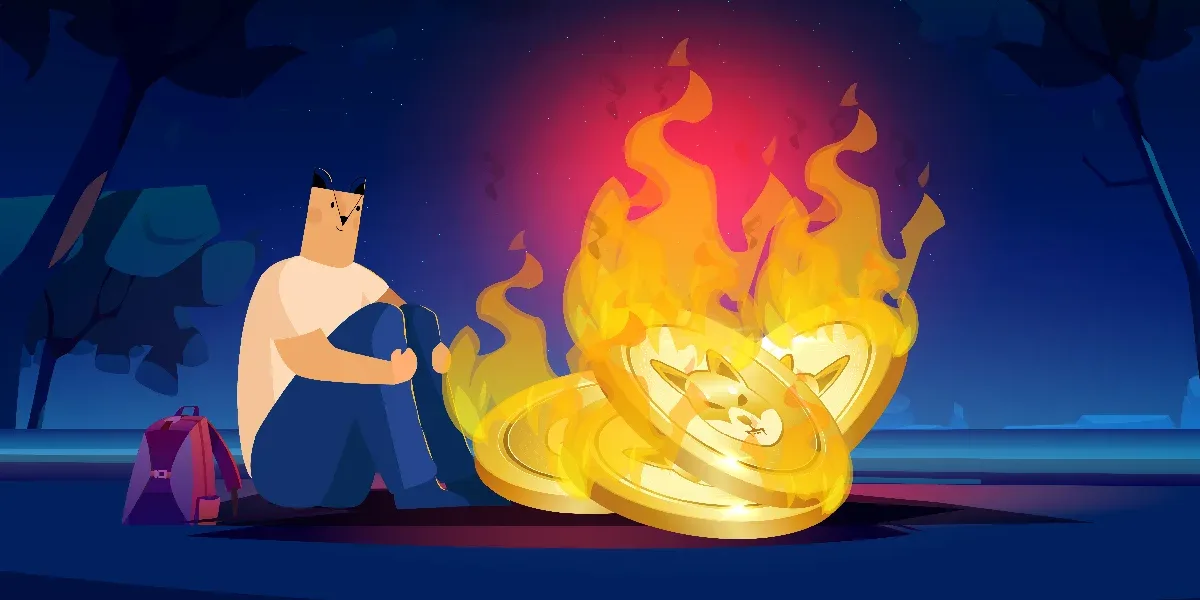 How do you rate this post?
What Is Shiba Inu?
Created in August 2020 by an unknown founder called Ryoshi, Shiba Inu is one of the fast-growing meme coins on the Ethereum blockchain.
It describes itself as a rival of Dogecoin or "Doge-Killer" and introduces three tokens, including SHIB, LEASH, and BONE.
According to its whitepaper, Shiba Inu was developed to answer a simple question: "What would happen if a cryptocurrency project was 100% run by its community?"
Shiba Inu aimed to increase the price above $1 by burning the tokens from their circulating supply and adding them to the dead wallets. The following parts will give you a clear picture of ShibBurn and why it matters. Next we talk about Shiba Inu coin burn.
What Is Token Burning?
Generally speaking, token burning in crypto and blockchain refers to removing coins from the overall supply of a cryptocurrency to increase the asset's value.
Read more: Last Update On Shibarium Release Date! What Is Shibarium Blockchain?
Why Is Shiba Token Burn Important? Why Is SHIB Getting Burned?
To put that into perspective, Bitcoin has a total supply of 21 million coins. The Ethereum blockchain consists of 122 million coins, while Shiba Inu comes with a total supply of 1 quadrillion, which is dreadfully high.
Generally speaking, the more coins we have in total supply, the less demand and value it has. But how to crack this issue?
Shiba Inu thrives on reducing its one quadrillion circulating supply to reduce the number of tokens in circulation. Reducing the supply and increasing the demand drives up the token price.
Learn more: What Is Deflationary Crypto? 10 Best Deflationary Coins for 2023
Shiba Inu's burning portal: ShibBurn
On Apr 24, 2022, ​​Shiba Inu announced that the ShubBurn portal had launched, and within the first 24 hours of the portal coming online, over 8 billion SHIB tokens were burned.
This portal was created as part of a partnership between Shiba Inu and Ryoshis Vision (RYOSHI) portal to support the growth of the Shiba Inu ecosystem, making the SHIB a deflationary token enabling users to earn passive rewards.
Follow me to the next section to learn how exactly the ShibBurn portal works.
How Does ShibBurn work?
Within the portal, each user is capable of destroying their SHIB tokens. It means that these tokens will be sent to the dead address, and they will receive burntSHIB tokens in their Ethereum wallets. Also, Ryoshi rewards depend on the percentage of the burn pool they hold.
Shib Inu coin Burn Schedule 2022 and 2023
Shiba aims to burn 88.8 trillion SHIB tokens each year, and the latest data from Shibburn.com indicated that 410,382,809,784,970 SHIB tokens had been burnt from the initial supply up to now.
Will Burning SHIB Increase Its Value?
Technically speaking, when someone decides to burn their token, they help reduce the circulating supply of this meme coin and, as a result, make it more scarce and valuable.
How Much SHIB Is Burned?
Shiba Inu has an initial supply of 1 quadrillion, with a circulating supply of 589,371,636,528,152 coins. Over 410.38 trillion SHIB, equal to 41% of the total SHIB supply, has been burned so far.
A large number of these burned tokens belong to Vitalik Buterin, the creator of Ethereum, who received 500 trillion SHIB when the token was first launched and then in May 2021, he aimed to destroy them.
How Much Shiba Inu Is Left?
At the time of writing this article, on Nov 27, the total supply of Shiba Inu is 589.63 trillion, with 31.56 trillion tokens staked and 549,063,278,876,302 SHIB remaining in circulation and with users.
How Much Shiba Is Burned Daily?
There is no certain answer to this question, which could be different during different periods. More than 70 billion SHIB tokens were burned during the first half of 2022. During September 2022, 23.67 million Shiba Inu tokens were burned per day, which is 138% higher than the average daily rate in August.
Summary
All in all, Shiba burning is a novel solution to diminish the existing token to bring the supply and demand back into balance. Accordingly, the SHIB burning portal came into the picture in April 2022 as a clever way to burn tokens and get them out of circulation.
How Much Shiba Inu Still Needs To Burn?
The current value of each SHIB token is about $0.00000897, and Shiba is aimed at increasing SHIB's price to above $1. The price of $0.0000089 gives SHIB a total market capitalisation of $4.9 billion. If Shiba Inu ever wants to be traded at $1, it would have to decrease the total supply to around 4.9 billion.
FAQ
Below you can find the answers to the most frequently asked questions about Shiba Inu burning.
Can Shiba Inu Reach $1?
The total supply of Shiba Inu needs to be decreased to 4.9 billion if Shiba wants to reach a value of $1.
How Much Shiba Inu Is In Circulation?
The current circulation supply of Shiba Inu includes 549,063,278,876,302 SHIB tokens.
Will Shiba Inu Reach One Cent With Burns?
Shiba Inu price prediction indicates that the SHIB token has the potential to reach a maximum price of $0.00003331, an average price of $0.00002805 and the minimum price of $0.00002725 in 2025. Shiba Inu Price Prediction 2025 offers a deep dive to help you find out if Shiba Inu is a good investment.
What Is The Burn Wallet For Shiba Inu?
Burned tokens will be transferred to the dead wallets, which are unusable, to remove the tokens from circulation and cannot be retrieved.
How Much SHIB Is In The Burn Wallet?
Today, on Nov 27, 2022, over 410.38 trillion SHIB tokens have been burned so far. It means that these burned tokens were taken out of the total supply and went to the burned wallet.
Does Burning SHIB Increase Price?
Yes. Burning the SHIB tokens and removing them from the total supply will enhance the demand, and as a result, the token's value will increase.
How do you rate this post?