What Is Mask Network? How Can I Stake Mask Token?
#binance
#decentralized
#investment
#cryptocurrency
#mask
tl;dr
Mask Network is to jazz up your social life by enabling Web3 features in social media, offering an open-source browser extension, an ITO, social trading tools, NFT avatars, Web3 profiles, shopping at social marketplaces, participating in giveaways, decentralised storage, and many more! It's time to learn what this network brings to you and how you can benefit.
How do you rate this post?
What Is Mask Network?
Mask Network is a portal developed to let users access the world of Web 3.0. The network does so by providing the ability to send encrypted messages and cryptocurrencies, plus offering access to decentralised apps (dApps) on both traditional and decentralised social networks.
How Does Mask Network Work?
Mask Network aims to enable Web 2.0 users to access Web 3.0. How?
Traditional social networks lack the DApp ecosystem, which is one of the basics of Web 3.0.
Mask Network's browser extension is to fill this gap by being a decentralised alternative to Web 2.0 features. What are these features? Follow me to the next section to find out.
Mask Network Features
Decentralisation means you own what you produce, your personal data, and even the virtual space you're a part of. Mask Network strives to deliver all of this for its users so they access
Secure and decentralised social messaging,
Payment networks,
File storage, and
Sharing files without leaving mainstream social media networks.
What Mask Network provides helps users gain control over their personal data and privacy.
Team
Mask Network was created by Suji Yan as the platform CEO, who is one of the 22 people who were strategic investors in the Decrypt platform. The following are some of the team members making Mask Network.
Ecosystem lead: Taylor Zhang
Business Development and Regulatory Strategy: Adrian Cortez
Ideation Geek: Mindey I.
Early Stage Investor, Builder: Cecilia Li
Web3 Strategy, Partnerships, Institutional Relations: Germaine Jiang
Roadmap
Before reviewing the details of Mask Network's roadmap, let's check out its vision and main objectives:
Building a Web3 dApplet store on Web2. This dApplet store is a space to integrate, display, and interact with all kinds of content on existing social media platforms. It lets users send encrypted messages, trade cryptocurrencies, and interact with DeFi and NFTs on Twitter and Instagram.
Improving user experience to parallel the best of Web2.
Providing a venue for developing Web3 apps.
Enhancing privacy, security, and user-friendliness, and providing better access and freedom of interpretation.
Becoming a public, decentralised platform like Ethereum by developing core functionalities like Payments/Red Packet Chain-Agnostic, and Cross-Chain.
Funding dApps with innovative ideas.
Mask Network Roadmap for 2022
Here is what Mask Network planned for 2022 and the years following it.
Mask Network available on the web browser and iOS device
Lucky Drops (aka Red Packets)
File transfers
ITO (Initial Twitter Offering)
MaskBox (NFT launchpad)
Strategic partnerships with ecosystem projects
Multi-Chain Integration, which currently supports
Ethereum mainnets
BNB Chain
Polygon
Arbitrum
xDai/Gnosis
Fantom
Solana
Avalanche
Aurora
Flow
Mask Network Plans for 2022
Integrating on Instagram
Optimising Facebook & Minds.com
Developing social graph functionalities
Launching Next.ID (a digital identity system)
Launching Mask Network ecosystem fund with strategic investors
Integrating dApps via community bounties to support the Network growth
Improving multichain support
Enabling DAO voting and Forum and devising a governance model
Mask Network's Long-Term Mission
Co-creating the MaskDAO
Strategic investment with projects in SocialFi, DeFi, Metaverse, GameFi, etc.
What Is MASK Token?
February 20221 marked the time when the Mak Network developed MASK tokens through an Initial Twitter Offering (ITO). ITO is a method to offer decentralised assets by allowing users to join airdrops and token launches or use Twitter to run Gitcoin grant campaigns.
The token lets users showcase NFTs on social media profiles and make bids on OpenSea or Rarible marketplaces.
MASK Tokenomics
The following pie chart depicts the distribution of Mask Network (MASK).
Foundation Reserve - 39.6%
Mask Network Supply Schedule
The following graph displays the supply schedule of the Mask Network.
Mask Token Use Cases
MASK, the utility token of the Mask Network, is controlled by the network's DAO, i.e., the MaskDAO, which enables the MASK holders to own the ecosystem.
Each MASK equals one vote, and the token holders
have governance rights;
can vote on the platform activities, including funds usage and the questions that come up about MASK.
The users can trade MASK against
USDT,
USDC,
DAI,
BUSD,
HUSD, and
ETH
How To Stake MASK?
If you invest, say, $100,000 on MASK, you can receive about $2,400 a day! By staking MASK tokens, the users can earn up to 873% profit annually! These are the steps you need to take:
Choose an exchange that supports MASK.
Connect your MetaMask or TrustWallet (by clicking on the "Connect Wallet" button).
Open the staking page.
Click on the "Stake" button.
Confirm the transaction.
When done, the total amount staked will appear on your balance.
You can unstake your MASK tokens anytime you wish, just by clicking the "Unstake" button on receiving them almost instantly.
Where Can I Use Mask Network?
Currently, the Mask Network is available on some of the most favourite social platforms, i.e., Facebook, Twitter, and Minds.com.
But that's not it, as Mask Network intends to support more platforms in the near future.
You may ask, "What does Elon Musk have to do with the Mask Network?". Well, just for the idea of integration between MASK and Twitter, Mask Network jumped 249% last week.
It happened as Binance added Mask Network to its "Bluebird" index, and crypto enthusiasts speculate there might be an integration between the Mask Network and Elon Musk's newly bought Twitter platform.
Mask Network Browser Extension
Mask Network Browser Extension provides access to the new and open Internet, dApps, and encrypted message on the most favourite social networks.
It enables users to
Encrypt your social media chats and posts on You-Know-Where.
Allow chosen people to decrypt.
Join cryptocurrency lucky-draws, and
Share encrypted files on social platforms.
You can get the Mask Network extension on Google Chrome, Mozilla Firefox, or Opera.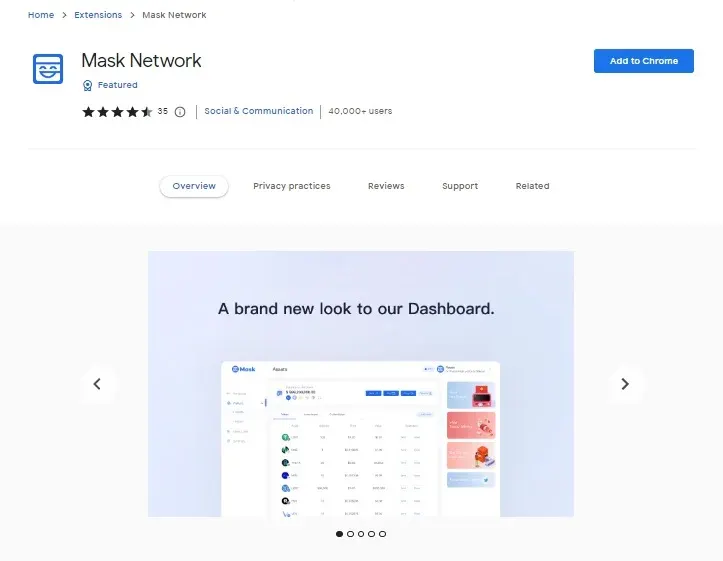 How To Buy Mask Tokens?
You know by now that to get MASK, you need to stake it. But to buy MASK tokens, you need to follow these steps:
Register on Fiat-to-Crypto Exchange.
Buy BTC with fiat money.
Transfer BTC to an Altcoin Exchange.
Deposit BTC to exchange.
Trade MASK.
How To Install Mask Network?
Installing Mask Network is super easy. To install Mask Network, you just need to visit the download page of the Mask.io website and install it through the Google Play Store or the Apple App Store.
The Future of Mask Coin
Crypto experts predict that in 2030, the average trading price of each Mask coin can reach $72.71. Its minimum and maximum prices can reach $70.82 and $80.78, respectively. Recent analyses indicate that if 2023 and beyond is the time for a good bull market, MASK has the potential to grow.
Summary
Mask Network was developed to bring Web3 experience to Web2 users. It does so by providing unique features on the most commonly used social media platforms like Twitter and Facebook.
Its browser extension offers additional features to social media users. To find more projects like Mask Network and analyses of the top 1500 crypto projects, check Cryptologi.st.
FAQ
People ask a lot of questions about innovative projects like the Mask Network. Here, you'll find answers to the most frequently asked questions about MASK.
Does Mask Network Charge A Fee on Swap?
Luckily, no. Mask Network does not charge any fees on swaps, but who knows what will happen!
How to Use The File Service on Mask Network?
To use the Mask Network File Service on Twitter, follow these steps:
Open Twitter.
Click the Mask icon.
Click "File Service".
Drag in or click to upload the file you wish to share.
Click "Use the file".
Type in the description, and click "Finish".
The file is seen as encrypted text. Click Tweet to share.
How to Create A Wallet on Mask Network?
The users can create a new wallet with Mask or import an existing MetaMask or WalletConnect account. To create a wallet on Mask Network:
Click "New Wallet".
Read the terms and conditions and click "Agree".
Enter your "Wallet Name" and "Payment Password".
Write the mnemonic phrase of your wallet (you'll need it later).
Fill in the missing words to verify.
Once the verification is done, your wallet will be created.
It is highly unlikely, considering the current changes in the Mask Network and being added to the Binance "Bluebird" index and the possibility of Mask Network integration with Twitter.
No worries; even if your Twitter account is banned, the assets are safe in your wallet. The wallet address is not tied to the Twitter account, so changes in your Twitter account won't affect your wallet. Your assets will be fine as long as you have access to your wallet.
Where Can I Trade MASK?
Many exchanges support MASK, including
Binance,
Uniswap,
Coinbase,
SushiSwap,
Huobi Global,
Quickswap,
OKEx,
Bitget,
Balancer,
DigiFinex, and
Mandala Exchange.
How do you rate this post?