Wanchain: Blockchains All In One!
#blockchain
#cryptocurrency
#investment
#defi
#wan
tl;dr
Blockchain is one of the fastest-growing technologies, increasing productivity and variety in many fields. To use more and more of the blockchain capabilities, we need to create blockchain interoperability. But how can we bring interoperability into the blockchain and connect all types of blockchain to flow assets in various blockchains and inside DeFi dApps without a third party? Wanchain has provided technology to make it all possible. Let's discover what Wanchain is, how it works, and analyse the token‌omics details of the WAN coin.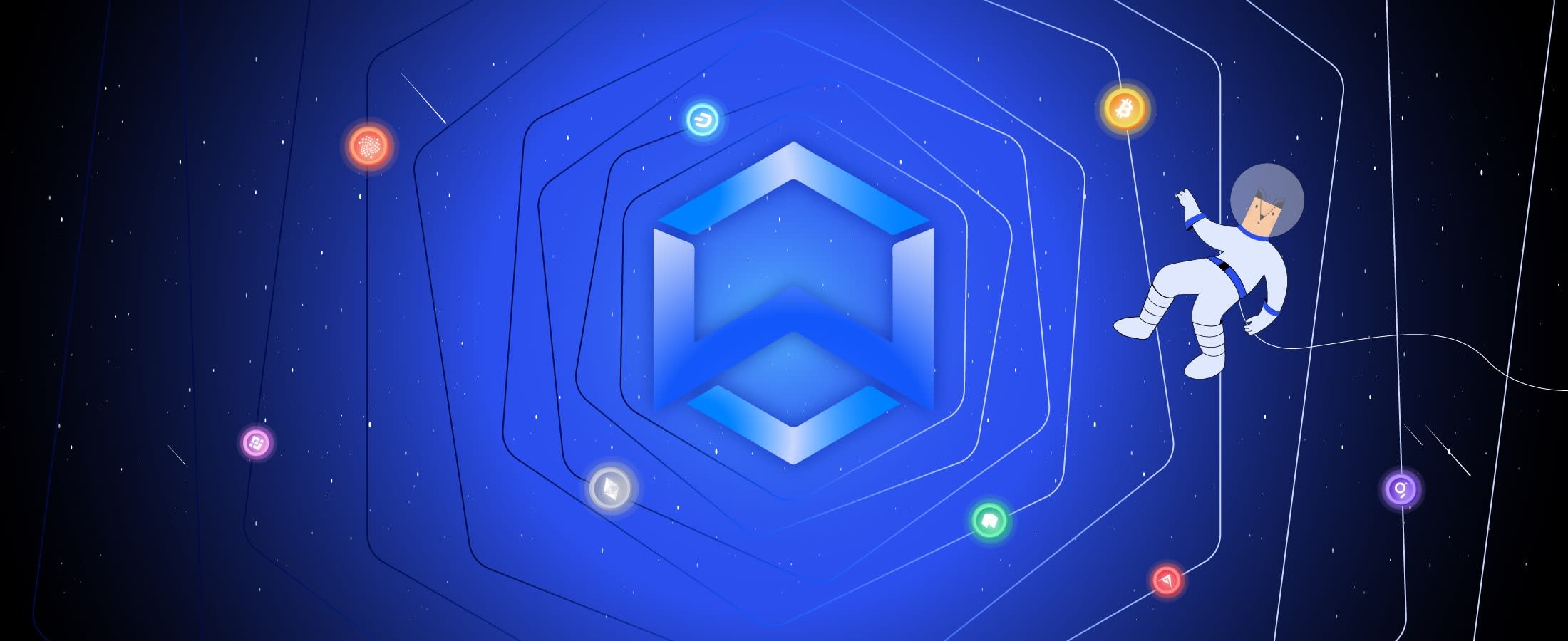 How do you rate this post?
Understanding Wanchain Platform
Wanchain is a public blockchain backed by Ethereum smart contracts to build a distributed bank and an economic infrastructure similar to traditional banks for developers. Wanchain provides any blockchain, no matter private or public, to communicate or exchange information with one another. Learn all about blockchain. WAN is a native token of the Wanchain platform with a circulating supply of 192,701,891 WAN coins and a max supply of 210,000,000 WAN coins. WAN holds the 486th rank of the largest cryptocurrency in the world by market cap.
What Problem Is Wanchain Trying to Solve?
The world of cryptocurrencies is continuously growing, with thousands of digital currencies based on blockchain technology privately and publicly. The main issue with all types of blockchain is how to connect with each other, transfer information, exchange their value and assets. Wanchain has introduced its novel solution known as a cross-chain to connect different blockchains to tackle this issue. Their vision is to connect all the world's digital assets by connecting all disparate blockchain platforms that currently cannot communicate.
Wanchain Features
Let's have a quick look at bright features in the Wanchain ecosystem that include decentralised bridge, WanSwap, WanMask, WanLen, Wanchain Wallet and Wanchian Explore in the following section.
Wanchain's Decentralized Bridges
Wanchain's decentralised bridges connect Bitcoin, Ethereum, Ripple and EOS, with other chains such as Polkadot on the horizon.
Wanchain's BTC-ETH Direct Bridge
In early 2021, the Wanchain team announced that the world's first decentralised BTC-ETH direct bridge is live and introduced it as their new cross-chain mechanism. This new cross-chain mechanism features as below.
Shared staking assets: all staked assets of WAN bridges now power the same collateral pool.
BTC-ETH direct bridge: BTC can be directly transferred to the Ethereum network without requiring Wanchain as a router.
WanSwap
WanSwap is a decentralised exchange on the Wanchain blockchain. It is designed as a cheap, scalable, and genuinely trustless multi-chain exchange for asset trading.
WanMask
WanMask is Wanchain's free browser extension. All the Web 0.3 applications will be able to interact with the Wanchain blockchain safely. Learn Web 0.3 from A to Z.
Wanchain Wallet
Wanchain wallets allow you to manage, send, and receive your Wanchain-supported digital assets such as WAN. Wanchain wallets are available for desktop, mobile and even offline. Learn pro tips on using crypto wallets super efficiently.
WanLend
WanLend is a decentralised lending platform that offers users to stake WAN tokens as collateral. Make money directly from staking.
Wanchain Explorer
With Wanchain Explore, all the users can check deployed smart contracts, read the smart contract code publicly on the explorer, create WRC20 tokens, contribute to ICOs and view how many tokens and WAN each address holds. Secrets you need to know on ICOs and other fundraising methods.
How Does Wanchain Work?
Wanchain, a cross-chain and financial infrastructure, joined the blockchain Interoperability Alliance (IOA) in November 2017 with the hope of replacing legacy banking systems. Wanchian allows all the institutions or individuals to set up bank services, including asset exchanges, credit payments and transaction settlements based on digital assets without any intermediary (third party). Wanchain's slogan is "open finance is already broken"! This Ethereum-based blockchain hosts dApss, and all the developers are allowed to write smart contracts, build dApps and interact across multiple blockchains.
Wanchain Galaxy Consensus
Wanchain has developed Galaxy Consensus as a Proof of Stake (PoS) protocol to validate the chains and supports two kinds of validator nodes: Storeman and PoS. PoS validator nodes try to achieve decentralised consensus using a Proof of Stake mechanism. Storeman validator nodes perform and verify cross-chain transactions.
The Story Behind Wanchain
Wanchain was founded in 2017 by Jack Lu, who has plus 22 years of technical experience. Wanchain team includes 50 members and 20 advisers to create the ultimate decentralised banking solution by building infrastructure to establish cross-chain integration with all major public and private blockchains.
Why Is Wanchain Called Wanchain?
In the Chinese language, "Wan" means "ten thousand"; therefore, the name 'Wanchain' translates to "ten thousand blockchains". As the name suggests, Wanchain tries to connect the world's isolated blockchains.
WAN
The primary token of the Wanchain platform is known as WAN or Wancoin. Let's analyse the token utility, financial analysis, token distribution, token popularity and ROI.
How Does WAN Work?
As the core part of the Wanchain platform, the WAN token is used to incentivise PoS validator nodes, Storeman validator nodes, and their delegators. With WAN token, users can stake WAN tokens as collateral in the WanLend platform and also, to execute each transaction on Wanchain, we need some WAN tokens (less than 0.0001 WAN).
Token Distribution
The distribution of WAN with a max. supply of 210,000,000 WAN coins is listed as follows:
%51 of coins is distributed for the token sale.
%20 of coins is dedicated to the project team.
%19.9 goes to the ecosystem funding, including operations, infrastructure, marketing, community, research, and development.
WAN's Financial Analysis
WAN token was released in October 2017 at a rate of $0.34. On Mar 2, 2022, the current price was at $0.37, -96.2% less than its all-time high when the price was at the highest range of $ 9.8 (on May 04, 2018). Like all the crypto projects, Wanchain has had its ups and downs, and the price touched its lowest rate at $ 0.76 (almost two years ago, on Mar 13, 2020). WAN is the 486th largest cryptocurrency in the world by market cap, with a circulating supply of 190 Million WAN coins and a total supply of 210 Million.
How Is WAN's ROI?
Over the last year, WAN's ROI was -%54.8. Although this statistic does not indicate good performance, you should consider that 2021 was a bullish year for most crypto projects.
WAN Token Popularity
According to the data on Cryptologi.st, the Wanchain platform is followed by 131K people on its Twitter account, which is a convincing number with an %8 growth rate. However, Wanchain's Telegram channel with 9197 subscribers shows a -%16 growth rate.
Where Can I Buy The WAN Token?
By considering the good and bad sides of the project, if you're willing to buy the WAN token, here is the list of some exchanges where you can trade the WAN token. Binance, Huobi, Global, Kucoin, Bitrue, BKEX and WanSwap.
Should I Invest in Wanchain?
Interoperability is a big issue, and there are a few blockchains like Wanchain, Cosmos and Polkadot that can provide it and host smart contracts. Wanchain casts itself as the world's first online interoperable blockchain solution. The more blockchain expands, the more we need networks like Wanchain to link and connect blockchain. As a result, there is a chance that the average price of WAN will rise. But you keep in mind that we are not financial advisors.
Although from 2018 to 2021, Wanchain has taken major steps toward its roadmap and has done a lot, its 2022 roadmap is not released yet, and it's wise to take precautions and make sure of their future plans prior to making investment decisions about Wanchain. The 2022 roadmap of Wanchain will be live on Cryprologi.st as soon as it is published. Remember that we are no financial advisors; we just facilitate your decision-making process by providing reliable information about the hottest coins you need to know about.
How do you rate this post?