Unibright: Need No Code To Build Smart Contracts!
#investment
#cryptocurrency
#blockchain
#smart-contract
#ubt
tl;dr
Unibright brings blockchain and smart contracts together to offer blockchain solutions, develop integration platforms, and create an ecosystem for tokenised assets. Building upon a "no-coding-needed" rule, Unibright enables users to automatically generate, deploy and update smart contracts into other blockchains. There is a lot to know about this innovative project; keep scrolling to get it all.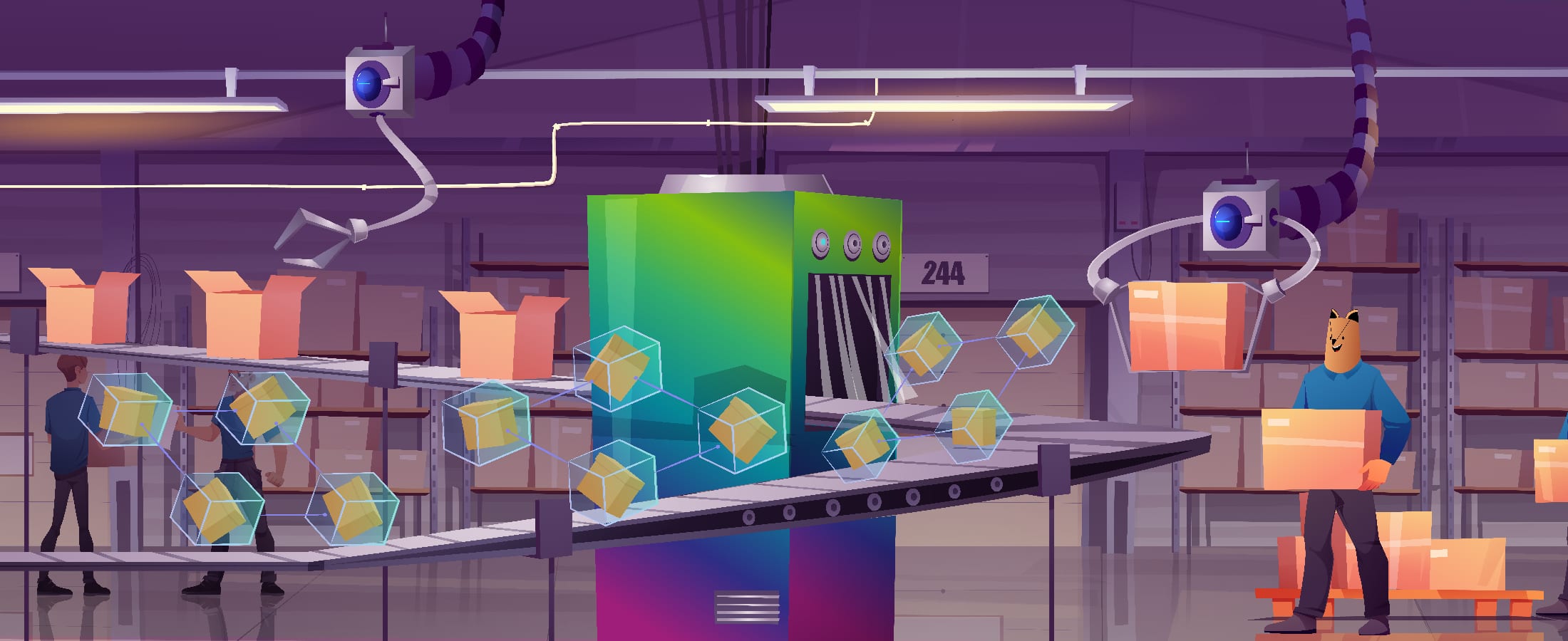 How do you rate this post?
How Does Unibright Work?
Simply put, Unibright creates template smart contracts that even the users with next to nothing coding knowledge can make smart contracts on the blockchain. This innovation makes Unibright super efficient for common non-technical or semi-technical crypto users. Unibright works as a help to enterprises and enables them to run their off-chain operations while staying on a public mainnet like Ethereum. Unibright strivest to support business systems and processes using blockchain technology and increase efficiency, transparency, and security.
What Does Unibright Offer?
Unibright helps its users
find the most practical protocol for their use-cases;
create their custom blockchain for any protocol;
integrate all blockchain processes into a unified system; and
monitor business processes, whether on-chain or off-chain.
Unibright's Baseline and Baseledger
Unibright has helped develop Baseline Protocol, an open-source initiative that integrates cryptography, messaging, and blockchain and provides secure and private business processes. Baseline Protocol is aimed to provide these services cheaper thanks to a public blockchain which acts as middleware. Also, Unibright has developed Baseledger, a public blockchain governed by a council, which aims to minimise the current blockchain problems regarding Enterprise and Baseline usability.
Unibright's Baseline and Baseledger Unique Features
The Baseline Protocol uses blockchain technology to provide enterprises with privacy, permission, and performance.
The Baseline Protocol enables enterprises to maintain confidential and complex collaborations without keeping data on-chain.
Baseledger plans to enable fixed and low transaction costs and better performance.
Baseledger enables multi-chain coordination and off-chain ERP integration thanks to its unique design.
Unibright Token (UBT)
UBT is Unibright's utility token needed for all the services provided at the platform. In addition to being used as a means of paying fees, UBT can be held by the network workers maintaining consensus as a staking mechanism. The following graph depicts how the Unibright token (UBT) works in the whole system.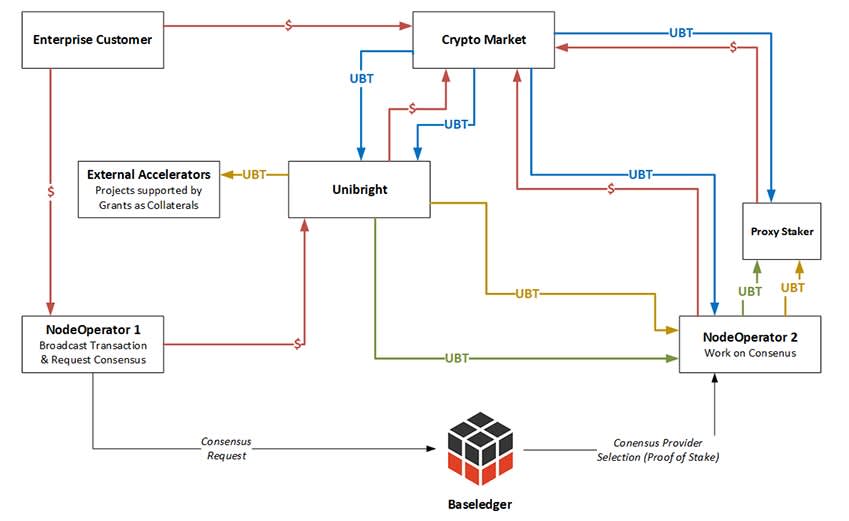 Unibright Financial Analysis
Financial charts on Cryptologi.st indicate that Unibright stands on the #396th market cap rank among all crypto projects. Unibright's price today, on May 16, 2022, is $0.391324, with a trading volume of $426,866 in the last 24 hours, which is up 6.5%. Unibright has a circulating supply of 150 Million UBT coins and a total supply of 150 Million. Unibright's price is -90.7% lower than its all-time high of $4.22 on Sep 01, 2021, but is 4864.4% higher than its all-time low of $0.00793962 on Nov 25, 2019. Uniswap V3 is currently one of the most active exchanges to trade Unibright.
Unibright Liquidity Score and ROI Analysis
Currently, Unibright liquidity score is 20%, which makes it a very hard sell in a bear market. In the recent year, Unibright has had a -76% Return on Investment (ROI), which shows underperformance compared to similar projects with -48% ROI. The low ROI of Unibright is more significant than the top 1500 crypto projects, with a 2,175% growth Return on Investment. However, Unibright has had a 6% in the recent 24 hours. Check here to read swap, contract, holder, and liquidity analyses.
Disclaimer: Don't take this article as financial advice. You need to DYOR (Do Your Own Research) before investment.
Unibright Price Prediction
Crypto experts analyse the potential of any given project, its technology, and performance and come up with price predictions, which can be used as a tool to make some estimations. Bear in mind that anything names price prediction on Crptologi.st is merely prediction and no financial advice.
Unibright Price Prediction for 2022
In 2022, the average price of Unibright tokens (UBT) is predicted to be $0.40. Its minimum and maximum price level can be $0.38 and $0.45, respectively.
Unibright Price Prediction for 2023
The price of each UBT token is expected to reach an average of $0.60 throughout 2023. It can fall to $0.58 and jump to $0.68 in 2023.
Unibright Price Prediction for 2024
In 2024, the average trading price of Unibright is estimated to be $0.90. It is also estimated that Unibright's price can reach a minimum of $0.88 and a maximum of $1.01.
Unibright Price Prediction for 2025
Each Unibright token can be sold at a minimum of $1.26, a maximum of $1.55, and an average price of $1.30 throughout 2025.
How Popular Is Unibright?
Unibright has been gaining attention all over social media, which is an indicator of its active community and a responsible team. Unibright has experienced growth on Twitter, Reddit, and Telegram by 22%, 7%, and 3%, respectively, in the recent six months.
Who Founded Unibright?
Unibright was founded in October 2016 by Marten Jung and Stefan Schmidt as the CEO and CTO of the project with 20 years of experience in technology and software development.
Is Unibright A Good Investment?
Unibright is a bright platform that aims to streamline creating smart contracts and facilitating business processes. The idea behind it is innovative and practical, and it has a growing community, which is a green flag. However, no whitepaper and roadmap were available for Unibright, and its ROI is lower than similar projects, which is a red flag. But the price prediction indicates that it can be improved in price in the long run. All in all, the decision is yours! Weigh various options and check your financial priorities and limitations. Cryptologi.st is not here to give you buy and sell signals; instead, it educates you about the top 1500 crypto projects with its screener tool and thorough project reviews. Stay tuned for more!
How do you rate this post?