Ukraine Uses Bitcoin to 'Crowdfund War' With Russia
tl;dr
As tensions on Ukraine's border intensify, Ukraine-based non-governmental organisations (NGOs) and volunteer groups are seeing a sharp rise in Bitcoin donations. According to a report from blockchain analytics company Elliptic, hundreds of cryptoassets totalling hundreds of thousands of dollars have been donated to these groups. These donations had an increase of 900% in 2021.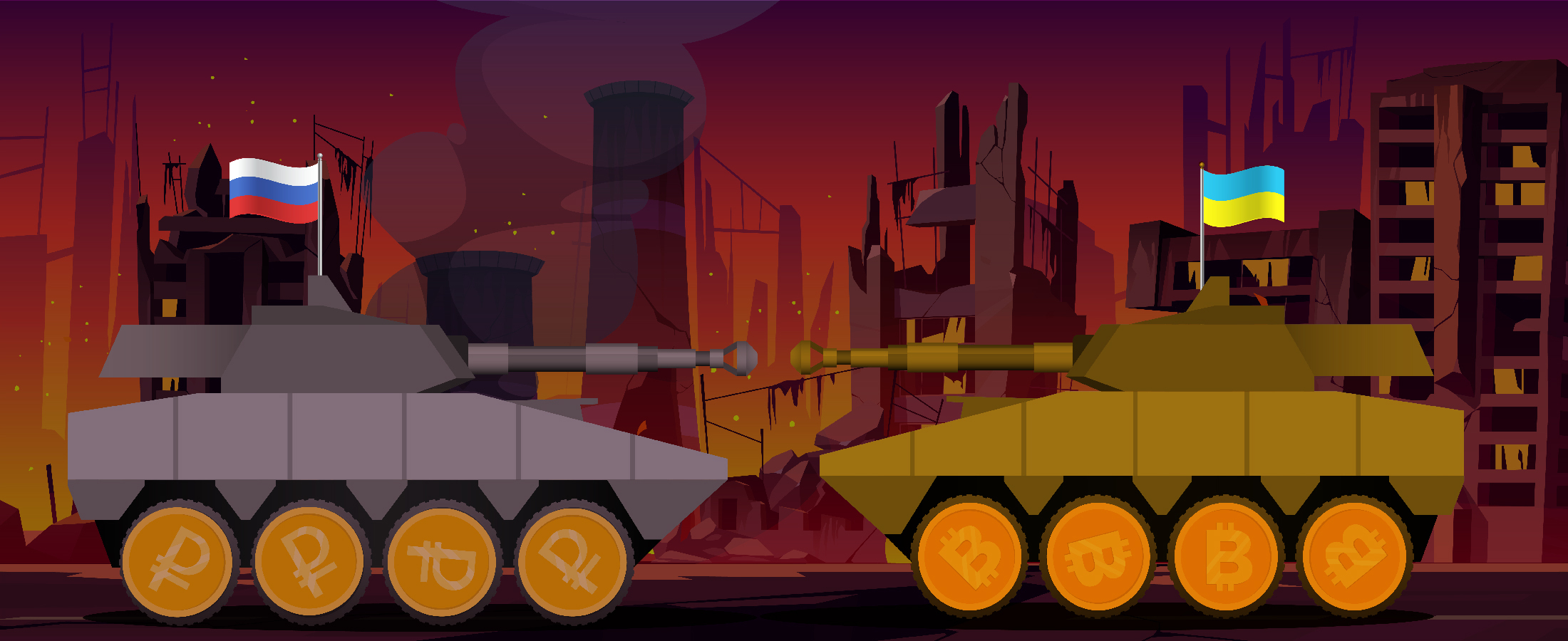 How do you rate this post?
What Are Ukrainian NGOs Doing?
Volunteer groups and NGOs have played a crucial part in Ukraine's conflicts over the past decade. These groups aren't charities fighting poverty or spreading social justice; they're pro-Ukrainian hacktivists and military organisations. According to a report by Elliptic, NGOs and other groups are using cryptoassets as a means of crowdfunding the war.
Who Funds Ukrainian NGOs?
Ukrainian NGOs and volunteer groups are funded by private donors, who have used traditional payment methods such as bank wires and payment apps to donate millions of dollars. Using Bitcoin is also an important alternative funding method since it allows international donors to bypass financial institutions blocking payments to these groups.
The report further states: "Elliptic has identified several cryptocurrency wallets used by these volunteer groups and NGOs, which have collectively received funds totalling just over $570,000 – much of it over the past year."
What Groups Are Receiving Crypto Donations?
Some of the groups mentioned by Elliptic are receiving Bitcoin donations. One of these groups is Come Back Alive, one of the largest organisations providing training, military, and medical equipment. Another group is Myrotvorets Center, which has ties to the Ukrainian government and has a website that publishes personal information about individuals considered to be "enemies of Ukraine".
Other Groups Receiving Funds in Crypto
Other groups include hacktivists Ukrainian Cyber Alliance and Belarusian Cyber-Partisans, which have engaged in cyberattacks against Russian targets. According to Elliptic, the Ukrainian Cyber Alliance alone has received close to $100,000 in Bitcoin, Litecoin, Ethereum, and stablecoins in the past year.
Ukraine didn't originate the idea of fundraising through cryptocurrencies. Elliptic says the organisations took the concept from pro-Russia groups, who began using Bitcoin fundraising as early as 2014.
However, Bitcoin and cryptocurrency only make up a small portion of the funding flowing into Ukraine, and most of the funds are fiat currencies through traditional payment systems.
Cryptocurrency: An Underrated Tool for Crowdfunding the War
As mentioned above, cryptocurrencies make up a small proportion of the funds of the fundraising campaigns discussed. The majority of donations were received through traditional payment methods, such as bank wires and online payments services. However, cryptocurrency has proved to be a robust and increasingly popular alternative. There is always the possibility of financial institutes closing accounts that belong to the fundraising campaigns. This can never be done to a crypto wallet, though. You can stay updated with news and coin reviews in Cryptologi.st, so you won't miss anything of this volatile crypto world!
How do you rate this post?