Top Metaverse Projects by Market Cap in 2022!
#binance
#blockchain
#cryptocurrency
#dao
#gem
#investment
#gaming
#btc
tl;dr
Imagine an endless world encompassing both physical and the virtual. This is what is termed the Metaverse - the rise of the unique technology and what it holds for the future. Metaverse coins are without a doubt the most important sector in crypto at the moment. Dozens of new projects are launched every day and several Metaverse coins have seen massive price increases. This article focuses on the top Metaverse projects considering their respective market cap.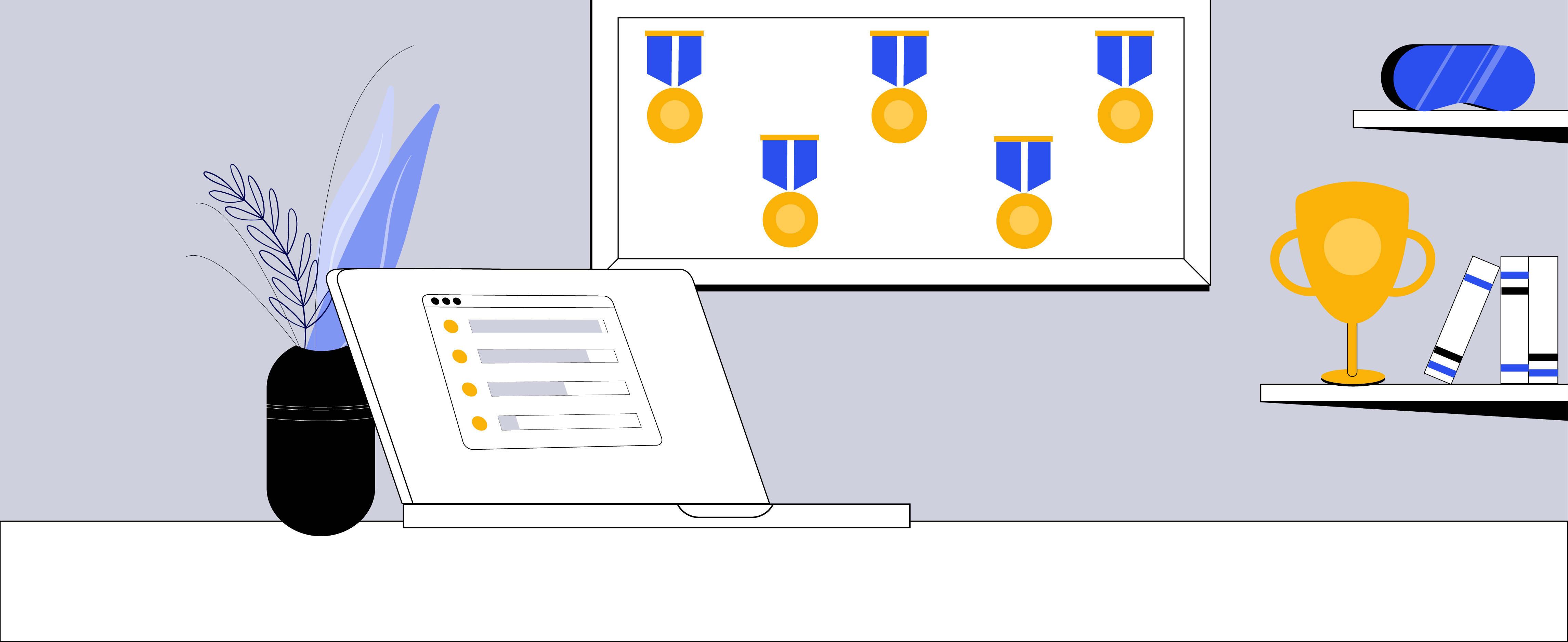 How do you rate this post?
Disclosure: This is not trading or investment advice. Always do your research before buying any cryptocurrency.
It was the year of cryptocurrencies breaking into the mainstream of finance. Everyone from athletes and art auctioneers to celebrities invested in blockchain-based digital collectors' items and play-to-earn platforms changed the gaming economy's dynamics. The emergence of the metaverse has recently ushered in a new era of investment opportunities in anything from digital real estate to digital designer goods. Let's dive into the emerging worlds of these metaverses together. Buckle up!
Imagine a universe that isn't bound by the physical realities of your life. You may relax, work, play and connect with individuals from all around the world in this parallel reality. You can make unique arts, go to parties even amass a great fortune. You can achieve anything your imagination allows. As it stands the metaverse isn't some far-reaching fantasy and cryptocurrency is the key to gaining access to it (read more about the basics of metaverse here). This essay will share a long-term investment list of prospective currencies focusing on Metaverse, NFTs and Gaming based on market cap.
Here are some of the key advantages and disadvantages of the metaverse projects with high market cap:
1. The Sandbox
Reasons to buy
✅ SoftBank is a backer
✅ Products offered
✅ Lets users play, create, own and govern virtual metaverses
✅ Active team members and community
Reasons to avoid
⛔ Runs on the Ethereum blockchain
⛔ Ambiguity in decentralisation
⛔ Economic restriction
Highlights of the Sandbox
SandBox is a blockchain-based 3D metaverse world that allows you to buy, sell and stake various non-fungible token (NFT) assets such as virtual plots of land. This is done using the SAND cryptocurrency. You can create your own game, own virtual lands, play other games and create or take control of a property as a collection. The Sandbox also has a gamified experience with games, quests and challenges to gain rewards. On Nov 29, 2021, The Sandbox released its Alpha. This game's smoothness and Metaverse's quality are excellent in this edition. On Dec 20, 2021, the Alpha will come to an end.
SAND is a cryptocurrency running on the Ethereum blockchain taking advantage of its security and stability. Ethereum is however still known for imposing high gas fees on users who want to transact on its blockchain, which could be considered a disadvantage when purchasing SAND. However, SoftBank is one of today's most powerful digital investment firms and is backing The Sandbox. Interestingly, the project's advanced editor allows users to create unrivalled animations and models while giving you the tools you need to create the virtual environment you want to live in.
2. Decentraland
Reasons to buy
✅ Widely available
✅Constant upgrades
✅The Security Advisory Board backs community governance of Decentraland
✅ Hosted celebrity-filled music festival
Reasons to avoid
⛔Runs on Ethereum blockchain
⛔There are many potential competitors
A Sneak Peek into Decentraland
Decentraland often known as the 'virtual social realm' is a 3D blockchain-based pioneering 3D in-browser for evolving Metaverses. A range of activities is available in Decentraland including casino play, concerts, galleries and much much more. You may interact with other users worldwide by attending virtual events playing games and trading digital goods in markets. Decentraland is similar to Second Life, VRChat and even Animal Crossing. As a feature of note Decentraland's participants own each virtual element independently. You can design and develop your world in any way you desire and you can explore this version of the metaverse using your phone computer or virtual reality (VR) headset. MANA is the native cryptocurrency allowing you to pay for products and services use interactive apps and buy more real estate.
More on Decentraland
Decentraland is growing and has an active development team providing you with plenty of options and opportunities. Now for the Cons: MANA is built on the Ethereum metaverse blockchain which provides strong security but also high gas costs previously alluded to. Users seldom see another user (in the wild) making the experience somehow isolated. The terrain is arguably boring and there isn't much to do. Pros: On the other hand the platform is continually being updated to bring new features and possibilities and Decentraland tokens can be used in a variety of ways. The Security Advisory Board manages the community and both LAND and NFTs can be auctioned.
3. Enjin Coin
Reasons to buy
✅ Widely available
✅ Well established
✅ Hosted celebrity-filled music festival
Reasons to avoid
Runs on Ethereum blockchain
⛔ ENJ does not have any physical backing regarding assets, profit or commodity
⛔ The crypto wallet offered by Enjin is not open-source
Enjin Coin in a Nutshell
Enjin Coin is a project of Enjin a corporation offering an ecosystem of blockchain-based interconnected gaming products. Users can store, sell and mint virtual items using the Enjin platform. To begin developers must attach value to their virtual commodities by creating a smart contract with ENJ tokens and the metaverse token. Players can then trade, sell or utilise virtual goods following the contract terms and the seller receives ENJ when the item is sold. ENJ has a limited supply just like other metaverse coins. There will only be one billion created and distributed. ENJ can be stored in the platform's wallet connecting all functionalities. Users can use the wallet to log in to games, access to utilise items, exchange items/ Metaverse currency and sell digital goods for ENJ.
Enjin also provides a unique marketplace experience allowing users and businesses to grow their markets by employing NFTs and QR codes and engaging with other users via websites games and apps. Ethereum powers the network which provides a decentralised experience. However, vetting it can be challenging because the wallet isn't open-source. ENJ is also unbacked by any commodity, profit or assets as previously emphasised.
The following is a list of the most famous metaverse projects having medium market cap:
1. Illuvium
Reasons to buy
✅ 3D environment
✅ High-quality interface and graphics
✅ Layer 2 incorporation
✅ 100% of revenue goes back to the community
Reasons to avoid
⛔ Runs on Ethereum blockchain
⛔ No genuine gameplay footage to back up plans
⛔ Game delay likely
⛔ Only 100 Illuvials at launch
A Quick Introcution to Illuvium
Illuvium is an open-world role-playing game where players can explore a vast and gorgeous area. They complete quests, discover creatures known as Illuvials and explore the mystery that surrounds the land of Illuvium. There are over 100 Illuvials to gather, each with its own abilities, classes, strengths, and weaknesses. When you find an Illuvial you have the option of keeping it, upgrading it or storing it in your player wallet. Illuvials skins and other collectables are all NFTs that can be traded in-game or on third-party platforms.
More on Illuvium
Illuvium is a cryptocurrency working on the Ethereum network and using the ILV a native ERC-20 token. Illuvium does not require ILV to play and the game is free with a premium paid subscription option. However, the ILV is central to the game's structure and ILV can be used for liquidity mining and governance by token holders. The price of ILV might fluctuate depending on speculation and blockchain adoption. Only ten million ILV will be released with three million being allocated as staking rewards.
While ILV gives you access to the game and its features it also has some drawbacks such as high gas fees on the Ethereum network (ETH2.0 is coming hold on). Although Illuvium has yet to be released, the hype surrounding this metaverse game has already been amazing. Illuvium is set to be released in 2022.
2. UFO Gaming
Reasons to buy
✅ Multi-chain platform
✅ Gamestop sponsorship
✅ Organized by a DAO
Reasons to avoid
⛔ Runs on the Ethereum blockchain
A Summary of UFO Gaming
UFO Gaming claims to be a blockchain gaming platform that is entirely decentralised. It contains a Play-to-Earn Metaverse and the Dark Metaverse's UFO utility token a collection of planets with their own games. Each game in the Dark Metaverse will have its governing planet, similar to Decentraland and The Sandbox, where players can buy their own piece of land with NFTs. In the UFO Metaverse, each game will essentially be its planet. Similar to the one we live in real life, you can think of the UFO Metaverse as its expanding universe, which means you can now experience existential dread from the comfort of your personal computer.
More on UFO Gaming
UFO's official website has mentioned that UFO Gaming will work with established gaming firms to integrate them onto the blockchain and build new blockchain gaming features. UFO aims to be a genuine decentralised, autonomous organisation known as a DAO. There are no team members or VCs on UFO who have a significant treasury sum. After the launch, the $UFO Token's creator burned half of their total supply. Holders of the $UFO token can vote on community decisions for the Dark Metaverse and be a part of the UFO governance. The largest holders will have voting rights in the DAO for the Metaverse's overall direction.
Another fascinating feature of UFO is its multi-chain platform allowing users to hold many coins including MATIC, ADA, AVAX, SOL and many more. UFO is making big moves within the gaming industry. Gamestop is one of the most well-known companies in the gaming industry. Reporting a recent eSports competition sponsored by UFO Gaming on their blog which handed away $10,000 in prizes. The fact that UFO has attracted the attention of gaming industry giants such as GameStop is quite remarkable. Furthermore, the $UFO token will most likely benefit from the GameStop buzz.
3. Yield Guild
Reasons to buy
✅ Strongly backed by investors
✅ Downside risks minimal for a bet on gaming
✅ Profit from the NFT market with almost zero risks
✅ Scalable economy
✅ Locked tokens 2yrs by team
Reasons to avoid
⛔ Runs on the Ethereum blockchain
The Basics of Yield Guild
YGG is a global play-to-earn gaming company that allows many blockchain game players to earn real money by participating in NFT games. Yield Guild Video Games is a decentralised autonomous organisation (DAO) where gamers collectively resolve the popular video games and digital asset investments to use in-game. A Guild is a group of players who play a game together and share the earnings and in-game assets they acquire by winning battles or completing quests.
They intend to increase the liquidity of P2E games and provide additional possibilities for young people to get a starter at lower costs than some of the current entry points. There are currently about 4,700 scholars in the Yield Guild. To use the Guild's assets, these scholars are either profit-sharing or renting. In exchange, they get to play a game that they otherwise wouldn't be able to afford and contribute to the Guild's growth. The DAO receives 10% of the rental fees.
More on Yiled Guild
Andressen Horowitz isa leading venture capital firm, led the $4.6 million financing round in Aug 2021. They raised $5.3 million from investors such as Blocktower Capital, Delphi Digital and Animoca Brands through two games. $YGG on the other hand is the crypto game's native currency an ERC-20 token that is used for governance. While Guild assets back the token it does not allow you to participate in the Guild's financial flows.
The tokenomics of YGG is interesting because all the advisors, private investors and founders have lockup periods and vesting schedules. These regulations protect the market from a large-scale token dump by a disgruntled investor or employee. For example, the founders' tokens have a two-year lockup period and a three-year vesting period. Also, a total of 1 billion tokens are available. Finally, the YGG company roadmap includes a transition to a complete DAO where DAO token holders receive voting rights, dividends, and other revenue distributions that would otherwise go to the DAO. YGG is yet to arrive.
Here you will see a list of top metaverse projects with low market cap:
1. StarAtlas
Reasons to buy
✅ Runs on Solana blockchain
✅ Enticing concept
✅ Unique play-to-earn interface
✅ High-quality interface and graphics
✅ Built on the Solana blockchain
Reasons to avoid
⛔ The two-token system can confuse investors
⛔ Uncertainties and risks about operational, technological, financial and regulatory aspects
An Overview of Star Atlas
Star Atlas is a virtual gaming world taking place in the year 2620. You must excel at territorial acquisition, political dominance and resource collection as a citizen of Star Atlas. Star Atlas gives you the ability to expand your experience beyond the physical realm. You can use your personal starship to explore a unique metaverse, join or start a faction and create your unique planet.
You'll be able to earn tokens while you fight intergalactic conflict. ATLAS token is Star Atlas's principal in-game currency and it operates on Solana the so-called Ethereum killer blockchain. It's intended to provide the same services as Ethereum but without the wallet-draining gas taxes or scalability issues. The users can spend ATLAS to purchase digital assets including ships, equipment, crew and land. You can also use ATLAS to buy POLIS and in-game money that you'll need to handle some aspects of your game. POLIS in particular will be required to control your new world by issuing decrees and governing your world.
More on Star Atlas
While the Star Atlas metaverse is a new concept with a useful metaverse token some may find the two tokens — ATLAS and POLIS — to be confusing or frustrating. Nonetheless, the advantages overshadow the disadvantages and Star Atlas is a dynamic, intriguing environment with NFTs that provide a lot of virtual bang for the buck.
2. Verasity
Reasons to buy
✅ Max Supply capped
✅ POV Technology Patented.
✅ Proprietary Technology
✅ Patent extended to NFT
✅ Support Staking
Reasons to avoid
⛔ Not fully decentralised
⛔ Runs on the Ethereum blockchain
Verasity Network 101
Verasity is a blockchain-based video-sharing network that aims to create a fair system that rewards both producers and advertisers for their work. Verasity's proof-of-view system is an anti-fraud mechanism that verifies that the content is being viewed by genuine people, preventing fraud in real-time. Verasity markets itself as a protocol and product layer platform for e-sports and video entertainment. Its core mission is to improve engagement and advertisement profits for video content creators on any platform supporting video content.
Verasity employs a proof-of-stake (PoS) consensus method based on the ERC-20 standards that are used to create the native VRA coin. It uses this method with its PoV technique to distribute VRA to deserving Verasity ecosystem participants. The algorithm is suitable for a reward-based system. Veracity is similar to meme coins on Ethereum that have mostly benefited from community support and will surely reap the same benefits from massive network effects.
3. Alien Worlds
Reasons to buy
✅ Advanced DeFi Metaverse
✅ Cross-chain feature
✅ Low upfront cost
✅ DAO
✅ Fully decentralised
Reasons to avoid
⛔ Scarcity of info
⛔ Simple interface and graphics
A Brief Look into Alien Worlds
Alien Worlds is a DeFi applying the decentralised concept of blockchain to the financial realm. You can create a metaverse and a blockchain-based game where participants battle for scarce resources inside the community. The game Alien World features decentralised components, and players can take things even further by staking Trillium (TLM) and acquiring voting rights in the Planet DAO by staking Trillium (TLM). A set of rules governs DAO as an open-source blockchain ledger.
More on Alien World
Anyone interested in participating must have a WAX Cloud Wallet. After logging in to Alien Worlds the players can start mining that is rewarded with TLM coins. Players can use these tokens to stake their claim to one or more Alien World planets' governance and even become a candidate to rule a planet.
Players can also earn NFTs, which can be spent on battling other players, completing quests, or mining TLM. TLM can be used to mine NFTs, acquire or upgrade particular objects, and participate in quests and in-game activities in addition to governing the Alien Worlds metaverse. Through TLM, the most active users are rewarded. TLM can also be transferred between Ethereum, BSC, and WAX. Low upfront costs and the potential to earn cryptocurrency through gameplay are attracting new players to this game. However, some players may find its user experience to be overly basic.
The metaverse offers us a glimpse into a future that is based on blockchain technology. With current financial systems stressing and some subduing to cryptocurrency for its store of value and trust-less security. Never fear the Cryptologi.st is here to offer insights toward all your desired cryptocurrency info within this space. Strap on your headset and join us there in the future!
How do you rate this post?