Top Crypto Social Media Tracker Apps to Track Coin Mentions
#education
#investment
#btc
tl;dr
Crypto social media tracker is a feature and tool that shows the market sentiment for a crypto project and tracks coin mentions and sentiments. The information provided by the crypto social media tracker is of great value, because the crypto market is new and volatile, and social media hugely impacts a crypto project's performance. Learn more about this tool and how you can use it in your trading process!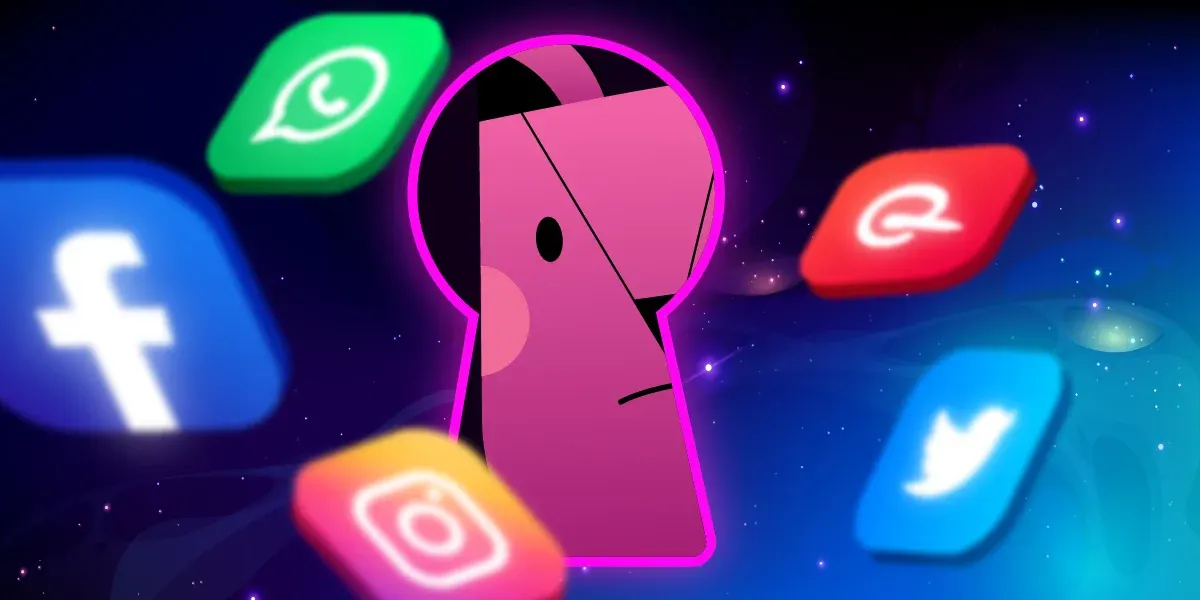 How do you rate this post?
A Crypto social media tracker is a tool that tracks social media activities, such as follower gains or tweet volumes for a crypto project or track mentions and sentiment. It can be used to find and track social signals that could cause the price of a token to either surge or crash. Like the crypto Fear and Greed Index, the crypto social media tracker is used to show market sentiment.
Crypto social media trackers are vital trading tools because the price of a crypto asset is usually intertwined with the project and fan activities on social media. Shitcoins know this well, and try to use social media as a means of pumping their project by forming a fanbase that is super active on social media.
Also, things like celebrity mentions of a token can cause many people to talk about it, get into the project and buy the tokens, which can eventually lead to a pump in price.
You can use a crypto social media tracker to track coin mentions. It is available either as a built-in feature on a platform or as having its own dedicated platform. With crypto social media trackers, you can track tweet volume, gained followers/ subscribers on the project's social accounts or crypto influencers' accounts, and even Wikipedia pageviews!
Some of the best crypto social media trackers available in the crypto market are provided by Cryptologist, The Block, BittsAnalytics, and LunarCrush. Let's dig into how each one works.
Cryptologist
Cryptologist is one of the best crypto social media tracker that analysis the follower gains of the projects' official accounts across different social media platforms.
With this data, Cryptologist creates a Fan Chart and measures the project's popularity over different periods. Social media platforms tracked by Cryptologist are Twitter, Reddit, and Telegram. Below is the fan chart for Shiba Inu over the past year:
The Block
The Block is an information service provider and a news source for crypto and digital assets. The "Social" section of The Block provides valuable and diverse information that contains basically everything social about crypto. These interactive charts provided by The Block are for
BTC and ETH Tweet Volume
New Weekly Twitter Followers of Crypto Exchanges
New Weekly Twitter Followers of Layer 1 Accounts
New Weekly Twitter Followers of Data and Research Services
New Weekly Twitter Followers of Popular Services
New Weekly Twitter Followers of NFT Marketplaces
New Weekly Twitter Followers of Layer 2 Solutions
Pageviews of Bitcoin's Wikipedia Page
New Weekly YouTube Subscribers of Influencers
New Weekly YouTube Views of Influencers' Videos
New Weekly Crypto Subreddits' Subscribers
New Weekly Crypto Subreddits' Posts
New Weekly Crypto Subreddits' Comments
BittsAnalytics
BittsAnalytics is a sentiment analytics platform for cryptocurrencies. Launched in 2017, the platform's crypto social media tracker provides charts of social media mentions along with price charts.
The chart helps illustrate the correlation between a crypto asset's price and social media mentions and sentiments. Below is the chart of Dogecoin's price and sentiment provided by BittsAnalytics.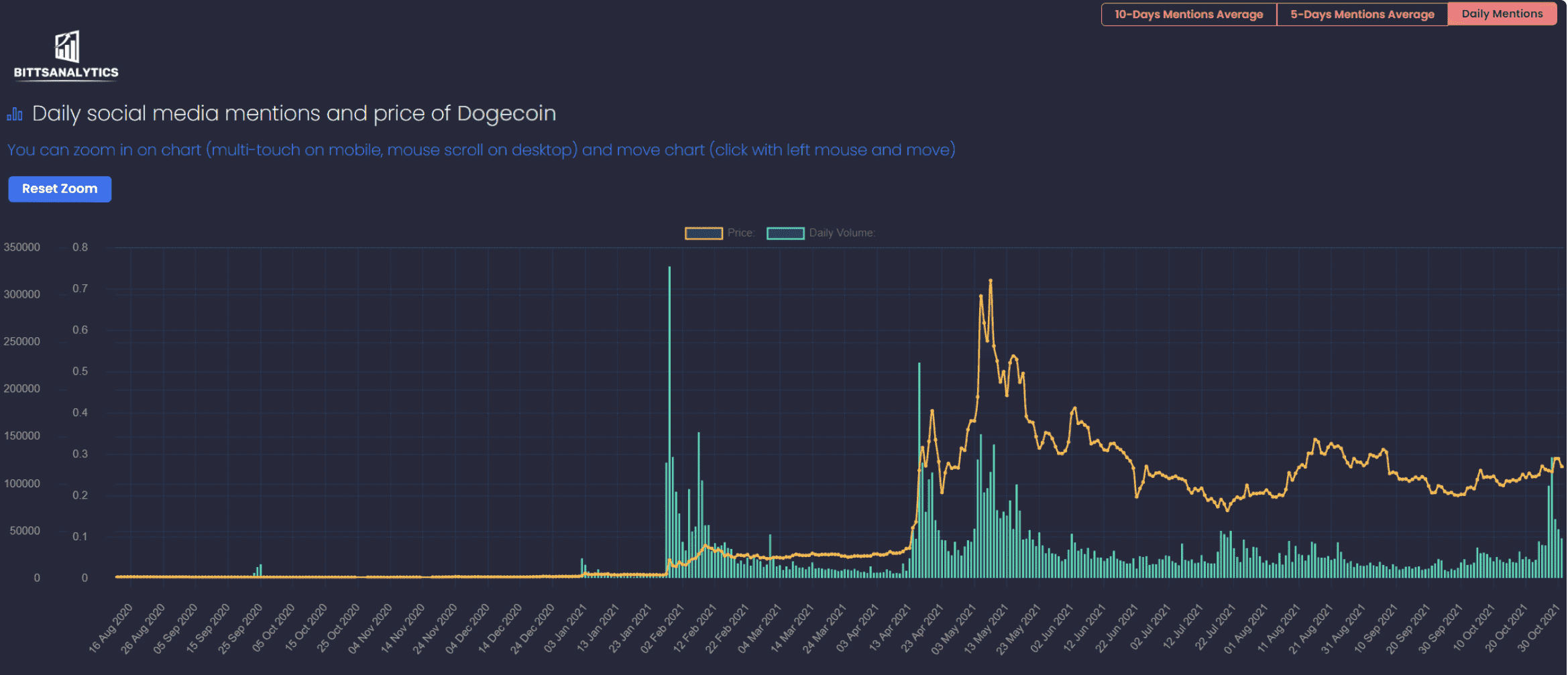 LunarCrush
LunarCrush is a mobile app that collects social media activity for Bitcoin, Ethereum, and more than 2000 other cryptocurrencies and it is one of the best crypto social media tracker. It enables users to compare the collected metrics side-by-side to show which crypto projects are performing better in terms of social media mentions.
It also gives insight into market trends and social signals. The data collected by LunarCrush are on
Crypto Influencers
Social Influencer Activity
Social Engagement
Social Frequency
Social Impact
LunarCrush app helps investors gain valuable insight into social media, and helps them collect valuable crypto data useful for planning trading strategies. The team behind LunarCrush puts it as:
"How do you value a cryptocurrency? Unlike traditional stock markets, cryptocurrencies do not have earnings reports, management, or borders, and markets are open 24/7. We like to say; without a community, there is no crypto. To identify how valuable a cryptocurrency is, investors must pay attention to the traction it's gained socially."
Coin Social Story
Coin Social Story is a crypto market data monitor that offers tools such as a Social Indicator to track live trends in the crypto market. The data is collected from 25 verified exchanges along with public data from CryptoPanic and Santiment. Coin Social Story's data is updated every 10 seconds.
Sentieo Crypto Tracker
Sentieo is the first financial intelligence platform that utilises the power of AI to aggregate content into a single workspace. Its primary goal is to make the research process of investors easier and smarter.
Sentieo's Crypto Tracker tracks coin mentions from public companies and press releases. It tracks coin mentions for Bitcoin, Ethereum and Ripple along with Cryptocurrency and ICO keywords.
What Is The Best Crypto Tracker?
Each crypto tracker provides different information for different periods they were programmed for. For example, one service provides only weekly data, and the other offers data for only Bitcoin and not other assets.
It is best to use multiple crypto social media trackers and collect the data you were looking for from different sources and trackers.
Other than Fan Charts that track the growth of the crypto projects' official social media accounts, Cryptologist offers a new feature that is unlike any other social media tracker currently available in the crypto space. Even though it is technically a "crypto social media tracker", it is used for a different purpose. (This feature is currently under development.)
Cryptologist AI: Crypto Meets The Power of Artificial Intelligence
What Cryptologist's AI social media tracker does is inherently different from the other social media tracker model, and follows a different set of goals. Cryptologist uses the power of AI to scan the social media activity of a project and extract valuable data for trading.
This feature doesn't focus on the social media activity's volume, but it focuses on the content of the tweets or posts to find and collect useful information that can be analysed and used for various purposes. The primary function of this feature is to help make more accurate price predictions and project analyses.
Summary
Crypto social media tracker is a feature that allows users to track social media activities, such as tweet volumes, Twitter followers, YouTube subscriber gains, subreddit growths and even Wikipedia pageviews for crypto projects and influential crypto accounts.
FAQ
After learning about crypto social media trackers and how this tool can help you in planning your trading strategies, let's answer some FAQs you may have.
It tracks coin mentions across different social media platforms and creates a chart based on the content volume.
Look for any bumps in the chart provided by the crypto social media tracker. Any bump that is out of the normal range means the project is gaining more attention; whether it's a positive trend or negative one.
How do you rate this post?