Top 5 Crypto News Websites Investors Need
Checking reliable crypto news websites and sources is crucial if you want to make lucrative investment decisions.
Crypto news websites like Decrypt, CoinTelegraph and CoinDesk help investors keep an eye on the market.
How do you rate this post?
Introduction
Cryptocurrency has an extremely volatile market, and every crypto enthusiast notices the importance of following up on the crypto news websites from day one. Here, we've collected a go-to list of resources to check out crypto news.
Top Crypto News Websites: 1. CoinTelegraph
CoinTelegraph is an independent news resource that covers a wide range of blockchain-related topics. Our number 1 among all crypto news websites provides unbiased news and insightful opinion posts since 2013. CoinTelegraph offers separate news sections for different aspects of cryptocurrencies. For example, you can put a filter on the news and only see the news related to Bitcoin, altcoins, NFTs, and anything else you wish. Also, if you're not really a website guy, you can join CoinTelegraph's Telegram channel to receive fresh crypto news quickly.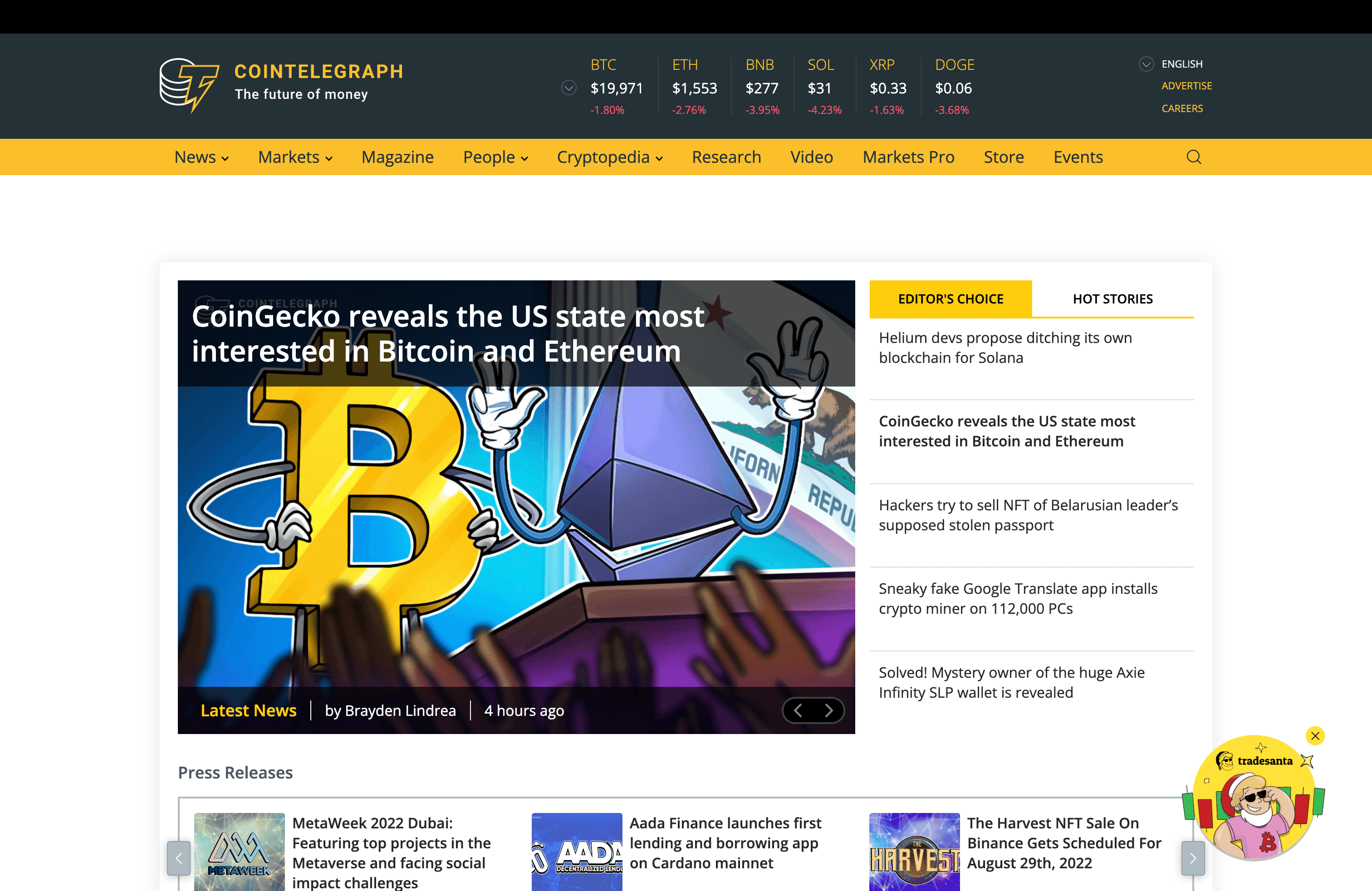 Top Crypto News Websites: 2. Decrypt
Our number 2 on the list of top crypto news websites was created in 2018 with the name Decrypt to help "demystify" decentralised industries. The Decrypt aims to be a crypto news website that provides crypto space participants with everything they need to navigate Web 3.0 while highlighting the news that really matters. Since the technologies behind blockchain and decentralised spaces get more complicated daily, Decrypt's first and foremost objective is to keep things as simple as possible. Decrypt is funded by ConsenSys, which is a New York-based incubator.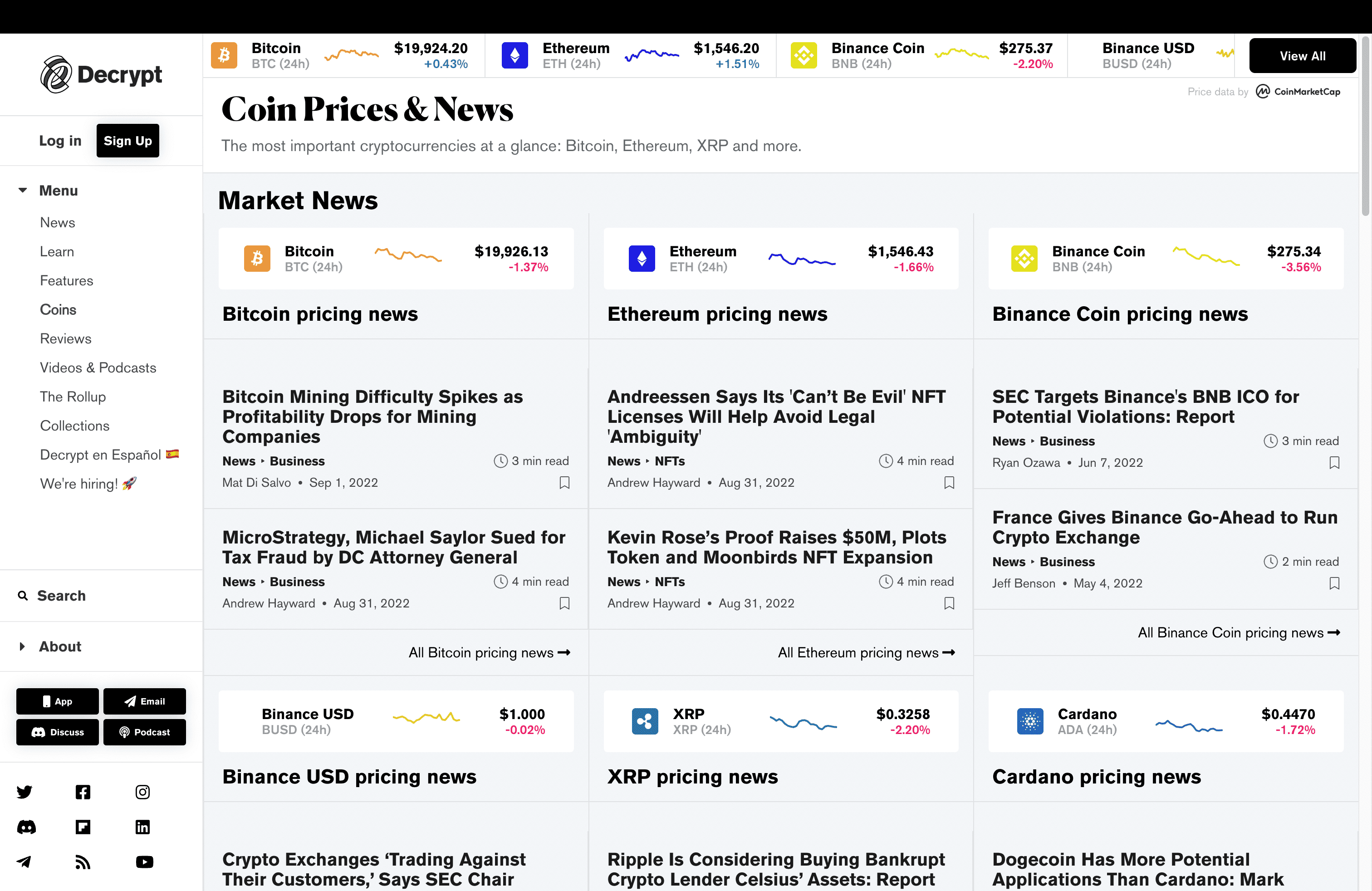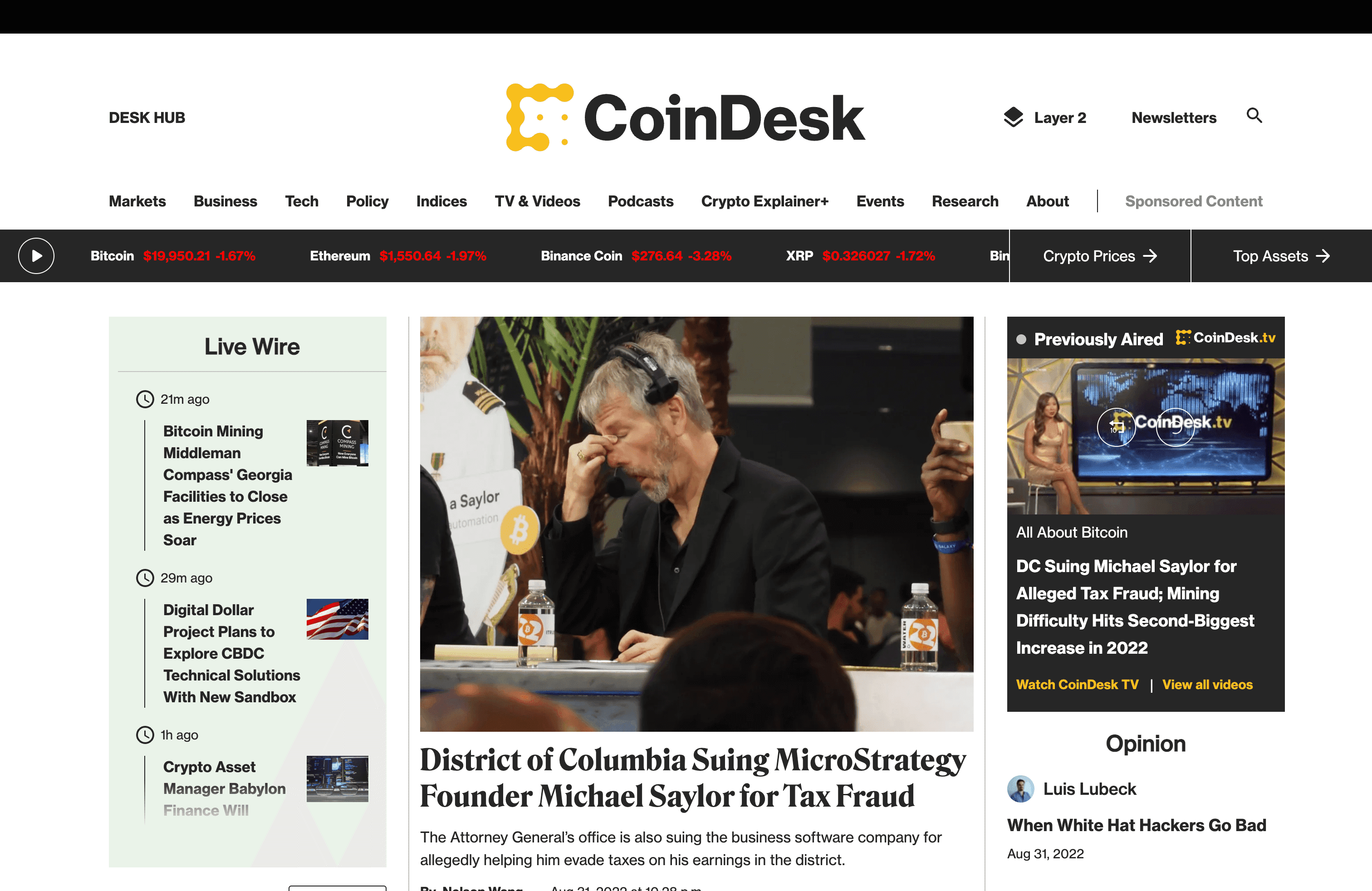 Top Crypto News Websites: 4. Coin Bureau
If you've looked up the word "crypto" on YouTube - even once - you probably know what we're talking about. Coin Bureau is a website and a YouTube channel - run by Guy - that provides weekly crypto news videos and highlights the top crypto news of the past week.
The articles on Coin Bureau's crypto news website are flagged with tags such as "education," "review," and "guides" to help you find the exact type of crypto content you're looking for. The variety of content formats provided by Coin Bureau is what the crypto community doesn't want but needs.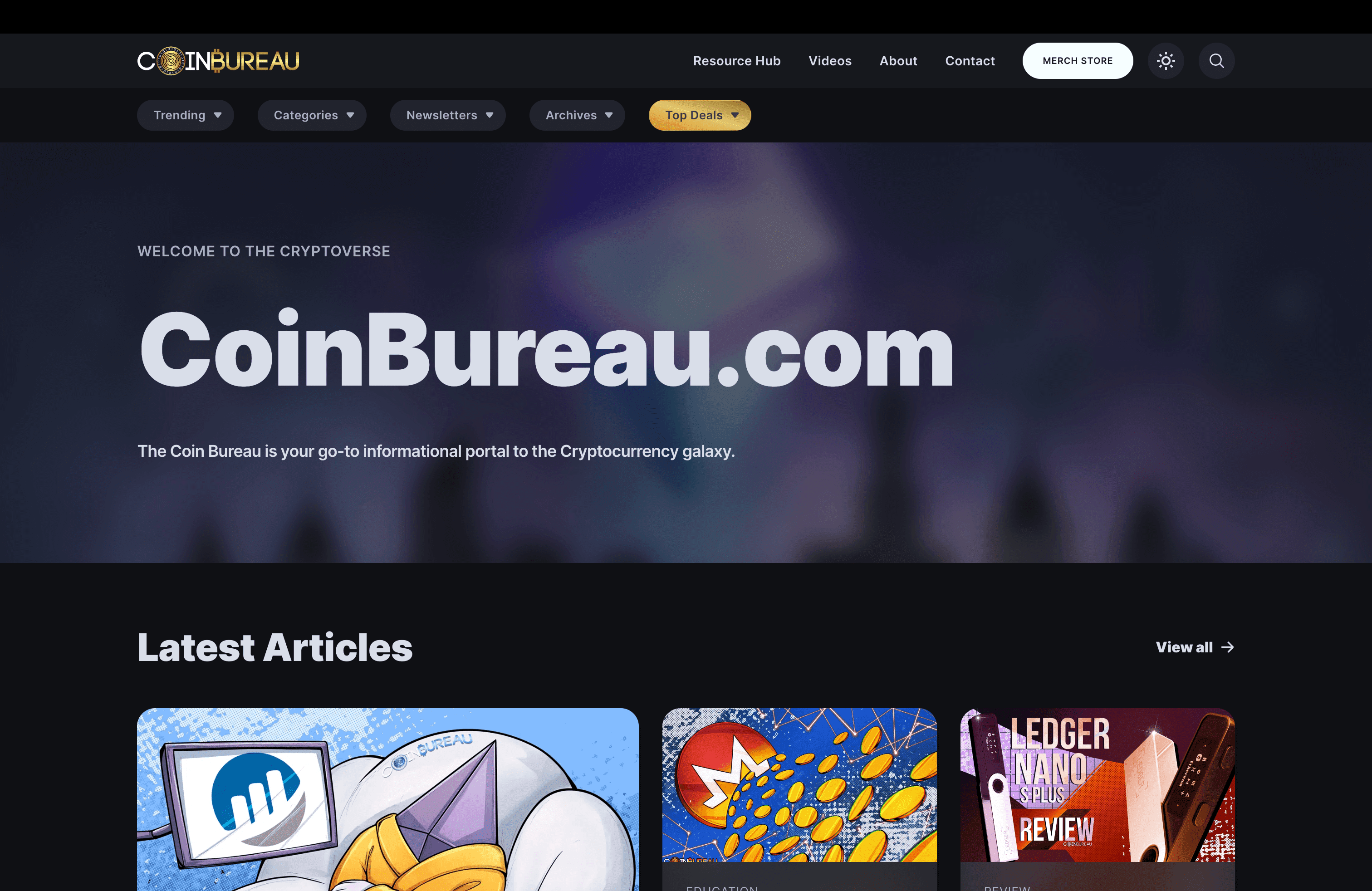 Top Crypto News Websites: 5. Cryptopanic
Last but not least on the list of top crypto news websites is CryptoPanic, which is not an independent website but more of a data aggregator. Simply put, it gathers crypto news from many other resources in one place. You won't have to check various sources to keep yourself updated; CryptoPanic does this for you by providing a list that quickly updates itself with the breaking crypto news. Users can also comment about how they feel about a certain piece of news or simply react with the appropriate emote.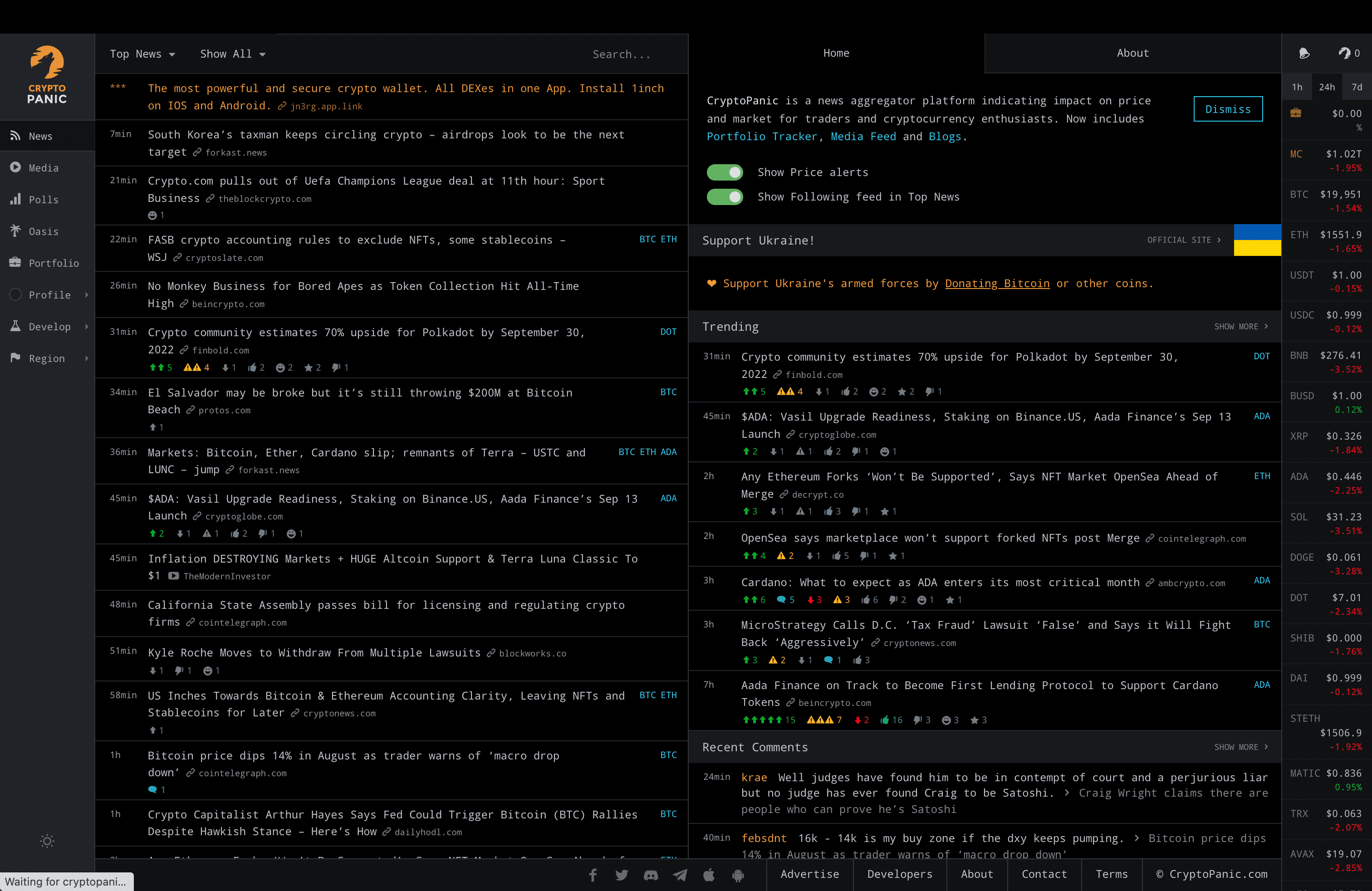 Which Crypto News Websites Are The Best?
The short answer is all of them! To stay on top of the crypto market, you must constantly update your knowledge. However, choosing quality resources like crypto news websites is essential to ensure you're receiving information from truthful, unbiased sources. It's also important to choose a resource that provides information on a wide range of topics, for which, Cryptologi.st is a perfect example. You can hop on the newest crypto trends, educate yourself, keep an eye on projects you've invested in, and do whatever it takes to make confident investment decisions!
How do you rate this post?