Top 3 Metaverse Tokens to Watch in Feb 2022
tl;dr
Although January has been a tough month with the worst returns for investors since the pandemic, some Metaverse projects grew dramatically in January, which you need to keep an eye on. Keep scrolling to find out what they are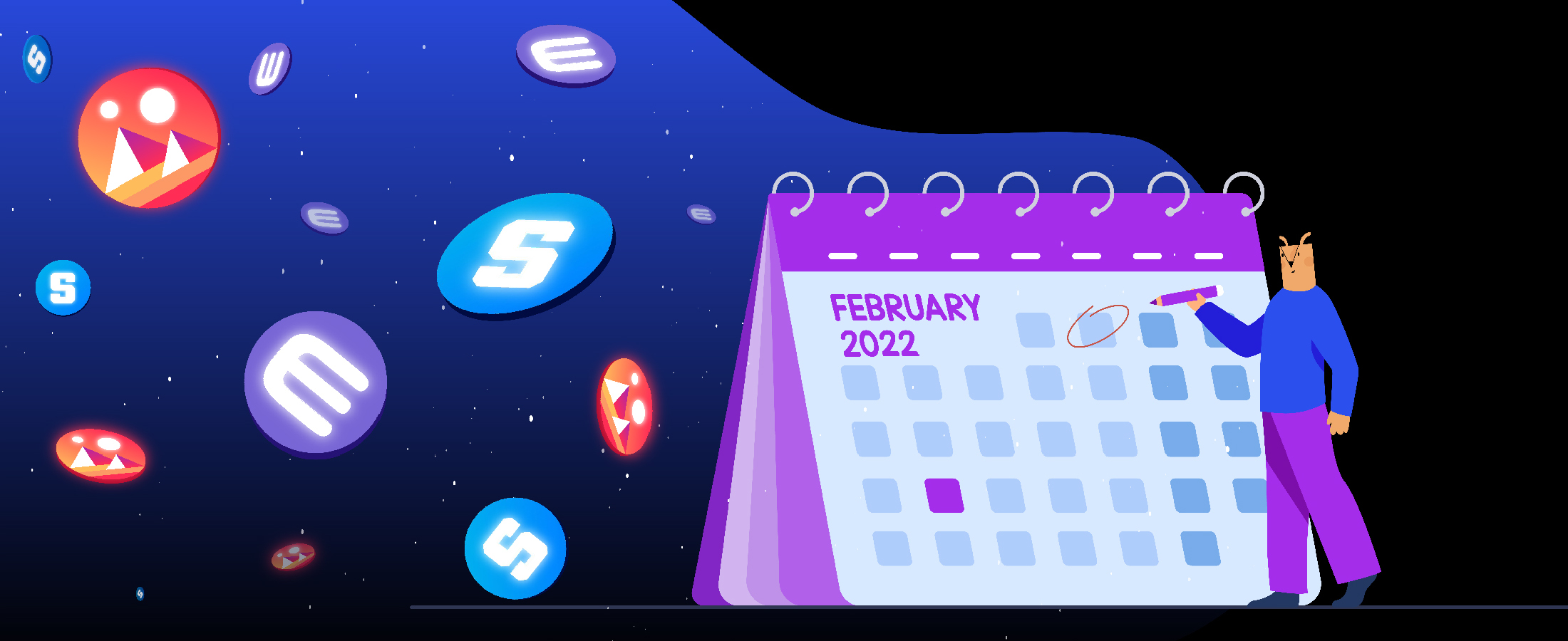 How do you rate this post?
Enjin Coin (ENJ)
Enjin Coin (ENJ) is an Ethereum-based cryptocurrency, and Enjin, the company behind Enjin Coin, is one of the largest online gaming platforms. Enjin allows game developers to tokenise in-game items on the Ethereum blockchain. Additionally, the Enjin platform aids users and other platforms to create their own NFTs and make them involved in the gaming industry. Read all about Enjin.
What Makes Enjin Special?
According to CoinMarketCap, the Enjin coin is trending in the range of $1.84 (on Feb 2, 2022). Enjin coin's price brought 25.13% growth for investors over the past seven days. Its price was about 1.6 on Jan 26, 2022, and moved to 1.8, proving its strong momentum in February 2022.
Decentraland (MANA)
Decentraland (MANA) is a virtual reality platform built on the Ethereum blockchain where users can buy, develop, and sell LAND. LAND is a Non-Fungible ERC-721 token representing the ownership of virtual land in Decentralan. Learn more about MANA.
MANA Financial Performance
On Jan 26, 2022, MANA was trading about $2.24, and over the past seven days, it had a 33.79% growth, touching $2.69 on Feb 2, 2022, according to CoinMarketCap. MANA's latest financial analysis updates reveal that this coin, unlike most cryptocurrencies, did really well in January and made profits for investors.
The Sandbox (SAND)
The Sandbox is a virtual world similar to MANA, where players can build, own, and monetise their gaming experiences on the Ethereum blockchain. In this 3D Metaverse world, we can buy, sell and stake various NFTs assets. SAND is the primary token of Sandbox running on the Ethereum blockchain taking advantage of its security and stability. You need to learn a lot of facts about this project that is just one click away!
How Did SAND Perform Financially?
According to CoinMarketCap, its price was about $3.22 on Jan 26, 2022, and then rose to $3.95 during the past seven days with %34 of growth. Since its creation, SAND has sold more than $350 million in virtual real estate to some of the world's largest companies and celebrities.
In A Nutshell
Enjin, Decentraland and Sandbox were shining metaverse projects in the dark days of the market last month. Their tokenomic analysis proved that not only do they keep their price equal, but they keep on rising and have the potential to continue growing and make more and more profit.
The world of Cryptocurrencies is unpredictable, like an ocean with many ebbs and flows. The best way to keep your balance among the ups and down is to stay updated, and that is what Cryptologist.st can do best for you. We provide the latest news and analysis of the top 1500 coins, educational posts, and more!
How do you rate this post?