Top 10 Crypto Instagram Accounts
#blockchain
#cryptocurrency
#cryptomarket
#cryptonews
#news
#btc
tl;dr
Instagram, the rock star among all social media applications, is used by millions of people for learning, communicating, shopping and even having fun! When it comes to cryptocurrency and blockchain, it's no surprise that Instagram can be one of our go-to locations for content. Learning about crypto with our cell phone while chilling sounds amazing, right? So, check out the list of top 10 Instagram accounts that bring crypto concepts to light.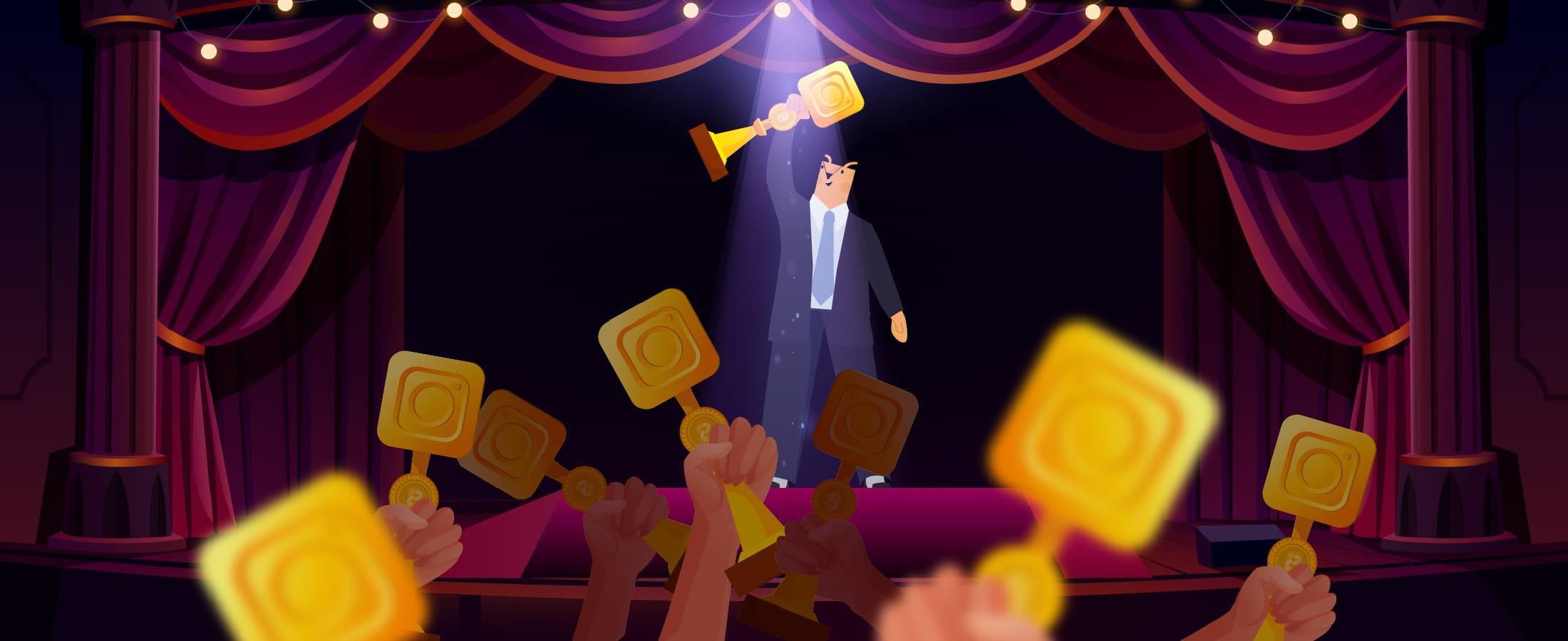 How do you rate this post?
Bitcoin.info.9
Let's start with the biggest Bitcoin page on Instagram with around 1 million followers. As its name suggests, this account is focused on Bitcoin and related news, and if you are a Bitcoin fan, Bitcoin.info.9 would be the first Instagram account to follow.
CryptoExplorer
CryptoExplorer is the world's biggest Instagram community not only for Bitcoin but for everything crypto wise. CryptoExplorer has the most popular and eye-catching crypto account on Instagram. A strong community with over 624K followers would be one of the best places to start crypto learning. This account has been providing helpful guides, news, updates and tips since 2017. Its mission is to help as many people as possible understand the world of crypto and start investing.
ShareCrypto
ShareCrypto has been sharing crypto's biggest headlines since 2016. This Instagram account, backed by more than 386 followers, provides daily crypto news, posts, and info. You can check it out with this link.
Coin.Bureau
You probably have heard about Guy, the presenter of Coin Bureau, a highly popular cryptocurrency influencer and the owner of the Coin Bureau Youtube channel. The Coin Bureau platform was created intending to provide high-quality educational blockchain content to users all around the world. This account plans to deliver useful content and videos and grow the community. You can be one of their 139K followers using this link.
Cryptoding
Short news, trading tips, educational terms, and top coins of 2022, you can find all this on Cryptoding Instagram account. Being supported by more than 220K followers, Cryptoding provides trade tricks. Want to join their community? Here you are!
Altcoinpost
Are you an owner of a crypto project? Altcoinpost, with 252K users, is where you can promote it and also learn about noteworthy coins and daily news.
NFT.globally
This Instagram account with over 71K followers provides NFT education and NFT tips. You can join this account from this link and start your free tour on NFTs and trading. Additionally, they offer 40% cheaper crypto and NFTs to all their followers.
The development of blockchain and Metaverse has caused various social accounts to start and build communities. One of such accounts is Metaversereview. If you are interested in Metaverse and NFT, Metaversereview is one of the valuable sources that has intended to provide content since 2021.
Cryptologi.st
Another newfound project that started to provide world-class educational posts, hot news, and crypto hacks is Cryptologit.st. Since 2021, Cryptologi.st has begun its journey and aims to build a strong community, not only on Instagram but also on Twitter, Telegram, Reddit, and Medium. The main goal of Cryptologi.st is to bring people from all over the world together for easy to understand investment education. Just by one click, you will access all the latest news and interesting crypto updates provided on Cryptologi.st.
Beincrypto
Be In Crypto! This is exactly what beincrypto account offers to its users! Similar to the accounts mentioned above, this account offers unbiased cryptocurrency and blockchain news and free trading signals.
Bottom Line
Learning about crypto doesn't end here, and there are numerous sources and accounts out there waiting for you to be discovered. Cryptologi.st is here to provide you with all the authentic crypto content you need.
How do you rate this post?