Top 10 CEX and DEX Crypto Exchanges of All Time!
tl;dr
When choosing a cryptocurrency exchange, you need to consider essential factors to find the best and avoid scams. No one likes to buy crypto assets from an exchange that could disappear overnight! Security, payment fees, trading volume, and having an easy interface are some of these crucial factors that should be taken into account when it comes to selecting exchanges. Don't panic! This article introduces the top 10 cryptocurrency exchanges that provide you with adequate tools you need to buy and sell digital currencies safely.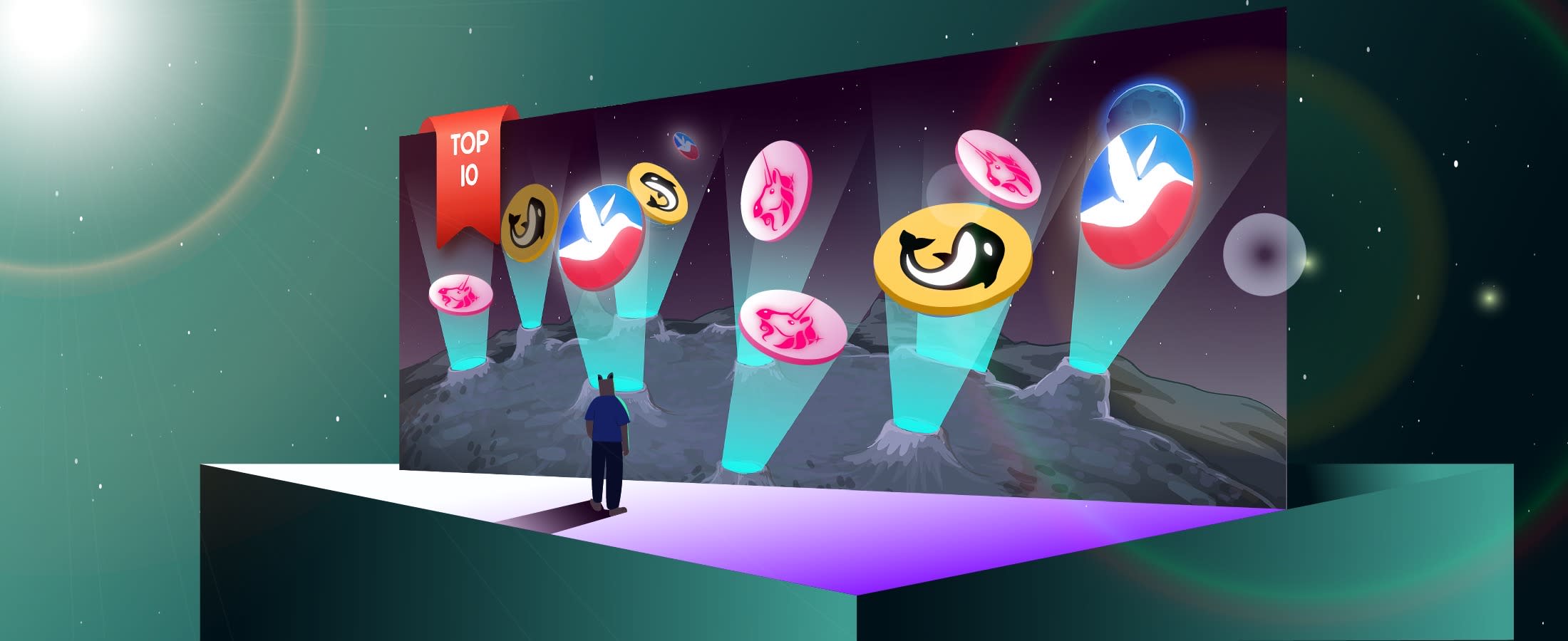 How do you rate this post?
What Is A Cryptocurrency Exchange?
In simple words, a cryptocurrency exchange is what you need when you want to trade your digital assets and exchange them with other ​​conventional fiat money or other digital currencies. Cryptocurrency exchanges come in centralised, decentralised, and hybrid formats to provide effective tools and practical services for buying or selling assets. Thousands of crypto exchanges are available on the Internet and are widely available.
What Is A Centralised Exchange?
Centralised exchanges are regulated by government authorities and align with their financial regulations. They are all controlled by a company, which works as a bridge between the buyer and seller and acts as a third party.
Below are some centralised platforms with which you can trade and exchange your cryptocurrencies.
Binance
Binance is the world's largest cryptocurrency exchange by trading volume.
Coinbase
Coinbase is a user-friendly platform for investors, especially beginners.
Crypto.Com
Crypto.com has been recognised as the safest in the cybersecurity ranking.
What Is A Decentralised Exchange?
A Decentralised Exchange or DEX operates free of centralised authorities using blockchain technology or distributed ledgers. It allows you to have complete control over your funds. Being the total opposite of the centralised exchanges, DEXs enable peer-to-peer transactions using smart contracts. Let's see some prominent examples of Decentralised Exchanges.
Uniswap (The largest DEX by volume operating on the Ethereum blockchain)
PancakeSwap
Biswap
Serum DEX
1inch Exchange
What Is A Hybrid Cryptocurrency Exchange?
It's no secret that both decentralised and centralised exchanges suffer some drawbacks. The solution to most of these drawbacks is a hybrid exchange, which brings together the positive features of both centralised and decentralised platforms. Let's have a couple of examples of hybrid exchanges below.
Things To Consider When Choosing A Cryptocurrency Exchange
If you want to start investing in cryptocurrency, remember the following factors to choose your exchange.
Security and Authenticity
Fee Structure
Trading Volume
Easy Interface (for beginners)
Supported Tokens
Customer Support
Deposit And Withdrawal Limits
Availability In Your Country

Top 10 Crypto Exchanges: Prologue!
A cryptocurrency exchange is a platform to buy, sell and convert digital assets and facilitate crypto purchases. The way crypto exchanges work depends on their platform type; some are centralised, and others are decentralised. If you are just a beginner, reading about exchanges from here would help you better grasp the top 10 crypto exchanges to come.
Top 10 Crypto Exchanges, No. 1: Coinbase
Number one on our list of top 10 crypto exchanges is Coinbase. If you are new to cryptocurrency, your first step in an exchange to convert different cryptocurrencies like Bitcoin, Ethereum, DOGE, etc., may be a struggle.
However, an easy-to-use crypto exchange that lowers entry barriers for investing in crypto exchange is a relief. Coinbase is such a user-friendly platform for investors, especially beginners.
Why Is Coinbase On The List of Top 10 Crypto Exchanges?
Coinbase, one of the best platforms for beginners, was founded in 2012. It supports many cryptocurrencies with a high level of security to streamline trading digital currency.
By providing comprehensive and accessible learning materials and a series of video classes and exams to educate users about cryptocurrency trading, Coinbase proves to be one of the educational resources to learn about trading specific cryptocurrencies and reward users with free crypto.
Coinbase Drawbacks
Although Coinbase is number one in our list of top 10 crypto exchanges for both novice and advanced crypto investors and offers access to nearly 100 cryptocurrencies, trading with Coinbase costs higher fees than other exchanges. The payment fee for regular transactions is 1.5% and can go up to 4% when using your credit cards.
Top 10 Crypto Exchanges, No. 2: Binance Exchange
Number two in the list of top 10 crypto exchanges is Binance. If you're familiar with crypto, you've already heard of Binance, the world's largest cryptocurrency exchange by trading volume. The term Binance is a combination of Bitcoin and Finance. However, it's not just for Bitcoin.
Why Is Binance On The List of Top 10 Crypto Exchanges?
Binance's fees are remarkably lower than other cryptocurrency exchanges. In addition, Binance owns its token known as BNB, and if you use the company's native cryptocurrency to buy and sell other coins, you get a 25% trading fee discount. Learn about Binance's coin, BNB.
What Is Binance Academy?
In addition to its tools and features, Binance offers a comprehensive learning platform consisting of easy-to-understand content for cryptocurrency users and enthusiasts worldwide, and any trader can join it.
Binance Drawbacks
Binance doesn't offer a wide range of crypto assets, and it only supports 60 cryptocurrencies, while several competitors provide a larger selection. It is not available for every user, and it's banned in multiple countries like US and Iran. Another weakness of Binance is that the platform is complex and may confuse beginners.
Top 10 Crypto Exchanges, No. 3: Crypto.com
The third exchange on Cryptologi.st list of top 10 crypto exchanges is Crypto.com. Everybody prefers to trade safely and far away from any fraud, and security is one of our essential priorities when it comes to trading digital assets.
Regarding safety, Crypto.com has ranked first in the cybersecurity ranking. It was founded in 2016, and now with 10 million users across 90 countries, Crypto.com is one of the most popular trading exchanges.
Crypto.com is built on multiple layers of protection against crypto fraud and cyberattacks and offers the largest selection of currencies, over 250 coins.
The platform doesn't support crypto-to-crypto trading options, and if you are based in the US, you can use its services completely. Financially speaking, Crypto.com's fees depend on the trading volume. However, they're not as low as the fees charged by Binance, with rates ranging from 0.04% to 0.40% for maker fees and 0.10% to 0.40% for taker fees. But if you purchase with credit and debit, you should pay higher fees.
Top 10 Crypto Exchanges, No. 4: Gemini Exchange
The platform holding the 4th rank on the list of top 10 crypto exchanges is Gemini. Gemini is a platform specialised in providing easy and safe trading? It is a regulated cryptocurrency exchange launched in 2014 and has a simple interface for new crypto investors with a strong emphasis on security.
It supports around 63 cryptocurrencies and charges a $1.99 maker fee and $1.99 taker fee, 1.49% fee for trades trading over $200, and 3.49% for debit or credit card purchases.
Gemini Pros
Gemini is available in all 50 U.S. states and will be much admired by all users who prefer to trade on a highly secure platform. With Gemini, you can earn up to 8.05% APY on your cryptocurrency balance with Gemini Earn.
Gemini Cons
If we want to compare Gemini with competitors like Coinbase or Kraken, Gemini provides lower trading volume. Another point that may be considered a red flag is that trading with Gemini comes with high fees, especially if you're trading a small amount of crypto.
Top 10 Crypto Exchanges, No. 5: Uniswap Exchange
Number five in the list of top 10 crypto exchanges is Uniswap. All the exchanges that we have mentioned so far are centralised. It means they are owned by private companies and offer investors a platform to trade cryptocurrencies. But when it comes to the decentralised exchanges, Uniswap is the largest decentralised exchange (or DEX) operating on the Ethereum blockchain, which is known for a trading boom in DeFi. It is an "automated market maker" (AMM), and there is no need for you to register an account and do KYC. Delve deep into decentralised exchanges.
Uniswap Pros
Uniswap cuts the middlemen and allows users to directly swap their ERC-20 tokens without signing up for an account, completing any identity verification, and earning interest by staking their crypto. It is designed in such a friendly way that it doesn't take long to learn how it works, and it's easy to connect to a crypto wallet.
Uniswap Cons
Gas fees on Uniswap, i.e., the fees required to send a transaction on the Ethereum blockchain, are a separate cost and can be quite high depending on network congestion.
Top 10 Crypto Exchanges, No. 6: UniSwap V3
Let's introduce the number six on the list of top 10 crypto exchanges: Uniswap V3. The newest version of Uniswap, Uniswap V3, was released in March 2021 and introduced advanced features including:
Concentrated Liquidity
Active Liquidity
Range Orders
Non-Fungible Liquidity
Flexible Fees
Advanced Oracles
License.
Top 10 Crypto Exchanges, No. 7: PancakeSwap
The top 10 crypto exchanges list regards Pancakeswap as its number seven. Like Uniswap, PancakeSwap is an automated market maker (AMM) on Binance Smart Chain, allowing users to transfer their digital assets without involving a third party.
It was launched in 2020 and turned into one of the most popular cryptocurrencies DEXs. PancakeSwap owns its native token, CAKE, a BEP20 token built on BSC.
Advantages Of PancakeSwap
PancakeSwap supports a wide range of BEP-20 tokens, and by staking your BEP-20 tokens, you will be rewarded CAKE. In addition, it does have a higher yield range than other exchanges.
Disadvantages Of PancekSwap
If you want to stake your tokens with PankcakeSwap, you may experience a complicated staking process that it's not user-friendly.
Top 10 Crypto Exchanges, No. 8: SushiSwap Exchange
Rank eight on the list of top 10 crypto exchanges belongs to SushiSwap. SushiSwap is an Ethereum-based decentralised exchange that lets you swap a vast array of tokens and offers other financial services.
Similar to PancakeSwap, SushiSwap comes with its native token, SUSHI, and users who stake their tokens have a chance to earn more SUSHI.
Top 10 Crypto Exchanges, No. 9: Orca Exchange
Our number nine in the list of top 10 crypto exchanges is Orca. Instead of the Ethereum blockchain, you can transfer your cryptocurrencies fast and easily on the Solana blockchain.
Orca is a Solana-based decentralised exchange with minimal transaction fees and lower latency than any DEX on Ethereum. It processes 50,000 transactions per second, 400ms block times, and $0.01 average transaction fees and ranks #4th based on the trading volume on Coingecko.
ORCA is known as the native token and governance token of the Orca platform, allowing users to participate in developing the protocol.
Top 10 Crypto Exchanges, No. 10: Biswap
Last but not least, rank ten of the top 10 crypto exchanges is held by Biswap. Biswap is another decentralised exchange on Binance Smart Chain. Users can swap any token that follows the BEP-20 token standard on the DEX.
It has the lowest platform transaction fees of just 0.1%, consists of 36 tokens and is the #5th DEX on Coingecko based on the trading volume. It also owns its unique token, BSW, that provides passive incomes for uses and is also used for various use-cases within the DEX.
Top 10 Crypto Exchanges: More to Come!
If, like us, you crave top projects in all crypto areas, here's a list you'll enjoy.
In Conclusion
Cryptocurrency exchanges are an integral part of the crypto world and are widely available. Were it not for the top 10 crypto exchanges, nobody would be able to swap their tokens easily and safely!
Now, by reading this article, you know that different exchanges come with different features, and depending on your priority, you can decide which exchange should be on your list.
Providing educational articles and full analyses on the top 1500 coins, cryptologi.st could be one of your best sources to help you stay on top of your game in the world of digital assets. Check us out!
How do you rate this post?