The Ultimate List of Free NFT Wallets for 2023: Which One Is The Best?
#investment
#nft
#cryptocurrency
#btc
tl;dr
One of the most needed tools in the NFT world is a secure and reliable wallet to store NFTs. But which are the best among this wide array of NFT wallets available? This article introduces the ultimate list of free NFT wallets for 2023 and compares them to help you choose the best ones. Whether you're a veteran NFT collector or a beginner, this article has something for you!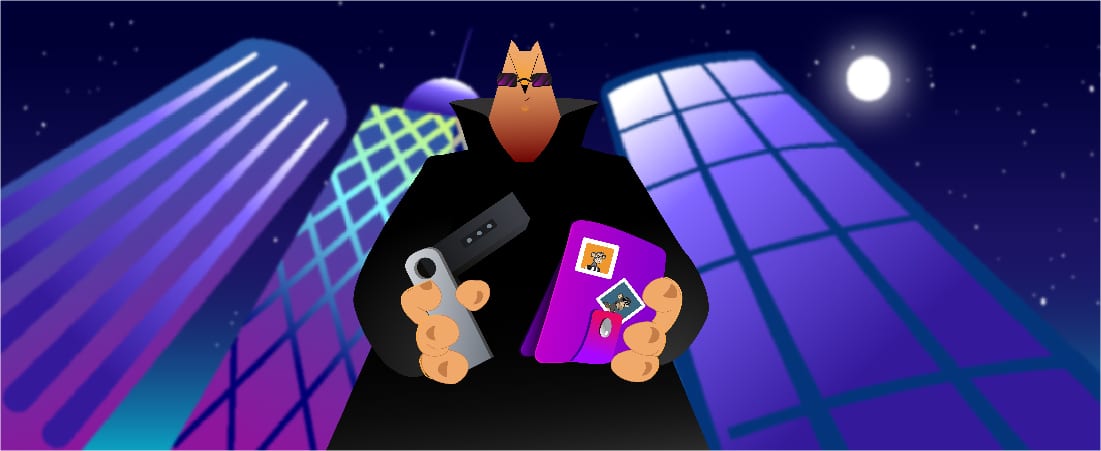 How do you rate this post?
What Is NFT?
NFTs (Non-Fungible Tokens) are digital assets proving that you own a unique item, including art, music, videos, or even tweets. Fungible assets like cryptocurrencies can be exchanged, i.e., my one Bitcoin equals your one Bitcoin, but that's not the case for Non-Funcgible assets.
Non-Fungible means that my asset is unique and doesn't equal the NFT asset you own. They are two different things, not equal, with different values and prices.
Similar to other digital assets, NFTs are created, stored and sold on blockchain platforms, and owning them is like owning a physical asset.
NFTs are increasingly popular these days, especially among artists - the community that cares about copyrights - as they let the artists (and everybody else, of course) monetise their digital content.
NFTs can be sold as unique items, and there's only one owner for each piece of NFT asset. When it's sold, the buyer is the new owner and can trade it as they wish.
But where can we keep these NFTs? How can we trade them? How do we manage all this? Don't panic! The following section will walk you through everything you need to know.
Learn More: What Is An NFT?
What Is An NFT Wallet?
An NFT wallet is a digital wallet that securely stores and manages Non-Fungible Tokens (NFTs) and trades them on NFT marketplaces. To manage NFTs, the users typically need to connect to their Ethereum wallet or other compatible blockchain wallets.
Wallets offer features like multi-chain support, NFT management, and secure storage for private keys, and they come in different types with certain pros and cons. Let's learn more about wallets below.
What Are The Types of Crypto Wallets?
Crypto wallets (holding all kinds of digital assets from cryptocurrencies to NFTs) come in two main types: Hot and Cold wallets, but each is categorised into different types.
Hot Wallets include Software Wallets (Desktop and Mobile Wallets) and Online Wallets.
Cold Wallets include Hardware and Paper Wallets.
Let's learn more about each one's features below.
How Wallets
Hot wallets are online crypto storage developed to provide quick and easy access to your cryptocurrency. Software Wallets, Desktop Wallets, Online Wallets, and Mobile Wallets are examples of hot wallets.
Software wallets: Applications that can be installed on computers or mobile devices. Software wallets include two types: Desktop and Mobile wallets.
Desktop Wallets: Installed on a desktop computer and are only accessible from that device
Mobile Wallets: Installed on a smartphone or tablet
Online Wallets: Online or Web wallets store private keys on a web server, so they are accessible 24/7 but are prone to hacks and cyber attacks.
Read More: Top Hot Crypto Wallets
Cold Wallets
Cold wallets are simple, physical storage not connected to the Internet. Being offline makes them less accessible due to time and place limitations, but they are safer and better for the long-term storage of your digital assets.
However, they can be stolen! Hardware and paper wallets are examples of Cold wallets.
Hardware Wallets: Physical devices storing private keys offline. They can be connected to a PC or mobile device via USB or Bluetooth and require a PIN or passphrase to access.
Paper Wallets: Physical copies of private and public keys are printed on paper. They are highly secure but can easily get lost or damaged.
Read More: Top Cold Wallets
So, the question is how we can choose the best NFT wallets among all these types and what we need to take into account. Keep scrolling to find out!
Factors to Consider When Selecting The Best NFT Wallet
Here are the most important factors you need to consider when choosing the best NFT wallet.
Security: Security is a priority in the crypto world. Wallets offering strong security features like two-factor authentication, encryption, and seed phrases are the best.
Compatibility: The NFT wallet you select must be compatible with the blockchain the NFT is on.
User-friendliness: The more an NFT wallet is user-friendly, the easier to use and manage it is. Look for a wallet with a simple and intuitive interface.
Mobile vs Desktop: Decide if you want to manage your NFT wallet on a mobile or desktop device. Mobile wallets are more convenient and accessible, while desktop wallets are more secure.
Reputation: Choose a wallet that is reputable and trustworthy, with a good track record.
Cost: Some NFT wallets are free, but others charge fees. Consider your options and see if you prefer free wallets or if it's worth paying for the additional features.
Customer Support: Wallets offering responsible customer support that answers questions and solves problems quickly are the best.
Considering all these factors, let's get to know some of the best NFT wallets available in the market.
The Best NFT Wallets
The following is a list of the top ten NFT wallets with no special order. The top features and pros and cons for each of these wallets are provided below.
MetaMask
Trust Wallet
MyEtherWallet
Coinbase Wallet
Ledger Live
Trezor
ZenGo Crypto Wallet
Binance Wallet
Enjin Wallet
Atomic Wallet
Pros:
User-friendly interface for PC and mobile devices
Supporting Ethereum and ERC-20 tokens
Customisable gas fees
Multi-chain support
High security
Good accessibility
Seamless cross-device capabilities
Allowing multiple in-wallet accounts
Cons:
Limited storage
High fees
Lacking backup option
Can be slow when the network is highly congested
Preferred cryptos are added manually
Not supporting Bitcoin
Not beginner-friendly
Trust Wallet
Pros:
Easy to use and available on iOS and Android devices
Supporting many cryptocurrencies, including the ERC-20 tokens
Having a built-in DApp browser
Security
Backup option
In-app dApp browser
Allowing staking
Complete control of NFTs
Cons:
Limited desktop support
No custom token creation available
Limited customer support
Charging transaction fees
Unverified tokens
Low security levels
Difficulty in swapping assets to fiat
MyEtherWallet (MEW)
Pros:
Security
Accessibility
User-friendly interface
Support for multiple tokens
Highly customisable
Support custom tokens and smart contracts
Offering hardware wallet integration
Easy-to-use interface
Cons:
Can be overwhelming for new users
Lacks some features offered by other wallets, like mobile apps
Limited token support
Transaction fees
Coinbase Wallet
Pros:
Multi-currency support
User-friendly mobile app for iOS and Android
Offering in-app purchases and trading features
Easy-to-use
Vibrant user interface
Newbie friendly
High security
Cons:
Only supports Ethereum and ERC-20 tokens
Not as secure as hardware wallets
Limited control over fees
Centralised storage
Limited privacy
Poor customer support
High transaction fees
Ledger Live NFT Wallet
Pros:
High security
Hardware wallet with offline storage
Supporting multiple NFT standards
Easy-to-use interface
Compatibility with major NFT marketplaces
Cons:
Needs a physical device to access funds
Slightly expensive fees
Limited functionality
Reliance on external software
Trezor NFT Wallet
Pros:
Highly secure
Multi-currency support
Easy-to-use
Cons:
Requires a physical device to access funds
Compatibility issues
Limited functionality
High fees
ZenGo Crypto Wallet
Pros:
Easy-to-use
Security
Multi-chain support
Offering built-in trading features
Cons:
Limited coin support
Not as secure as hardware wallets
Custodial wallet
High transaction fees
Newer in the market
Binance Wallet
Pros:
Multi-asset support
User-friendly interface
Low fees
High security
Supporting Binance Smart Chain and BEP-20 tokens
Cons:
Custodial wallet and centralised control
Limited privacy
Limited support
Potential for scams
Enjin Wallet
Pros:
Supporting various cryptocurrencies
High security
Built-in marketplace
User-friendly
Mobile and desktop support
Designed specifically for NFTs
Cons:
Custodial wallet
Limited privacy
High transaction fees
Potential for scams
Supporting limited Ethereum NFTs
Atomic Wallet
Pros:
Security
User-friendliness
Atomic swaps
Staking
Multi-currency support
Desktop and mobile app
Built-in trading features
Cons:
Supporting only ERC-20 tokens
Mobile app limitations
No fiat currency support
Limited anonymity
Now that we know the ten best NFT wallets let's compare and contrast them and see which ones are better for which needs.
A Comparison of The Best NFT Wallets
The following table compares and contrasts the top ten NFT wallets to give you a general picture of each one's top features.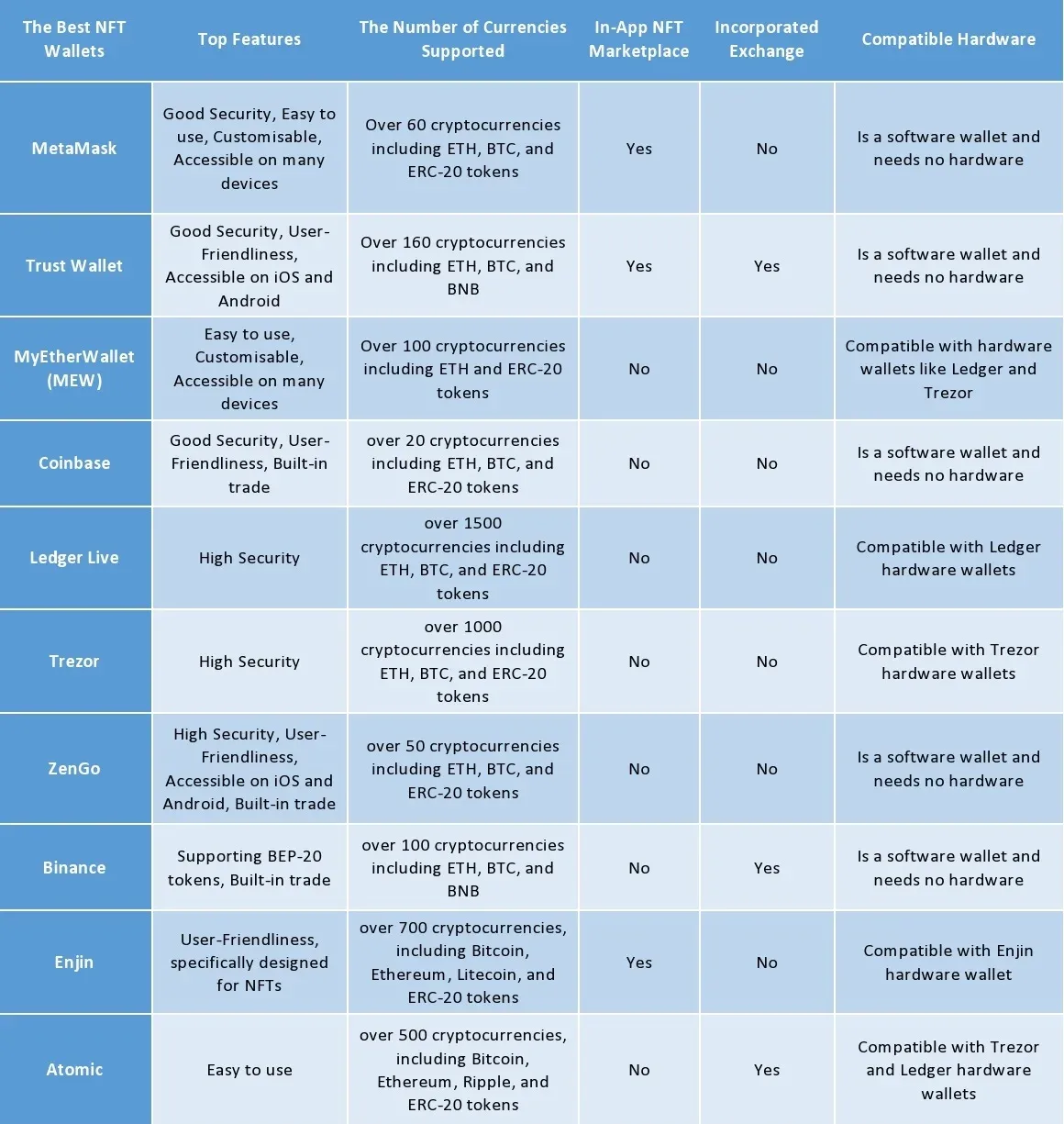 Summary
NFTs are taking over the crypto market, and as they grow, the need for secure and trustable NFT wallets is on the rise. This article was the ultimate guide to the best NFT wallets.
It's crystal clear that NFT wallets have specific pros and cons, and the ultimate choice of any of them comes down to your preferences, priorities and needs.
By reading the thorough review articles provided at Cryptologist, you no longer have to crawl the net to find the bests and make confident investment decisions.
FAQ
You can find answers to the most frequently asked questions about the best NFT wallets in the following subsections.
Which Wallet Can Be Used for NFT?
Various wallets offer the ability to store and manage NFTs, including MetaMask, Coinbase, Binance, Enjin, etc.
They are both trustable wallets; while Trust Wallet supports various networks, MetaMask is limited to Ethereum and other EVM networks.
Are There NFT Wallets?
Yes, there are wallets to allow storing and managing digital assets from cryptocurrencies to NFTs.
How do you rate this post?