The Best Crypto Wallet for Under 18: A Free Guide to Set Up Crypto Wallet for Child
#investment
#cryptomarket
#decentralized
#btc
tl;dr
Everybody says if you invested in BTC 10 years ago, you could be a millionaire by now. Why not give the same opportunity to your under-18 children and make them millionaires by the time they're in their early 20s? To do so, you need the best crypto wallet for under 18. This article is your free guide to setting up crypto wallets for your children.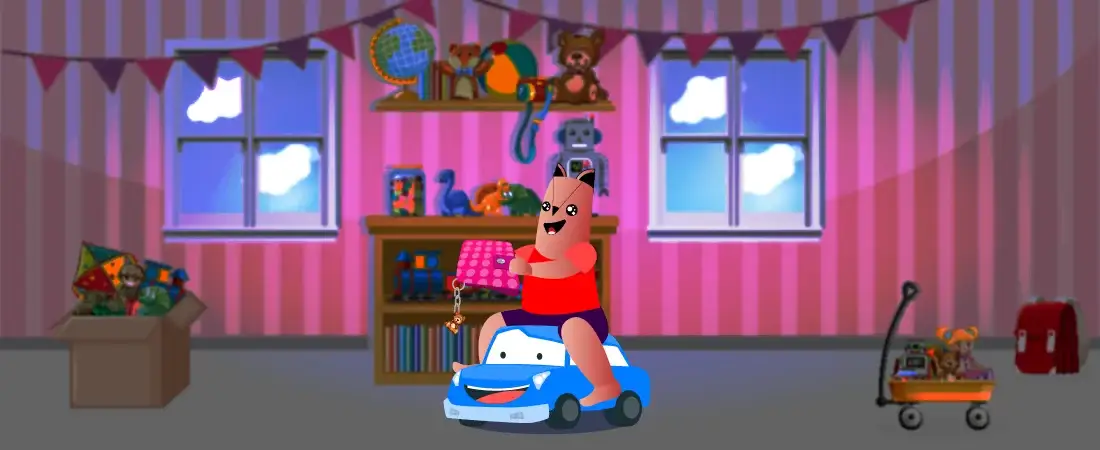 How do you rate this post?
Types Of Crypto Wallets
Focusing on control and access, we can divide crypto wallets into two general types: Centralised and Decentralised, which we'll elaborate on here.
Centralised Crypto Wallets
Centralised or custodial wallets are controlled by a third party so that the users won't have complete access to the wallet.
Also, users under 18 are not allowed to register on centralised wallet websites as the users must fill out a KYC form upon opening an account and provide identification, which excludes those under 18.
Kraken, Coinbase.com, and Binance are examples of centralised wallet platforms.
Decentralised Crypto Wallets
Decentralised or non-custodial wallets give complete control to the users as there is no third party involved.
To use decentralised wallets, the users download the wallet app and create an account even if they are under 18. So, no identification or KYX is needed.
Decentralised crypto wallets come in two types: Hot and Cold, according to how they store public and private keys. Hot and Cold wallets include some subcategories as follows.
Hot Wallets: Software Wallet, Desktop Wallet, Mobile Wallet, Online Wallet
Cold Wallets: Hardware Wallet, Paper Wallet, Offline Wallet
Let's learn all about the Hot and Cold crypto wallets.
Hot Wallets
Hot wallets are called hot as they are connected to the Internet, meaning you can access them round the clock. But, being online means they are open to scams and hacks, meaning they are riskier to use.
Hot wallets are online and based on software, i.e., they can be used on PC, cell phones, web versions, and extensions.
Providing online access from any device anywhere in the world, top Hot crypto wallets are preferred by traders and those who want to keep a constant eye on their investments.
As mentioned above, Hot wallets include Software, Desktop, Mobile, and Online (Web) wallets. Let's check some examples of each.
Software Wallet: Breadwallet is a Software wallet which can be accessed on a desktop or the web.
Desktop Wallet: Exodus is a Desktop wallet which can be installed on a computer.
Mobile Wallet: Trust Wallet is a mobile wallet easily accessed on a tablet or smartphone.
Online (Web) Wallet: Coinbase wallet is an Online or Web wallet which you can access on a web browser.
Maintaining security is one of the greatest measures you need to take before choosing a Hot wallet, so choose the platforms guaranteeing high security.
CAUTION:
Use two-factor authentication for your Hot wallets.
Don't store large numbers of cryptocurrencies in Hot wallets.
So, after learning the main features of Hot wallets, let's move on and see what Cold wallets are.
Learn more: What Are Blockchain Wallets And How To Use Them?


Cold Wallets
Unlike Hot wallets, Cold wallets are not connected to the Internet and store crypto assets offline; that's why they are called cold.
Cold wallets work offline to increase security and avoid the scams and hacks that happen to Hot wallets.
Cold wallets come in three general forms, Hardware, Paper and Offline wallets.
Hardware Wallets are physical devices like USBs that work so simply that no electronic device (hackers) can access them. Ledger is an example of a Cold wallet.
Paper Wallets are pieces of printed paper containing your private keys and QR Codes to make transactions.
Offline Wallets are software wallets installed on computers not connected to the Internet.
While top Cold wallets are almost immune to online hacks, they may get stolen physically, lost, or damaged! So, it's essential to keep them in a safe place, actually, in a safe! Safekeeping measure aside, Cold wallets are great for storing large numbers of cryptocurrencies.
So, now you know the main types of crypto wallets and have a good knowledge of their pros and cons and how each one can be used. Let's speak more precisely, focus on children, and see which type of crypto wallet is best for your child.
Which Type Of Crypto Wallet Is Best For Your Child?
The essential factor to consider about the best wallet for under 18 is security, as the children may not know enough cryptocurrencies and wallets, which increases the risks.
Three of the most common wallets are Hot Mobile Wallets, Hot Desktop Wallets, and Cold Hardware Wallets. The following table summarises their pros and cons to help you decide more easily.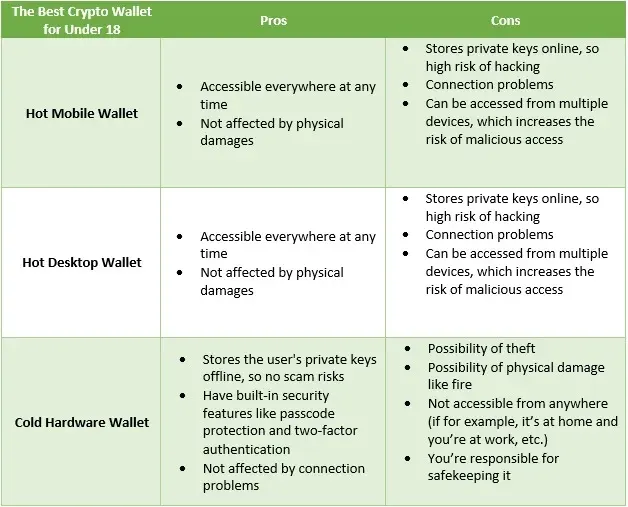 As the above table indicates, Cold wallets, especially Hardware wallets, are safer for all users, especially those under 18. Also, note that younger children may not completely comprehend the importance of safekeeping private keys. So, your direct supervision as a parent or guardian is necessary.
Needless to say, if you lose your private keys or seed phrases, you can never access your wallet again, as they are not recoverable.
Although Cold wallets are safer, Hot wallets are easier to access, and a large number of users prefer to use them. No matter which of these two groups you belong to, we're going to give you the lists of the top Hot and Cold wallets for those under 18.
Top Hot Wallets For Under 18
MyEtherWallet
MetaMask
Exodus
Trust Wallet
Coinomi
Ledger Live
Jaxx Liberty
Edge Wallet
Infinito Wallet
Atomic Wallet
Coinbase Wallet
Electrum
Top Cold Wallets For Under 18
Trezor
Ledger Nano S
Ledger Nano X
KeepKey
BitBox02
Coldcard Wallet
Billfodl
Ellipal Titan
OpenDime
Safepal S1
One of the essential questions yet to be answered about crypto wallets for children is how to set up crypto wallets for a child. Let's learn how in the following section.
How To Set Up Crypto Wallets For A Child?
Setting up a crypto wallet is not a demanding task, and you or your children under 18 can take the steps and set up the wallet. Here are the steps to set up crypto wallets for a child.
Choose a wallet: According to what we've learned in this article, Cold wallets are safer, but Hot wallets are easier to use, so choose the one that best suits your child's needs.
Create a new wallet: The next step is to create a new wallet and set a strong password. YOU MUST write down the seed or recovery phrase and keep it safe. If anybody else accesses it, they access your cryptocurrencies. If you forget the seed phrase, you will never access your cryptocurrencies. Also, ensure your child is on the same page with you about security and not disclosing the seed phrases to anybody.
Secure the wallet: Take all the safety measures available, like two-factor authentication, to secure your crypto assets.
Add cryptocurrencies: When you finish the previous steps, you can transfer your crypto assets to and from your wallet. Some believe that only sending coins to the wallet and not accessing it online is a good safety measure for Cold wallets as the keys are not exposed to the Internet.
All in all, it's time to teach the basics of crypto to your under-18 children as it is the new banking and even an investment that can save their future. To start the education, you can check Cryptologist with your children to head for the future together!
How do you rate this post?