The Best Crypto Signal Simulator For 2023
#investment
#cryptomarket
#cryptocurrency
#btc
tl;dr
Volatility is an integral part of the crypto market, so any tool to help investors and traders predict the future prices of a cryptocurrency is a real jewel. One such tool is a crypto signal simulator, which allows traders to learn trading in a real-life-like situation. Reading this article, you'll learn all about the best crypto signal simulator for 2023 to start a lucrative business year.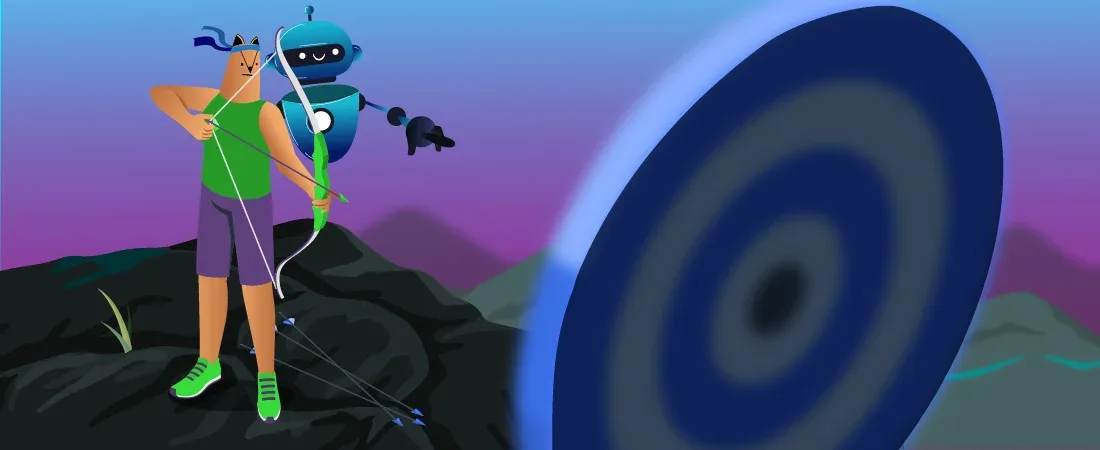 How do you rate this post?
What Is A Crypto Signal Simulator?
In simple terms, a crypto signal simulator is a tool to predict future changes in a cryptocurrency's price. The reason why these tools are being made is no secret, as predicting an unpredictable thing is a significant achievement.
Crypto traders use price actions, charts, analyses and the best crypto signal simulator to predict the price changes of a given cryptocurrency in an unbiased way.
Price prediction websites also use these simulators to make predictions as accurately as possible. In addition, crypto signal simulators can have the following benefits.
Why Use A Crypto Signal Simulator?
Crypto signal simulators can benefit users in many ways, including the following.
Crypto signal simulators simulate the trading situation and enable users to make informed investment decisions and avoid guessing.
They provide the latest trends and news in the crypto market so users won't miss out on essential points.
They can be considered reliable sources as their information can be up to 80% accurate.
If used properly, crypto signal simulators can remove your need for expensive investment counsellors.
Now that we've realised what a crypto signal simulator is and why it's getting more common every day let's get into the details and see how a crypto signal simulator works.
Read more: 10 Best Free Crypto Screeners in 2023
How Does A Crypto Signal Simulator Work?
As its name suggests, a crypto signal simulator is to simulate cryptocurrency price signals. By signals, we mean hints for buying or selling certain cryptocurrencies. Crypto simulators use historical data to create simulated trading signals to allow traders, especially novice ones who can't consider all the factors, to test their trading strategies in a risk-free environment.
You must have heard about driving or spaceship control simulators that create a situation similar to the real driving or spacecraft docking interface to let users practice and see how the real thing works before embarking on a journey. The same goes for a crypto signal simulator, which enables you to practice and test various trading strategies without losing money.
Generally, crypto signal simulators can allow you to test the following strategies.
Momentum
Mean Reversion
Arbitrage
Trend-Following
Now that we've learned the basics of a crypto signal simulator and how it works, let's see how we can choose the best crypto signal simulator.
How To Choose The Best Crypto Signal Simulator?
To begin with, remember that we can't say one simulator is the best for everyone, as we have different needs, and each simulator offers some features and covers some needs. To choose the best crypto signal simulator, you need to
Check what kind of information the simulator gives you and what you can actually test.
Find out about the fees and packages offered (some can even be free).
See if you have to put in real money.
Discover if it's specialised in Bitcoin or if altcoins are provided as well.
Check if it provides real-time data.
See if it's designed for more knowledgeable traders or beginners.
Know if it offers anything other than crypto signal simulation.
Find out how secure it is and how it values privacy.
Considering all the above factors, we're going to introduce some of the best crypto signal simulators in 2023.
The Best Crypto Signal Simulator In 2023
The following table depicts the details of the best crypto signal simulator in 2023. Make sure you weigh your options, consider all factors, and DYOR before choosing any of these simulators.
Also, don't forget that these are 'simulators' and you cannot rely on them 100%, and you need to consider a percentage of error or difference compared to real-life trading.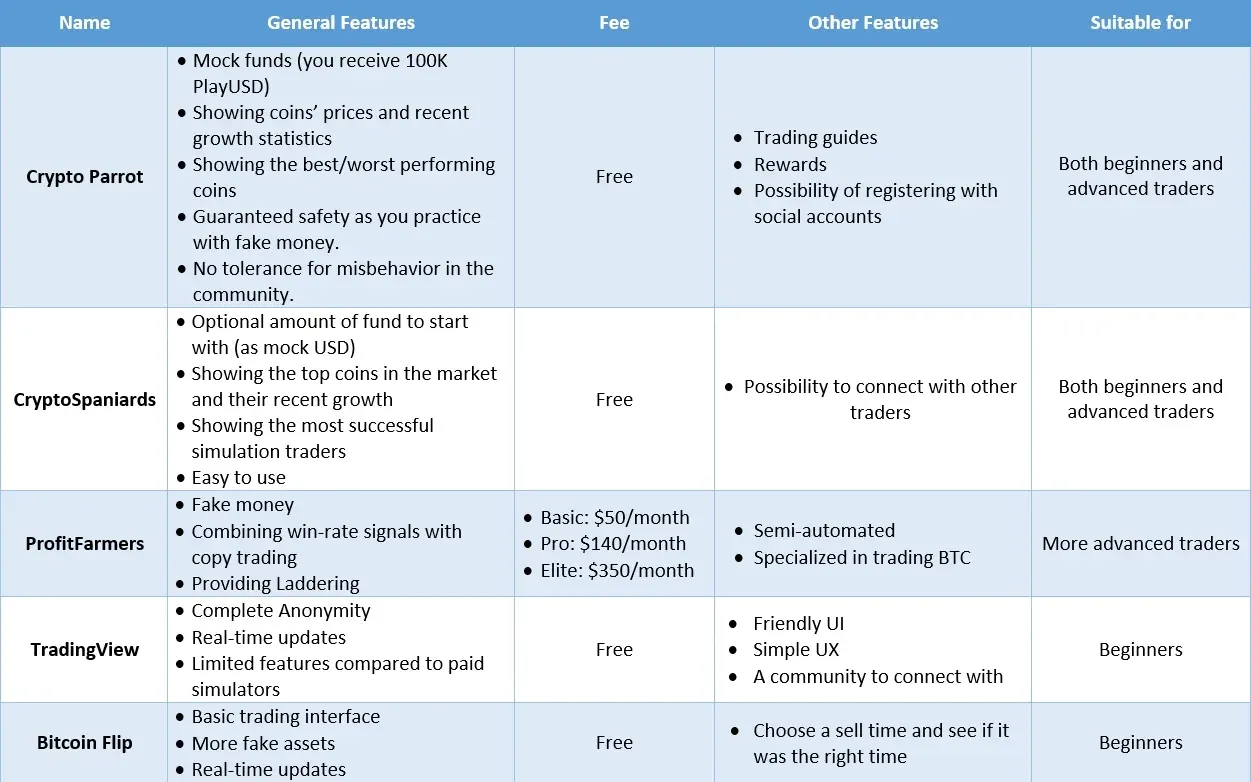 Summary
All you need to make the most confident crypto decisions in the volatile crypto market is
Knowledge
Strategy
Risk Management
Updated Tools
Analysis
Staying Updated
You can access all the above and improve your investing/ trading skills using the tools and analyses provided by Cryptologist.
FAQ
In what follows, you can find answers to the most frequently asked questions regarding the best crypto signal simulator for 2023.
What Is The Most Successful Crypto Trading Bot?
TradeSanta, Shrimpy.io, Zignaly, Botsfolio, HaasOnline, 3Commas, Bitsgap, and Trality are among the most successful trading bots.
Which Are The Best Free Crypto Trading Bots?
Pionex (for both beginners and advanced traders), 3Comma, WunderTrading (better for copy trading), HaasOnline (better for experienced traders), Cryptohopper (better for day traders), and Bitsgap are among the top crypto trading bots.
What Are The 7 Best Risk-Free Crypto Trading Simulators?
Crypto Parrot, CryptoSpaniards, ProfitFarmers, TradingView, Bitcoin Flip, Bitsgap, and Bitcoin Hero are among the low-risk free trading simulators.
How do you rate this post?