The Best Cardano NFT Marketplaces In 2023 by Fee and Volume
tl;dr
More and more people seek to enter the NFT space. But one of the biggest obstacles is the largest NFT marketplaces are built on Ethereum, which is notorious for its scalability issues. You even have to pay $200 for gas in some cases! The perfect alternative is Cardano, with lower NFT transaction fees, faster transfers, and more convenience. To access the best Cardano NFTs or market yours, you need the Cardano NFT marketplaces we've elaborated on here.
How do you rate this post?
What Is Cardano?
Simply put, Cardano is a Proof-of-Stake blockchain, which was created by Ethereum's co-founder Chris Hoskinson in 2017 to become a third-generation blockchain. According to Hoskinson,
Bitcoin is the first generation of blockchains that are also considered digital gold.
Ethereum is the second generation of blockchains, which can run smart contracts.
The main issue with Bitcoin and Ethereum blockchains is that they need to scale up as their networks host more user traffic. Cardano aims to solve these three main issues of the previous blockchain generations: scalability, interoperability, and sustainability.
Because of Cardano's features and constant developments, many are bullish that this blockchain will dethrone Ethereum in the future and have given it the nickname "Ethereum-Killer".
Moreover, Cardano is smart-contract-compatible, meaning you can mint your own NFTs or buy them directly from Cardano NFT marketplaces. Using Cardano, you can say goodbye to the horrendous transaction fees resulting from Ethereum's network congestion.
But to access the best Cardano NFT marketplaces, you need to consider some key factors to choose the ones that suit your NFT needs. Let's see what these factors are.
How To Choose The Best Cardano NFT Marketplaces?
There are many Cardano NFT marketplaces out there, but how can we choose the best ones? What do I need to consider before starting to mint or buy from a Cardano NFT marketplace?
You need to consider fees, NFT volume, infrastructure, and community activity. Let's elaborate on each one below.
Fees: Lower fees mean you'll spend less when buying or minting an NFT.
Volume: An NFT marketplace with high volume (a large number of NFTs) suggests that many people are using the marketplace, which means you have a higher chance of selling your NFT.
NFT Niches: Most NFT marketplaces are only focused on a specific NFT type, whereas others offer access to multiple NFT formats, such as pictures, GIFs, game items, usernames, etc. This is necessary to pay attention to, as you might be looking for a specific type of NFT, but the marketplace you wanted to browse doesn't support that NFT type.
Infrastructure: You need to check out how an NFT marketplace works regarding governance, infrastructure and security. These factors can affect how you access your NFTs on the market, e.g., a platform might require you to hold its native token to allow you to mint NFTs on it.
Having learned how to choose the best Cardano NFT marketplace, we can take a look at the best marketplaces in the industry. For convenience, we've divided the marketplaces by fee and market share.
The Best Cardano NFT Marketplaces In 2023 By Fee
Cardano is known for having very low transaction fees, and the NFT marketplaces on this blockchain also provide low fees. The best Cardano NFT marketplaces with the lowest fees are
JPG.Store,
CNFT.io,
Cardano Cube,
Cardahub, and
Tokhun.
We have summarised the best Cardano NFT marketplaces with the lowest fees in a table for your convenience. We will elaborate on each project and go through their features below the table.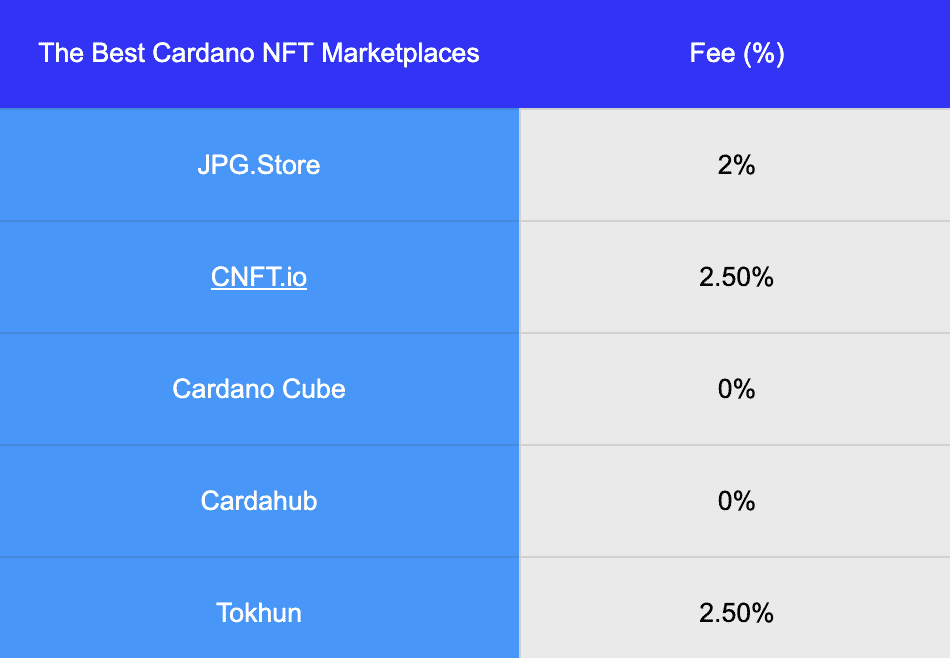 JPG.Store
JPG.Store is an ideal platform for those who are new to either the crypto world or the Cardano NFT (CNFT) ecosystem. The user interface of this NFT marketplace is similar to the common Ethereum NFT marketplaces like OpenSea and LooksRare.
JPG.Store's key features include
charging a 2% transaction fee;
supporting most of the Cardano wallets;
hosting various NFT collections;
providing innovative minting features and tools;
collection ranks;
creator royalties;
verified collections; and
being escrow-free (i.e., no third-party smart contract temporarily holds money in a transaction).
CNFT.io
CNFT.io is the first-ever NFT marketplace on Cardano and one of the largest Cardano NFT marketplaces as of now. At the time of writing, CNFT.io has a 24-hour trading volume of more than 500 million ADA.
Also, this marketplace hosts well-known CNFT collections like SpaceBudz and Paviaothers.
CNFT.io's key features include
charging a 2.5% Marketplace Fee;
developing a native cryptocurrency ($CNFT);
multiple listing options; and
supporting most of the ADA wallets.
Cardano Cube
Cardano Cube is not an NFT marketplace on its own but a data aggregator that shows all of the available dApps on Cardano, which of course, includes NFT marketplaces.
Cardano Cube's key features include
0% fees
supporting all Cardano blockchain wallets; and
providing an overview of more than 1,000 Cardano dApps.
Cardahub
Cardahub's user-friendly interface and features make it another good option for NFT and CNFT beginners. Users on this marketplace aren't charged any fees and only need to pay for the Cardano blockchain transactions.
Cardahub's key features include
zero marketplace fees and only charging Cardano blockchain transaction fees;
being beginner-friendly, and
supporting Nami, CCvault, Flint, and Gero Wallets.
Tokhun
Tokhun features the works of over 100 NFT artists. Each artist on Tokhun can create up to 20 unique NFTs with a single mint, which the platform automatically numbers in a series.
This feature is especially ideal for NFT artists who want to mint collections seamlessly. Tokhun's key features include
2.5 % fee;
NFT minting customisability;
serial NFT minting;
NFT authenticity validation;
creator royalties; and
having its native token ($TKHN), which can be staked.
Now, let's move on to the second category of Cardano NFT marketplaces, i.e., those categories by market share.
The Best Cardano NFT Marketplaces in 2023 By Market Share
In the following sections, we'll scrutinise the largest Cardano NFT marketplaces and their market shares. These projects are JPG.Store, Spacebudz.io, Epoch.art, PXLZ.org, and Artano.io.
Before explaining these projects and their features, we'll summarise their market share in Cardano's ecosystem in the following pie chart.
The Best Cardano NFT Marketplaces By Market Share
JPG.Store
Not only is JPG.Store one of the best Cardano NFT marketplaces by fee, but it is also the largest Cardano NFT marketplace by trading volume.
JPG.Store has a groundbreaking market share of 95.84%. As of today (Jan 12, 2023), JPG.Store has had a 24-hour trading volume of $400K and holds $771K worth of NFTs in total.
SpaceBudz.io
Spacebudz.io is the second-best Cardano NFT marketplace by market share, with a market share of 2.63%. It is a CNFT platform with a collection of 10,000 SpaceBudz NFTs.
Each NFT in this collection is a picture of an astronaut with unique features and characteristics. You can also own animals, robots, and other creatures as NFTs and interact with them via your astronaut NFT.
Epoch.art
The third place in the best Cardano NFT marketplaces by market share goes to Epoch.art, with a market share of 0.9%. Epoch.art is a Cardano NFT marketplace that allows users to trade and collect their favourite NFTs, which
works similarly to OpenSea,
has timed auctions, and
offers verified collections.
The only downside of Epoch.art is that it only has full support for the Nami and CCvault wallets and limited support for the Yoroi and Flint wallets, meaning that if you use Yoroi or Flint, you can't uncover Epoch.art's full potential.
However, the team is constantly working towards enabling support for other popular Cardano wallets.
PXLZ.org
PXLZ.org is the fourth largest Cardano NFT marketplace by market share, with a market share of 0.29%. It is the first NFT platform on Cardano with interactive NFTs - started in March 2021 - and aims to host multiple NFT collections.
Its primary NFT collection is Genesis PXLZ, which consists of 10,000 interactive pixel characters.
Moreover, since these PXL NFTs are Progressive Web Applications (PWAs), you can have them as apps on your phone!
Artano.io
Lastly, we have Artano.io as the fifth largest Cardano NFT marketplace by market share, with a market share of 0.15%. Artano.io is a community-driven marketplace for artists and collectors.
It aims to be an NFT ecosystem where users don't have to worry about high transaction fees or the legal ownership of their NFTs and similar digital assets.
Summary
Cardano is a third-generation blockchain that allows users to mint Cardano NFTs (CNFTs) with the highest convenience and lowest fees.
The factors you need to consider before choosing the best Cardano NFT marketplace are Fees, NFT Volume, NFT Niche, and Infrastructure.
According to these factors, the best Cardano NFT marketplaces are JPG.Store, CNFT.io, Tokhun, and Spacebudz.io.
This article elaborated on the best Cardano NFT marketplaces, but plus Cardano, you can learn about the best NFT marketplaces for beginners in all areas.
FAQ
We've answered some of the most frequently asked questions about Cardano NFT marketplaces so you can get a better picture of what these CNFT marketplaces are all about.
Where Do You Store Cardano NFT?
You can store your Cardano NFTs in Cardano-compatible wallets.
Does Cardano Have An NFT Marketplace?
Yes, as of now (on Jan 12, 2023), there are 15 active NFT marketplaces on the Cardano blockchain.
What Are The Best Cardano NFT Marketplaces?
The best Cardano NFT marketplaces are JPG.Store, CNFT.io, and Tokhun.
What Are The Best Cardano NFT Projects?
The best Cardano NFT projects are Spacebudz.io, Epoch.art, PXLZ.org, and Artano.io.
Can You Make An NFT On Cardano?
Yes, you can mint NFTs on Cardano. In fact, Cardano is one of the best blockchains for minting NFTs, as they can be created with incredibly low fees and without any need for smart contracts.
How do you rate this post?