Tenset Coin: Revolution In Crypto Investment
#investment
#cryptocurrency
#gem
#10set
tl;dr
Tenset is a crypto hedge fund with a decentralised utility token called Tenset coin (10SET). It is the second generation ETF backed by multiple assets. Tenset aims to generate profit with various investments in a wide range of areas, wherever more profitable. Revenue generation is faster than ever by the Tenset tolls, i.e., Gem Launch Platform and Infinity Airdrop. Tenset's Ventured Capital focuses on investing in Metaverse and GameFi. Don't miss the opportunity to read this exciting article and learn all about Tenset!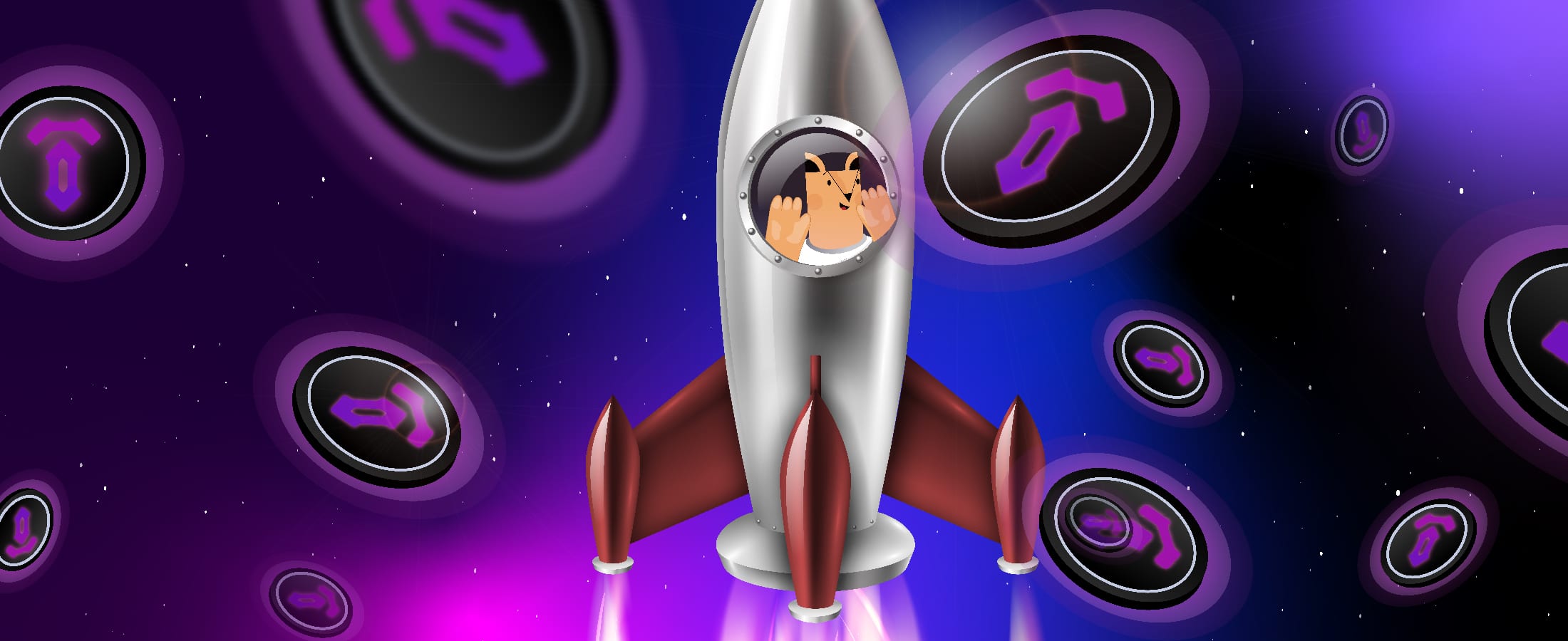 How do you rate this post?
What Is Tenset Coin?
Tenset coin or 10SET is the utility token of the Tenset platform, which is an ETF 2.0, i.e., Exchange Traded Fund. When you buy an ETF, you are actually buying a share from a company with a lot of stock. Having an ETF gets you entitled to receive dividends, and if it goes open price, you can sell it for profit. By purchasing Tenset coins, in fact, you buy shares from the crypto assets and stock owned by Tenset, which is why, by simply holding 10SET, it will increase. It means that Tenset is a platform to raise the value and earn easy passive income.
What Does Tenset Coin Offer Its Users?
Tenset opens the doors for investors to various assets by holding the 10SET token and achieves this aim thanks to the ETF 2.0 portfolio. The Profits earned from the portfolio are used to purchase Tenset coins and then will permanently be burned for deflation. Tenset offers a launchpad platform and the largest airdrop pool in the crypto space.
What Happens to Tenset Coin Profits?
Tenset platform uses the generated profits for organic buybacks and burns of the 10SET token on decentralised exchanges, which results in a natural deflationary process. Tenset intends to profit each and every token holder without needing them to pay the zero-sum rule, which obliges the original users to have new investors to gain the profit.
Who Has Fouunded Tenset Coin?
Tenset coin, or the Tenset project, was created by a young team involving Jonasz Miara, Michał Bajdor, and Michal Pomykala as Founder & CEO, CMO & Sales Manager, and CTO & Project Developer, respectively. Miara has been involved in crypto and blockchain since 2014 and has about a decade of experience in business and leadership. Bajdor has practised marketing and business management, MBA. Pomykala has been working as a blockchain developer and has been the CTO at eloom for over three years, and is the former CEO at FuerteCoin. Tenset also has Robert Gryn as its strategic partner and angel investor, who was chosen as the Youngest on Forbes 100 Richest.
Tenset Coin (10SET)
Tenset coin has various utilities, the main of which are governance, Gem Launch Platform, and Infinity Airdrop. To rule the platform and vote for the decisions and changes, the users need 10SET tokens, which are the governance tokens of the Tenset platform. Let's elaborate on the other two utilities below.
Tenset Coin Gem Launch Platform
Tenset Gem Launchpad Platform enables the 10SET token holders to invest in projects with huge potential at the presale and allows the ETF portfolio to snowball since Tenset will invest as well. These projects are expected to be quite promising since this platform's first Gem, i.e., Metahero experienced 170x in the early months after launch, and the third Gem, i.e., Everdome, reached 92x within the first week of launch.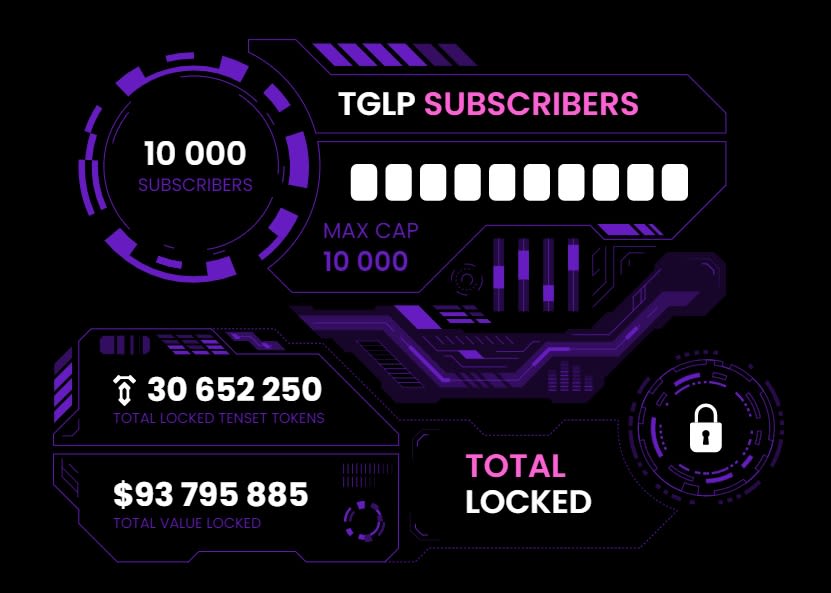 Tenset Coin Infinity Airdrop
Tenset Infinity is the airdrop system in the Tenset platform. Buying and locking 10SET tokens in Infinity will result in passive income from various tokens. Some of the tokens taking part in Infinity have not yet been listed, making them a bit riskier but more prone to grow in the future.
Tenset Coin Buybacks
One of the main functions of the Tenset project is buybacks, where the profits generated by the portfolio are used to buy 10SET tokens on the market and burn them for deflation.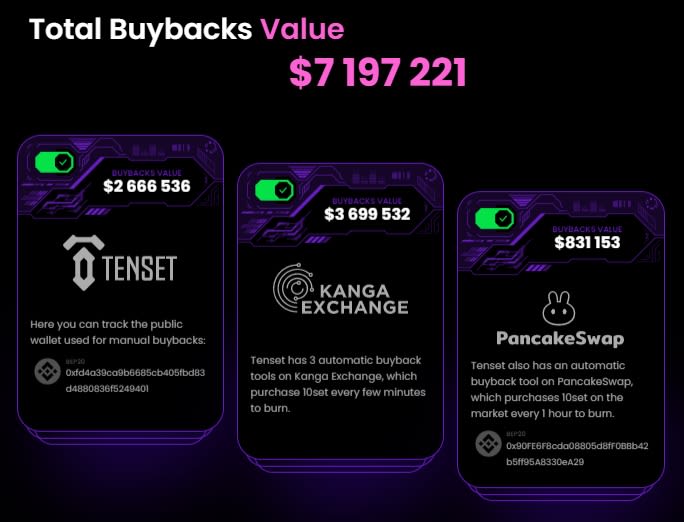 Tenset Coin Financial Analysis
Today, on Jun 6, 2022, Tenset (10SET) is held in over 29,900 wallets, which have recorded 154,900 transactions so far. Currently, Tenset stands on the market cap rank of #165. Today, the price of each Tenset coin is $2.99, with a 24-hour trading volume of $3,395,685. In the previous 24 hours, the 10SET price has up 1.5%. Its price is -53.8$ lower than its all-time high of $6.48 on May 30, 2021. However, 10SET's price is 256.5% higher than its all-time low of $0.839528 on Apr 02, 2021. Tenset has a circulating supply of 88 Million 10SET coins and a total supply of 197 Million. The liquidity score of the Tenset coin is 29%, meaning that it is a risky project and a hard sell in bearish markets. Currently, Gate.io is one of the active exchanges to rade 10SET coins.
Tenset Coin Return On Investment
Like similar projects, Tenset coin didn't have a positive ROI over the last year. Return on Investment (ROI) is a juicy factor for investors, but Tenset has shown a -11% growth, meaning that your 100$ investment in it a year ago would make you lose 11$. However, it has performed better than the top 1500 projects with -24%. Its ROI in the recent seven days has been positive at 7%. Analysing Tenset coin, Github revealed that currently, it is watched by 18 people; it has one contributor and two forks. The more contributors, the more reliable the investment.
How Popular Is Tenset Coin?
The popularity charts at Cryptologi.st indicate that Tenset coin has progressed in the number of Twitter followers by 20% in the recent six months. Its Telegram saw an increase of 6% in followers, but its Reddit has no progress with 0%. Here is Tenset coin's LinkedIn account to check updates and news.
Disclaimer: Don't take this article as financial advice. You need to DYOR (Do Your Own Research) before investment.
Tenset Coin Price Prediction
Estimating the exact future price of cryptocurrencies is literally impossible. But we can always guess! By 'we', I mean the crypto experts, not laymen or beginners! In the following subsections, we'll review the opinion of crypto experts about the price of Tenset coins in the coming years.
Tenset Coin Price Prediction for 2022
Experts predict that in 2022, the average price of each Tenset coin can reach $2.90. Its minimum and maximum values can be $2.79 and $3.15, respectively.
Tenset Coin Price Prediction for 2023
The average trading price of 10SET coins will revolve around $4.13 throughout 2023. Its price cannot go lower than $3.99, and at the top, it can reach a maximum of $4.80.
Tenset Coin Price Prediction for 2024
In 2024, the average price to trade Tenset coins is expected to be $5.95. Experts assume that the minimum price of each 20SET can hit a low level of $5.74 and a high level of $7.04 in 2024.
Tenset Coin Price Prediction for 2025
Every Tenset coin is expected to be traded at $8.47 on average in 2025. The price of each 10SET is predicted to reach a minimum of $8.23 and a maximum of $9.92.
Should I Invest In Tenset Coin?
Tenset seems to be backed by a knowledgeable young team aiming to benefit everybody. The market cap rank is currently quite promising, and the price predictions tell us that there may be an even brighter future for the Tenset coin. However, the current liquidity score makes it a risky project and not an easy sell in the current falling market. Cryptologi.st cannot tell you what to do, buy or sell, but it helps you make confident investment decisions by providing a free screener tool to compare hundreds of projects, a watchlist to handpick your favourite projects and observe their changes, and a blog replete with hot news and project reviews. Follow us on the social media listed below to stay on top of your crypto game!
How do you rate this post?