Talken: A Multi-Chain Decentralised NFT Wallet
#investment
#cryptocurrency
#defi
#decentralized
#nft
#talk
tl;dr
The first Korean multi-chain decentralised NFT wallet, Talken, is an interoperable NFT suite for artists, influencers, and K-pop stars to mint, auction, store and trade NFTs. Thanks to its open NFT ecosystem, Talken aims to bridge Korean NFT lovers to Talken's native NFTs and other NFTs through protocols like Rarible, OpenSea, etc. Talken's mission is to expand NFT to the mainstream and provide better tools and services for collectors and digital artists. All you need to know about Talken is in this article; follow me!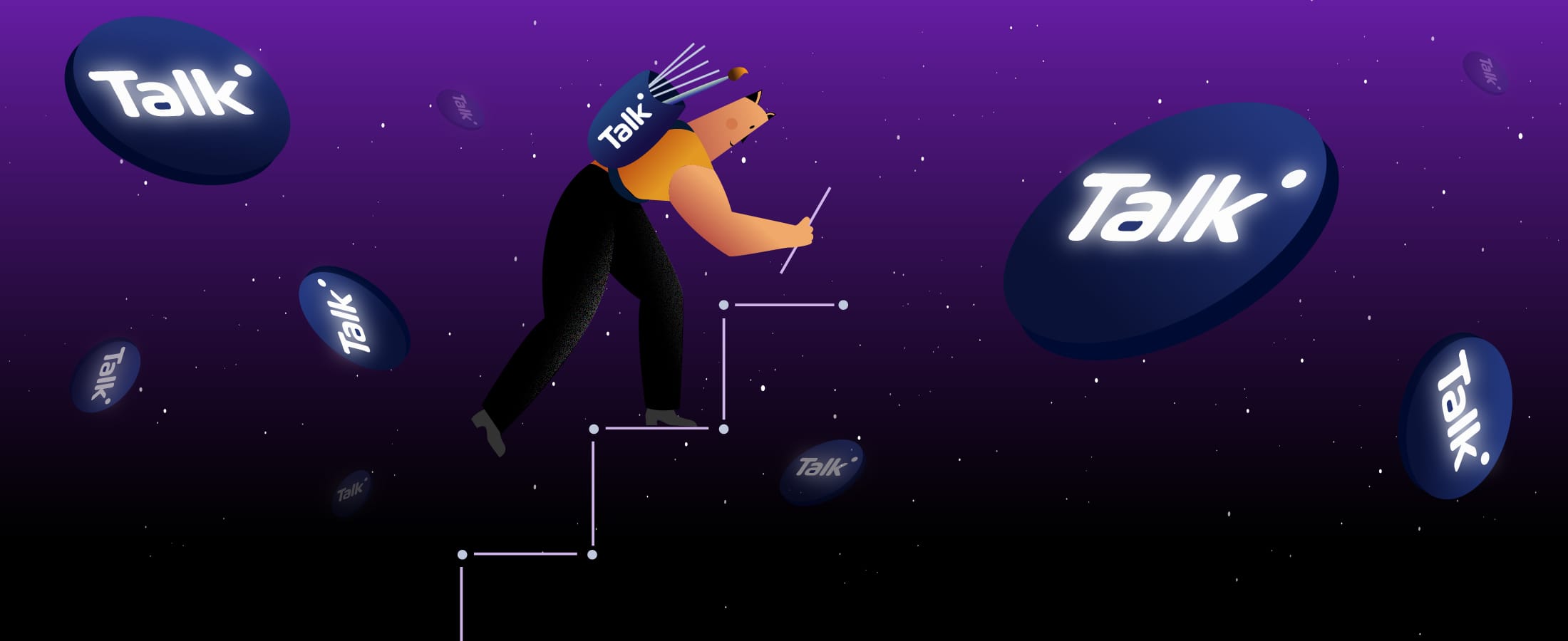 How do you rate this post?
Talken Key Features
Talken, Korea's first multi-chain NFT suite, provides a series of products for all stages of NFT creation. Talken's key technological advances include multi-chain interoperability, the safety and convenience of the NFT wallet, the convenience of the NFT minting tool, the NFT marketplace, and the convenience of its Web 3.0 browser. Let's see what each one means!
Talken's Multi-Chain Interoperability
Integrating various blockchain mainnets, including Ethereum, Solana, Klaytn, Binance Smart Chain (BSC), Avalanche, and Polygon, Talken provides accessibility through one app, facilitating access and usage.
Talken's NFT Wallet
Talken's NFT wallet is claimed to be safe and convenient since users are allowed to collect, transfer, exchange, and generally manage all of the NFTs across many mainnets since Talken supports top NFT standards, including ERC721, ERC1155, KIP17, and KIP37. Talken secures privacy by keeping your keys private to only you and ensures security by delivering cold-wallet level security on the mobile app.
Issuing NFTs is a lot easier, owing to Talken's NFT Minting Tool. NFT artists and creators can issue NFTs by entering data such as mainnet, issuance quantity, and meta information.
Talken's NFT Marketplace
Apple and Google's In-App purchases are supported in Talken, and users can purchase NFTs by creating a link between their credit cards or mobile phones and their accounts on iTunes App Store or Google Play Store.
Talken's Web 3.0 Browser
Talken has provided a Web 3.0 browser, supporting Ethereum, Solana, Klaytn, Binance Smart Chain (BSC), Avalanche, and Polygon. Talken's Web 3.0 browser is linked to Talken's NFT Wallet directly and using this NFT Wallet, users can access NFT and DeFi applications, like Opensea, Rarible, Uniswap, and Klayswap. Talken has offered easy interaction with supported chains or DApps directly from the Talken wallet.
Talken User Experience Innovations
Talken claims to have created an easy to use NFT wallet because of developing the following features:
UX Revolution 1: convenient and secure login (wallet section)
UX Revolution 2: automatic registration and integration confirmation of mainnet and token (wallet section)
UX Revolution 3: NFT verification and transaction function integration (Marketplace section)
UX Revolution 4: Web 3.0 Browser Talken UX Flow (Web3 browser section)
Talken Token (TALK)
TALK is the utility token of the Talken NFT ecosystem on Ethereum. TALK enjoys a decentralised governance structure, deflationary tokenomics, and efficient value accrual. TALK was released on Apr 27, 2021, with a maximum supply of 500,000,000 TALK, and the total number of issued tokens is 500,000,000 TALK.
Talken Token (TALK) Use-Cases
TALK can be used to pay the fee of the NFT Minting Tool when issuing digital art as NFT. TALK can also be used by Talken users to pay the NFT transaction fees. Also, users can deposit TALK Token in the Staking Pool and receive rewards.
Talken Token (TALK) Distribution
The 500 million TALK tokens are distributed as follows:
1% goes to crowd sales (5 Million TALK)
24% is dedicated to private sales (120 Million TALK)
20% is for partnership (100 Million TALK)
20% is spent on marketing (100 Million TALK)
20% stays with the team (100 Million TALK)
15% goes for reserve (75 Million TALK)
The following graph indicates Talken's token release and unlock schedule.

Talken Token (TALK) Tokenomics
The Talken token (TALK) tokenomics, or as they call it, TALKenomics, is as follows: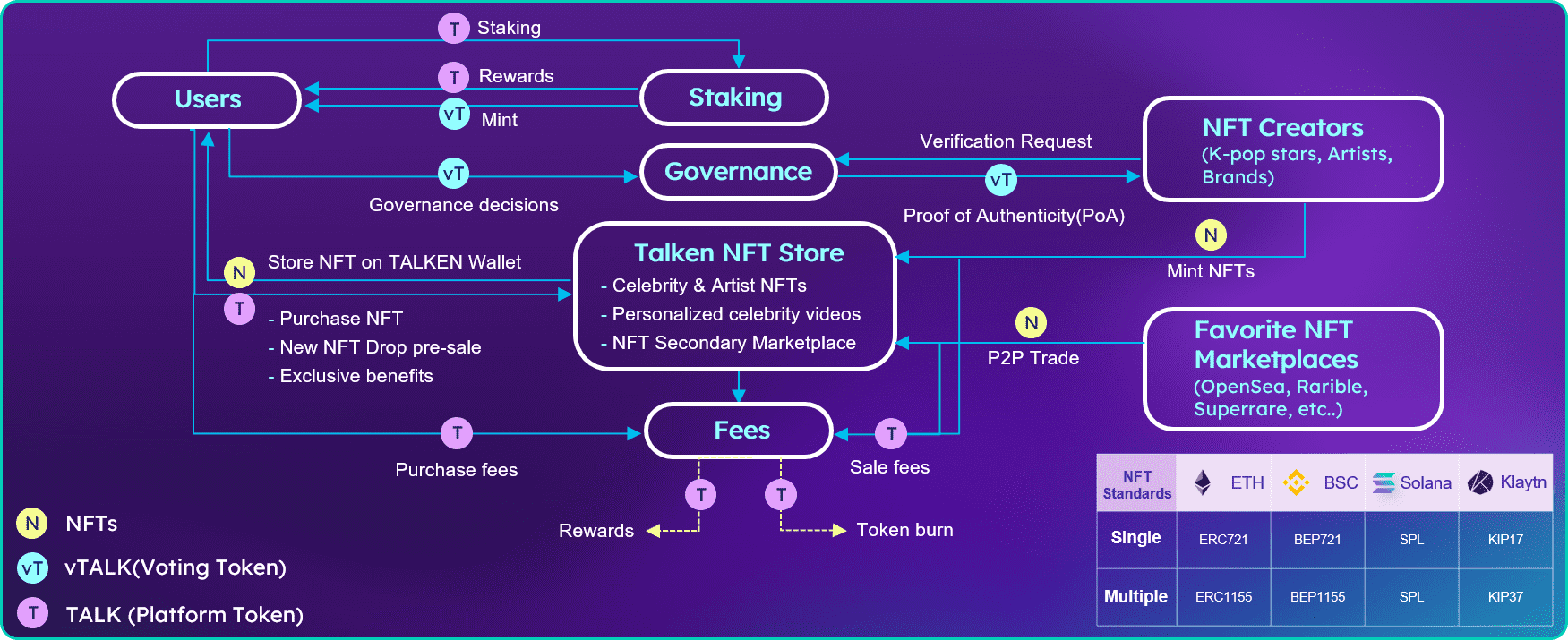 Talken Financial Analysis
Recent data of Talken financials indicate that today, on Apr 20, 2022, Talken holds the #644th market cap rank among all the cryptocurrencies on Coingecko.com. Talken's price is $0.404924 today, and its 24-hour trading volume amounts to $137,598. In the previous 24 hours, TALK's price has been up 2.8%. Its circulating supply is 110 Million TALK coins, and its total supply is 500 Million. Currently, BTCEX is one of the most active exchanges to trade TALK. Talken experienced its all-time high about eight months ago on Sep 3, 2021, at $3.60, and about four months earlier, on Dec 15, 2021, Talken hit its all-time low at $0.207175.
Disclaimer: Don't take this article as financial advice. You need to DYOR (Do Your Own Research) before investment.
Talken Token (TALK) Price Prediction
According to the recent performance of Talken, crypto experts have come up with some predictions regarding TALK price in the coming years. It is needless to say that what follows are only predictions and making investment decisions needs careful investigation and consulting a financial advisor.
Talken Token (TALK) Price Prediction for 2022
Experts predict that in 2022, the price of Talken will reach a minimum of $0.59. On the bright side, the TALK price can reach a maximum of $0.68, with an average trading price of $0.61.
Talken Token (TALK) Price Prediction for 2023
The price of Talken is expected to reach at least $0.85 in 2023. The Talken price can reach a maximum of $1.04 with an average price of $0.88.
Talken Token (TALK) Price Prediction for 2024
In 2024, the minimum price of Talken is predicted to be $1.21, and its maximum to be $1.48. TALK's average trading price in 2024 is expected to be $1.25.
Talken Token (TALK) Price Prediction for 2024
The price of each Talken token (TALK) is expected to reach a minimum of $1.86 in 2025. The TALK price can go up to $2.13, with an average price of $1.9.
Talken Roadmap
The following graph depicts the highlights of the Talken roadmap.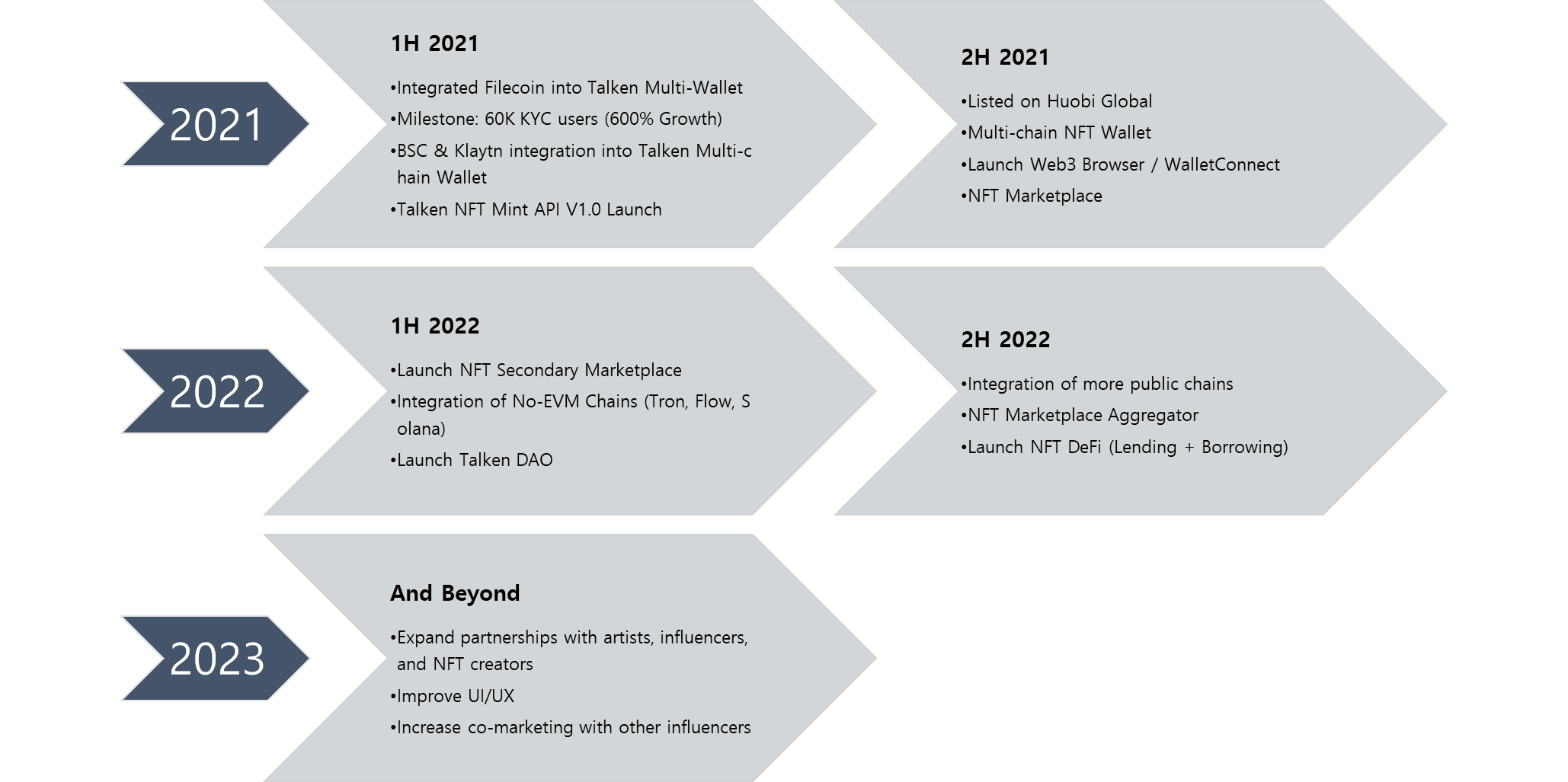 Should I Invest In Talken?
So far, Talken has come forward as an up and coming project in the crypto world. Since nobody can read the future, it's wise to DTOR (do your own research) in advance and make timely investment decisions. Although Cryptologi.st is no financial advisor, it can be a great help by providing detailed reviews of the top coins, educational content, and hot news. Come back tomorrow for another juicy project review!
How do you rate this post?