Stronger Price Prediction 2023, 2025 and 2030: Is STRNGR A Good Investment?
#blockchain
#cryptocurrency
#decentralized
#defi
#investment
#strong
tl;dr
Thanks to unstoppable growth in blockchain technology, an imaginary world of financial opportunities has emerged, but few can actually access it. StrongBlock is a platform to streamline blockchain adoption and let users gain 1000x returns. To determine this protocol's future and see when the STRNGR coin will see a huge surge in its price, read through this Stronger price prediction article.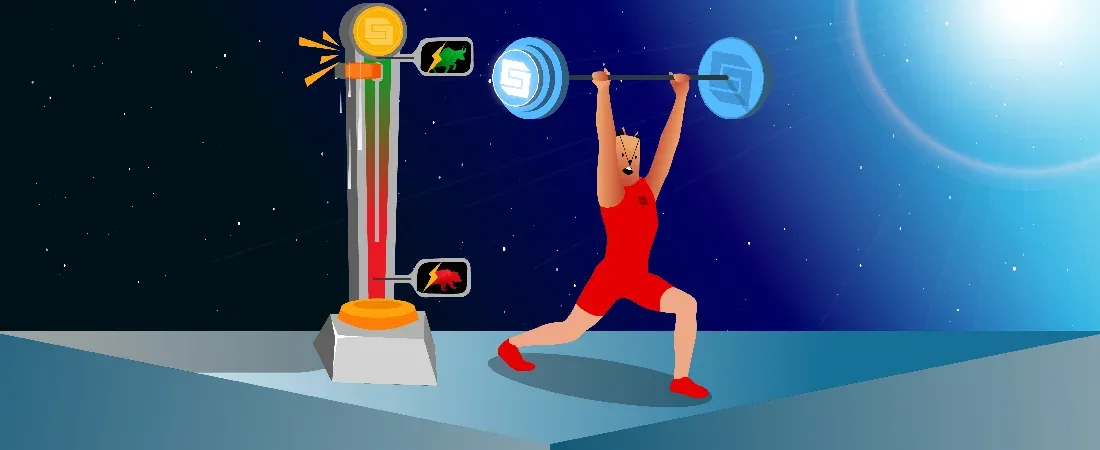 How do you rate this post?
What Is Stronger?
To get your head around Stronger price prediction, you first need to learn the basics of the StrongBlock platform and Stronger coin.
The Stronger coin is developed by StrongBlock, a Node-as-a-Service (NaaS) platform that rewards nodes for supporting the infrastructure of their blockchain. NaaS is an alternative application to run the entire blockchain nodes on your own.
Before the StrongBlock platform, anyone who wanted to be a node needed a high level of knowledge, but now with StrongBlock, everyone can participate in the blockchain revolution and create a node in seconds.
StrongBlock rewards each node operator a "Node Universal Basic Income" (NUBI), which will be paid in Stronger coin (STRNGR) tokens. Let's know more about Stronger price prediction below.
What Is a Stronger Coin?
Stronger (STRNGR), ​​the governance token of the StrongBlock platform, is an ERC-20 token based on the Ethereum blockchain. Rewarding each node creator for participating in the blockchain with STRNGR coins, the StrongBlock platform will burn extra STRNGR coins, with each new node deployed to maintain a deflationary token supply.
This token has experienced surprising price changes since its launch. So, to make a more reliable, Stronger price prediction, we need to check out its price changes, i.e., price history.
Read more: Chess price prediction 2023, 2025 and 2030
Price History
The stronger coin had a strong start, and its initial trade accrued with its highest value of $118 on Apr 08, 2022.
Ten days after its first trade, Stronger coin's price was halved and dropped from $118 to $52.
The last peak for STRNGR happened on Apr 22, 2022, when each STRNGR was worth about $65.
since Apr 22, 2022, the token's value has experienced a steady downtrend, and today, on Jan 08, 2023, each STRNGR token is traded at $1.21.
The following chart depicts the STRNGR coin price movements in the last 12 months. Below the chart, we'll learn about STRNGR tokenomics, market cap, ATH and ATL.
Stronger Coin Financial Analysis
Stronger price prediction and its future are directly related to STRNGR financial analysis. To see whether STRNGR is a good investment, we need to focus on Stronger coin's Tokenomics, ATH, ATL, ROI and Market Cap, which we're about to do in the following sections.
Tokenomics
Today, on Jan 08, 2023, STRNGR's live price is about $1.21, with a 24-hour trading volume of $98,807.13, a circulating supply of 550,000 STRNGR coins, and a total supply of 10,000,000. The token was launched in early 2022, and its liquidity score, the number of transactions and wallets are unavailable.
ATH and ATL
Stronger coin recorded its All-Time High (ATH) as it entered the crypto market on Apr 08, 2022, at $118. It saw its ATL on Dec 12, 2022, at $0.974877.
The current price of the Stonger coin is 21.9% higher than its ATL and 99% lower than its ATH.
ROI
Since Stronger's initial trade took place on Apr 08, 2022, its yearly ROI is not available yet. Stronger's monthly ROI is 8%. Meaning that your $100 investment in STRNGR a month ago would grow by 8% and leave you with $108 now.
Market Cap
At the time of writing this article, on Jan 08, 2023, Stronger coin has a live market cap of $650,835, with a current market cap ranking of #2054. If everything goes smoothly, its market cap has the potential to reach better rankings.
In addition to these financial factors, some other points affect the Stronger coin's market cap and Stronger price prediction, i.e., Stronger coin fundamental analysis.
Stronger Coin Fundamental Analysis
To better predict the future of the Stronger coin, we have to consider who has developed the Stronger coin and who are the investors supporting STRNGR.
Team Members
StrongBlock was formed in 2018 by members of the original EOS core team. The Co-founder and CEO of the project, David Moss, and the Chief Technology Officer, Brian Abramson, are enterprise software and blockchain veterans.
They aimed StronBlock to be the one and only cross-chain protocol to reward nodes for supporting the infrastructure of their blockchain.
Investors
StrongBlock is funded by two investors, Pangea Blockchain Fund and Copernicus Asset Management. Reviewing the platform and its unique tokenomics, we now need to move on and learn about Stronger price prediction.
Stronger Price Prediction 2023 - 2030
The following table summarises the Stronger coin price prediction from 2023 to 2030, with yearly growth rates and details provided in the following sections.
Stronger Price Prediction 2023
On Jan 08, 2023, each STRNGR is traded at $1.21 and can grow by about 109% on average in 2023. Its minimum and maximum prices might go up by 109% and 117%, respectively, during 2023.
Stronger Price Prediction 2024
Stronger coin's minimum price is predicted to reach a growth rate of 134%. In the best scenario, it can peak at $3.04, i.e., rise by about 157%. On average, the value of each STRNGR coin is estimated to soar by about 153%.
Stronger Price Prediction 2025
The Stronger price prediction 2025 reveals that the minimum price of each STRNGR token can reach $427, recording a growth rate of 194%. It is predicted that STRNGR's average and maximum price have the potential to rise by about 235% and 255%, respectively, throughout 2025.
Stronger Price Prediction 2030
2030 can be a year when the STRNGR token can explode with a 1000% growth rate! It is predicted that each STRNGR coin can see a massive increase in value with a minimum, maximum and average growth rate of 871%, 907%, and 940%, respectively.
Is Stronger (STRNGR) A Good Investment?
Undoubtedly, being part of the blockchain revolution is challenging and confusing, but StrongBlock aims to facilitate blockchain adoption. Using the technology offered by this platform, all you need to launch a blockchain node is StrongBlock.
However, StrongBlock is a new project with a low market cap ranking, and its market value has dropped by 100x since its launch.
Moreover, it has not provided any roadmap, which would be one of the biggest frustrations when investing in the STRNGR coin.
As Stronger price prediction indicates, the token has a promising future, especially around 2030, making it a relatively better long-term investment than short-term.
Summary
That's all about Stronger coin price prediction. However, the current crypto winter gets icier daily, and you must be aware of the risks involved with trading STRNGR and other cryptos.
Providing news and analyses on the top 1500 coins, Cryptologist helps you get all the essential data to sell or hold your crypto asset and learn how to sort through investment opportunities like STRNGR coin in the crypto sphere.
Furthermore, you can easily make your own Portfolio and Watchlist to instantly track your favourite coins and access their unique analyses and digestible charts.
FAQ
The following answers to the most frequently asked questions about STRNGR will help you better grasp Stronger coin price prediction 2023, 2025 and 2030.
What Is The Price of Stronger Token?
At the time of writing this article, on Jan 08, 2023, the price of each Stronger token is about $1.21.
Will Stronger Coin Go Up?
If the bearish market ends, Stronger coin price prediction estimates a massive increase in Stronger coin's value, with minimum, maximum and average growth rates of 871%, 907%, and 940%, respectively.
How do you rate this post?