StarLink: Earn Money From Decentralised NFT Games
#starl
#news
#gem
#nft
#metaverse
#gaming
#blockchain
#dex
tl;dr
StarLink is a well-established Metaverse project that aims to bring people into the decentralised virtual space to interact with others in various ways and explore the universe through entertainment, gaming, education, and advertising. To get a broader perspective of the STRAL Metaverse project, scroll down to learn about the platform use cases, STARL prices and key features of the STARL Metaverse ecosystem.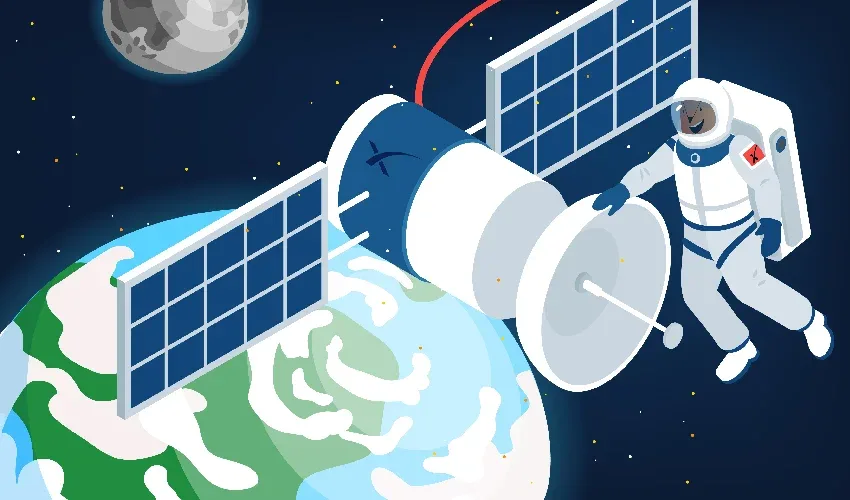 How do you rate this post?
What Is StarLink (STARL)?
Simply put, STARL Metaverse is a virtual blockchain-based project set in space filled with exploration, discovery, and creation. It is a space to explore, play, trade and socialise with other players beyond your limitations.
This virtual space owns its cryptocurrency known as STARL, which is transparent, safe, and 100% community owned and driven.
Its market cap ranking among all cryptocurrencies is #489, with a 24-hour trading volume of $2,912,289, a circulating supply of 10 Trillion STARL coins and a total supply of 10 Trillion.
StarLink (STARL) Key Features
STARL thrives on building a space station that allows people to have fun, interact freely, access opportunities that lead to financial freedom, and work towards the next stage in the evolution of the internet and online interaction.
Below are the main features within the STARL ecosystem.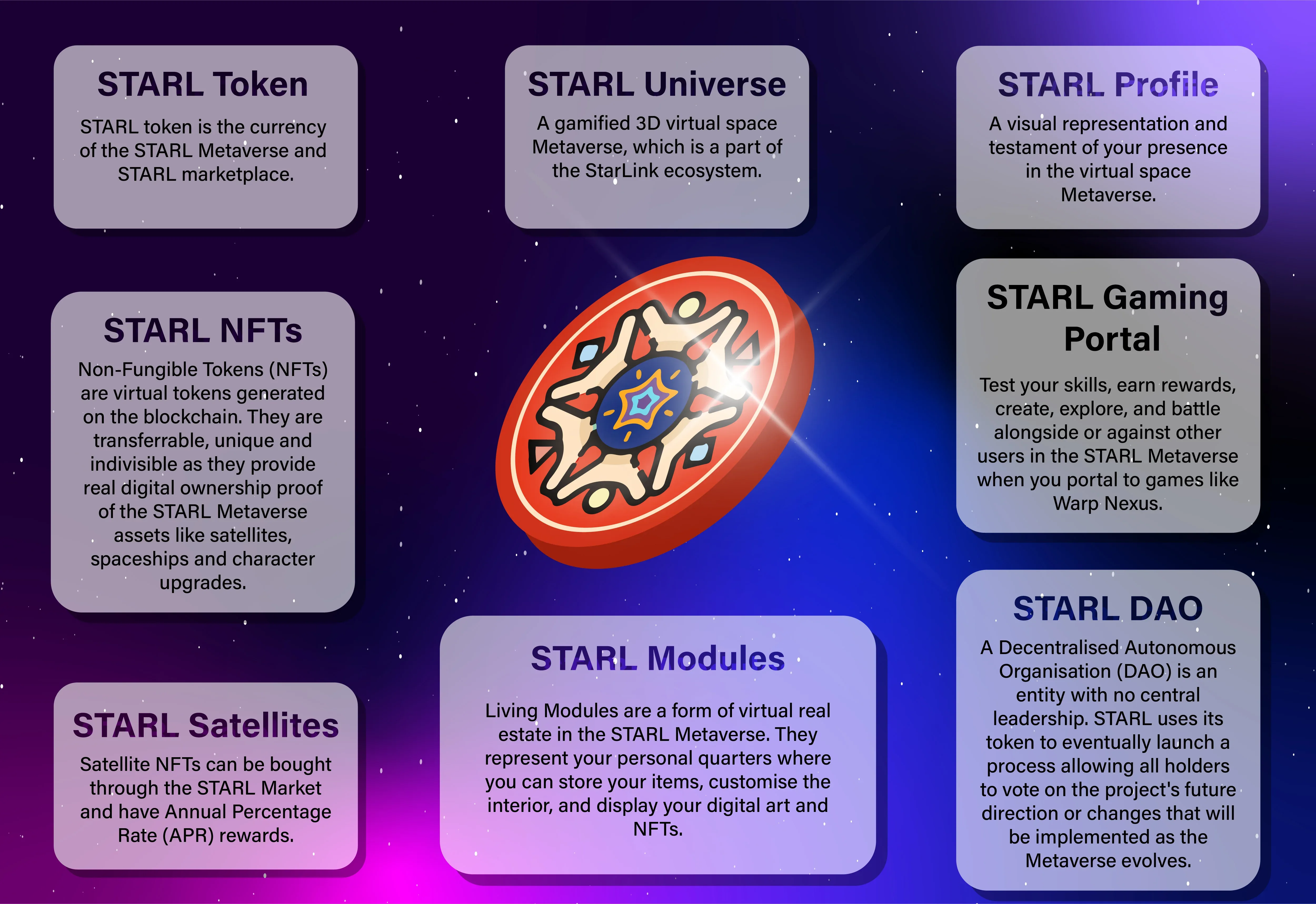 Who Created The Starlink Project?
STARL was formed by Woof Decentra and Moe Larson, as well as a dynamic team of 3D artists and programmers. You can find the details on the STARL Metaverse Project website.
How Does StarLink (STARL) Work?
STARL universe is an upgrade from the physical world where you can live beyond your imagination. It came into being as an ever-expanding interactive universe based on space, gathering NFT assets of satellites, living modules, custom spacecraft, virtual real estate, character modifications, and more all interact.
STARL token plays an essential role at the project's heart, allowing users to buy, sell, and trade in-game cosmetic assets and NFTs.
What Is STARL Coin?
Like most cryptocurrency projects, StarLink Metaverse owns its native token, i.e., STARL. STARL is an ERC-20 token used as the medium of exchange within the StarLink Metaverse. Follow me to the next section to see STRAL token utilities.
What Is Starlink (STARL) Used For?
STARL token is utilised in various ways, as below.
It can be used as a medium of exchange.
It can be used to buy, sell, trade, and modify in-game assets.
It's used as an entry for various areas of the Metaverse.
It gives users access to STARL games and virtual concerts and clubs, media, entertainment, education, modes of travel in the Metaverse, investing in virtual real estate, mining for materials in-game, paying other players for services, social experiences and programs.
STARL Tokenomics
The token has started its journey within the crypto space with its lowest price of $0.000000148142 on Jul 01, 2021. After five months, the token skyrocketed and recorded its All-Time High at $0.00008821 on Nov 25, 2021.
At the time of writing this post, on Nov 10, 2022, you can trade each STARL token at the range of $0.00000324, which is -96.4% lower than its ATH and 2047.0% higher than its ATL.
The token has recorded more than 291,000 transactions and is held in 34,866 wallets with a circulating supply of 10 Trillion STARL coins and a total supply of 10 Trillion.
StarLink (STARL) Top Competitors
Although the crypto industry is being battered by a tremendous downtrend sustainably this year, the demand for Metaverse-based projects is still high, and STARL tokens compete with thousands of Metaverse projects. Follow me to take a close look at the comparison between the STARL token and two popular Metaverse coins, Decentraland and Sandbox.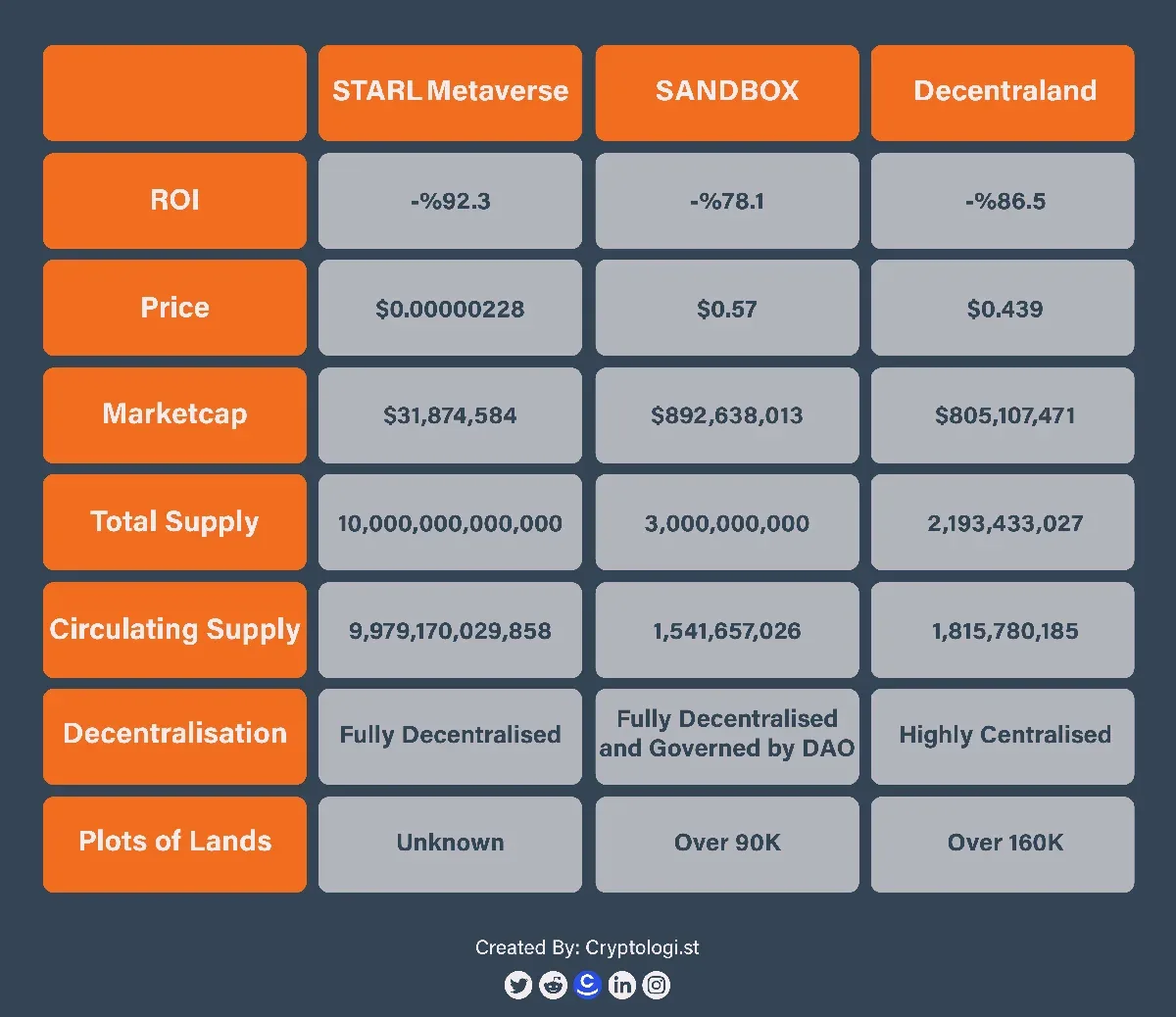 To see our reports and quickly compare the available investment options, check out our website.
StarLink Roadmap
Created by Woof Decentra, Moe Larson and backed by a dynamic development team, STRAL Metaverse came out intending to encourage each individual to be entirely themselves in a virtual environment.
Keep reading to find out what they have done so far, where the STARL project is going, and how to get there.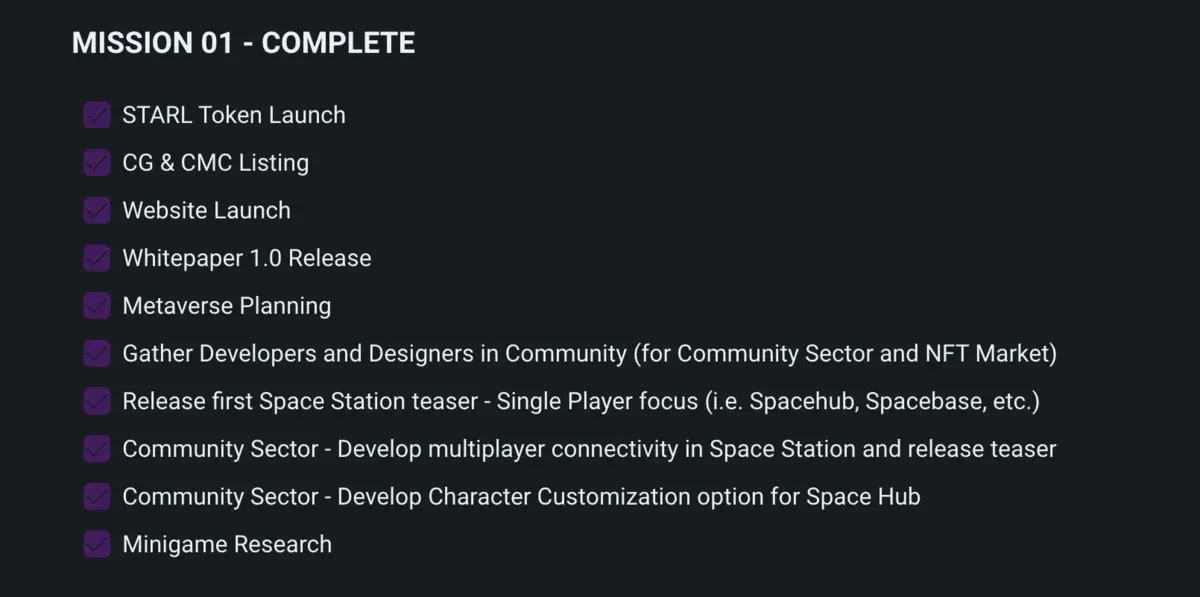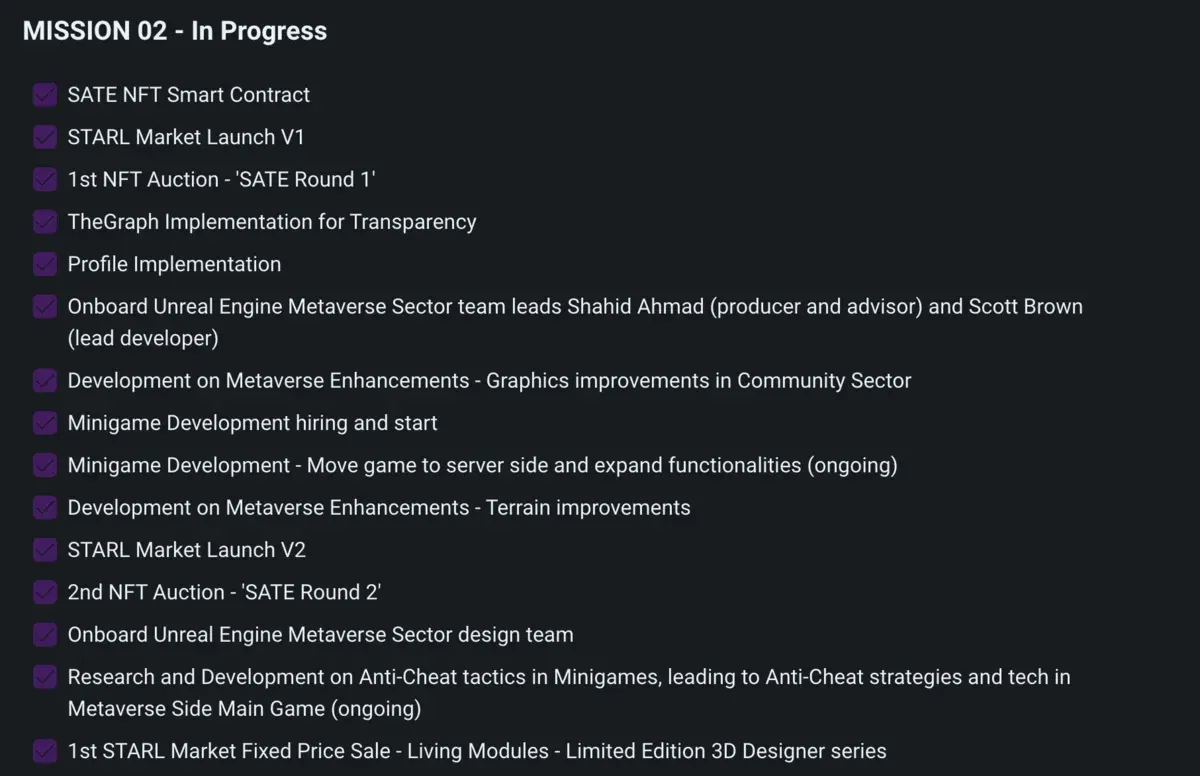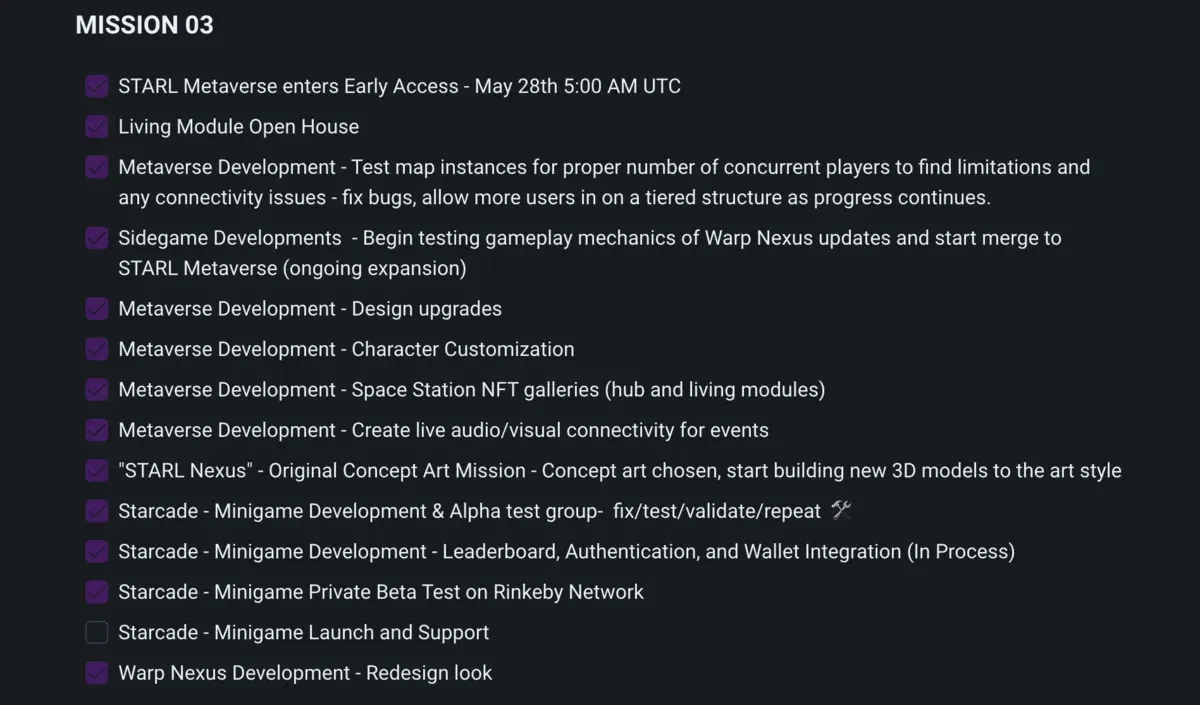 How Do I Buy Starlink (STARL)?
When it comes to buying STRAL tokens, you can purchase each STARL on cryptocurrency exchanges, including Gate.io, OKX, BingX, and XT.COM.
What Is Starlink NFT (STATE)?
NFTs are virtual transferrable, unique and indivisible tokens. Owning an NFT within the STARL Metaverse project proves your ownership of the STARL Metaverse assets like satellites, spaceships and character upgrades.
STARL Metaverse projects came into play to merge the concept of Metaverse with a cryptocurrency-based economy in a decentralised manner to build an ethical, decentralised, entertaining, and innovative project named STARL Metaverse. What Is The Metaverse?
Summary
There is no doubt that the Metaverse is a growing phenomenon, and investing in crypto projects associated with it could provide us with financial opportunities.
To check some of these opportunities, check out the top metaverse projects by market cap in 2022. The project comprises a strong ecosystem, a solid roadmap and team members. Moving to its tokenomics, we'll see that the STARL token has provided users with a %92 price decrease in value, while similar projects reached an average ROI of 1,278% over the same period.
FAQ
Below, we've answered the top questions everybody needs to consider before investing in STARL Token.
Is STARL An NFT?
STARL Metaverse is a crypto project, and STARL itself is the native token within this virtual space. However, the project comprises several components on its ecosystem as well as STARL NFTs, which offer digital ownership proof of STARL Metaverse assets, such as satellites, spaceships, and character upgrades.
Are STARL project and Elon Musk's Starlink Project The Same?
Although these two projects have the same name, they are completely different, and the STARL token is not related to Elon Musk's Starlink project.
The short answer is yes. STARL is an ERC-20 token that fuels the STARL Metaverse project. Based on the STARL whitepaper, technically, the original token name is 'StarLink,' the community has referred to it as the 'STARL Metaverse Project'.
Is STARL on Binance?
No, the STARL token has not been listed on the Binance exchange yet.
When Was STARL Coin Launched?
The token was released on Jul 01, 2021, by Woof Decentra.
How Much Is A STARL Token?
At the time of writing this post, on Nov 10, 2022, each STARL token is being traded for about $0.00000309 with a circulating supply of 10 Trillion STARL coins and a total supply of 10 Trillion.
What Is The Future Of Starlink Crypto?
Looking at the tokenomics and performance of the STARL token, we cannot consider STARL as a short-term investment. However, it should be noted that the market is highly volatile, and crypto prices are unpredictable.
How do you rate this post?