StarLink Price Prediction 2023, 2025 And 2030: Is STARL Coin A Good Investment?
#blockchain
#gamefi
#metaverse
#nft
#starl
tl;dr
When it comes to trading StarLink tokens, StarLink price prediction for 2023, 2025 and 2030 is what the token holders are looking for. The article offers a deep analysis of the StarLink price prediction in the coming years. Reading through the article, you will find out if StarLink reaches $1 and whether the StarLink token is a scam.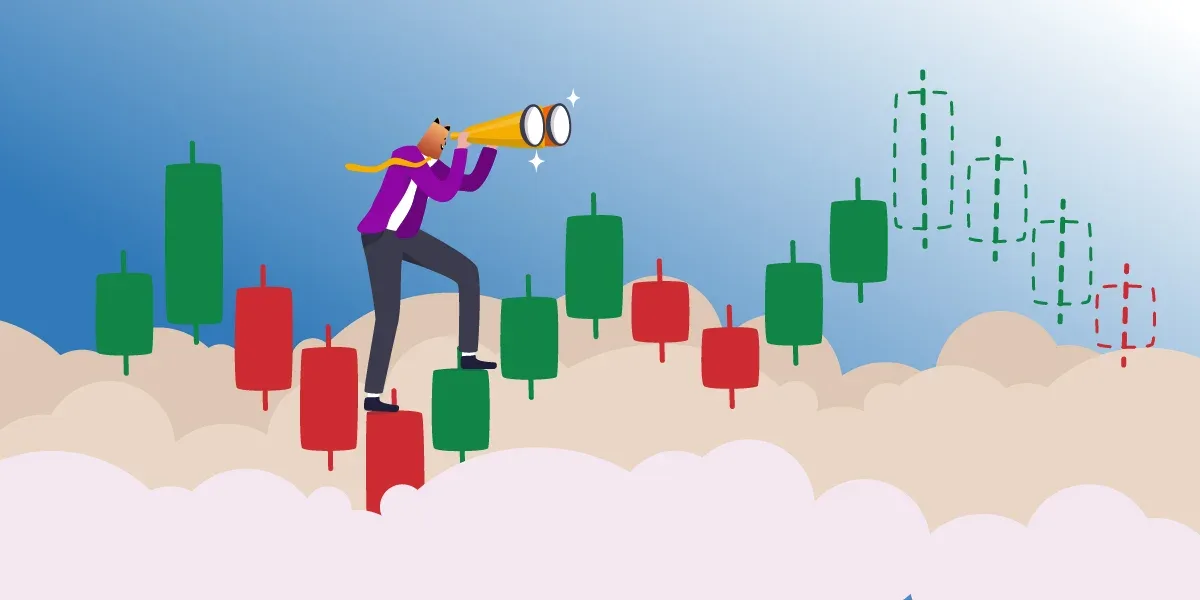 How do you rate this post?
What Are StarLink and STARL?
STARL is a virtual blockchain-based Metaverse aimed at building a decentralised, entertaining, innovative, and expansive 3D social universe by combining cryptocurrency with the Metaverse.
It was opened to the public on Jul 1, 2021, with its native token, STARL. It provides users with abundant virtual assets, upgrades, and services in the STARL ecosystem.
It can also be bought and sold for conventional fiat currencies to support the users' real-world needs. In the next sections we will talk about StarLink price predictions for 2023, 2025 and 2030.
Who Created The Starlink Project?
STARL was formed by Woof Decentra and Moe Larson, as well as a dynamic team of 3D artists and programmers. You can find the details on the STARL Metaverse Project website.
How Does StarLink (STARL) Work?
STARL universe is an upgrade from the physical world where you can live beyond your imagination. It came into being as an ever-expanding interactive universe based on space, gathering NFT assets of satellites, living modules, custom spacecraft, virtual real estate, character modifications, and more all interact.
STARL token plays an essential role at the project's heart, allowing users to buy, sell, and trade in-game cosmetic assets and NFTs.
What Is STARL Coin?
Like most cryptocurrency projects, StarLink Metaverse owns its native token, i.e., STARL. STARL is an ERC-20 token used as the medium of exchange within the StarLink Metaverse. Follow me to the next section to see STRAL token utilities.
What Is Starlink (STARL) Used For?
STARL token is utilised in various ways, as below.
It can be used as a medium of exchange.
It can be used to buy, sell, trade, and modify in-game assets.
It's used as an entry for various areas of the Metaverse.
It gives users access to STARL games and virtual concerts and clubs, media, entertainment, education, modes of travel in the Metaverse, investing in virtual real estate, mining for materials in-game, paying other players for services, social experiences and programs.
STARL Price History
Data from Cryptologi.st indicates that the STARL token was launched with an initial price of $0.000000148142. Facing some fluctuation in its price, eventually, STRAL's price skyrocketed and recorded its all-time high at $0.00008821 on Nov 25, 2021.
After four days, STARL's price started to plunge sustainably, and now, on Nov 15, 2022, each STRAL token is worth $0.00000294. The chart below illustrates the price changes of StarLink coins within the recent 12 months.
StarLink Token Financial Analysis
At the time of writing this post, on Nov 15, 2022, StarLink token (STARL) is standing on the market cap rank #4040 among the entire crypto projects. Its live price of $0.00000294, with a circulating supply of 10 Trillion STARL coins and a total supply of 10 Trillion.
StarLink ROI
Currently (on Nov 15, 2022), the StarLink token's annual Return on Investment (ROI) is -93.8%, meaning that if you had invested $100 in STARL a year ago, you would have only about $17 left!
StarLink Market Cap
In cryptocurrency and blockchain, the market cap refers to the total market value of a cryptocurrency's circulating supply. Within the STARL Metaverse ecosystem, StarLink's market cap is at the current level of $28,879,564.
How Many StarLink Coins Are There?
Each StarLink token's price is equal to $0.00000381, with a total supply of 10,000,000,000,000 coins and a circulating supply of 9,979,170,029,858 coins.
StarLink Token Fundamental Analysis
StarLink token, aka STARL, is a utility token within the STARL Metaverse project and is being used as a medium of exchange. It allows users to buy, sell, and trade in-game cosmetic assets and NFTs.
STARL Tokenomics
The token has started its journey within the crypto space with its lowest price of $0.000000148142 on Jul 01, 2021. After five months, the token skyrocketed and recorded its All-Time High at $0.00008821 on Nov 25, 2021.
At the time of writing this post, on Nov 10, 2022, you can trade each STARL token at the range of $0.00000324, which is -96.4% lower than its ATH and 2047.0% higher than its ATL.
The token has recorded more than 291,000 transactions and is held in 34,866 wallets with a circulating supply of 10 Trillion STARL coins and a total supply of 10 Trillion.
StarLink Token Team Member
Woof Decentra and Moe Larson are bringing up StarLink, and the team behind it comprises a dynamic team of 3D artists and programmers. Check out Cryptologi.st to take a closer look into StarLink's team.
StarLink Token Popularity
It's no secret that a crypto project's popularity on social platforms matters since each token's price directly relates to its activity on its social media accounts. The more a project and its members are active on social media platforms, the more hype around it.
Building a solid and active community on Twitter, the STARL token is followed by more than 73k users. However, it hasn't performed appropriately on Reddit and Telegram in the recent six months, as its growth on these media has been -16% and 0%, respectively.
StarLink Price Prediction 2023
Crypto experts believe that StarLink will keep a steady price for a long time. By 2023, the maximum price of STARL is expected to reach $0.000009, while its minimum value can increase to $0.000007 if the market gets bullish.
StarLink Price Prediction 2024
The price of each StarLink token may cross $0.000011 if the market experiences a bull run in 2024. Its average price is expected to revolve around &0.00001 in 2024.
StarLink Price Prediction 2025
Some crypto experts predict that the StarLink token can reach a maximum level of $0.000014, with an average trading price of $0.000013 throughout 2025.
StarLink Price Prediction 2030
Crypto experts foresee that each StarLink token will be traded at a minimum level of $0.000028 and a maximum level of 0.00003, with an average price of $0.000029 throughout 2030.
Is StarLink A Scam?
Although the team behind StarLink strives to issue the STARL as a simple, transparent and community-driven token, the token has seen lots of volatility, and its ROI and Liquidity Score are dreadfully low (-%93.8 and %35, respectively). In addition, not having the partnership and investor could also drive the StarLink project as a scam.
You may know that the original StarLink is Elon Musk's SpaceX project, providing satellite Internet access around the globe. Some sources claim that the StarLink crypto project is using Elon Musk's brand to collect money.
Can a StarLink Coin Reach $1?
The answer is definitely no. Despite the fact that StarLink's value is expected to continue to expand, looking at its tokenomics, we can't expect the token to reach 1$ anytime soon.
Should I Invest In StarLink? Will STARL Crypto Go Up?
Metaverse is rapidly growing, and StarLink consists of a detailed whitepaper and a specific roadmap aiming to provide easy access to the platform. Having said that, the StarLink token has experienced lots of volatility and may continue to do so and some experts call the project as a scam.
StarLink (STARL) Top Competitors
Although the crypto industry is being battered by a tremendous downtrend sustainably this year, the demand for Metaverse-based projects is still high, and STARL tokens compete with thousands of Metaverse projects. Follow me to take a close look at the comparison between the STARL token and two popular Metaverse coins, Decentraland and Sandbox.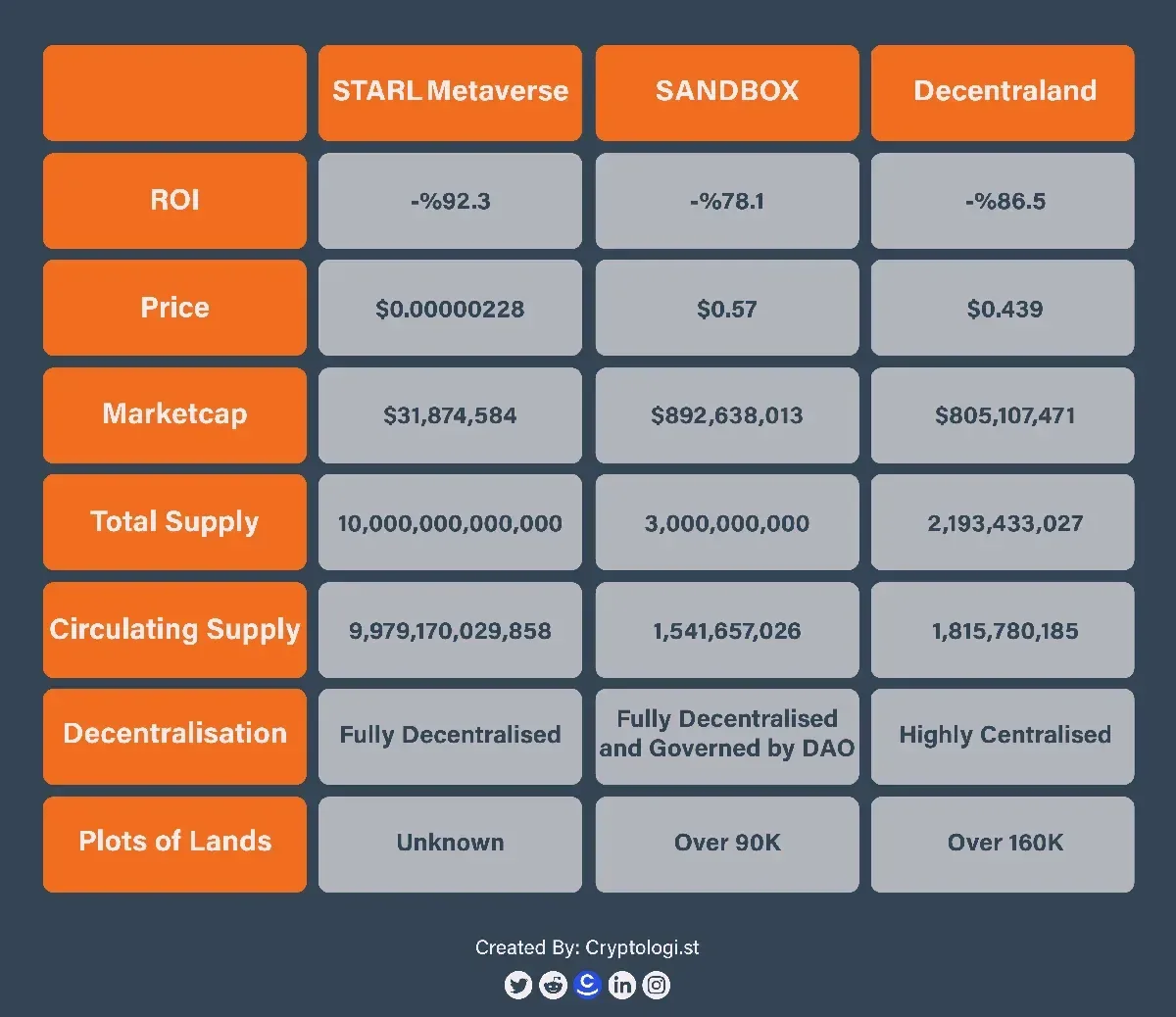 FAQ
Now is the time for you to find answers to some of the hottest frequently asked questions about STARL.
Does StarLink Have A Crypto Coin
Yes, STARL is the native ERC-20 token of the StarLink Metaverse project.
How Much Is StarLink Coin Worth?
On Nov 15, 2022, the live price for each StarLink coin is in the range of $0.00000294, with a 24-hour trading volume of $1,688,840.
Is STARL A Good Coin?
Within the last year, the price of STARL has dramatically dropped by 90% and considering its price history, the StarLink (STARL) token is a high-risk investment for the short term.
How do you rate this post?