Soulbound Tokens: Revolutionising Human Existence!
tl;dr
There are some things in life that cannot be transferred to someone else! For instance, birth certificates, college diplomas, IDs or personal codes, and so on. But what if these documents could be represented by NFTs and attached to you for the rest of your life? Well, get ready to enter the crypto space's next-generation solution, Soulbound tokens (SBTs). SBT tokens are non-transferable, which helps in creating social identity through tokens. Let's learn more about it in this article!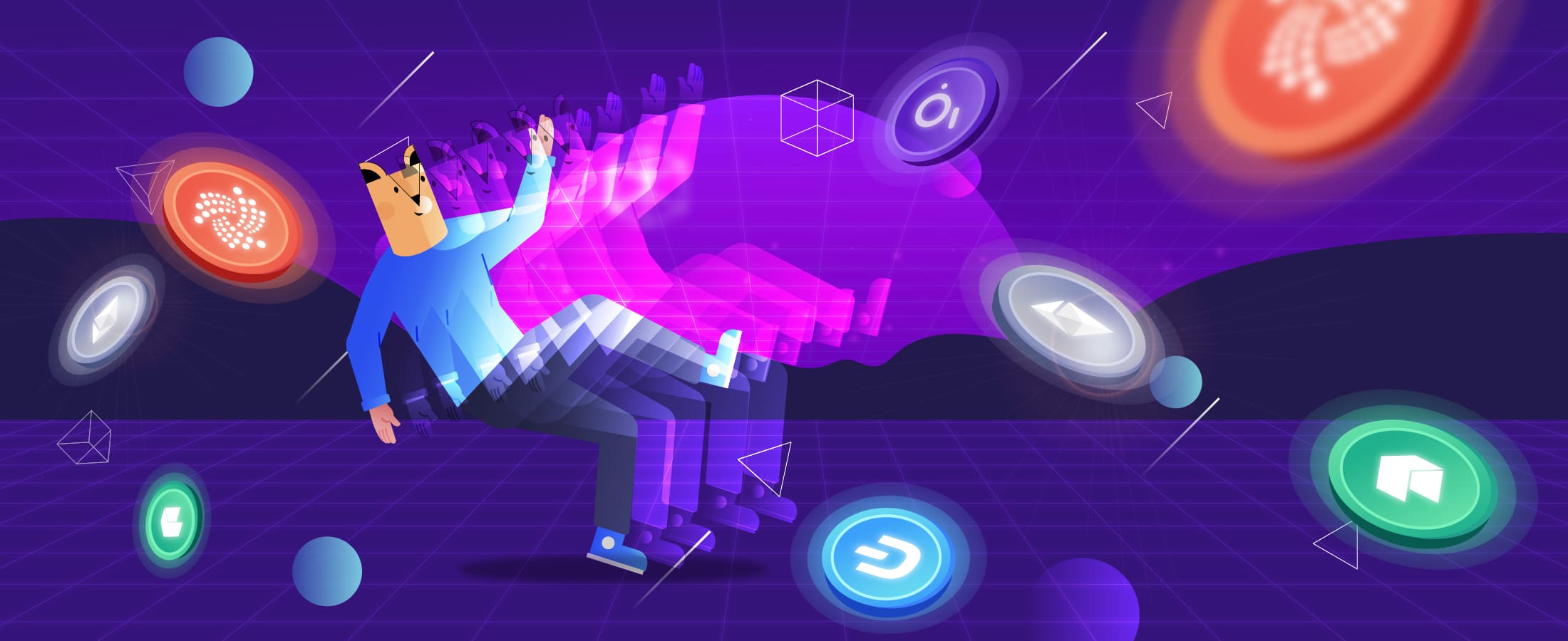 How do you rate this post?
Where Did The Soulbound Tokens Journey Begin?
Vitalik Buterin, the Ethereum blockchain's Co-Founder, published a research paper titled "Decentralized Society: Finding Web3's Soul" earlier in May 2022. This 40-page paper explains how Ethereum's future will be focused on a Decentralized Society ecosystem. While the document appears to explain the future of Web 3.0 and the Ethereum blockchain at first glance, it also describes a non-transferable sort of Non-Fungible Token known as Soulbound tokens, which Buterin refers to as SBTs. These tokens are not transferable, and you can keep them in a wallet called 'soul' for as long as you want.
What Are Soulbound Tokens?
Soulbound tokens (SBTs) are "the future" of Ethereum and Web 3.0, according to Buterin. They are revocable, non-transferable tokens tied to a 'soul' address. These SBTs are similar to how we disclose information about ourselves on our CVs in their most basic form. But the fact that these SBTs owned by one Soul can be issued or certified by other Souls gives it authority. A school, for example, can be a soul that grants SBT degrees to its graduates. Therefore, we can say that SBTs are also Non-Fungible Tokens (NFTs) that one can earn based in part on their school history and career. SBTs would serve as a kind of "extended resume" for a person's reputation and accomplishments.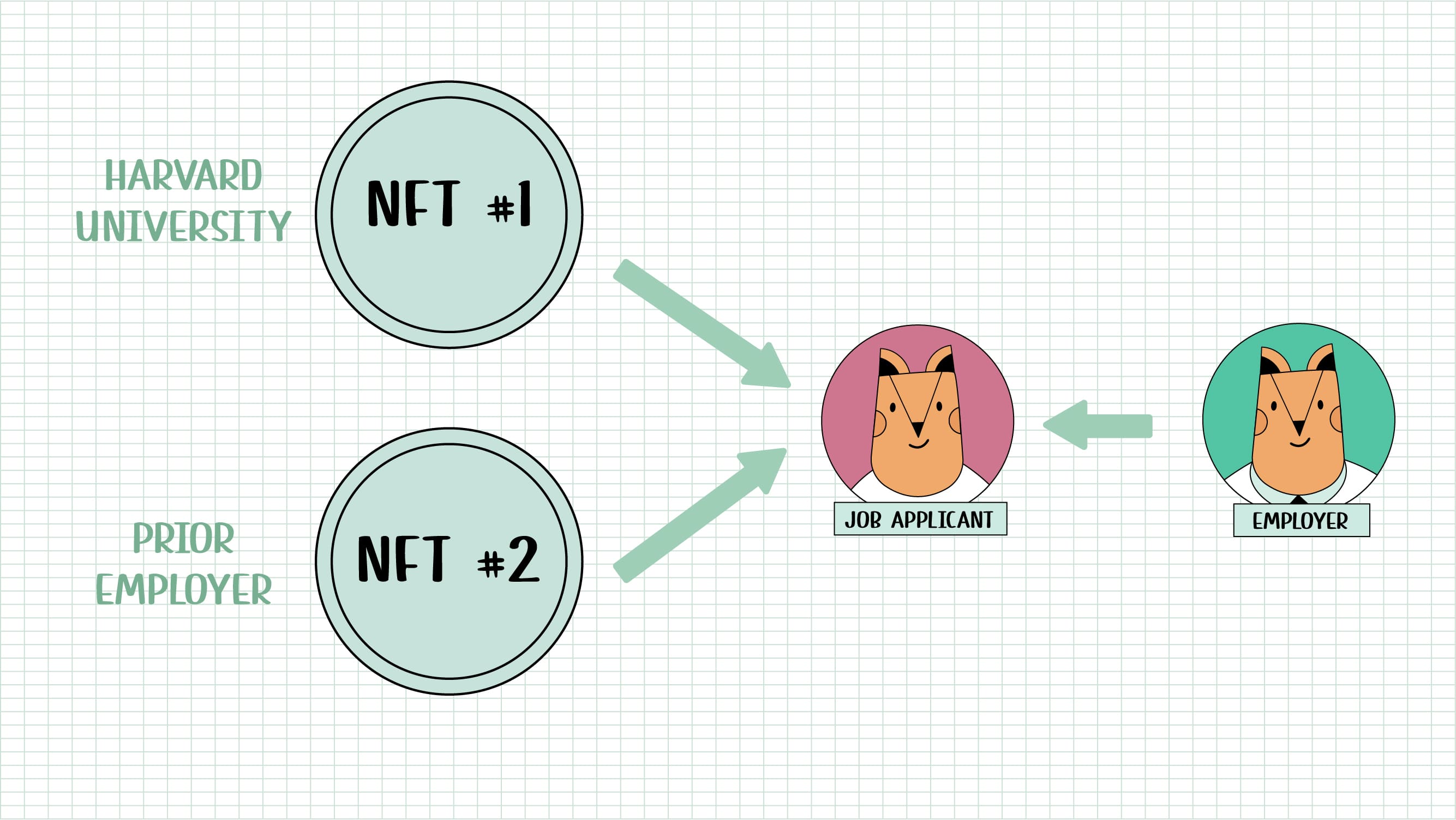 How Can Soulbound Tokens Help Us in Real Life?
According to Buterin's latest paper, Soulbound tokens have many applications. In the following, three main applications are mentioned:
🔅 Documentations, Certifications, and Digital CV: If universities began issuing Soulbound tokens as degrees, employers began issuing SBTs to employees, and event organisers began issuing SBTs to attendees, those credentials could make it more difficult for scammers to impersonate someone while also making it easier for prospective employers to verify background or training when considering hiring.
🔅 NFT Art: SBTs can support NFT creators and artists in establishing their names in the NFT and digital art communities. Soulbound tokens can be linked to NFT collections by NFT artists, guaranteeing that NFT collectors know which tokens belong to them. Artists can eliminate negative actors from the NFT space by doing so, such as those who sell random NFT collections in the name of well-known artists.
🔅 Souldrops: The tokens could make it easier for Decentralized Autonomous Organizations (DAOs) or groups that don't have a hierarchy or a single leader to gather members for a certain event or cause. As a recruitment tool, an environmentally conscious DAO may airdrop SBTs to those with environmental action SBTs. These have been called "Souldrops" by Buterin. Other "souls," or people who can vouch for you and the certification or accomplishment you're earning a token for, would then confirm your SBTs, similar to how a LinkedIn link might verify a skill of yours. All of these would be stored on the blockchain in a "souls" wallet, similar to the software wallets used for crypto and NFTs today.
🔅 Uncollateralized Lending: Our credit reports can also be represented using SBTs. This will offer lenders a borrower's complete credit profile. Even the loan can be accompanied by a revocable but non-transferable SBT. The SBT could be burned or replaced with proof of payment after the debt is repaid. As a result, it would discourage people from concealing their existing debts.
What Happens If You Lose Your Soul?
With identity fraud's prevalence in the NFT community, it's critical to have sufficient safeguards and contingencies to prevent bad actors from pushing identity theft to greater levels. To avoid SBT thieves, Buterin has advocated a community-wide adoption of the social recovery concept. Users can appoint a group of institutions and individuals as "guardians" to access and modify the private keys to their wallet if it is compromised through social recovery. However, if the persons they name as guardians pass away or their relationship falls apart, it will be difficult to recover stolen SBTs. Buterin believes that by allowing a larger community to participate in the recovery process, SBTs will be recovered quite easily in the event of theft. According to the authors of the latest whitepaper, "recovering a Soul's private keys would require approval from a qualified majority of a (random subset of) Soul's communities."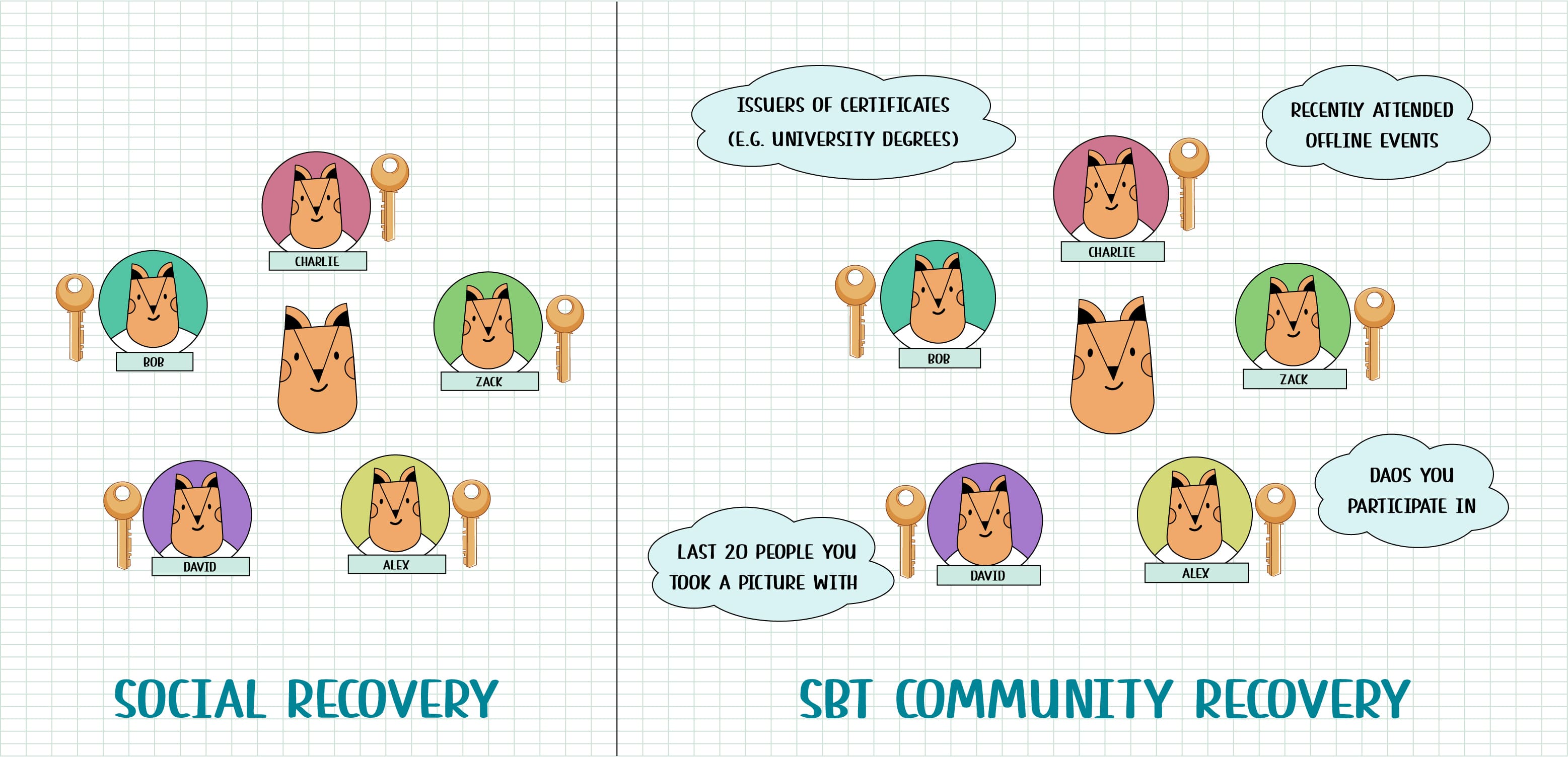 When Will Soulbound Tokens Be Available?
According to Jason Levin, who spoke with E. Glen Weyl, the paper's co-author, SBTs could be ready by the end of 2022. SBT could turn into a global phenomenon by 2024.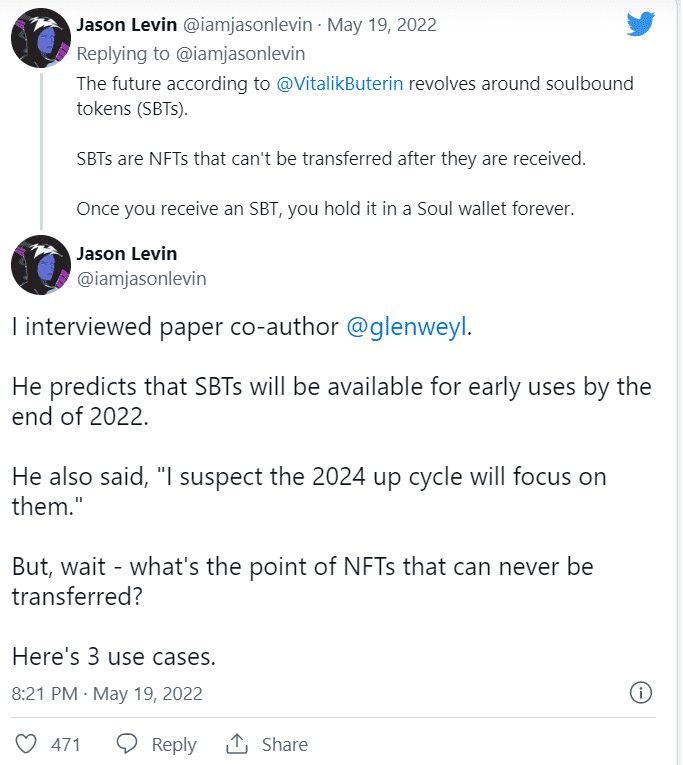 How do you rate this post?