Solend: Lend And Borrow Crypto On Solana!
#cryptocurrency
#dao
#defi
#dex
#ido
#investment
#slnd
tl;dr
Solend is the largest borrowing and lending platform on the Solana blockchain. It is a decentralised, algorithmic platform released by anonymous founders. Solend transactions are 100x cheaper and are processed 100x faster than other similar platforms, all thanks to Solana! Let's dive into this platform and learn how YOU can borrow, lend, and earn an APY!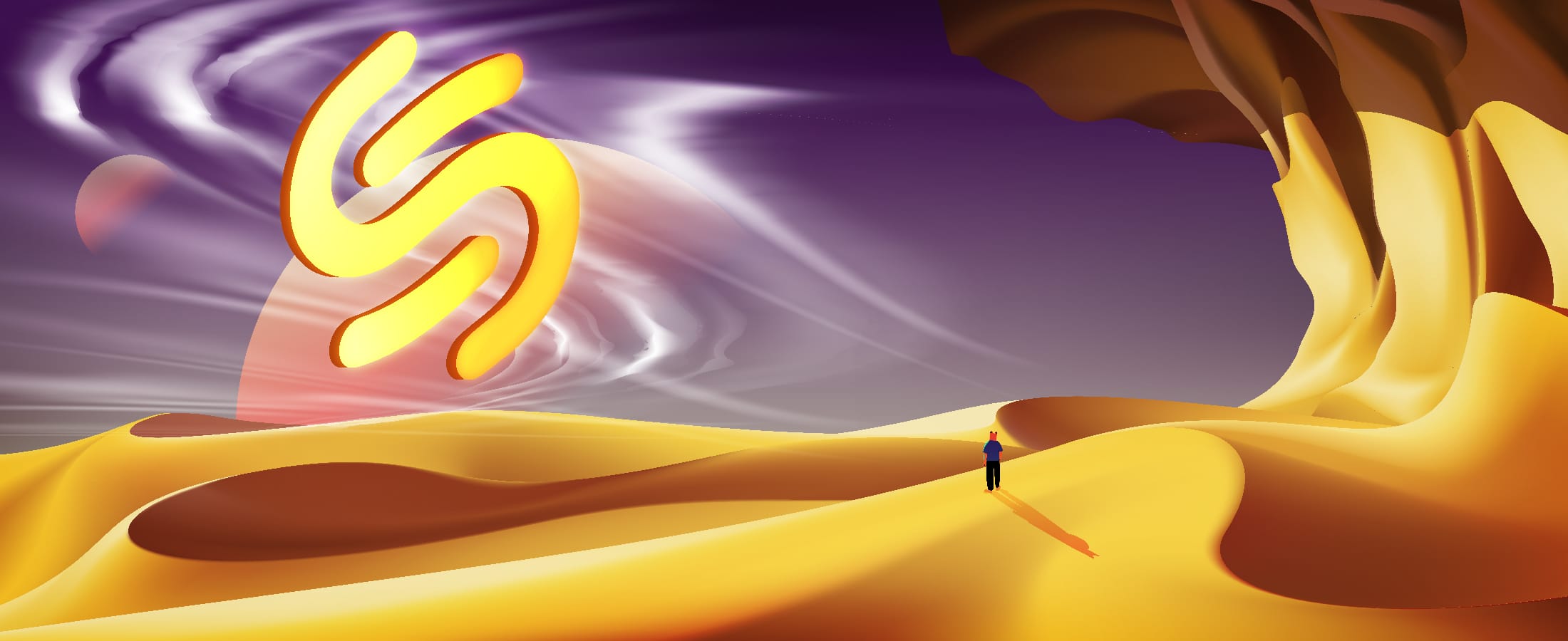 How do you rate this post?
What Is Solend?
Solend is a decentralised algorithmic borrowing and lending platform on Solana, which was released by a team of anonymous founders. Since Solend runs on the Solana blockchain, the fees are much cheaper, and the transactions are processed up to 100x faster than other borrowing and lending platforms like AAVE or Compound, which are built on the Ethereum blockchain. Ethereum is notorious for its high gas fees and being an overloaded network. With Solend, users can earn interest, borrow and lend assets, and leverage long (buying an asset and selling it later when the price goes high) and short (selling an asset hoping it will fall in value so you can repurchase it at a lower price).
How To Get Started In Solend?
Since Solend runs on Solana, you'll need a wallet which supports Solana, like Phantom. You also need some SOL in your wallet as it will be used for paying transaction fees.
Lending On Solend
Once you've connected your wallet, you can deposit your assets for lending and receive a yield (AKA Supply APY) on those assets. Suppliers receive an APY (annual percentage yield) from the borrowers. The borrow APY is then split across the entire pool of supplied assets. The calculation is as follows: Supply APY = Borrow APY x Utilisation. For example, if there is 20 ETH in a pool, and 10 ETH is lent out at 20% APY, the suppliers of the 20 ETH will receive 10% APY each. The APY is given as the same token as originally supplied: if you have supplied BTC, you will earn yield in BTC, and the same goes for any other supplied asset. Also, lenders get Liquidity Mining rewards on the following assets: SLND, UST, stSOL, and mSOL. These Liquidity Mining rewards are collectable on the 3rd of every month at UTC Midnight.
Borrowing On Solent
You can use your deposited assets as collateral for a loan. When you are borrowing, you are paying a borrow APY to the pool (the users who have supplied the assets). On most of the tokens, such as SOL or USDC, borrowers also receive SLND rewards for borrowing, which can be claimed monthly at the same time mentioned above (3rd of every month, UTCmidnight). The good news, there is no deadline for returning your loans!
Solend IDO
Solend's IDO happened on Nov 1, 2021, and ended on Nov 3, 2021. The target was to raise $6.5 million, but the IDO ended up raising more than $32 million in total, with each SLND token costing $6.57.
According to the chart below, 60% of SLND is allocated to its community members. Let's break it down:
30% was given to the liquidity mining program (for lenders/ suppliers).
The other 30% was allocated to the Solend Treasury, owned and governed by the Solend DAO. 5% of this was allocated to the IDO directly from the treasury. Of this 5%, 4% went for the IDO itself, and 1% was given to the SLND/ USDC liquidity pool after the IDO. The Solend Treasury owns the IDO funds and LP position.
25% of all SLND tokens were allocated to the core team.
15% was allocated to investors.
Only 10% was distributed in the seed round, but an additional 5% is set aside for a potential future raise.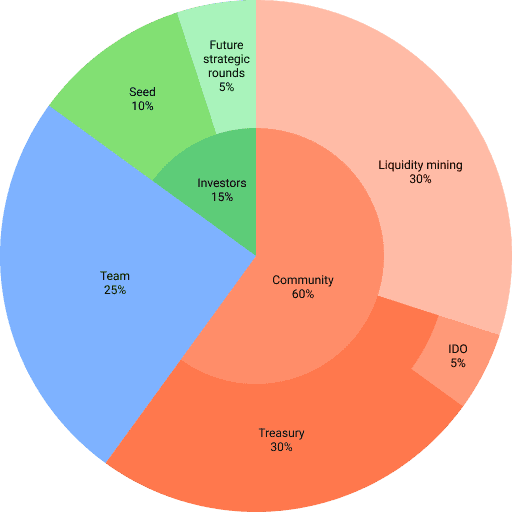 Solend Financial Analysis
Today, on May 15, 2022, SLND holds the #816th rank in market cap rankings. It has had a trading volume of over $100,000 in the last 24 hours. SLND token's market cap is $13 million, and SLND token's price is currently $1.11, which is 93.3% lower than its all-time high ($16.64 on Nov 7, 2021) and 5.6% higher than its all-time low ($1.05 on May 12, 2022). Solend platform currently has more than $516 million locked in it. SLND has a total supply of 100 million, and since the liquidity mining program is the primary driver of SLND's circulating supply, no exact data is available. However, you can check this spreadsheet for a projected SLND circulating supply.
Disclaimer: Don't take this article as financial advice. You need to DYOR (Do Your Own Research) before investment.
Solend Token Price Prediction
This section will analyse the Solend token (SLND) prices throughout the years 2022-2025. It's no secret that the following information is based on the predictions of crypto experts and cannot be regarded as financial advice.
Solend Token Price Prediction For 2022
The average Solend token price in 2022 is estimated to be $1.40. The maximum price is predicted to be $1.52, while the minimum price is expected to reach $1.35.
Solend Token Price Prediction For 2023
In 2023, the average price of each SLND is expected to be $2.04. The minimum price could be $1.97, and the price of SLND could go as high as $2.34.
Solend Token Price Prediction For 2024
Experts predict that the price of each SLND token in 2024 can be $2.94 on average, and it can possibly touch a high level of $3.52. The minimum price is estimated to be as low as $2.83.
Solend Token Price Prediction For 2025
The price of the SLND token is predicted to be $4.31 on average in 2025. The price of SLND could be a minimum of $4.19 and a maximum of $4.86.
Where To Buy Solend Coin?
You can purchase Solend Coin on various exchanges, such as FTX, Gate.Io, Raydium, and Orca. Solend can be purchased directly with fiat on FTX (Euro) and is available as SLND/ UDST or SLND/ USDC pair on other exchanges. You can also get Solend with Ethereum on Gate.Io as the SLND/ ETH pair.
Solend's ROI and Popularity
Since Solend is a new project and hasn't made it to a full year yet, its yearly ROI data isn't available. SLND token's weekly ROI has been -24%, meaning if you had invested $100 in SLND one week ago, you would have $76 by now.
According to our data, in the span of six months, Solend's popularity grew by 68% on Twitter and 32% on Reddit at a slow, steady pace. Throughout the last month, Solend's popularity grew by 16% on Twitter, but it saw no growth on its Subreddit (0%, to be exact!)
Is Solend A Good Investment In 2022?
Solend is still a relatively new project; it is only a little more than six months old! Still, it has managed to become Solana's largest and most used borrowing and lending platform in such a short period, and even though the project's native token has recently hit its all-time low, it still shows great potential. At Cryptologi.st, we have gathered all the tools and data you need to find crypto projects, compare your options and make confident investment decisions.
How do you rate this post?