Solana vs Polygon (Matic): Which One Is Better, Faster and Cheaper?
#blockchain
#cryptocurrency
#decentralized
#erc20
#investment
#sol
tl;dr
When it comes to making a fortune on Solana vs Polygon (Matic), it's not easy to say which will be our first choice to turn a few thousand dollars into millions! To answer this million-dollar question, we must dissect the similarities and differences between Solana and Polygon while learning what each of them is. In this article, we'll go through a technical overview of Solana vs Polygon and visualise the crucial aspects of the two crypto giants in an easy-to-digest chart.
How do you rate this post?
What Is Matic?
Polygon is both a cryptocurrency and blockchain scaling platform and was formerly known as Matic before the project changed its name in February 2021.
Similar to the Solana blockchain, Matic came into play to tackle Ethereum's scalability issue. Keep reading to learn about what features make Polygon unique, and then we'll focus on Solana vs Polygon (Matic).
Matic (Polygon) Features
Supporting more than 7000 decentralised applications (DApps), Matic thrives on offering faster transactions and lower costs than Ethereum.
MATIC is Polygon's native cryptocurrency token holding the #10th position by market cap among all the crypto projects.
It uses a Proof-of-Stake consensus mechanism where network participants can stake MATIC tokens to validate transactions and vote on network upgrades.
Read more: Cardano vs Polygon (Matic): Which One Is A Better Investment?
What Is Solana?
Founded in 2017, Solana is a layer one chain, offering the foundational structure of a blockchain network, which other (layer 2) networks can build on.
It became one of the fast-growing blockchains for building smart contacts and scalable applications, and it has gained a reputation for its speed and efficiency. The following section reveals some of the main features of the Solana blockchain.
Solana Features
Solana is a fast, secure and censorship-resistant network.
It owns its native token SOL, which is the #18th largest cryptocurrency by market cap and provides a means of transferring value and blockchain security through staking.
Regarding its consensus mechanism, Solana integrates two kinds of algorithms, including Proof-of-Stake and Proof-of-History, to provide speedy transactions.
Solana implements several technologies to run multiple smart contracts at the same time, and as a result, it saves time and makes Solana a cost-effective blockchain network.
Read more: Solana vs Polygon (Matic): Which One Is Better, Faster and Cheaper?
Solana vs Polygon (Matic): Price History
To start things off, let's draw a clear picture of each token's price history and then take a closer look at the unique comparison between Solana vs Polygon (Matic).
Polygon Price History
Polygon's native token is known as MATIC, and it's ranked #10 by market cap.
The initial trade with MATIC occurred on Apr 27, 2019, at $0.0043.
After recording its lowest value on May 10, 2019, the token has experienced gradual ups and downs for about two years.
It saw its first peak after ATL on May 2021, and its value went from $0.038 to $2.30.
After some fluctuations, MATIC touched its highest value on Dec 27, 2022, at $2.92.
At the time of writing this article, on Dec 11, 2022, each MATIC is worth around $0.91, with a circulation supply of 8,868,740,690 coins and a total supply of 10,000,000,000 MATIC.
The current value of each MATIC token is 68.7% lower than its All-Time High and 28974.9% higher than its All-Time Low.
Read more: Cardano vs Ethereum: Which One Is A Better Long-Term Investment?
Solana Price History
Solana owns its native token, SOL, which is the 18th largest cryptocurrency by market cap.
The token was launched on May 11, 2020, with a price of $0.91.
At the time of writing this article on Dec 11, 2022, each SOL token is worth about $13, with a circulating supply of 366,114,296 SOL coins and a live market cap of $4,987,250,578 coins.
The current price of each SOL token is 94.77% lower than its ATH and 28923.5% higher than its ATL.
Read more: What Is the Next Cryptocurrency to Explode in 2023?
Solana vs Polygon (Matic): ROI
The entire cryptocurrency market is currently down, and too many cryptocurrencies are experiencing down days, so do MATIC and SOL.
Regarding ROI, MATIC and SOL's annual Returns on Investment have decreased by %56 and %93%, respectively.
Solana vs Polygon (Matic): ATH and ATL
In cryptocurrency and blockchain, ATH happens when the token reaches its highest price and records a new hit. In contrast, we use ATL when the token's value drops to its lowest level. Keep reading to see when Solana vs Polygon (Matic) ATH and ATL was recorded and at what prices.
Looking at Solana's price chart, we can see the token touched its lowest value on May 11, 2020, at $0.50 and about one year later, on Nov 06, 2021, it reached its ATH at $259.
Financial data from Cryptologist indicates that the MATIC token recorded its lowest value on May 10, 2019, at $0.00314376. It also recorded its ATH on Dec 27, 2021, when each MATIC was worth about $2.92.
Solana Vs Polygon (Matic): Liquidity Score
Considering the latest historical data and liquidity score for Solana vs Matic, we can witness that both tokens have a very close liquidity score of 66% and %69, respectively. Generally, the higher a token's liquidity score, the better it can be sold in a bear market.
Solana Vs Polygon (Matic): Consensus Mechanism
In crypto and blockchain, consensus mechanism refers to some mathematical and computational algorithms by which a group of nodes on a network determine which transactions are valid and eligible to be recorded on the blockchain. Learn about Consensus Mechanisms in detail. Let's see what consensus mechanisms Solana and Polygon use.
Solana blockchain is based on two consensus mechanisms, Proof-of-Stake and Proof-of-History.
Solana combines Proof-of-History (PoH) with Tower Byzantine Fault Tolerance (Tower BFT). This security system allows users to stake tokens and vote on the validity of a PoH hash.
Moving to the Polygon blockchain, the network is run by a Proof-of-Stake model, which is the exact mechanism used in many other networks like Ethereum 2.0.
Solana Vs Polygon (Matic): Transaction Speed
Solana blockchain can handle over 50000 transactions per second.
The Polygon network can process 65,000 transactions per second, with the ability to scale even further in the future.
Read more: The 10 Most Scalable Blockchains With The Fastest Transaction
Solana Vs Polygon (Matic): Transactions Fees
One of the vital factors that make Solana the biggest competitor for other networks, like Ethereum and Polygon, is its incredibly low transaction fees, charging just $0.00025 per transaction, while Polygon network's average cost per transaction is way higher, about $.04.
Solana vs Polygon (Matic): NFT
NFT is an acronym for Non-Fungileb Token, which is a cryptographic asset based on blockchain technology. Solana and Polygon (Matic) are integrated with OpenSea, the largest NFT marketplace.
However, Solana was ahead of Matic since it has offered NFT minting since January 2021, with 5 million NFTs on the platform by today, Dec 11, 2022.
Although Polygon started its journey in NFTs in Aug 2021, a bit later after Solana, it held over $2 million in NFT sales during only one month in December 2021.
Read more: The Best Cardano NFT Marketplaces In 2023 by Fee and Volume
Solana vs Polygon (Matic): Architecture
To better grasp the best choice between Solana vs Polygon (Matic), we first need to learn about each network's architecture.
Solana Blockchain Architecture
Talking about Solana, the most noticeable aspect of the architecture of the Solana blockchain is its design, where any node can be a leader or validator.
According to Solana's whitepaper, "Each Verifier node has the same hardware capabilities as a Leader and can be elected as a Leader".
This is done through PoS-based elections, explained below.
The input of transactions is given to the Leader.
The Leader then sequences the messages and orders them efficiently to be processed by other nodes.
The Leader then executes the transactions in the current state that resides in the RAM.
Then, he publishes the transactions and signature of the final state to Validators (replication nodes).
The Validators will execute the same transactions on their copies of the state and publish their signatures of the state if it receives confirmation.
Published confirmations will then serve as votes for the consensus algorithm.
Polygon Network Architecture
Polygon is a decentralised Ethereum scaling platform made of three layers: Ethereum, Heimdall, and Bor. Keep scrolling to learn about each of them.
Ethereum Layer
The Ethereum layer is the first layer in Polygon architecture which features a collection of contracts on the Ethereum blockchain network.
Heimdall Layer (Validator Layer)
Heimdall Layer is the second entry in the three-layer architecture of the Polygon Network. It is a Polygon Proof-of-Stake Verifier layer which is a fork of Tendermint.
It helps in managing validators and selecting block producers and spans. It also works on managing the state-sync mechanism and monitoring the set of contracts on the Ethereum network.
Bor Layer
Bor is a Block Producer for the Polygon sidechain. From below, you can see some technical functions of this layer.
Polygon Chain
EVM Compatible VM
Proposers and Producer set selection
SystemCall
Fee Model
Solana vs Polygon (Matic): DeFi
In DeFi platforms, TVL is a short form of Total Value Locked, and the larger the TVL in a platform, the more valuable the platform gets, resulting in many benefits for users, including better yields. Solana has more 'Total Value Locked' with $5.5B compared to Polygon, with $3.8B locked on DeFi applications.
The Key Differences Between Polygon and Solana
The following chart illustrates a quick snapshot of the comparison between Solana vs Matic.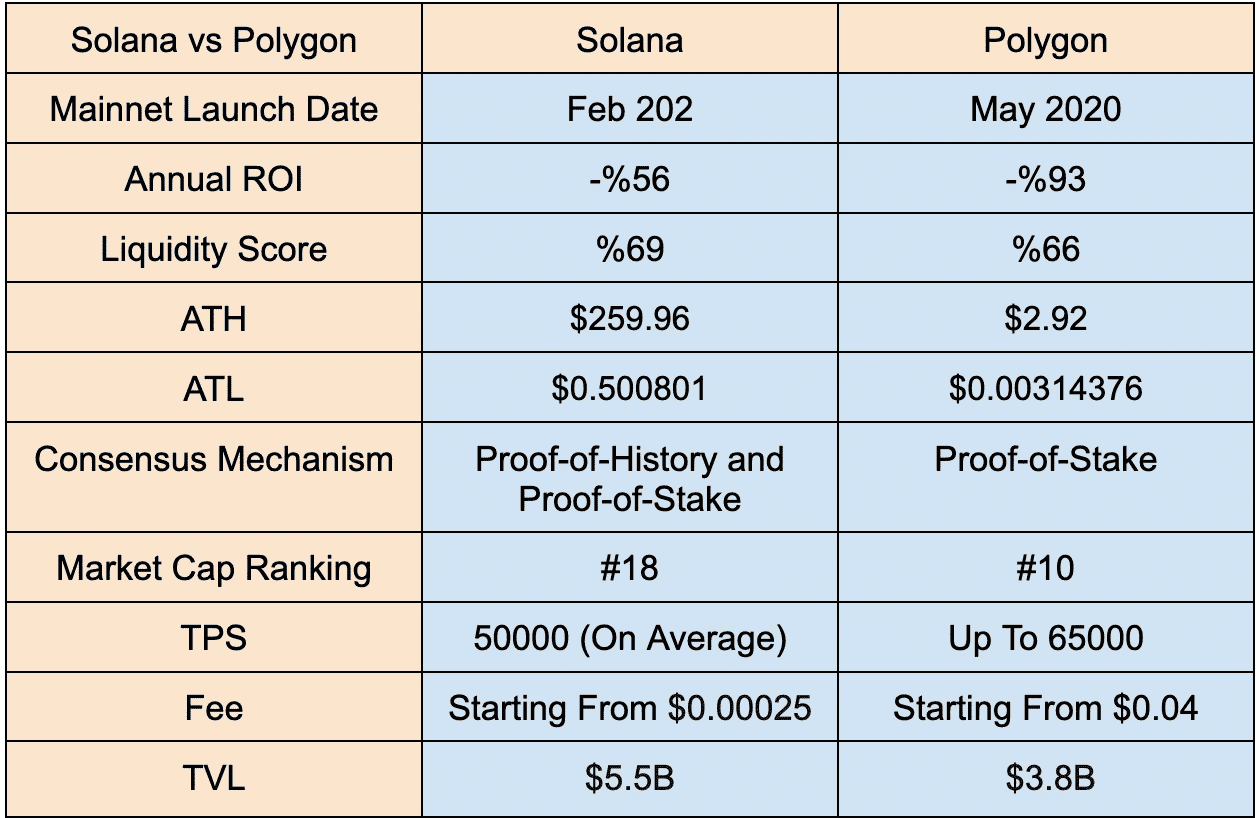 Which One Is Better, Polygon Or Solana?
That's all about Solana vs Matic, and here we are back to the million-dollar question: Which of the two projects is better? Well, there is no certain answer to this question!
Generally, Solana and Polygon are two different projects with the same goal of tackling Ethereum's scalability issue. Some users believe that Polygon (Matic) could be a promising investment since the network has higher monthly active users and provides better scalability.
In this article, we've put together all you need to get a clear picture of these two projects. To have a confident crypto investment, you must do your own research.
To do so, you can use Cryptologist to track the top 1500 coins and choose the best ones by following their changes using this free Crypto Screening tool. Stay tuned for more in-depth reviews.
Read more: 10 Best Free Crypto Screeners in 2023
FAQ
Below, you can find the answers to the most frequently asked questions about Solana vs Polygon (Matic).
Is Polygon Cheaper Than Solana?
Yes. The price of each MATIC token is about $0.9, while each SOL is worth about $13.
What Competes With Solana?
Solana is one of the major competitors of the Ethereum blockchain. It was developed to enhance scalability and tackle the Ethereum Trilema issue through decentralised applications.
Is Polygon Faster Than Solana?
Yes, Polygon is faster than Solana. Polygon is capable of processing 72,000 TPS compared to 65,000 TPS of Solana.
How do you rate this post?