ScPrime: Making Money from Unused Cloud Storages!
#investment
#smart-contract
#play-to-earn
#cryptocurrency
#scp
tl;dr
ScPrime is a distributed network to provide cloud storage to businesses and enterprises. ScPrime is also the leading developer and keeper of the SCP blockchain, which allows users to upload and download data networks. ScPrime is a Proof-of-Work protocol planning to move to Proof-of-Stake. Xa-Miner and Xa-Net are two storage services you need to dig in. To know all about the ScPrime platform, ScPrime wallet, and ScPrime Node, keep scrolling! How do you rate this post?
What Is Decentralised Storage?
Decentralised storage means storing data where data files are kept in a series of geographically distributed nodes connected to a P2P network.
Decentralised storage is a blockchain network that uses P2P networking. Nodes (computers connected to the network) host all the data and scatter them in multiple drives with different nodes worldwide.
To answer: What is decentralised storage, and learn its advantages/ disadvantages, check the link.
What Is ScPrime?
ScPrime is decentralised cloud storage which uses blockchain smart contracts to provide security and better performance.
First and foremost, the ScPrime network focuses on providing storage by being an intermediary between those who offer unused storage and the paying renters.
The benefit for storage providers is twofold, as they'll earn passive income and help create a distributed data centre.
How Does ScPrime work?
I'm not going to bore you and ramble on for multiple pages! Let's watch this short video to learn how ScPrime works.
ScPrime Features
ScPrime primal features include
High Security: The platform is always on, end-to-end, with client-side encryption to avoid data breaches after upload.
Constant Performance: Data is categorised into smaller groups and distributed to achieve better durability using less bandwidth. This method improves regulatory compliance and localised performance.
Cost-Effectiveness: ScPrime aims to lower costs. Also, the customers don't need to handle cryptocurrency acquisition or custody.
Compatibility: Easily transition S3 workflows—Veeam, Commvault, Cohesity, Dell EMC, etc.
What Can Be Stored In ScPrime Storages?
To learn what you can store in ScPrime storage, we first need to go through the concept of erasure coding. It doesn't seem very easy, but it is!
In simple terms, files need to be encrypted before reaching providers' drives.
Encryption makes files break into many shards, and this process results in redundancy across multiple providers.
It means providers can access the files even offline. To store encrypted shards, renters can sign smart contracts with providers to make sure of the integrity and availability of the data.
Who Can Rent ScPrime Storages?
According to ScPrime, "Enterprises, cloud/ managed service providers, or anyone already using cloud infrastructure for their work and data flows can integrate with just the swap of a URL to begin using the distributed cloud".
Also, the ScPrime network runs a cloud data service providing company, Xa-Net Services, to provide enterprise-grade renter infrastructure for its customers.
Can Public Users Use ScPrimes Cloud Services?
ScPrime offers an open-source renter for public use; however, it is not what ScPrime was designed for. It was mainly developed to provide service to enterprises through Xa-Net Services.
How To Be A ScPrime Storage Provider (ScPrime Node)?
To be a storage provider or node on ScPrime, you can choose one of the two methods available: use ScPrime Xa-Miner or be a DIY Storage Provider. The easiest method to become a storage provider for ScPrime is to use Xa-Miner. Let's learn what it is and how it works.
What Is ScPrime Xa-Miner?
Xa-Miner is a cloud service product from the ScPrime project, which consists of a distributed data centre and decentralised client known as a relayer for enterprise customers or companies to access the network.
There is a private and dedicated relayer for every user consisting of a distributed client, database, and cash. Using Xa-Miner, multiple users can share and update files since it is a plug-and-play passive income device, and as long as you run the device, you can share storage in exchange for cryptocurrency. This is what the device looks like.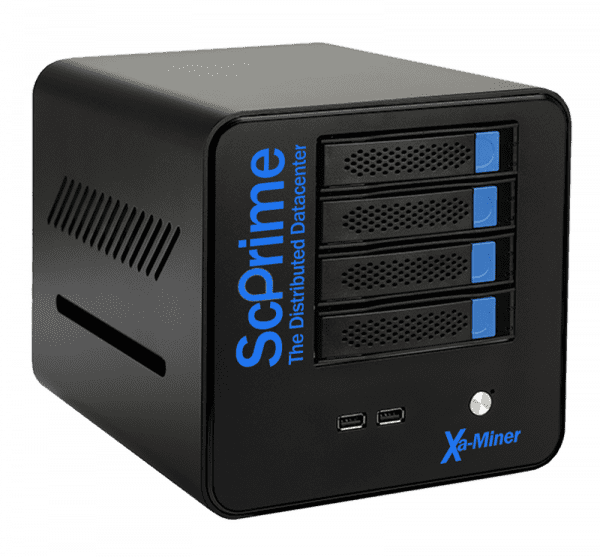 Remember that you do not need direct access to the Xa-Miner device, as you can manage almost everything via the web interface. You only need direct access to the device when you have to ask for tech support.
ScPrime Xa-Miner Main Features
Let's take a closer look at the main features of ScPrime that make it stand out.
Being environmentally friendly: Xa-Miner's electricity use is 1kwh/ day, meaning it doesn't use electricity a lot and decreases the energy costs to about four or five dollars a month.
It uses a cooling system and plans to reduce its carbon footprint.
High privacy and safety: the coin is secured through the blockchain digital wallet. The ScPrime utility tokens are created with a Proof of Work consensus mechanism and enforce end-to-end encryption.
Being easy to set up: Xa-Miner doesn't have giant units and is easy to set up.
How Does Xa-Miner Work?
Xa-Miner adds storage capacity to the Xa-Net Services cloud to enable you to earn passive income. It's a business-level cloud built from numerous devices meshed using ScPrime blockchain and smart contracts.
As the main data centre, ScPrime involves the users with crypto. Xa-Miner is available at 16-40-64 terabytes, and it doesn't matter if you use one or two or ten devices.
Xa-Miner allows you to use multiple devices in one location as a data centre, and due to sharing and providing the uptime of these devices to store people's data, you will get rewards. Also, if you host one of these devices and it goes down, you can recover all the data.
Xa-Miner Profitability
If users choose to be a part of the ScPrime network's Xa-Miner device and continue running it, this profitable and smart investment allows them to earn SCP tokens. The amount of tokens you will get depends on the number of months you have used Xa-Miner. Also, the rebates you will earn depend on the version you purchase monthly.
What Is SCP Token?
SCP is the utility coin of the ScPrime platform, employed in contracting between client software and the distributed provider network, and an equity token not available for public use.
How to Mine SCP Coin?
Currently, the SCP blockchain is validated through Proof-of-Work (PoW) mechanism, using various Blake2b application-specific integrated circuits (ASICs) to provide hashing capability.
In the case of solo mining, the miner validates and secures the network related to the hashes accepted by the pool or the blocks found and so earns SCP coins as rewards.
Here's a list of Blake2b ASICs currently available:
Baikal BK-B | ~80 GH @ 300w | 0.2667 GH
Goldshell HS-BOX | ~470 GB @ 130w | 3.6154 GH
Obelisk SC1 | ~550 GH @ 500w | 1.1000 GH
Obelisk SC1 Slim | ~550 GH @ 450w | 1.2200 GH
Antminer A3 | ~815 GH @ 1275w | 0.6392 GH
Obelisk SC1 Dual | ~1.1 TH @ 900w | 1.2200 GH
Goldshell HS3-SE | ~1.86 TH @ 500w | 3.7200 GH
Obelisk SC1 Immersion | ~2.2 TH @ 1600w | 1.3750 GH
ePIC SC200 | ~2.2TH @ 1300w | 1.6923 GH
iBeLink DSM7T | ~3.5 TH @ 2100w | 1.6670 GH
Goldshell HS3 | ~4 TH @ 1000w | 4.000 GH
Innosilicon S11 | ~4.30 TH @ 1350w | 3.1852 GH
Halong DragonMint B52 | ~4.3 TH @ 1350w | 3.1852 GH
Goldshell HS5 | ~ 5.4 TH @ 1500w | 3.600 GH
StrongU STU-U2 | ~7 TH @ 1600w | 4.3750 GH
Where To Buy SCP Token?
Several cryptocurrency exchanges out there are available to trade ScPrime (SCP) tokens, including ProBit, SouthXchange, TradeOgre, eToroX, SouthXchange, and ProBit Global.
Who Are ScPrime Competitors?
Filecoin, Siacoin, Chia network (XCH), and Akash network are similar platforms designed to rent out space, share data and provide competition for businesses.
SCP Token VS. Filecoin
One of the most similar projects to SCP is Filecoin. Both projects have similar qualities with some differences, as the following chart depicts.
ScPrime Wallet
The software tab on the ScPrime website shows us different software the project develops, one of which is the ScPrime wallet in two kinds. Web Wallet and the Cold Wallet Generator.
ScPrime Web Wallet
ScPrime has designed a browser-based GUI (Graphical User Interface) wallet called the Web Wallet. This wallet is merely used to store SCP coins and, unlike CLI or UI software, cannot host other coins/ tokens.
This Web Wallet can simply be used to send, receive, and hold SCP. It has many features, one of which is the ability to have various wallets and a cold wallet generator.
ScPrime Cold Wallet
ScPrime's UI and Command Line wallets are available on almost every platform. It also offers a cold wallet providing a good level of security and ease of setting up and configuration. Cold wallets are better options when the holders do not intend to access the coins to sell or transfer soon.
ScPrime Download and Setup
To download ScPrime software, you only need to go to its website at https://scpri.me/software/ and click on the tab "Software". On the opening page, you can access the guides for all the software ScPrime develops, including the following:
COMMAND LINE DAEMON 1.6.6: This client should merely be used by Storage Providers for stable performance.
SUPERVISOR-LITE: Storage Providers can use this tool to set a price and have it auto-adjust. This tool can also offer auto-re-announcement of the host address in case of any change in the IP address.
UI: The UI can be used in setting up a Storage Provider, but NOT recommended for long-term use. CLI has more stability and a lower memory footprint.
SOURCE: All binaries are signed. Use the following command to verify the signature manually: openssl dgst -sha256 -verify siaprime_dev_public.pem -signature spd.sig spd
WEB WALLET
COLD WALLET GENERATOR: Creates a seed and addresses w/o setting up a wallet.
BOOTSTRAP: It is a bootstrap of the latest consensus, which is most useful for those who don't like waiting for the blockchain to sync.
FAQ
Let's explore the most recent FAQs concerning the ScPrime, ScPrime wallet, ScPrime Node, and SCP blockchain.
What Blockchain Is ScPrime?
Starting as a layer 1 blockchain, ScPrime is based on Proof-of-Work ASIC mining and smart contracts to connect Storage Providers worldwide.
How Much Collateral Do I Need for ScPrime?
The collateral needed for ScPrime is at least 1x the storage price, i.e., equal to the storage price you choose or higher.
How Much Is An SCP Coin?
Today, on Oct 26, 2022, each SCP coin is traded at $0.220327, which is down by -0.3% in the previous 24 hours, making up a 24-hr trading volume of $15,483.29.
How do you rate this post?