Scallop: How To Easily Manage Digital Money?
#investment
#defi
#blockchain
#cryptocurrency
#sclp
tl;dr
Why are you involved in crypto? Of course, not just for the sake of technology, innovation, or similar cliches! We are here to invest, make money, and even make a fortune when possible. To this aim, we all need to invest in projects that offer a range of services to investors, build the project on the blockchain, favour DeFi, and provide safe and easy exchange opportunities, to name but a few. We have found such a project called Scallop, and this is your free ticket to learn all about it. Keep scrolling!
How do you rate this post?
What Is Scallop?
The Scallop is a young crypto platform powered by blockchain to provide the first regulated Decentralised Finance (DeFi) banking application for retail and institutional users. Scallop enables DeFi services together with everyday use as a fiat banking account and unique rewards. Scallop aims to provide access to DeFi functionality and minimise its complexity.
What Does Scallop Offer The Users?
The most vital innovation in Scallop is to provide services in DeFi and Banking. Scallop offers the following services in one application with a regular banking account.
Scallop DeFi Services
Payments: Payment gateway service entitles businesses to payments with crypto to fiat on/ off-ramp.
Exchange: Easy trading using Uniswap to exchange crypto and DeFi tokens to fiat and vice versa.
Hardware wallet: Scallop provides cold wallets and cold/ hot storage, insured by Scallop partners to compensate for losses up to $100 million.
NFT Marketplace: A built-in NFT marketplace to trade digital assets.
Scallop Chain: Scallop aims to create a connection between traditional banks and cross-blockchain applications. Scallop chain supports EVM and WASM contracts. Institutional partners working with Scallop are enabled to create secure custody services, interest-bearing savings accounts, debit cards and a fiat on-ramp to crypto.
Scallop Banking Services
Accounts: Users need to have GBP and IBAN accounts for daily use.
Cards: Virtual and physical spending cards are made on the Visa payment network.
Multi-currency Wallet: Users can store, spend and send over 15 international currencies.
Transfer: Users can send and receive money in all major currencies to anyone, anywhere.
Scallop Token
Scallop token (SCLP), the native utility token of the Scallop platform, is a BEP20 and ERC20 token to empower the Scallop ecosystem. SCLP is based on the Binance Smart Chain (BSC) Network because of its wide scope of DeFi functionality. Scallop token has the following use-cases:
To receive trading bonus payments
To stake SCLP, open accounts and access services
To pay the fees for the transaction, exchange, and management
How Does Scallop Staking Work?
Staking Scallop is an easy process including four steps as follows:
Setting up Metamask
Transfering to Metamask and connecting to app.scallopchain.com
Stake Scallop
To learn the details, you can check here.
Scallop Price and Financial Analysis
Today, on Jun 19 2022, the Scallop price is $0.203086 with a 24-hour trading volume of $237,331. In the previous 24 hours, the SCLP price has been up 5.7%. Its circulating supply is 33 Million SCLP coins, and its total supply is 100 Million. Currently, SCLP stands on the market cap rank of #920, with a current price that is 99% lower than its all-time high of $20.10 on Oct 28, 2021, but 26.4% higher than its all-time low of $0.160571 on May 12, 2022. Currently, MEXC Global is one of the active exchanges to trade SCLP.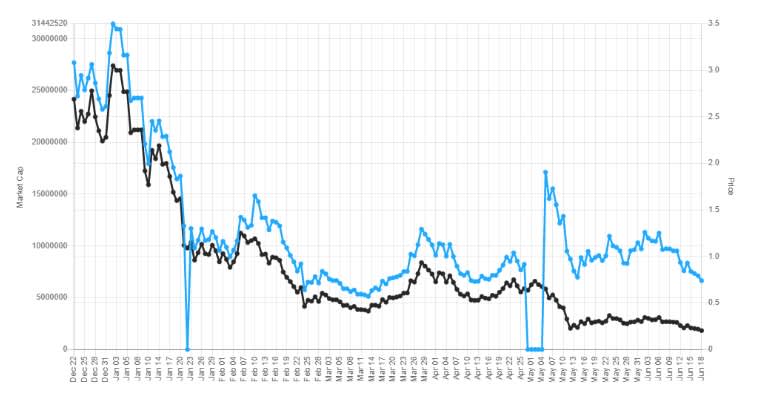 Scallop ROI and Liquidity Score
Financial charts at Cryptologi.st indicate that regarding Return on Investment (ROI), Scallop underperformed similar projects, which had 16224% growth over the past year. Also, Scallop underperformed in the crypto market, which experienced 4173% growth over the recent year. Simply put, Scallop hasn't been a profitable project over the last year. Also, Scallop shows a liquidity score of 23%, meaning it can be a hard sell when the market is falling.
Scallop Reward Structure
According to Scallop Whitepaper, the platform's reward system benefits the SCLP token holders as follows:
Crypto Back rewards the users from 0.5% to 1% on every in-store purchase paid in SCLP.
Institutional Offers provide discounts by institution/ merchant networks paid in SCLP.
Travel Offers reward the users up to 1% for eligible foreign transactions paid in SCLP.
Business Rewards work as business incentives for using ARTH stablecoins paid in SCLP.
The Deposit Incentive is to reward 5% in SCLP Token.
Referral Bonus rewards the users 20 SCLP tokens when their friend signs up on scallop API.
Sign-up Bonus rewards 10 SCLP tokens when the users sign up on the Scallop app.
Scallop Unique Owner Benefits
Holding the Scallop token, the holders will benefit from the exclusive Scallop app and business features depicted in the following image.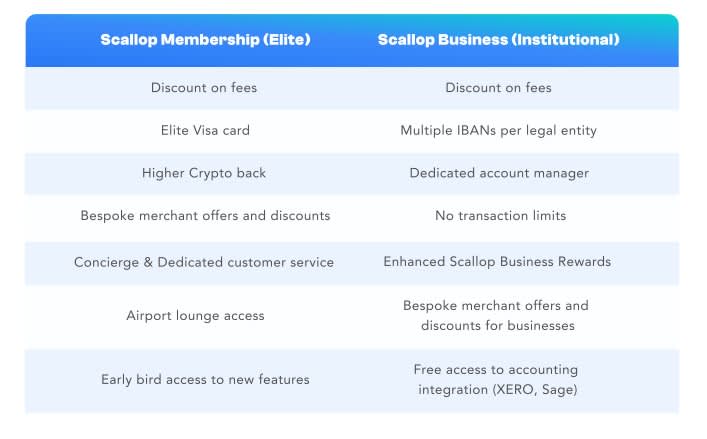 How Does Scallop Chain Work?
Being the world's first regulated blockchain built on Cosmos framework on the Tendermint system, Scallop Chain includes the following:
Regulated Wallets
Regulated Tokens
Regulated Proof-of-Stake
Regulated Substations
Regulated DEX wallets
Regulated DeFi wallets
Regulated CBDC exchange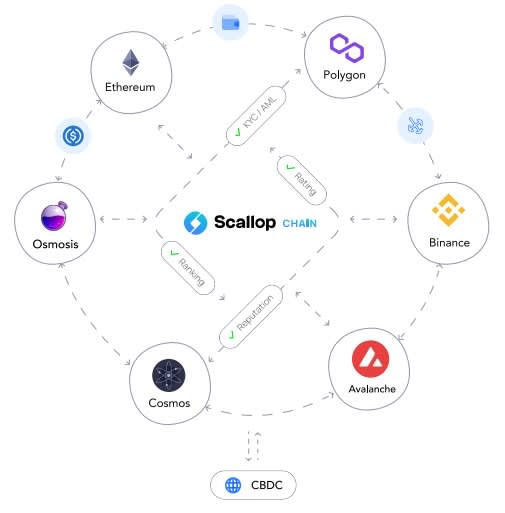 Scallop Chain Consensus Mechanism
The Scallop chain uses the Tendermint Proof-of-Stake (PoS) as its consensus mechanism. As you know, the blockchain uses validator nodes to validate transactions and secure the chain. In the Scallop chain, all validators need to stake SCLP tokens and should also get voted in by the SCLP tokens. The Scallop chain is designed to support over one thousand validator nodes.
Scallop Chain Regulated DApps
The Scallop chain is a regulated chain, where every app/ user within the platform is KYC'd to a centralised entity (in most cases, the regulator). The non-KYC'd users or non-KYB'd apps will face restrictions, and their transactions will be rejected by the validators.
Scallop Chain Privacy
Users on the Scallop chain must share their data with the regulator and are then marked with a pseudo-anonymous address as a "verified address". This helps the users keep their privacy from other wallets in the chain and obey the rules that a regulator would like to enforce.
Scallop Exchange Unique Features
The following are among the unique features that Scallop exchange provides. To read the details, check here.
Scallop Pay
NFT Features
Deep Liquidity
High Leverage
Insurance
SCLP Token Integration
Security Exchange
Who Is The Team Behind Scallop?
Scallop uses Raj Bagadi as the Founder and CEO, who has been working on Scallop for over two years and had directing and developing experience before this project. Mindy Bejawn is the Co-Founder and COO of Scallop, who has worked as the Principal Engineer in many companies before this. Soren Stammers, the CTO at Scallop, has had roles in directing, CTOing, and consulting in various companies, including FinTech. Apart from the original team, Scallop was incubated by Mahadao and supported by some blockchain institutions, including Kucoin Labs and Bitcoin.com exchange.
Disclaimer: Don't take this article as financial advice. You need to DYOR (Do Your Own Research) before investment.
Scallop Token Price Prediction
As the name suggests, what we are to offer next are only price 'predictions' from Priceprediction.net. These can't be considered GO signals, but they are some hints to open your eyes to the crypto experts' opinions on the future price changes of the Scallop token. Don't forget to DYOR (do your own research) before investing in anything, especially cryptocurrencies.
Scallop Price Prediction for 2022
The average price of each Scallop token is predicted to revolve around $0.35 in 2022. Its minimum and maximum predicted prices can reach $0.33 and $0.39, respectively.
Scallop Price Prediction for 2023
The average trading price of SCLP tokens is expected to be $0.50 throughout 2023. The lowest possible price of Scallop is predicted to reach $0.48, and on the bright side, it may hit $0.57.
Scallop Price Prediction for 2024
Crypto experts predict that in 2024, the minimum price of Scallop can reach $0.69, and its maximum can amount to $0.83, with an average trading price of $0.71.
Scallop Price Prediction for 2025
On average, the trading price of SCLP is predicted to be $1.07 throughout 2025. The minimum and maximum price of each Scallop token can reach $1.04 and $1.19, respectively.
Scallop Roadmap
The following image shows the Scallop roadmap.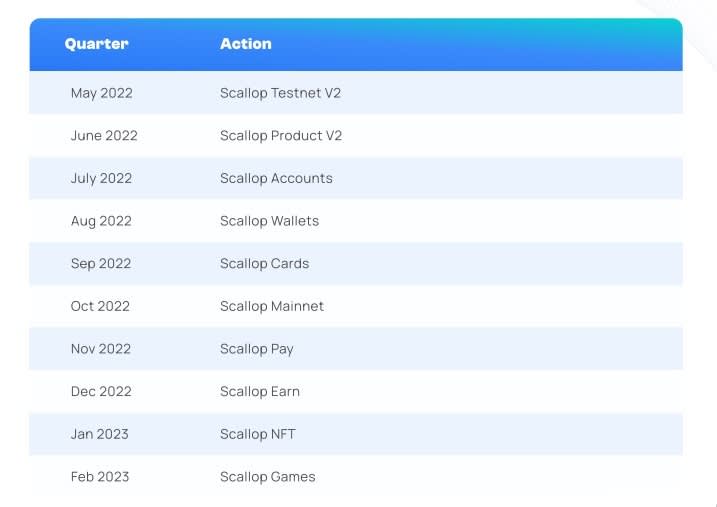 Should I Invest In Scallop?
It is no secret that we are in the bear market, and most projects are just striving to survive and make it to another bull run. In this situation, we cannot expect surmounting prices and activities, but we can compare the projects based on how they are handling the status quo and how badly they are going down! Scallop has high hopes and big aims, but its recent year performance hasn't been promising enough. Its current liquidity score makes it a risky project, at least for the short term.
All in all, you can't take this article as financial advice or trade signal because it is only made for educational purposes alongside the reviews of the top 1500 projects. What are we doing here? Well, Cryptologi.st is here to educate you about the current events of the crypto market through the hot news and educational articles it provides. Also, it streamlines the coin screening process by offering its free screener tool, where you can compare hundreds of coins and put your favourites on the watchlist to keep an eye on their changes. Stay tuned for more updates on the burning hot crypto projects, and check out what we offer on our social media listed below!
How do you rate this post?