SafeMars: Hold Crypto and Earn More!
#investment
#nft
#cryptomarket
#smart-contract
#safemars
tl;dr
DeFi has been ruling the crypto market in recent months, and everyone is making money by staking farming and mining in one way or another. You lock your assets for a certain time and will be rewarded for doing so. The only nuisance bothering the traders/ investors is impermanent loss (IL). SafeMars is an NFT marketplace that doesn't want you to stake, farm or mine. By only holding the tokens in your wallet, you will get more tokens! To find out what SafeMars can offer you, read this article with extra care!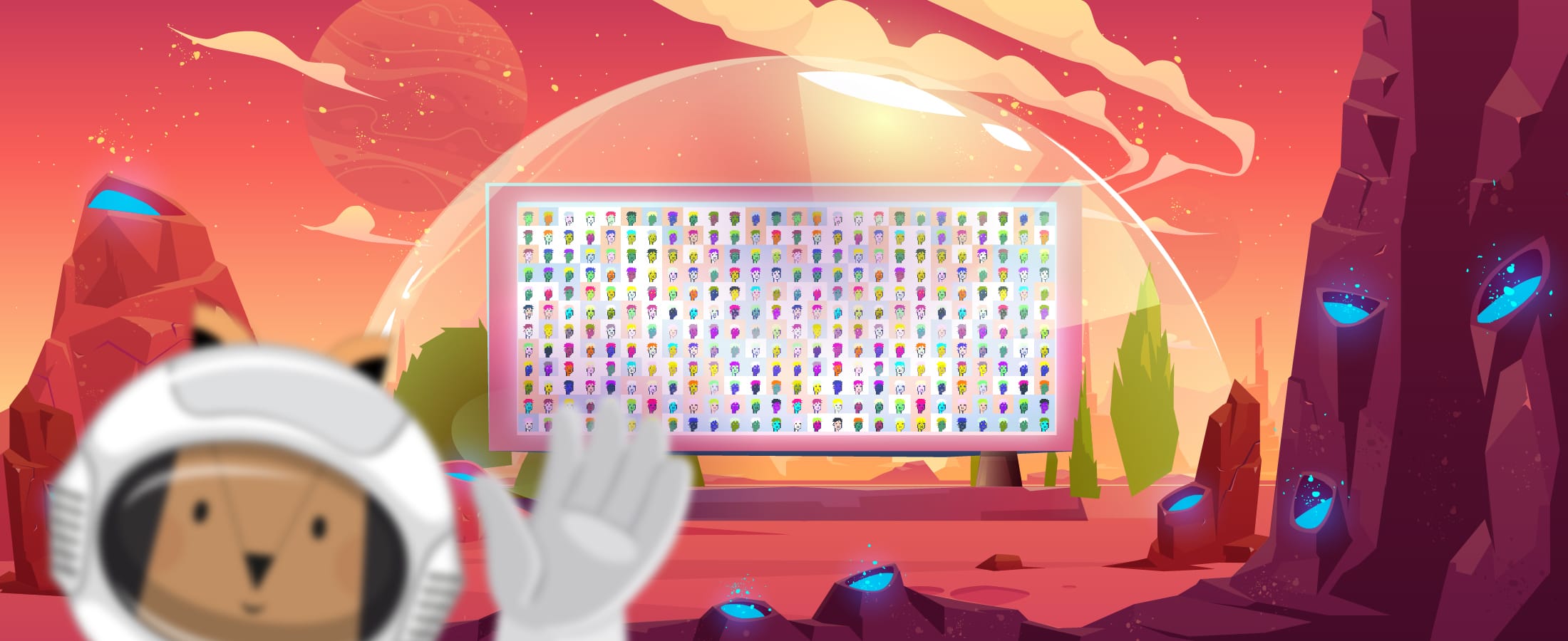 How do you rate this post?
What Is SafeMars?
As an autonomous yield and liquidity generation protocol, SafeMars plans to reward its token holders and increase liquidity at the same time. SafeMars was released on Mar 13, 2021, on Binance Smart Chain. The team behind SafeMars is said to be comprised of three developers and five marketers whose identity is unknown.
What Is Unique About SafeMars?
SafeMars is a programmed system to reward token holders while increasing liquidity and value. This is how SafeMars does so: 4% is taken as tax from every transaction, which is used to fund the protocol. Two per cent goes to the holders, and another two per cent is self-allocated to cash. As a result of this tax taking, the protocol will have an increasing price floor, and all token holders will receive more tokens just by holding them in their wallets.
Is SafeMars Legit?
SafeMars claims to value the security and safety of its token holders. To protect the community, SafeMars has done the following activities:
Initial LP token burn
Regular burns of all protocol-generated LP tokens
Contract audit in progress by Certik
6% team wallet allocation
Fair presale, no presale wallets held more than 1 per cent
No mining function in the contract
The above activities ensure that SafeMars is unruggable, and none of the holders can mint new tokens, remove liquidity generated by the protocol, or dump presale allocations on the market.
SafeMars Smart Contract Address
Before going to the SafeMars smart contract address, let's get to know its smart contract better. SafeMars is an ERC20 smart contract, and all transactions done using the SafeMars smart contract should pay a 4% fee, no matter if it is a buy or sell. 2 per cent of all this fee is directly distributed among token holders without any farming! It indicates that the number of tokens in your wallet will have a non-stop increase as others transact. This bright idea results in avoiding IL altogether, and just holding the token will end in rewards! Also, another 2 per cent is taken by the SafeMars smart contract to be added to the liquidity pool. The liquidity pool also has a continuous increase, which results in a higher price floor for SafeMars. To check out SafeMars smart contract, you can visit here.
SafeMars Liquidity Pool
The SAFEMARS (SafeMars Token) launch happened with an initial supply of liquidity as BNB/ SAFEMARS LP Tokens. To renounce the token ownership, the users need to send them to the burn address: 0x0000000000000000000000000000000000000000
The SafeMars team has enabled this process to protect investors by removing the possibility of a rug pull via liquidity removal.
How Is The Liquidity Added To The SafeMars Pool?
The additional liquidity generated from the 2% transaction fee is added to SafeMars automatically. To add the fee to the liquidity pool, one should transform it into BNB/ SAFEMARS LP Tokens. To make sure SafeMars is unruggable, the team behind the project burns the tokens on a regular basis, and thereby the liquidity is locked for good. The daily burns are claimed to be transparent and visible on the blockchain.
SafeMars Token (SAFEMARS)
SAFEMARS is the native token of SafeMars protocol, with a total supply of 1 quadrillion, i.e., a one with fifteen zeros. Out of this 1Q of SAFEMARS tokens, 53.5% have gone to blackhole burn (535,140,000,000 tokens), 40.5% have been distributed as pre-sale supply (404,860,000,000 tokens), and 6% have been kept in the team wallet. Over 50 per cent of the total supply of SafeMars tokens burnt after launch and sent to a black hole address. This black hole address is also considered a SAFEMARS holder and receives a share of the transaction fees. According to the SafeMars team, "Each share is burned, leading to a persistently reducing circulating supply of SAFEMARS". Since there is no limit to burning, the blackhole will continue to grow, which increases the scarcity of SAFEMARS.
SafeMars Financial Analysis
SafeMars is a small crypto project with a current market cap rank of #1166 on May 8, 2022. Its liquidity score is 17%, making a hard sale in a bear market. Its market cap chart shows a downward trend since its inception. SafeMars experienced its all-time low about a year ago on Mar 20, 2021, at $0.000000001619, which was compensated less two months later on May 11, 2021, with an all-time high at $0.00000144.
SafeMars Current Price
Currently, SafeMars is being traded at $0.000000020418, with a 24-hour trading volume of $61,403.14. To check out its real-time price, visit Cryptologi.st coin analyst. In the previous 24 hours, SAFEMARS's price has been down -1.9%. Its circulating supply is 380 Trillion SAFEMARS coins, and its total supply is 1 Quadrillion. To trade SafeMars, you can use Gate.io, which currently is one of the most active exchanges to buy and sell SafeMars.
Disclaimer: Don't take this article as financial advice. You need to DYOR (Do Your Own Research) before investment.
SafeMars Price Prediction
One of the factors that help make better investment decisions in crypto is knowing how crypto experts feel about a project and what the future price of a given coin will be. In the following sections, we will take a look at the future price of the SafeMars protocol. Remember that these predictions are not financial advice by any means; just use them as heads up.
SafeMars Price Prediction for 2022
Crypto experts predict that the price of SafeMars will reach a minimum of $0.00000004 and a maximum of $0.00000004 in 2022. Its average trading price is expected to be $0.00000004.
SafeMars Price Prediction for 2023
The price of each SafeMars token is expected to reach a minimum of $0.00000005 in 2023. Its maximum price is predicted to be $0.00000006, with an average price of $0.00000005.
SafeMars Price Prediction for 2024
In 2024, the price of SafeMars is predicted to reach a minimum of $0.00000008 and hit a maximum of $0.00000009. The average trading price of SafeMars is predicted to be $0.00000008 in 2024.
SafeMars Price Prediction for 2025
The price of the SafeMars token is expected to go down to $0.00000011 in 2025. SafeMars is predicted to rise to a maximum level of $0.00000013, with an average price of $0.00000012.
How to Buy SafeMars?
To buy SafeMars tokens (SAFEMARS), you need to follow the steps given below:
First, you need to download the app, Trust Wallet or any other crypto wallet.
Buy BNB or BSC on Trust crypto wallet.
Click on the DApps tab at the bottom, and find PancakeSwap (iOS users may need to enable the trust browser, then use the browser tab.)
Click "Select a currency" and enter the follwoing contract addres: 0x3ad9594151886ce8538c1ff615efa2385a8c3a88
Choose the amount you want to purchase and then press the swap button.
Confirm the transaction to have SafeMars deposited into your wallet/ portfolio.
Where to Buy SafeMars?
Gate.io, PancakeSwap, WhiteBIT and Jewel Swap are currently the most active exchanges to trade SafeMars.
Is SafeMars a "Poocoin" Like SafeMoon?
Many people consider SafeMars to be related to SafeMoon and wonder if the two projects work the same. The only similarity between SafeMars and SafeMoon is that they were both launched on Binance smart chain. The team behind these two projects is also different. To get a full account of SafeMoon, check out this thorough analysis. You can also learn some pro tips about trading SafeMoon here.
SafeMars Roadmap
The following image shows the SafeMars roadmap for 2021, and as seen, it's not complete. The SafeMars team have not released any roadmaps for 2022 or the coming years. At least, none was found on their whitepaper and website, which can be considered a red flag.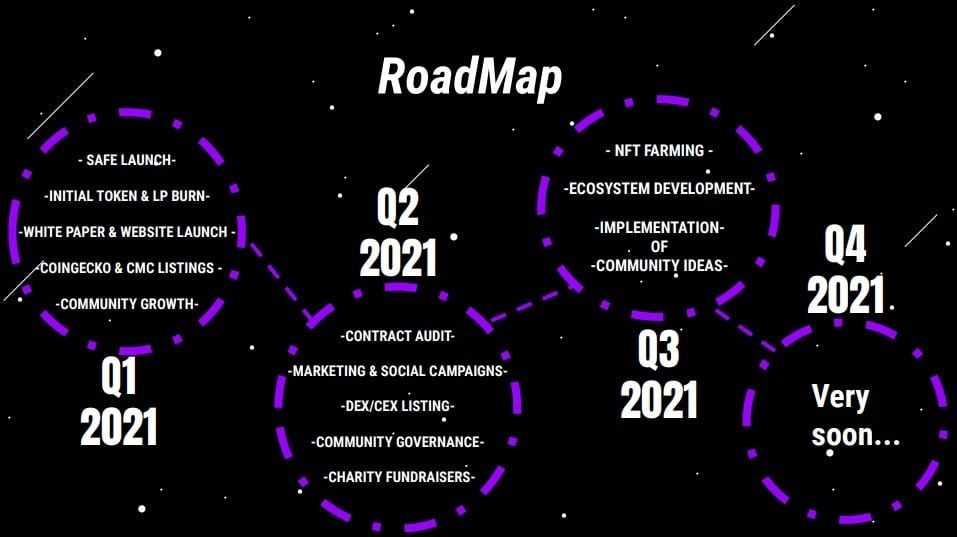 Is SafeMars A Good Investment?
Putting it all together, one can conclude that SafeMars may lose value in the future and may not be a risk-free investment. Its Return On Investment (ROI) over the last year was -94%, meaning that your $100 investment in it could be 6$ by now. Add to this that projects similar to SafeMars have seen a 14% growth over the same period. In the recent six months, its Twitter account has experienced a 3% growth, but its Telegram channel has had a -28% growth, and its Reddit has grown 0%. To benefit from trading this token, you need to consider it a long-term investment. All in all, Cryptologi.st is not here to tell you what to buy, but it's been developed to educate you about the crypto market with its up-to-date articles and help you make confident investment decisions.
How do you rate this post?