Rook Coin: How To Maximise Value In Ethereum?
#investment
#defi
#cryptomarket
#amm
#rook
tl;dr
Rook Coin is the native token of the Rook Protocol, which claims to be the first protocol allowing generalised MEV to be internalised at the application layer. Using MEV will protect users and protocol against negative externalities, decrease the total MEV available at the consensus layer, and ensure that less value will be extracted from markets and protocols by miners and validators. There is a lot to know about this all-in-one platform, so let's explore it.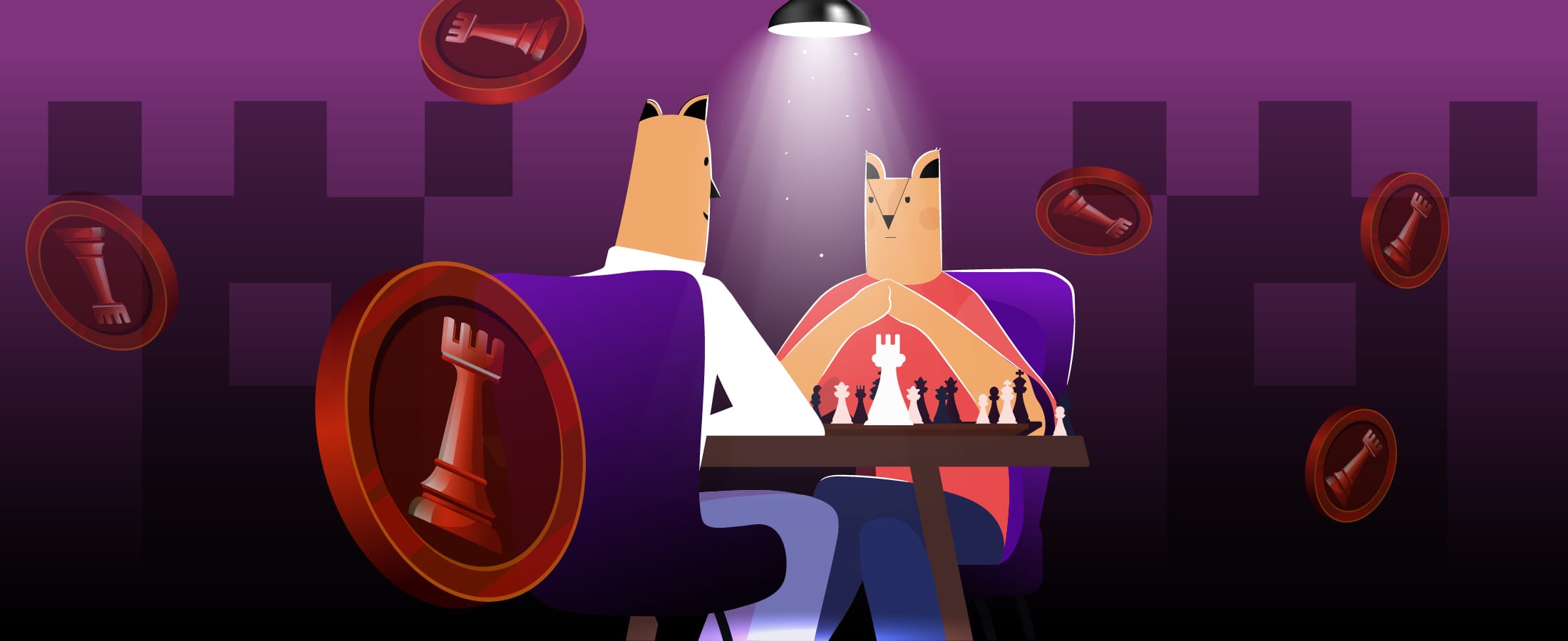 How do you rate this post?
What Is Rook Coin?
Rook Coin or Rook Token comes from the Rook platform that strives to increase the efficiency of the markets using coordination by capturing and redistributing MEV to the users and protocols that create it. Using the most effective algorithmic strategies, Rook aims to increase the value of transactions for all the parties involved. Do you know what these algorithm strategies are? They are bots called Keepers that monitor Ethereum, and other basic blockchains, to streamline transactions, from arbitrage and liquidations to system upkeep and auctions.
Rook Coin Platform and Keepers
Keepers, which were introduced above, have quickly found their place in the Ethereum ecosystem as risk off-loaders. Despite their benefits, these actors have caused a complex situation, as they were not initially included in Ethereum's incentive structure. Currently, various Keepers compete in a zero-sum game and have led Ethereum to transform into a highly adversarial environment where Keepers and miners struggle to claim on-chain profits in exchange for DeFi users and protocols.
What Innovation Does Rook Offer?
The situation of the Keepers is different in the Rook Protocol, as Keepers do not compete but work together to coordinate and gain the on-chain profits efficiently. Outside actors, i.e., DeFi users, protocols, and market makers, can benefit from the profit by bringing their activity to Rook and earning a reward. Rook uses on-chain contracts to hide the profit extracting opportunities and realign the incentives to encourage coordination over competition and therefore benefit all parties. All rewards can be claimed via the Rook Protocol staking contract. The Coordinator will collect bids from the Keepers and create a payment channel for the users to claim any time they want.
Rook Coin Platform Unique Features
Rook Coin Protocol
is community-owned,
is governed by a DAO,
accepts open optimum to return the most benefit to protocols, applications, and users, instead of becoming a profit-maximising black box that can harm the network integrity,
designs a system to capture application-layer transaction flows to generate a positive-feedback flywheel that collects and re-distributes MEV among participants to increase the efficiency of the network and market.
How Does Rook Coin Platform Achieve Coordination?
Rook Protocol ensures coordination using its two important tools, i.e., Rook Coin and xROOK. ROOK is the ERC-20 governance and utility token of the Rook platform. Here you can check the smart contract of ROOK. The xROOK token enables the ROOK holders to stake it to own the revenues that accrue to the Rook Protocol via discovering MEV and executing the transactions successfully. Visit the xROOK smart contract here. The following images show the Rook Token Coordinomics.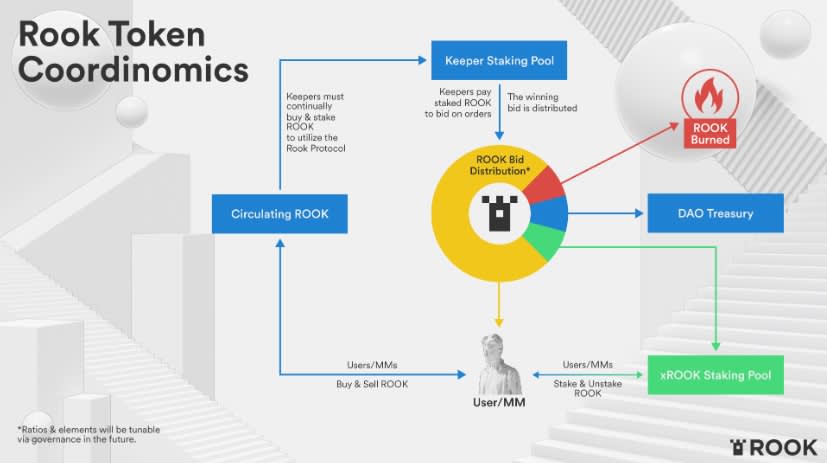 Rook Coin Bid Distribution
The value gained from the ecosystem is divided and distributed to the participants. The biggest shares will be received by the users and market makers as they use the products and create value.
80%: Users and Market Makers
10%: Rook Coin Stakers
6%: Rook Treasury
4%: Burn
Rook Coin Financial Analysis
Financial charts at Cryptologi.st indicate that Rook Coin is currently held in over 17,900 wallets, which have registered 241,800 transactions so far. If a coin is held in more wallets, it is indicative of its popularity among the users. Today, on Jul 3, 2022, Rook holds the market cap rank of #555. Today, the price of each Rook Coin revolves around $31.98, with a 24-hour trading volume of $248,63, which shows a 5.5% increase in the last 24 hours. Its circulating supply is 820 Thousand Rook coins, with a total supply of 1.27 Million. The price of each Rook Coin is now 92.2% lower than its all-time high of $838.98 on Feb 14, 2021. But it is 105.6% higher than its all-time low of $15.61 on Nov 08, 2020. Currently, Bancor Network is one of the active exchanges to trade ROOK.
Is Rook Coin An Easy Sell?
Currently, Rook Coin has a liquidity score of 23%, which is lower than the market average, making it a hard sell in this bear market. Also, the ROI for Rook Coin in the recent year has been -76%, meaning that your $100 investment in Rook a year ago would result in losing $76 and no gains! These numbers get more shocking when we realise that similar projects to Rook have had 1,476% growth in ROI in the same timeframe! But we have to lower our expectations in the bearish markets. The next bull run may result in surprising jumps, so we must be patient!
The Economic Cycle for The Rook Coin Keepers
To be able to take part in greenlight auctions, Keepers need to buy ROOK and stake it in the Rook Protocol staking contract. When the Keepers stake Rook, the Coordinator's payment channel recognises it, and the Keeper can bid to gain profit opportunities independent of gas auctions. The Keeper can withdraw the staked ROOKs at any time. Once the Keepers win auctions, they will spend their staked ROOK until they need to reload. Then, the Keeper will need to buy more Rook Coin and stake it in the staking contract. There is no limitation to the number of reloading for Keepers.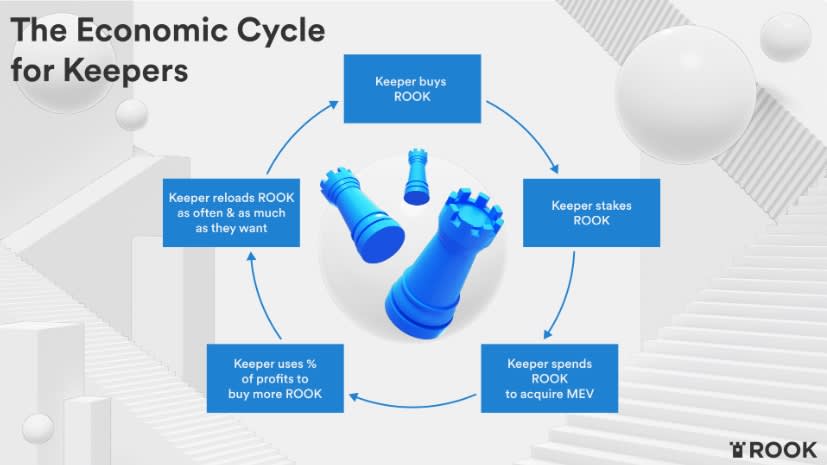 Staking Rook Coin
The holders of the Rook Coin can stake it in the Rook Staking Pool and receive xROOK in exchange. A percentage of the value eared in every bid goes to xROOK holders, which is a yield corresponding to the utility and success of the Rook Protocol.
Rook Coin Governance
Staking lets Rook DAO Governance check a user's xROOK balance upon determining eligibility for features like voting and objection. This will allow xROOK holders to enjoy both yield generation and governance participation.
Rook Coin Utility
Keepers use the Rook Coin to receive value while providing the infrastructure for the Rook Protocol and its users. The main utility involves the xROOK token and its role in governance. xROOK will also be used for future benefits and use cases.
How Will Market Makers Benefit From The Rook Coin?
Market makers integrating with Rook will gain an integration to all of DeFi and CeFi through the Keepers. Keepers will backstop the Market Makers while capturing spreads and hedging order flow. It means that the Market Makers can receive their trading profits while getting rewarded in ROOK for their MEV capture.
Is Rook Coin A Profitable Investment?
On the positive side, the technology and idea behind Rook Protocol make it a unique and promising platform. It has high hopes and aims to build useful use cases on Ethereum, with its popularity growing by 14% on Twitter. On the negative side, the liquidity score makes it a hard sell, and the ROI has been satisfactory in the recent year. But bear in mind that a bearish market is not a good time to flourish but the best time to learn and grow. As a crypto market investor, you need to know the top projects in the market, be familiar with the best screening tools, and the best methods to monitor the changes in the market. You can find all of this and many more at Cryptologi.st.
How do you rate this post?