Reef Price Prediction 2023, 2025 and 2030: Is Reef A Good Investment?
#investment
#cryptocurrency
#decentralized
#reef
tl;dr
Holding the market cap rank #363, Reef is a DeFi platform with a 2000% growth potential in the coming years. This article will analyse the Reef Coin financially and fundamentally and present the Reef price prediction for those wishing to skyrocket their crypto investments. Keep scrolling!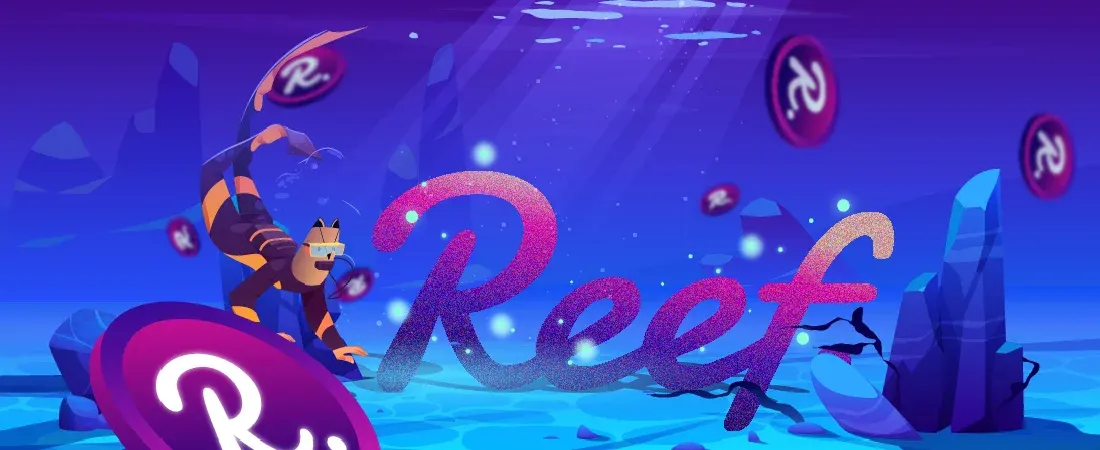 How do you rate this post?
What Is Reef?
Developed to increase efficiency and security for gamers and artists, Reef is a decentralised platform for gaming and NFTs, which allows its users to buy and sell virtual in-game assets and NFTs.
Reef plans to power a new gaming economy using blockchain technology and improve transparency, ownership, and security.
Built on top of the Terra blockchain, the Reef network offers speedy, cheap transactions plus a stablecoin called UST to streamline transactions in the platform.
The Reef network uses its native token, REEF, to provide various use cases, including staking. Let's learn more about Reef Coin.
What Is Reef Coin?
One of the key factors affecting the Reef price prediction is the Reef coin, its features, and price changes. The Reef platform strives to provide a suite of financial services and products accessible to the public.
This ecosystem is suitable for various financial activities, including lending, borrowing, and exchanging digital assets efficiently, in which the Reef Coin plays an important role.
REEF was minted as an ERC-20 token on Ethereum and BEP-20 on BNB Smart Chain, but it can also be converted to 1:1 on Reef.
The Reef token (REEF) is used for fees and governance purposes. It also lets users earn rewards for participating in the platform's liquidity pools, staking, and other activities.
Also, the REEF token comes with various features, which we'll elaborate on below.
The Reef Coin Features
The Reef platform aims to make DeFi accessible to everybody in the world thanks to its native token. The following list summarises the key use cases and features of the REEF token.
Lending and Borrowing: The Reef platform enables users to lend and borrow various digital assets, including REEF. Thanks to smart contracts, lending and borrowing are automated in the Reef platform to safe keep the funds.
Exchange: Reef has its own DEX (Decentralised Exchange), enabling the trading of many digital assets, including REEF tokens, in a secure and decentralised environment.
Yield Farming: Reef provides yield farming and passive income opportunities by allowing users to deposit their assets into liquidity pools to earn more REEF tokens as rewards.
Staking: To do staking and earn staking rewards in the Reef platform, the users must hold their REEF tokens for a specific period of time.
Governance: REEF token holders can participate in decision-making and vote for the upcoming developments of the network thanks to its decentralised governance system.
Accessibility: Reef is developed to let everybody with an Internet connection access DeFi all over the globe.
Security: Reef secures the platform using the Terra blockchain and smart contracts.
As mentioned above, we need to know all about the Reef coin, its features and price performance to make a Reef price prediction.
So far, we have learned about the REEF token and its features. Now, let's analyse how this token has performed financially since its launch.
Read more: Spell Price Prediction 2023, 2025 and 2030: Is SPELL A Good Investment?
Price History
Reef experienced both bad days and the best ones in the early months of its launch; let's explain.
REEF started trading on Dec 29, 2020, at $0.02373366, but in two weeks fell to $0.00712281.
However, January 2021 continued in the opposite direction, and REEF started an upward trend, reaching $0.02105168 on Jan 25, 2021.
The uptrend continued, and on Feb 14, 2021, each Reef Coin was traded at $0.04968398.
Many fluctuations were recorded in those days but with a general upward trend, which led to REEF's highest price level of $0.057460 on Mar 15, 2021.
From Mar 15, 2021, to Jul 21, 2021, REEF experienced a sharp downtrend and reached a $0.01156057 trading price.
The general trend was upward in September and November when each REEF token was traded at $0.02871352 on Sep 06, 2021, and $0.03696611 on Nov 03, 2021.
After November, the Reef Coin's price kept dropping and reached its lowest level on Dec 29, 2022, at $0.00220709.
Today, on Feb 12, 2023, each Reef Coin is traded at $0.003206631097, with a 24-hour trading volume of $10,159,858.
The following chart indicates the price performance of the REEF token since its launch to help you get a better picture of the overall trends.
In addition to the factors analysed so far, other factors influencing the Reef price prediction are financial factors like tokenomics, ROI, Market Cap, ATH, ATL, and fundamental factors, including the project's team, popularity, and investors. Let's elaborate on these factors in the following sections.
Reef Coin Financial Analysis
The financial analysis does not merely include a token's price but its tokenomics, Return on Investment (ROI), Market Cap, All-Time High (ATH), and All-Time Low (ATL), among other factors. Let's see how Reef Coin has performed based on these indices.
Reef, with the symbol REEF, is a cryptocurrency project or a kind of crypto asset holding the current market cap rank #401 and a live market cap of $55,849,598.
Reef has a Circulating Supply of about 21,484,189,525 and a Total Supply of 20,000,000,000. Today, the Reef price is $0.00249146 with a 24hr trading volume of $23,455,652.55, indicating a -5.78% decrease in REEF price.
The current price of Reef is 95.67% lower than its All-Time High of $0.05746 on 15 Mar. 2021, but it is undefined higher than its All-Time Low of $0.00220709 on undefined
Reef Coin Tokenomics
The Reef token is allocated as the following pie chart indicates.
Lockup/ Core Nominators - 3.5%
Community Reserve Fund - 20%
Seed Round Investors - 8%
Strategic Sale Investors - 9%
Private Sale Investors - 6%
Liquidity/ Ecosystem Bootstrap Reserves - 22%
ROI
Reef ROI is an index showing the token's profitability in various time frames. ROI, or Return on Investment, is shown in a positive or negative percentage. Simply, when the number is positive, it means the token has yielded a profit, but when it's negative, it indicates a loss.
REEF Yearly ROI: -71.83%
REEF Monthly ROI: 18.89%
REEF Weekly ROI: -9.82%
REEF Daily ROI: 1.51%
An annual ROI of -71.83% means that your $100 investment in REEF tokens a year ago would result in losing 71.83% of your money, which is clearly not a profitable investment!
Market Cap
REEF financial analysis indicates that this token has a market cap of $68,250,934, a circulating supply of 107/5, and a market cap rank of #363 among all crypto projects.
Also, the REEF token's current liquidity score is 53%, meaning that this token is not an easy sell in the current bear market.
ATH and ATL
The Reef Coin recorded its All-Time High (ATH) on Mar 15, 2021, at $0.057460.
Its All-Time Low (ATL) was recorded on Dec 29, 2022, at $0.00220709.
The REEF token's current price ($0.003206631097) is 94.4% lower than its ATH but 45.3% higher than its ATL.
Reef Coin Fundamental Analysis
As mentioned earlier, we need to analyse the REEF token fundamentally as well to be able to predict the future performance of this token and make a reliable Reef price prediction.
So, let's get to know the team behind this project, its popularity over social media platforms, and its investors.
Team
CEO and Founder: Danko Mancheski
Lead Frontend Architect: Filip Barakovski
Chief Growth Officer: Ashutosh Sahoo
Community Manager: Matthew Hawkes
Operational Specialist: Alonzo Bermudez
Popularity
The REEF token popularity charts at Cryptologist indicate that the token has increased in popularity on Twitter with a 2% growth rate in the recent six months.
However, its performance on Reddit and Telegram hasn't been satisfactory, with a respective 0% and -3% growth rates in the recent six months.
Investors
NGC
Genesis Block
Woodstock
Bitcoin.com
Kenetic
PNYX Ventures
Krypital Group
Master Ventures
TRG Capital
Reef Coin Price Prediction 2030 - 2030 At A Glance
The following table helps you get the big picture of the Reef coin price prediction from 2023 to 2030. You can find the respective growth percentages for each year until 2030 in the sections following the table.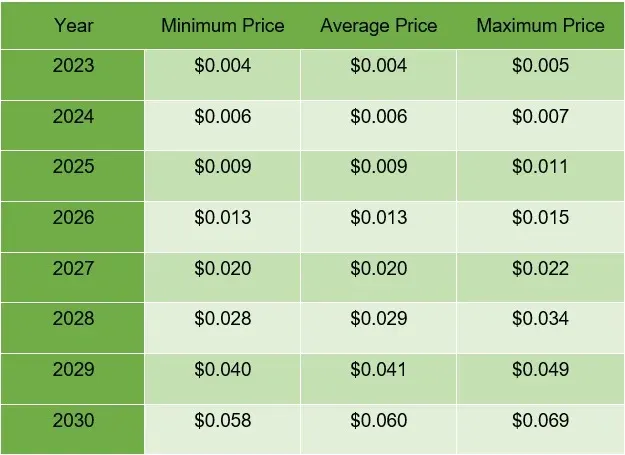 Reef Coin Price Prediction 2023
Reef price prediction 2023 indicates a 24.74% average growth rate. The token's maximum price growth in 2030 is predicted to be 55.92%.
Reef Coin Price Prediction 2024
Reef coin price prediction 2024 shows that the token can grow by about 87% on average. Its maximum price growth is estimated to be around 118% throughout 2024.
Reef Coin Price Prediction 2025
Reef price prediction 2025 expects an average price growth of 180% for this token, with a maximum growth of about 243% during 2025.
Reef Coin Price Prediction 2030
Reef coin price prediction 2030 indicates that each REEF token has the potential to see an average growth rate of about 1771% and a maximum price growth of about 2051% throughout this year.
Is Reef Coin A Good Investment?
On the positive side, the Reef platform is backed by known team members and powerful investors. Also, it has a live roadmap indicating the project's activities and plans.
The platform aims to grow and make DeFi accessible to many worldwide and is developing and expanding the network and the community by providing various services.
The platform's token has multiple use cases and is used for governance, trading, and staking purposes, to name but a few. It also has a current market cap ranking of #363.
On the negative side, the token is traded at a low price, and its price predictions expect a range of $0.069 until 2030. Its current liquidity score of 53% makes it a hard sell in bearish markets.
Its annual ROI is -71.83%, meaning that the token hasn't been a profitable investment in the recent year. However, you must note that many projects have undergone a similar downtrend in the recent bear market.
All in all, Reef coin may not be a money-making investment in the short term. However, it has some potential to grow when the bear market ends, and the coming years are predicted to be much better than the recent ones.
FAQ
In the following subsections, you can find answers to the most frequently asked questions about the Reef price prediction.
How Much Will REEF Be Worth In 2025?
According to Reef price prediction 2025, the token has the potential to reach $0.011 at a maximum and $0.009 on average.
How Popular Is Reef Crypto?
The current market cap rank of #363 can be indicative of the Reef token's popularity. However, its popularity on social media platforms hasn't grown much in recent months.
Is REEF Listed On Binance?
Yes, you can buy REEF on Binance or trade it with other cryptocurrencies.
How do you rate this post?