QNT Price Prediction 2023 and 2025: Is Quant A Good Investment?
#blockchain
#decentralized
#qnt
tl;dr
As a crypto investor, one of your biggest new year wishes could be to find a game-changing platform that can explode 100x by the end of 2023! QNT price prediction 2023 reveals that QNT will impress its investors by hitting a new All-Time High and be the platform you wish for. This article will look at QNT price prediction 2023, 2025, and 2030 and evaluate how high QNT can go.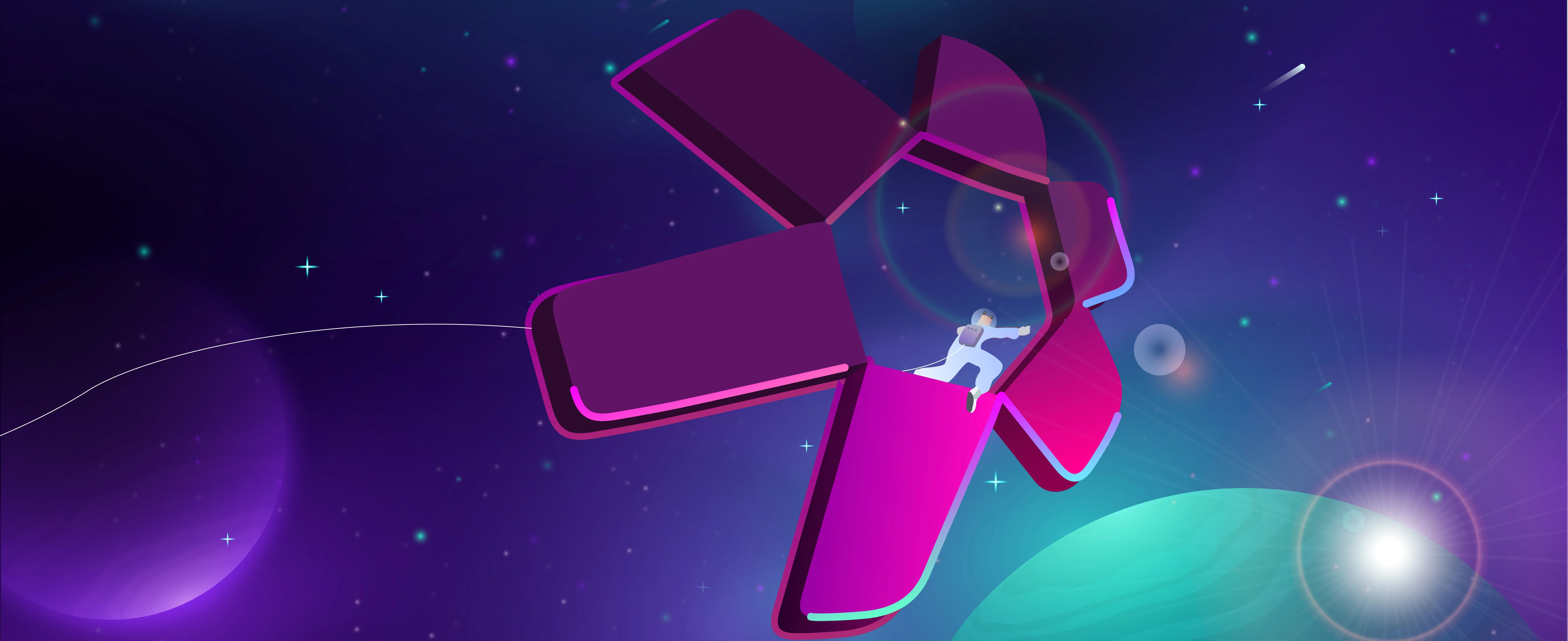 How do you rate this post?
What Is Quant?
Although the blockchain world has seen a massive improvement since its first days, it still suffers drawbacks like interoperability.
It means that different blockchains can't share information and data among themselves, and the lack of interoperability between them is among the biggest concerns of blockchain developers and businesses. That's why the Quant platform came into the picture to put an end to their worries.
Connecting different blockchains and enterprise software without a new infrastructure to solve blockchain issues of interoperability, Quant is a Distributed Ledger Technology (DLT) service provider founded in 2015 by Gilbert Verdian.
Quant strives to create an interoperable ecosystem and real-world solutions that cost lower, facilitate the creation of new applications in various blockchains, and reduce trade risks.
To achieve this goal, it implements Overledger, an Application Programming Interface (API) gateway that supports several distributed ledgers and utilises its native token, QNT, to power its Overledger.
The more we learn about QNT and its fundamentals, the more chance we have to make money with this token. So, follow me to the next section for a quick snapshot of the QNT coin, and then we'll review the QNT price prediction for 2023 to 2030.
Read more: Ultra (UOS) Price Prediction 2023, 2025 and 2030
What Is QNT Coin?
Quant platform aims to unlock the power of blockchain for everyone, and the QNT token is the native cryptocurrency of the Quant network. It is an ERC-20 token that provides digital access to particular applications or services in the Quant ecosystem.
Some crypto experts believe that QNT has outstanding potential to reach an even higher ranking. Also, crypto analysts believe that one of the essential factors affecting QNT price prediction is how its price has changed so far! The following section focuses on the QNT price history data since its launch!
QNT Price History
The initial trade with the QNT token took place on Jun 30, 2018, at $0.58.
One month after its launch, on Aug 23, 2018, the token touched its lowest value (ATL) at $0.21.
It saw its first peak since the ATL on Jun 27, 2021, when its value went from $0.21 to $80.
One month after its first peak, the token was traded at its highest value (ATH) of $427 on Sep 11, 2021.
A few months after recording its ATH, the crypto winter began, and QNT's value started to decrease and saw another deep drop in its value on Jun 17, 2022.
Since Nov 2022, QNT has experienced steady price changes, and today, on Jan 01, 2023, each QNT token is traded at $106.
The following chart indicates the QNT price changes during the recent 12 months.
QNT Coin Financial Analysis
QNT price prediction and its future are directly related to QNT financial analysis. To crack its financial performance code, we need QNT's tokenomics, ROI, market cap, ATH and ATL, which we'll elaborate on in the following sections.
QNT Tokenomics
Today, on Jan 01, 2023, QNT's live price is about $106.65, with a 24-hour trading volume of $36,352,249, a circulating supply of 14,544,190 Million QNT coins and a total supply of 14,612,493 Million.
It is currently held in more than 109,200 wallets, processing up to 1,150,705 transactions. QNT's liquidity score is about 43%, making the token difficult to sell during the bear market.
Read more: Jasmy Price Prediction 2023, 2025 And 2030
ROI
QNT's annual ROI indicates that it has recorded a %45 price decrease, while similar projects reached an average ROI of 1,692% over the same period. It means that your $100 investment in QNT Coin a year ago would result in losing $45, leaving you with only $55.
Market Cap
In cryptocurrency and blockchain, market cap refers to the total market value of a cryptocurrency's circulating supply. Speaking of QNT market cap, at the time of writing this article, on Jan 01, 2023, it holds the position of the #30th largest cryptocurrency by market cap.
ATH and ATL
QNT token recorded its All-Time Low (ATL) during the first months of its launch on Aug 23, 2018, when each QNT token was worth about $0.21.
Three years after recording its ATL on Sep 22, 2021, QNT's price spiked to an All-Time High (ATH) of $427 on Sep 11, 2021.
The current value of each QNT (on Jan 01, 2023) is 74% lower than its ATH and 51222.9% higher than its ATL.
In addition to QNT price changes and tokenomics data we've reviewed so far, we need the QNT token fundamental analysis to make a better QNT price prediction 2023 and beyond!
QNT Coin Fundamental Analysis
In addition to the statistics provided above, the future of the Quant platform and QNT price prediction 2023 depends on various factors, including the team behind the platform, and QNT popularity, among others.
Keep reading to see who has created Quant, who has invested in the QNT token and how the project successfully gained users' attraction throughout the media.
QNT Team Members
The Quant platform was created by Gilbert Verdian, an educated technologist with a background in e-business and a professional in the blockchain world.
The team behind the Quant platform has deep experience in financial services, technology, healthcare, and management consulting. The key members are introduced below.
Gilbert Verdian: CEO
Peter Marirosans: CTO
Lara Verdian: COO
Martin Hargreavers: CPO
Dr Luke Riley: Head of Innovation
Christopher Harrison: Head of Engineering
Popularity
Over the last six months, the Quant project has attracted a lot of attention on social media. The growth of its Twitter followers, Reddit subscribers, and Telegram users in this time frame were almost 389%, 328% and 90%, respectively!
Now that we have a clear picture of the whole project, QNT token, team members, QNT's tokenomics and its popularity, it's time to discover how high QNT can go and how the QNT price prediction from 2023 to 2030 will be.
The QNT Token Price Prediction 2023 - 2030
The following table indicates the QNT token's minimum, average, and maximum prices for the coming years. The details and growth percentages for each year are provided below the table.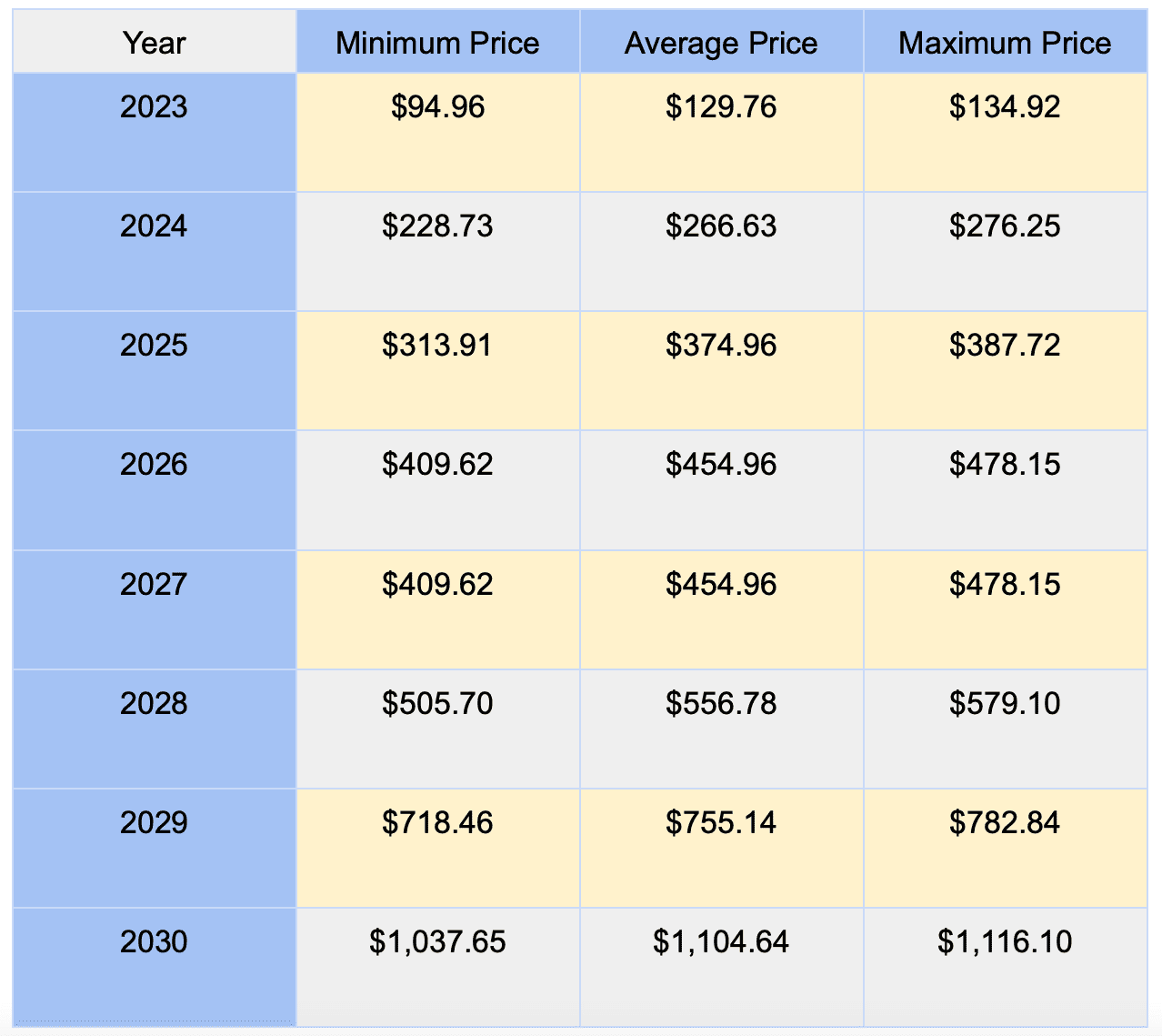 QNT Token Price Prediction 2023
According to the QNT price prediction 2023, the token's average price has a chance to grow by about 147%, reaching $275.
Its minimum price can see a 114% growth, moving to $0.0000029, while its maximum value can have a 157% growth, climbing to $286 during 2023.
QNT Token Price Prediction 2024
The minimum price of each QNT token is predicted to grow by 194%, amounting to $33.40 in 2024.
In the next bull run - hopefully by 2024 - the QNT price can increase by about 258% and reach a maximum of $39.79. Its average growth is expected to be about 237% throughout 2024.
QNT Token Price Prediction 2025
The QNT price prediction 2025 reveals that the minimum price of each QNT token can be $427, showing a growth rate of 284% during this year.
It is predicted that QNT's average and maximum price have the potential to grow by about 328% and 357 respectively, throughout 2025.
QNT Token Price Prediction 2030
It is estimated that the QNT token's average price has a chance to grow by about 182%, reaching $0.0000031. Its minimum price can see a 163% growth, amounting to $238, while its maximum value can have a 210% growth, climbing to $0.0000034 in 2030.
Is QNT Coin A Good Investment?
Quant platform was one of the crypto projects that addressed the interoperability issue and strived to remove the barriers commonly encountered on blockchains in communication, interoperability and scaling.
It uses DLT gateway, a smart contract that can be written in any programming language and installed seamlessly without prior knowledge of cryptography or programming.
While searching about QNT price prediction and the Quant platform, I realised that the project hasn't provided any roadmap for the coming years yet, which could be a concern for many inventors.
Also, if you consider investing in QNT, you'll need to know that the project is not well-known yet and has a long way to go, and we don't recommend QNT as a short-term investment. But the long-term can bring out the potential of this platform.
Summary
That's all about the Quant project and QNT price prediction 2023 - 2030. It should be noted that this bearish market has not ended yet, and the crypto industry is facing tremendous storms, so you need to be aware of the risks involved with trading QNT and other cryptos.
To learn the best ways of risk management and portfolio setup, follow Cryptologist and use the detailed analyses of the top 1500 coins and its free crypto screener to access all you need for a confident investment in one place.
FAQ
You can find the answers to the most frequently asked questions about QNT price prediction 2023, 2025 and 2030 below.
How Many QNT Are Left?
The Quant platform has a total supply of 14,612,493 coins and a circulation supply of 14,544,190 QNT tokens, meaning that 68,333 QNT coins are left to mine!
Can QNT Reach $5000?
The crypto market is dreadfully volatile, and there isn't a certain answer to this question. Some sources predict that the highest value of each QNT token could be $1,116, which is expected to happen by the end of 2030.
How High Can Quant Crypto Go By 2050?
Each QNT token can be traded at a minimum value of $313, a maximum of $387 and a minimum of $374 by 2050.
How do you rate this post?