QASH: Crypto-Fiat Exchange Platform
#dex
#defi
#blockchain
#qash
tl;dr
As adoption accelerates and digital assets go mainstream across industries, the importance of exchange platforms is highlighted. QASH is the first fully licensed crypto exchange in Japan that has set its sights on fixing the ongoing liquidity issues with digital assets. QASH is the native token of the Liquid platform. Let's learn all about this platform in this article!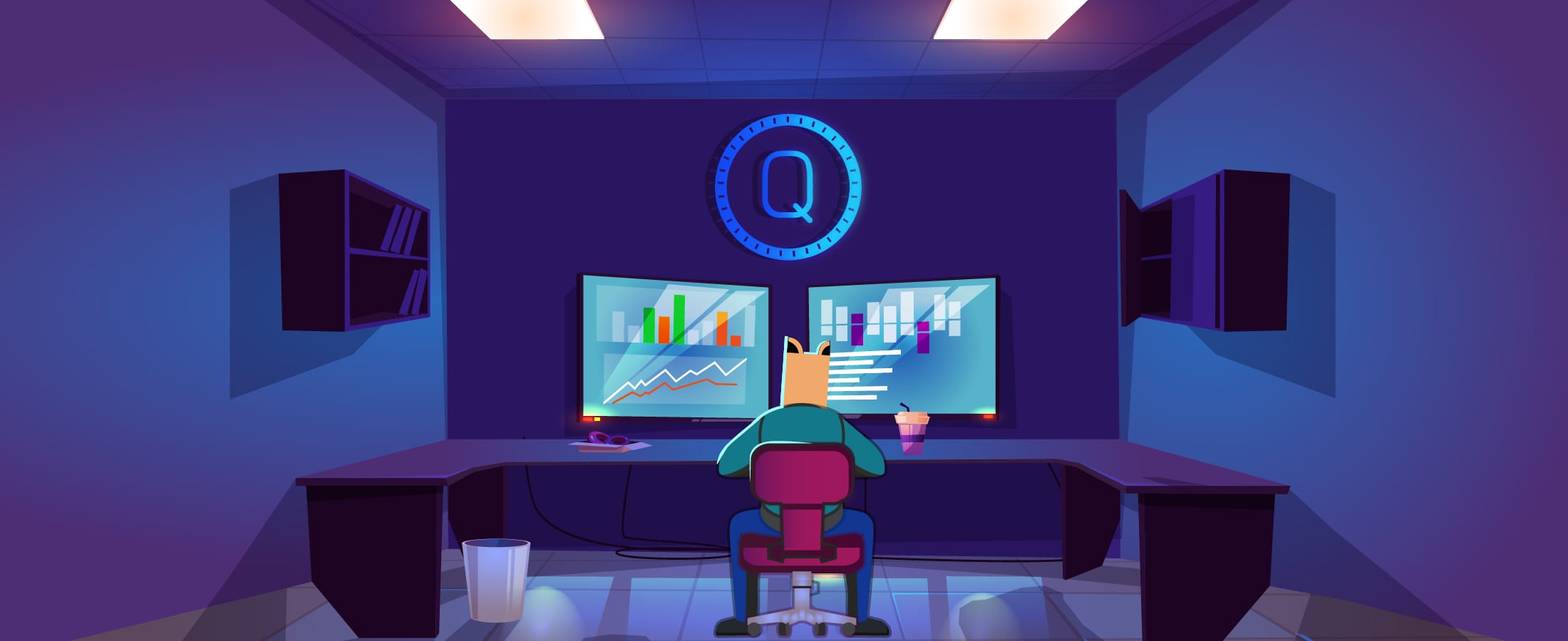 How do you rate this post?
QASH Token in Nutshell
Liquid is a cryptocurrency-fiat trading platform that serves millions of users throughout the world and was founded in 2014. Liquid, formerly known as Quoine, created a global liquidity solution and a suite of services for crypto asset trading, Prime Brokerage, and Worldbook using the QASH token. Users can buy and sell Bitcoin, XRP, Ethereum, and many more cryptocurrencies with fiat or crypto on this comprehensive and secure trading platform. Based on daily traded spot volume and deep BTC/ JPY liquidity, this platform has continuously rated among the top 10 cryptocurrency exchanges in the world. Liquidity's aim benefits all market players, focusing on offering a fantastic user experience and world-class service levels.
How Does QASH (Liquid) Work?
Three technologies are the cores of the QASH (Liquid platform) world book, including QUOINE's existing matching engine, cross currency conversion engine, and smart order routing. It aims to become the ultimate resource for traders where they can choose the currency they want to trade and enjoy a single, highly liquid, tradable, and multi-market order book that contains all the information from all liquidity sources.
QASH Prime Brokerage
Through the Liquid Platform's Prime Brokerage, users can take advantage of direct market access (DMA), crypto/ fiat credit facility, fiat management, and real-time reporting. The platform is capable of serving clients of different sizes and requirements thanks to the combination of its world book and prime brokerage with high-end services. These services include automated trading strategies, system co-Location, "crowd-sourced" AI-driven algorithms, and QUOINE's advanced proprietary Trading Tools.
QASH: The Native Token of Liquid!
QASH is the native token of Liquid that powers all services the platform provides, and Japan FSA regulates the exchange. Moreover, it is aligned with the requirements of most regulated markets globally. Liquid tries to create a platform that can benefit the entire crypto-economy where people can take part as both token holders and users. All of these possibilities are made possible thanks to Liquid's native token, QASH, issued by QUOINE Pte. Ltd. QASH is distributed by the company and designated distributors.
Things You Don't Know About QASH Token!
Although QASH fuels all services provided by the Liquid Platform and QUOINE's existing platforms, QASH holders do not gain the right to participate in the platform's governance and do not receive a share of QUOINE's profit. However, QASH can be used as a payment method for services provided by other businesses.
QASH Financial Analysis
Market cap is among the most critical factors when analyzing a crypto project financially. The data gathered and analyzed by Cryptologi.st shows that QASH's market cap rank saw several ups and downs over the last six months, with 775 being the worst rank on Jan 5, 2022, and 545 being the best on Oct 27, 2021. On Apr 24, 2022, QASH is currently ranked 581 with more than $53 million in market cap. Moreover, QASH's liquidity score is 13% below the markets' average score, making it a challenging sale in bear markets.
Talking about Return On Investment (ROI), QASH did not perform well over the last year. If you had invested in QASH a year ago, you would have lost 16% of your money due to the QASH's -16% ROI. Also, the QASH marketing team showed a weak performance over the last six months, with its Telegram channel subscribes decreasing by 2% and its Twitter followers increasing by only 12%.
Liquid Platform Features!
Liquid is a user-friendly platform suitable for all levels of experience, from beginner to expert. The following list shows the most significant features of Liquid Platform.
Safe Storage: The digital assets are managed by using cold wallets & Multi-party computation (MPC) technology combination.
Security First: High technologies are used to keep funds safe and stay out of vulnerabilities and exploitation attempts.
Fast Withdrawals: Liquidity offers fast round-the-clock withdrawals while maintaining rigorous security standards using multi-party computing.
Fiat Gateway: The deposits of major fiat currencies, including USD, EUR, JPY, AUD, SGD, and HKD, is acceptable.
24/7 Support: The customer support team of Liquid is available to help 24/ 7.
Security Measures of Liquid Platform
The following are some of the most notable aspects of Liquid's security measures:
Two-factor authentication
Cooling-off period
Withdrawal protection
IP address whitelisting
Cold wallet & secure MPC technology
Incident Response
QASH Price Prediction
It would be a huge help to know financial experts' expectations about the future of crypto projects. Priceprediction.net provides price predictions for cryptocurrencies. In the following, we are going to take a look at their report about QASH. However, beware that these are only predictions, not financial advice, and you need to do your own research.
QASH Price Prediction 2022
Experts predicted that the price of QASH to reach a minimum of $0.094 in 2022. They believe that $0.11 would be the maximum price of QASH, with the average predicted price being $0.097.
QASH Price Prediction 2023
It is predicted that QASH's price will be at least $0.14 in 2023. Looking opportunistically, it is forcasted that the price can see a maximum of $0.16. Experts claim that the average trading price will be $0.15.
QASH Price Prediction 2024
Priceprediction.net reported that the minimum price of QASH is expected to be $0.21. However, there is a good chance that the price will go higher and touches a maximum of $0.24. QASH's average price is expected to be $0.22 throughout 2024.
QASH Price Prediction 2025
In 2025, it is forecasted that QASH's minimum price would be $0.30, with the maximum trading price expected to be $0.36. QASH is expected to be traded for the average price of $0.31 over 2025.
Disclaimer: Don't take this article as financial advice. You need to DYOR (Do Your Own Research) before investment.
Conclusion
After reading this article, you should have a better knowledge of the Liquid platform and its native coin, QASH. Before investing in any cryptocurrency, the most important thing to do is familiarise yourself with the project's details and news. Every day, news concerning a project's success or failure and changes in different critical indicators are published in the cryptocurrency business. Reports, coin reviews, educational content, and more are available on Cryptologi.st.
How do you rate this post?