QANplatform: A Quantum-Resistant Hybrid Blockchain
#blockchain
#cryptocurrency
#dao
#dapp
#decentralized
#defi
#investment
#metaverse
#nft
#pow
#qanx
tl;dr
What is the most currently relevant and widespread platform for running smart contracts? You may say the Ethereum blockchain. However, with the demand of industries to use blockchain, we need a platform that comes with fewer concerns and less complex ways to bypass the limits of Ethereum. It will happen with QANplatform, where you will be blessed with secure, scalable, fast transactions and write smart contracts in any language we know! Follow me to learn about it from A to Z.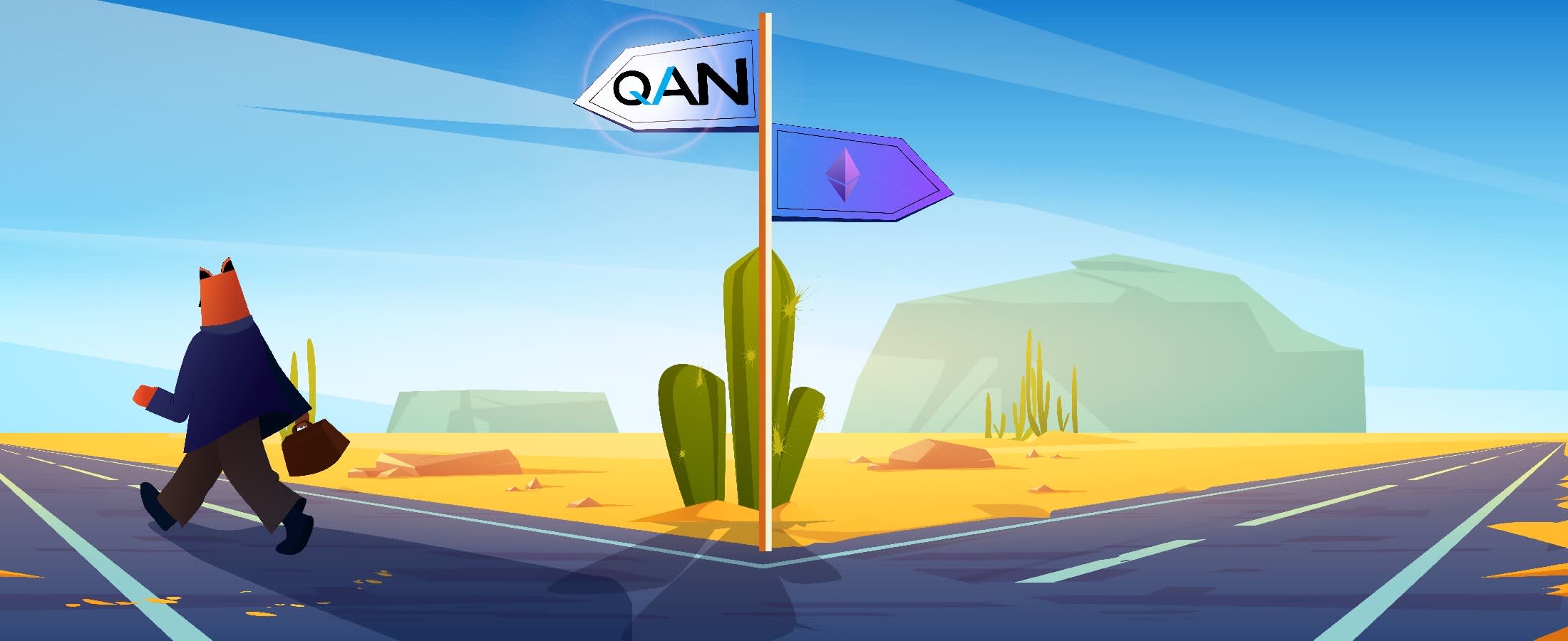 How do you rate this post?
An Introduction to QANplatform
QANplatform is a quantum-resistant Layer 1 hybrid blockchain and the first hyperpolyglot smart contract platform. Its mission is to empower anyone to build rapidly and securely on the blockchain. It is widely used in smart contracts, DApps, DeFi solutions, NFTs, tokens, Metaverse, DAO and many programming languages. With QANplatform, developers are rewarded the native token of QANplatform, after each smart contract deployment and transaction with QANX.
How Does QANplatform Work?
Having been a multi-language smart contract feature, QANplatform allows all the developers to code in the programming language. Since its an Ethereum EVM compatible, all the running projects on the Ethereum blockchain can switch to QANplatform directly. Let's learn more about QANplatform's use-cases to grasp it better.
What Are QANplatform's Use-Cases?
Using QANplatform, developers can build a Metaverse, set up a DAO, launch a DeFi product, and deploy DApps with the help of the platform's capacity.
All the developers with any programming language they love can port their already existing Metaverse projects from the Ethereum network to QANplatform.
Web 3.0 in QANplatform
One of the most significant issues with blockchains today is ensuring scalability. The biggest blockchain for Web 3.0 applications can only process about 14 transactions per second (tps). Using QANplatform, we can process over 1600 tps on its public blockchain and 97,000 tps on its private blockchain. Moreover, the transaction fees are lower than those broadcast on other blockchains, like Ethereum. The QAN blockchain platform helps you build quantum-resistant, user-friendly Web 3.0 applications.
DeFi and Dapps in QANplatform
Providing multi-language smart contract features, QANplatform brings high security to these ecosystems, and developers will be able to build quantum-resistant Dapps protocols by leveraging its wide range of capabilities.
NFTs in QANplatform
QANplatform offers brands, content creators and projects with one of the best infrastructures to mint NFTs. One of their 2022 plans is to launch the first quantum-resistant NFT to make the NFT market more secure.
DAO in QANplatform
Since QANplatform is based on a unique hybrid Proof-of-Randomness (PoR) consensus mechanism, anyone will be able to join the QAN MainNet as a validator, even with a mobile phone. As a result, DAOs can run on the green QANplatform for minimal fees and stay energy efficient without compromising decentralisation.
What Consensus Algorithm Does QANplatform Support?
QANplatform developed the Proof-of-Randomness (PoR) consensus mechanism that comprises the best part of the Proof-of-Work (PoW) and Proof-of-Stake (PoS). With PoR consensus, users can exclusively achieve high TPS and validate (mining) even with a mobile phone.
What Is QANX on QANplatform?
QANX is the utility token of QANplatform, holding the 528th place on Coingecko among all the cryptocurrency projects. The QAN project started in 2019, and the QANX token was listed on PancakeSwap and Uniswap on June 2, 2021. Today on Apr 14, 2022, QANX's price is $0.04 with a 24-hour trading volume of $348,650. QANX has a circulating supply of 1.6 Billion QANX coins and a total supply of 3.33 Billion. The token hit its all-time high at the price of $0.23 on Apr 14, 2022, and after a short time, on Jul 23, 2022, the QANX token dropped to $0.0059 and touched its all-time low. You can discover more financial details here. To know where the price of QANX will go, you should keep reading.
Disclaimer: Don't take this article as financial advice. You need to DYOR (Do Your Own Research) before investment.
QANX Token Prediction Price For 2022
Data from QANX's price chart shows that the token experienced many ups and downs. According to its recent performance, experts forecast that the QANX token has the potential to reach a minimum level of $0.051, a maximum level of $0.060, with an average trading price of $0.053 by the end of 2022.
QANX Token Prediction Price For 2023
In 2023, if the market stays balanced, the price of QANX is predicted to touch the level of $0.076 and could be traded for the average price of $0.78.
QANX Token Prediction Price For 2024
By the end of 2024, it is predicted that each QANX token will be traded at a maximum level of $0.13 with an average trading price of $0.12.
QANX Token Prediction Price For 2025
According to the data gathered from Prediction.net, it's predicted that the price of the QANX token could rise to a minimum level of $0.17 with an average price of $0.18 throughout 2025.
What Are The QANX Token Utilities?
The QANX Token comes with wide-ranging utilities, including the following.
QANX Token is used to pay for contract deployment.
With QANX Token, all the DApp users can pay for executing methods of deployed contracts.
QANX is used for transaction fees when transferring tokens.
Each validator who wants to participate in the validation process needs to buy validation tickets for QANX Token.
Full-node providers need to buy a full-node license for QANX Token(s) to be a full-node provider.
Rewards such as smart contract royalty fee, validation and full-node provider rewards, token challenge and bug-bounty rewards are paid to the ecosystem members in QANX Token(s).
QANplatform Roadmap 2022
QANplatfrom provided a solid and significant milestone to give everyone a clear view of the direction of the project. Here is their 2022 plan according to their whitepaper.
Q1-Q2 (January to July)
Quantum-resistant transactions and MetaMask integration: Done
Audit from an IBM Platinum partner
Blockchain explorer
Further CEX listings
QVM with Multi-language smart contracts
Rapid Cloud Deployment
Q3-Q4 (July to December)
PoR Governance model parameterisation
Node provider tests
Validator tests
[QAN MainNet Beta]  Security audits
Launch (Node providing, Validation, Dev Royalties)
 QANX Native Token Bridge
Developer Grant Program
Further CEX listings
Blockchain Benchmark Tool
Final Thoughts on QANplatform
According to recent research, there are no concerning red flags with QANplatform, and until now, it has shown to be immensely quick, easy, scalable, and highly secured. It looks promising, with high aims, wild-ranging use cases, and a clear roadmap. However, we are no financial advisors, and discretion is the greater part of valour, and you need to do your own research before investing in any project. Cryptologi.st is your resource to help you educate yourself and keep your crypto knowledge up to date.
How do you rate this post?