PolkaCity Price: Updates on The Coin You Can't Miss!
#metaverse
#gamefi
#defi
#polc
tl;dr
These days, more than 100 crypto projects are being launched, and what makes it possible to survive in this bearish/ volatile market is to stick to the reasons the crypto industry proliferated. PolkaCity is a project that keeps pace with the market needs by being a unique initiative that merges the DeFi, NFT, and gaming worlds and is entirely contract-based! This article is your free ticket to learn more about the ecosystem and PolkaCity price. Keep scrolling!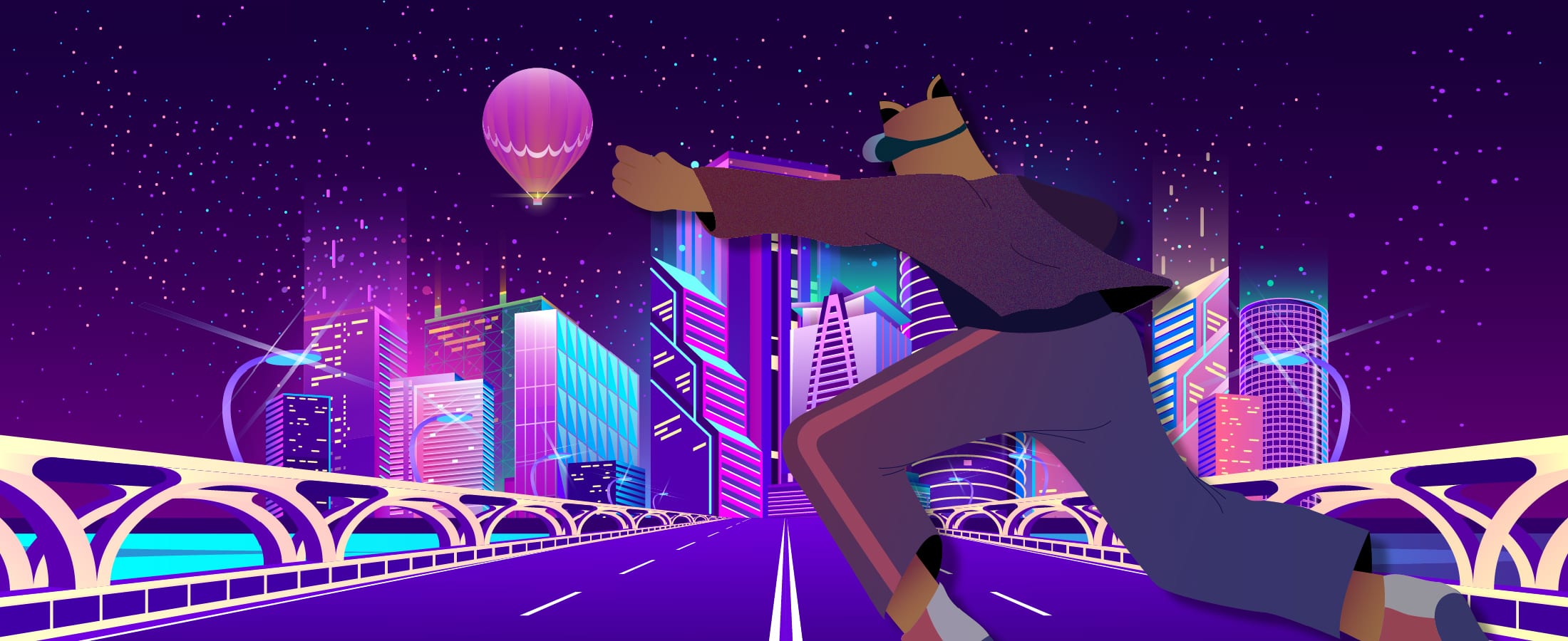 How do you rate this post?
PolkaCity Price Depends on The Platform Function!
Before discussing PolkaCity price, we need to understand the platform and investigate the factors influencing its price. PolkaCity describes itself as an entirely new contract-based NFT platform that enables users to invest in digital assets in the form of a virtual city. The project seeks to revolutionise the ownership of virtual assets by establishing protection and permanent value for virtual asset owners through NFTS. Moreover, it gives investors confidence in the products' legitimacy. It will provide investors with access to the advantages of blockchain technology to introduce widespread network virtual assets as well as blockchain and gamification technologies, all of which are intended to establish a thriving ecosystem for the production and trading of virtual assets. ٰCheck out our previous take on PolkaCity here and see the project's development over the last eight months.
PolkaCity Price Is Derived From Its Value Offers!
PolkaCity offers values for both virtual assets owners and PolkaCity holders. These values can influence PolkaCity price. Let's check them out below.
PolkaCity Price and The Values For Virtual Asset Owners
A potentially influential factor for PolkaCity price is the value it creates for the virtual asset owners. Licenses obtained through the adoption of NFT will be incorporated into the owner's purchases of NFTs, which will subsequently result in the development of a secondary market for virtual assets and NFTs. Owners of virtual assets will get a specific proportion of the NFT trade price generated by the owner of the virtual asset. This trade price was produced as a result of all the NFT trading on the NFT Marketplace. The demand for them will rise as the popularity of the virtual assets rises, and trading them will drastically increase in the NFT Marketplace because each NFT will only be attached to a particular number of virtual assets linked to a PolkaCity virtual city asset.
PolkaCity Price and The Values For PolkaCity Holders
The PolkaCity development team promises to continue to add value to PolkaCity virtual assets as more owners join the ecosystem and implement their plans by issuing NFTs via the platform. This will increase demand for PolkaCity virtual assets and affect PolkaCity price. The primary medium of exchange for the tokenisation, accumulation, and trading of virtual assets in the ecosystem will be PolkaCity (POLC). Owners of this currency will have unrestricted access to this virtual asset's market. The ecosystem will generate greater value through the Platform for POLC as more owners of virtual assets join it. The high demand is planned to expand the ecosystem, making PolkaCity an essential aspect of every participant's daily life.
PolkaCity Price Depends On The Problems It Solves!
PolkaCity tries to address two major problems of the blockchain industry. PolkaCity price is under the direct influence of the success of the platform to address the following issues:
Low Popularity Of Blockchain: The PolkaCity Price Affecting Factor 1
Many people genuinely experience concerns when entering the blockchain world because the cryptocurrency market is still relatively new to the general public, which hinders the development of the market and the level of blockchain appropriation. Blockchain development in PolkaCity will be made possible by blockchain innovations in the platform, creating a new financial model and a new wave in the product market, which, in return, can positively influence the PolkaCity price.
Value And Revenue Recession For Virtual Assets' Owners: The PolkaCity Price Affecting Factor 2
Current business strategies for virtual assets can lead to a progressive decline in the value and income from licensing for the original virtual asset owners. The original owners are not receiving a deserved lifetime value from their goods, which is both common and extremely serious. Owners of virtual assets will be able to secure lifetime licensing opportunities for their works through the Platform. Through these potentials, NFT will develop into a pillar that adds value for owners of virtual assets and their virtual assets.
PolkaCity Price Depends On Its Roadmap!
PolkaCity price can be influenced by the stage the platform is in its roadmap. Here is the roadmap of PolkaCity: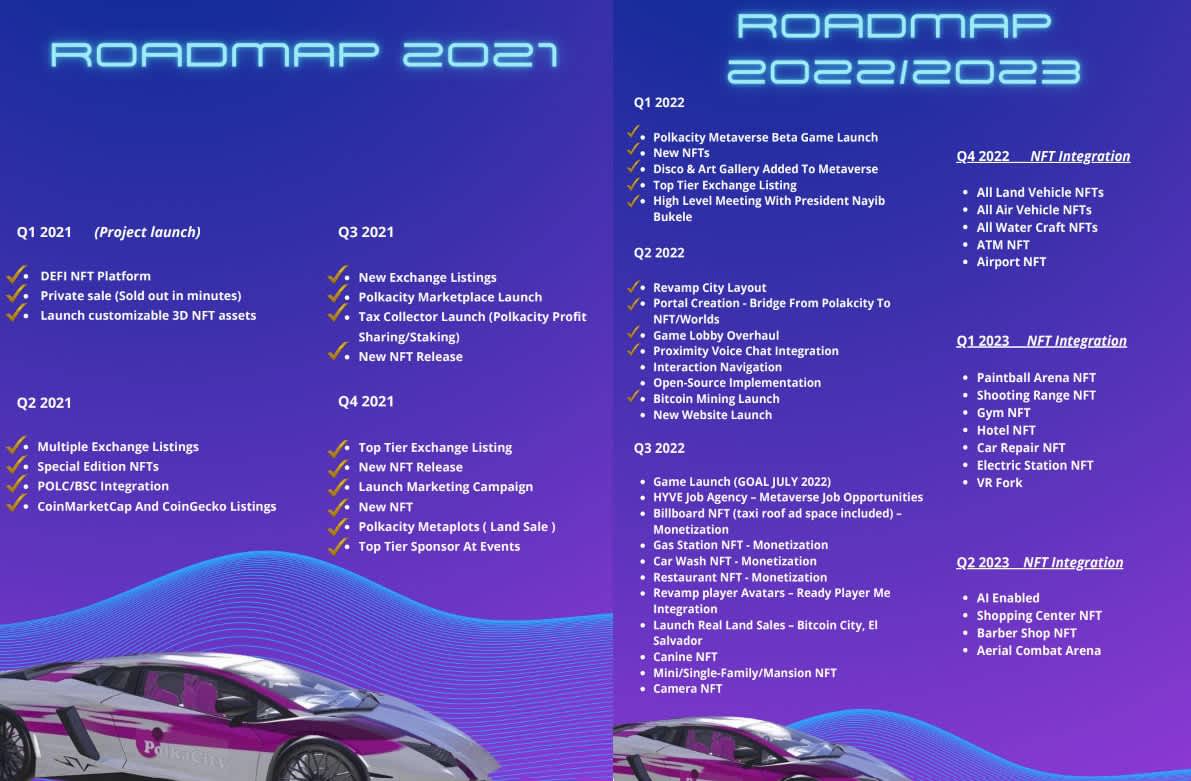 Polkachain As a Potential Important Factor For PolkaCity Price
At first, PolkaCity will be an Ethereum Network-based ERC20 contract-based solution. However, by combining both blockchains, it will become a multichain solution. Its multichain implementation entails a method for collecting decentralised cross-chain transactions. PolkaCity will then be able to offer a multichain Ethereum/ Polkadot solution, which can boost PolkaCity price.
PolkaCity NFT As a Potential Factor For PolkaCity Price
NFT is viewed as a distinct and fresh digital asset created with each purchase of the PolkaCity virtual assets through the platform and cannot be duplicated. A complete examination of the records on the Ethereum network with high traceability and transparency will be possible thanks to the automatic uploading of all information about the ownership of the NFT to the blockchain.
Virtual Assets Owner Licencing Benefits Program Affects The PolkaCity Price!
The initial owners of virtual assets will have continuous access to all transaction data after all deals and possession records of NFTs are moved to the Ethereum network. The Ethereum blockchain's immutable and transparent design provides the most trustworthy guarantee that all records are accurate and unaltered. Owners of PolkaCity virtual assets will be able to exchange their assets directly through exchanges that sell POLC and POLC NFTs or the PolkaCity Market. All PolkaCity virtual asset owners will occasionally receive POLC cryptocurrency. In essence, because POLC NFTs are restricted, owning them turns out to be a wise financial decision for their owners.
PolkaCity Price And Financial Analysis
PolkaCity underperformed compared to the crypto market in terms of Return On Investment (ROI) with a 14% ROI over the last year, indicating that PolkaCity price saw a 14% drop. Moreover, PolkaCity's ROI was much lower than similar projects, with 2,611% ROI over the same time frame.
PolkaCity Price And Technical Reports
Financial data at Cryptologi.st indicate that there has been no code commits on the Github account of PolkaCity over the last four weeks. In other words, the development team did not work on the project over time, which can be a negative point for PolkaCity Price.
PolkaCity Price And Code Audit
The code audit report shows that the token is sellable (not a honeypot) at this time, and the buy and sell fees are 0%. However, the owner's wallet contains a substantial amount of tokens (48.92%), which could significantly impact PolkaCity price if sold. You can find our complete code audit report here.
PolkaCity Price And Popularity
Social media analyses from Cryptologi.st demonstrate a 2% growth in PolkaCity Twitter account followers over the last six months. Moreover, its Telegram channel saw a 6% increase in the number of users over the same period. These two factors can positively impact PolkaCity price, while a 22% decline in Reddit subscribers can have the opposite impact.
PolkaCity Price And Market Cap
Peaking at $2.59 on Nov 28, 2021, the PolkaCity price has constantly decreased. Its market cap rank also saw a similar trend, peaking at #477 on Nov 28, 2021. PolkaCity is, ranked #1061 today, on Jul 17, 2022, with almost a $5 million market cap. Moreover, PolkaCity's liquidity score is 33%, making it a challenging sale in bearish markets.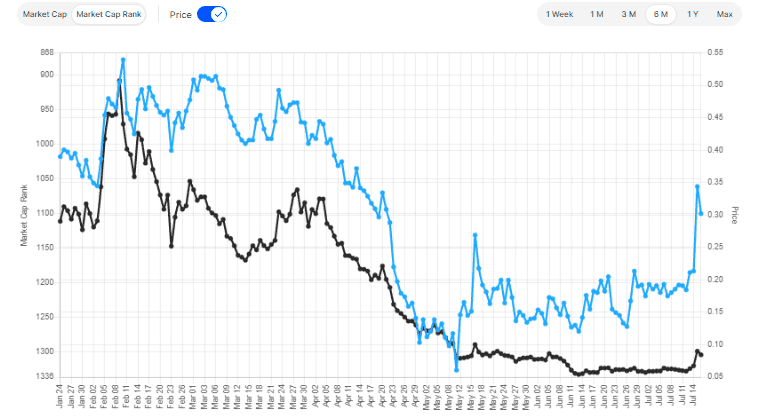 Disclaimer: Don't take this article as financial advice. You need to DYOR (Do Your Own Research) before investment.
PolkaCity Price Prediction 2023-2025
Now that we have reviewed various aspects of PolkaCity and learned about the platform, we can move on to PolkaCity price prediction. Based on the price action analyses of PolkaCity at Cryptologi.st, we believe that if the project follows its goal and sticks to its roadmap, the future could be bright! Currently, it is predicted that by the end of 2023, the PolkaCity price will reach $0.14. In 2024, each PolkaCity token can touch a higher price level and see the range of $0.18 - $0.21. By the end of 2025, the PolkaCity price can reach a maximum of $0.32. However, bear in mind that all these predictions are based on the project's current performance, and you should do your own research before making any financial decisions.
Although PolkaCity has set an exciting goal of making blockchain technology more tangible and understandable for the general public, it has performed poorly financially over the last year. Before making any investment decision, you need to do comprehensive research about PolkaCity or any other crypto projects in the market. The good news is that Cryptologi.st can facilitate your way in this risky and time-consuming process! It provides all the information you might need to assess crypto projects from different aspects. Following Cryptologi.st, you can access comprehensive reports and easy-to-use tools to compare hundreds of cryptocurrencies, such as a free Screener and Watchlist. Stay tuned for more!
How do you rate this post?