Platypus Finance: A New AMM on Avalanche
#investment
#cryptocurrency
#defi
#dex
#ptp
tl;dr
Being a single-side AMM (decentralised exchange), the Platypus Finance protocol is designed to exchange stable cryptocurrencies (ERC20 tokens) on the Avalanche blockchain. Platypus Finance is a set of smart contracts developed to prioritise security censorship resistance, self-custody and maximum capital efficiency. Featuring single-token provision, Platypus Finance strived to eliminate impermanent loss risk for liquidity providers and minimise slippage for traders. Keep scrolling to learn all about Platypus Finance.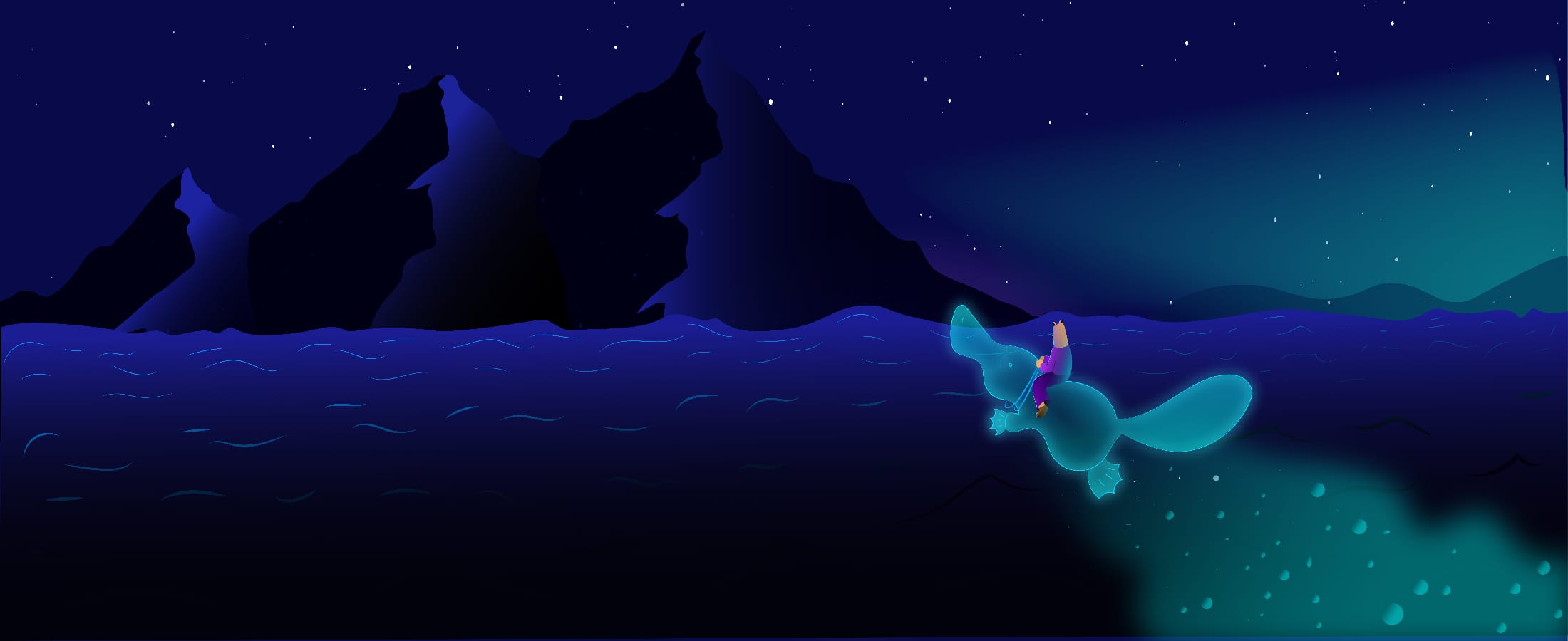 How do you rate this post?
What Does Platypus Finance Bring to Crypto?
Platypus Finance is a young protocol striving to make a difference in the DeFi by its DEX designed for enhanced capital efficiency, lower slippage, and higher scalability. Being a DeFi protocol powered by the Avalanche network, Platypus Finance aspires to develop a new mechanism to rewrite the rules, opposite of previous generation Stableswap. Platypus Finance offers two main products, i.e., StableSwap and incentivised liquidity provision. Platypus' AMM (Automatic Market Maler) facilitates seamless exchange between pegged assets.
Platypus Finance Token (PTP)
The native token of Platypus Finance is PTP, which is the governance token and can be staked to generate vePTP, the voting escrow token, that is also used to boost the APR when staking your stablecoins on Platypus Finance.
How To Boost Your PTP On Platypus Finance?
Platypus Finance has an interesting mechanism to keep the users staked with their stablescoins. It does so by offering their token that you're allowed to boost your yield. When you stake, you won't earn PTP, but you'll earn vePTP that will enable you to boost any stablecoin you put into the pool. This is how you can earn more Platypus tokens, and it is how Platypus keeps you incentivised to keep your money staked. If you unstake PTP, all your vePTP goes away. This is a stablecoin automated market maker which other companies on AVAX Chain will use to provide liquidity pairs for whatever token they are swapping or trading. This mechanism is designed to benefit you and lock your money for as long as possible.
Platypus Finance Token (PTP) Distribution and Vesting Schedule
The official website of Platypus Finance has provided the following chart to show how the token is distributed and how vesting is scheduled.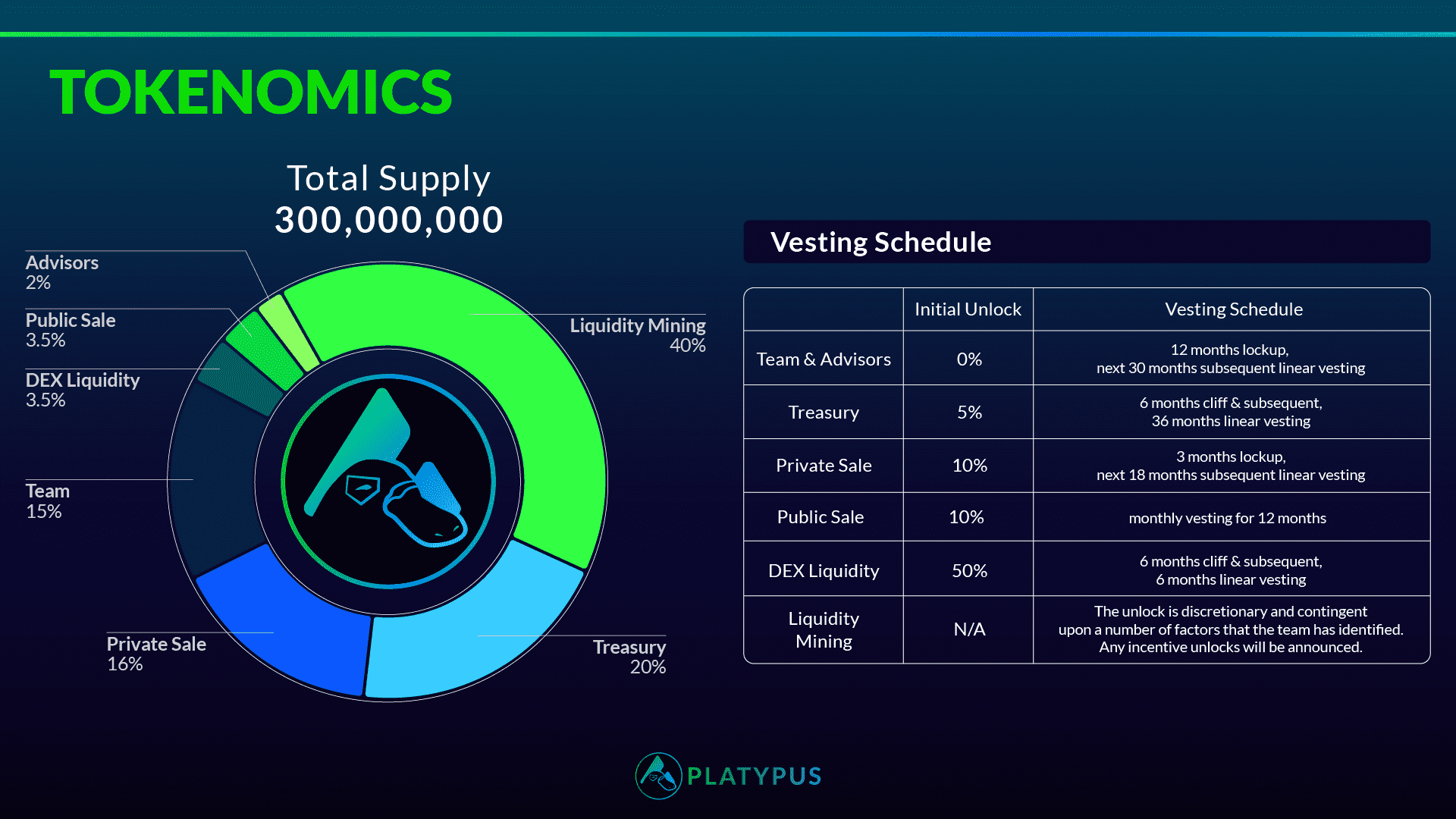 How To Perform Cross-Asset Swaps on Platypus Finance?
Platypus StableSwap has come into play to reduce slippage for high-value swaps in the market without harming flexibility and stability. Platypus Finance currently supports dollar-pegged stablecoins (i.e. USDC.e, USDT.e, DAI.e, and Native USDC). There are some critical points to note before initiating the trade:
To pay for gas fees on each transaction, you need to have the native token of AVAX.
You need to pay a 0.01% transaction fee for liquidity providing.
There might be a charge for deposit fees or withdrawal fees depending on the coverage ratio of the pool.
Platypus is currently not supporting the trade of tokens not listed on Platypus by importing their contract addresses.
Why Is Liquidity Provision Flexible and Scalable In Platypus Finance?
Featuring unilateral liquidity provision, Platypus Finance's pool only needs one type of token. Since no liquidity pair token-making is required from your cauldron, liquidity provision becomes very flexible and scalable. Currently, Platypus Finance's stablecoin pool has four tokens. Depositing liquidity will result in farming Platypus' governance token, PTP when liquidity mining is live. Another option is to share the 0.01% of the transaction fee collected from each asset swap in the future.
How Does Platypus Finance's Pool Differ from Old Liquidity Pools?
Opposite to previous-generation liquidity pools, pool composition or pool size will not significantly impact the deposit and withdrawal of single-sided tokens, even in bulk. Also, Platypus Finance tries to make sure that the addition or removal of new tokens to the main pool is scaled naturally, so 100% exposure to single-asset utilisation is secured.
Platypus Finance Liquidity Mining
Platypus Finance uses three pools for liquidity mining and delivers its native token PTP through these pools. Base Pool, Boosting Pool and AVAX-PTP Pool (Pool 2) are responsible for 30%, 50%, and 20% of the liquidity emission, respectively. Let's get familiar with Base Pool and Boosting Pool.
Base Pool
PTP Tokens are issued to a deposit by the Base Pool, and its amount should be positively proportional to its share of the aggregate deposit. The following formula indicates how the token is emitted for a deposit in the Base Pool:
Token emission for a deposit = Emission allocated to the account * Deposit amount/ Aggregate deposits in the account
Boosting Pool
You, as a depositor, can earn more PTP tokens from the Boosting Pool if you stake PTP tokens. Learn how to make millions by smart staking. The Boosting Pool is designed to:
incentivise PTP tokens' purchase, and
encourage long-term staking.
To perform, the Boosting Pool uses another token, voting escrow PTP (vePTP), inspired by the voting escrow CRV (veCRV) of Curve Finance. Let's see how it works:
Every staked PTP generates 0.014 vePTP in one hour.
The maximum vePTP you can hold with a deposit is 100 times PTP staked for the deposit.
If you unstake PTP, all the vePTP you earned will go away.
Platypus Finance (PTP) Price Analysis
According to Coingecko.com, today, on Apr 9, 2022, Platypus Finance's price is $3.58, and its 24-hour trading volume is $3,244,052. In the last 24 hours, PTP's price has been down -14.3%. Its circulating supply is 21 Million PTP coins, and it has a total supply of 300 Million. Trader Joe is currently the most active exchange to buy and sell Platypud Finance. Coinbase, Binance, and OKx are other exchanges to buy Platypus Finance.
Disclaimer: Don't take this article as financial advice. You need to DYOR (Do Your Own Research) before investment.
Platypus Finance Price Prediction
The following is the information reported on Priceprediction.net regarding the price prediction of Platypus Finance, which is the expected performance of this platform based on its previous and current performance and price. It's no secret that these are merely predictions that add to your knowledge of this project, and you must not consider them financial advice.
Platypus Finance Price Prediction 2022
In 2022, the price of Platypus Finance is predicted to reach a minimum of $5.38. At the maximum level, the PTP price can reach $6.39, with an average trading price of $5.59.
Platypus Finance Price Prediction 2023
The price of Platypus Finance is expected to reach a minimum level of $7.61 and a maximum level of $9.28 in 2023. Experts predict that its average price will reach $7.89 in 2023.
Platypus Finance Price Prediction 2024
In 2024 the price of Platypus Finance is predicted to reach $10.8 at a minimum and $13.64 at a maximum. Its average trading price is expected to reach $11.24.
Platypus Finance Price Prediction 2025
The minimum price of Platypus Finance is predicted to be $14.99 in 2025. One PTP is expected to reach a maximum price of $18.69. PTP's average price is forecasted to be around $15.55 throughout 2025.
Disclaimer: Don't take this article as financial advice. You need to DYOR (Do Your Own Research) before investment.
Platypus Finance Roadmap
Here's the roadmap of Platypus Finance retrieved from its official website.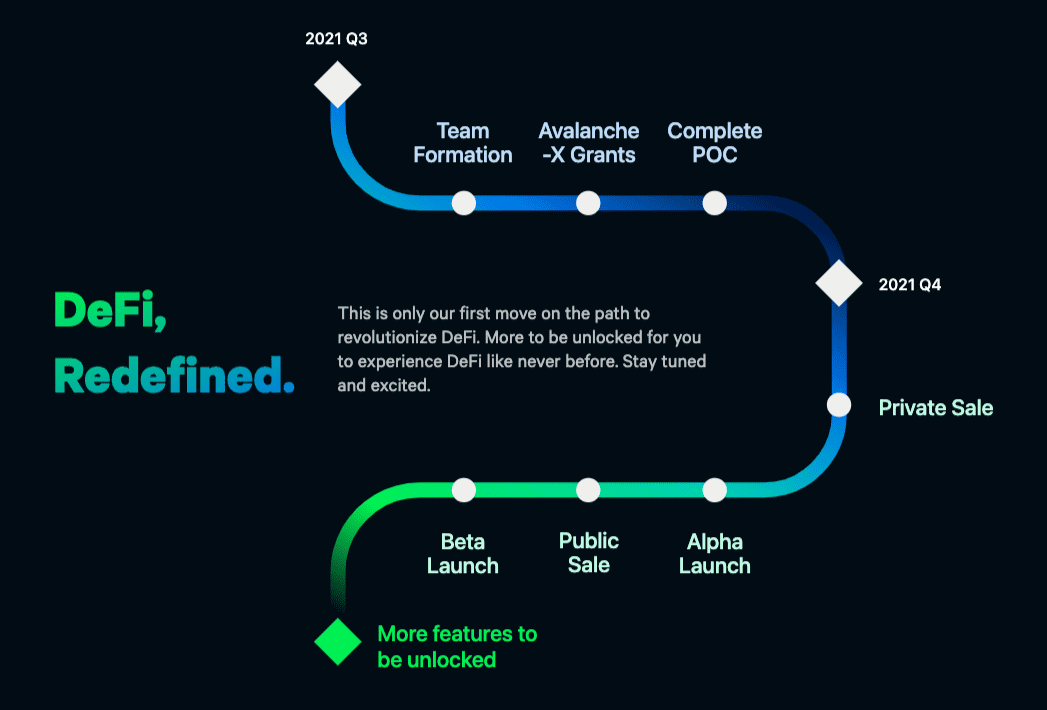 Platypus Finance Team and Community
The team behind Platypus Finance is not known. The founder, smart contract lead, and marketing lead have some pseudonyms. Platypus Finance has an active community on different social media. Currently (on Apr 9, 2022), its Twitter account has a total of over 49k followers, and its Medium account has over 10k followers. Platypus Finance enjoys a plus 12k followers on its Telegram channel and over 14k users on Discord.
Is Platypus Finance (PTP) A Good Investment?
According to its current performance, Platypus Finance's value is expected to continue its growth because shortage tends to encourage a rise in prices. Remember that every investment contains risk, and you need a financial advisor to make sure what's best for your specific situation. What Cryptologi.st is an expert at is keeping you updated about the latest trends, hottest news, careful analysis of the top 1500 coins, and many more.
How do you rate this post?