Perpetual Protocol: Leverage Trading Forever!
#blockchain
#decentralized
#defi
#dex
#investment
#smart-contract
#perp
tl;dr
Inspired by emerging DeFi protocols such as Synthetix and Uniswap, Perpetual Protocol is a decentralised finance platform with deep liquidity where users can buy and sell derivatives contracts. This Ethereum-based protocol reveals a new and more precise function of AMMs to provide leverage trading, short positions, and low levels of slippage. The article focuses on important details about the function of the platform and the Perpetual Protocol price prediction to see if Perpetual Protocol is a good investment.
How do you rate this post?
What Is The Perpetual Protocol?
Designed for leverage trading, short positions, and low levels of slippage, Perpetual Protocol is a Decentralised Finance (DeFi) platform that enables users to buy and sell derivative contracts. It's an on-chain perpetual futures DEX with deep liquidity based on the Ethereum blockchain. It aims to offer a perpetual contract for every asset using a virtual automated market maker (vAMM). You can easily trade the most popular products in crypto in a permissionless way, create new protocols and projects on top of Perpetual Protocol and earn a yield on your capital by becoming a liquidity provider. The protocol is powered by the PERP token, which plays a crucial role in maintaining and operating its network with a current market cap rank of #356 and a circulating supply of 90,775,000 PERP coins on Sep 22, 2022.
What Is The Perpetual Protocol's vAMM?
Technically speaking, Perpetual Protocol creates and virtualises a new version of an Automated Market Maker (AMM) to eliminate the existing drawbacks of current AMMs. AMM is a tool applied in the DeFi space to supply liquidity without the intervention of a third party to set the price of an asset. In simple words, In AMMs, instead of an order book, some investors (liquidity providers) deposit their assets into smart contracts to execute trades on a peer-to-peer basis. Perpetual Protocol uses vAMM, meaning it uses the same function as other AMMs with one difference, there is no crypto asset, and traders can make leveraged trades based on collateral stored in a smart contract vault. As a result, traders pay a lower slippage than AMMs as AMMs cap the liquidity while vAMMs set it algorithmically.
How Does Perpetual Protocol vAMM Work?
Instead of storing the real assets in vAMMs, the assets go to "Clearing House", a smart contract that accepts deposits and records position ownerships, such as initial margin, level of leverage, and the direction of the position. For example, if you want to open a 2x long position on ETH, you need to go through the below process.
First, you need to deposit $100 USDC to the "Clearing House" on Perpetual Protocol.
Then the "Clearing House" deposits them in the "Vault" that manages all the collateral backing the vAMM.
In the next step, Perpetual Protocol updates the asset prices of the vAMM according to the margin amount, position direction (long or short), and the amount of leverage.
Due to your 2x leverage, your $100 changes to $200; consequently, the amount of ETH decreases by 1.96.
Eventually, your position with 1.96 ETH will be updated by the "Cleaning House".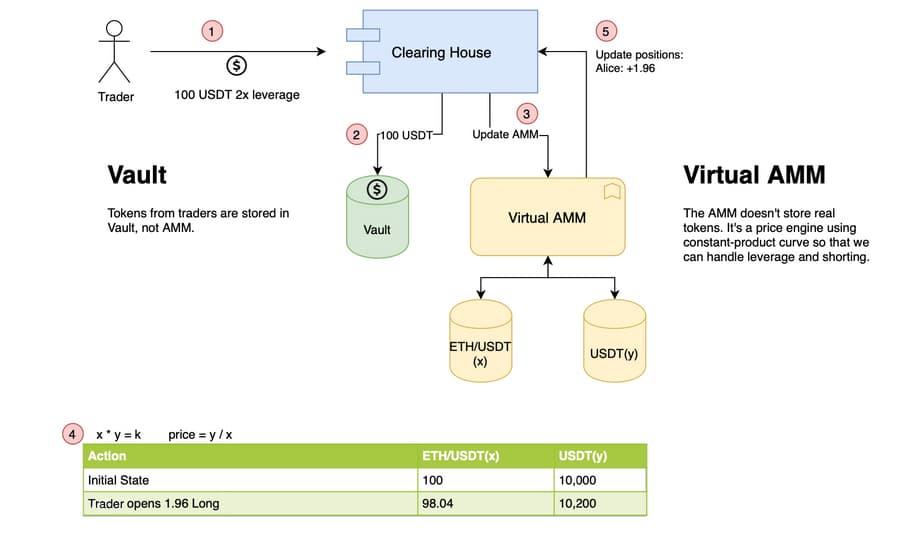 Who Owns The Perpetual Protocol?
Perpetual Protocol started its journey in crypto scape in 2019 with Shao-Kang Lee as the founder and the name "Strike", for which the project was first known. Shifting its focus to permanent futures, the project team changed its name to Perpetual Protocol and sought to create novel financial instruments by democratising futures and other crypto-asset derivatives.
What Is The Perpetual Protocol Token?
PERP, the cryptocurrency of the Perpetual Protocol, is an Ethereum token that powers Perpetual Protocol and plays a key role in maintaining and operating its network. Holding PERP tokens, you can participate in governing activities of the protocol in the future. Apart from governance purposes, the protocol offers staking for the users by locking up the PERP tokens in the staking pool for a certain period of time and rewards the stakers in PERP tokens. Let's delve into the tokenomics information of the Perpetual Protocol token in the following.
The Perpetual Protocol Token Distribution
7.5% of the total amount of PERP tokens belongs to the balancer Liquidity Bootstrapping Pool (LBP)
4.2% goes to seed investors
15% belongs to strategic investors
21% refers to the team and advisors
54.8% goes to the ecosystem and rewards (the Perpetual Protocol community will decide the distribution of ecosystem rewards.)
Perpetual Protocol Token (PERP) Financial Analysis
The #356th largest cryptocurrency by market cap is the Perpetual Protocol token, PERP. It has a circulating supply of 70 Million PERP coins and a total supply of 150 Million. The current price for each PERP token is about $0.65, which is %13 higher than its All-Time High of $24.8 but is %97 lower than its All-Time Low of $0.5. The 90 days price change for the Perpetual Protocol token is around -2.54%, and the annual price chart of the PERP token shows that the Perpetual Protocol's ROI is dreadfully down, meaning that your $100 investment in PERP a year ago would result in losing more than 95% of your money!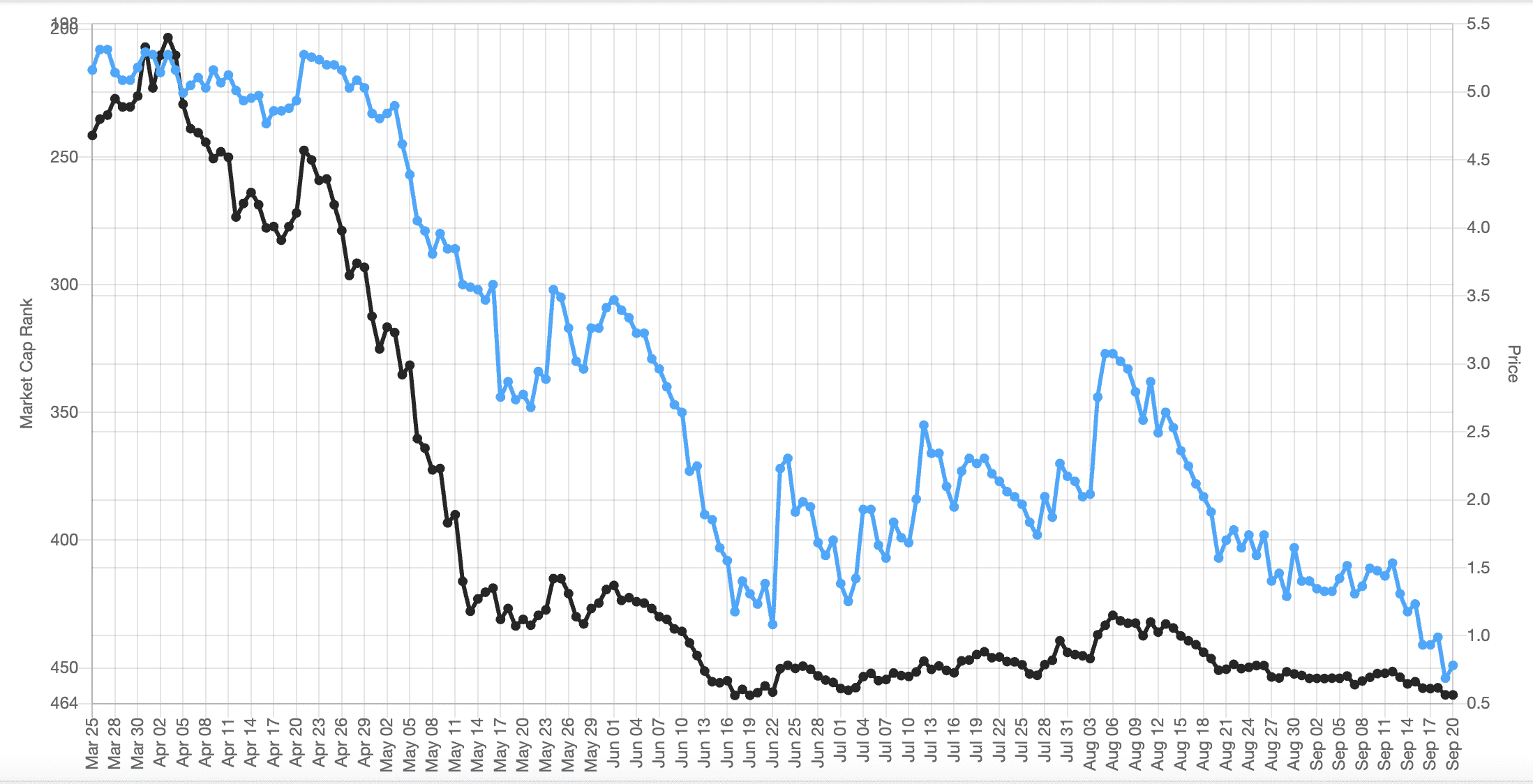 Perpetual Protocol Token Liquidity Score And Market Cap
Regarding liquidity and market cap scores, projects with low liquidity and smaller market cap are generally riskier. Financial data from the Cryptologi.st indicates that the liquidity score for Perpetual Protocol is %43, which is lower than the market's average, making the PERP token hard to sell in bear markets. Despite the PERP's good market cap ranking, its circulating supply is %47, which is lower than the market average.
How Popular Is The Perpetual Protocol?
One of the criteria that influences Perpetual Protocol token price is the project's performance and popularity on social media and how active its community is. Although the Perpetual official Twitter account has seen a %69 growth over the last six months, its Telegram account didn't have an eye-catching growth during the same period.
Disclaimer: Don't take this article as financial advice. You need to DYOR (Do Your Own Research) before investment.
Perpetual Protocol Token Price Prediction
Working in the crypto space, we've witnessed that cryptocurrencies are subject to price fluctuations, and investors and traders may lose their funds in a blink of an eye! As a result, everybody is looking for risk management strategies to save their portfolio. Besides risk management, is it possible to predict the market? Some crypto experts believe that with the help of mathematical calculations, they can calculate the price of an asset soon. Let's check out the Perpetual Protocol token price prediction.
Perpetual Protocol Token Price Prediction For 2022
Data from Priceprediction.net indicates that each Perpetual Protocol token will be traded at a maximum price level of $0.73, with an average trading price of $0.67 in 2022.
Perpetual Protocol Token Price Prediction For 2023
Each PERP token can reach a minimum level of $0.94, a maximum level of $1.11, with an average price of $0.98 throughout 2023.
Perpetual Protocol Token Price Prediction For 2024
Crypto experts expect each PERP to reach $1.5 on average by 2024. Also, its highest level is predicted to hit $1.64.
Perpetual Protocol Token Price Prediction For 2025
Crypto experts predict that PERP tokens may reach an average price of $2.14 in 2024. The maximum price of Perpetual Protocol tokens could go up to $2.45 and fall to a low level of $2.09.
Final Thoughts On Perpetual Protocol
The Perpetual Protocol team has not yet released a roadmap, and the lack of information on their journey makes it hard to consider this token a trustable short-term investment. We know that from the beginning of 2022, the crypto industry has been down, and we are far from the golden days of the crypto market, and it is hard to have a profitable investment. To survive the crypto winter, you need to do your own research and check out Cryptologi.st to gather everything you need to know before investing in cryptocurrencies.
How do you rate this post?