OHM Price Prediction 2023, 2025 and 2030, Is Olympus A good investment?
#blockchain
#decentralized
#dai
#investment
#ohm
#stablecoin
tl;dr
Although OlympusDAO has gained a reputation since the first month of its launch for offering high APY, now it is being called a Ponzi scheme by many users. In this article, we will analyses the Olympus coin price history and OHM price prediction for 2023, 2025 and 2030, to find out what happened to OlympusDAO and whether the OHM is legit or a scam.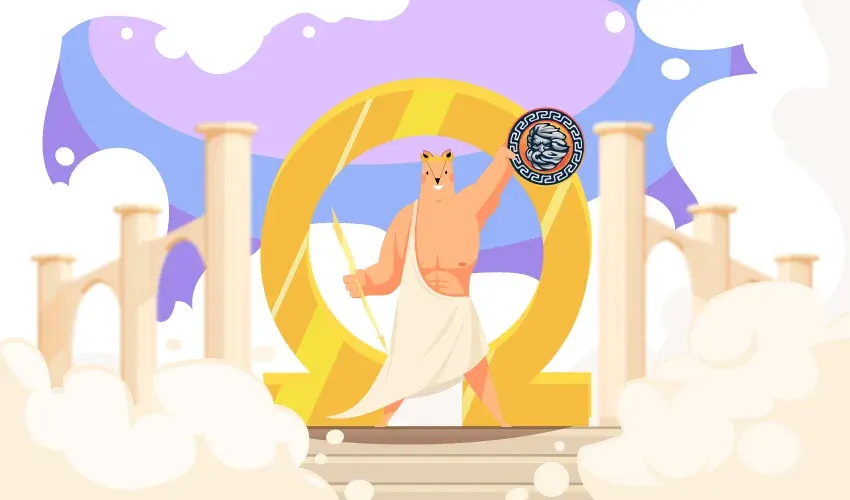 How do you rate this post?
What Is OlympusDAO?
OlympusDAO is kind of a decentralised central bank that aims to issue its decentralised reserve cryptocurrency known as OHM.
The project was founded by an anonymous founder named Zeus, aiming to provide the growing Web3 financial ecosystem with a censorship-resistant trusted currency that preserves purchasing power and allows users to convert their tokens easily.
The following sections focus on OHM price prediction. If you are interested in finding answers to "What is OlympusDAO?" and learning how it works, click on the blue line!
What Is OHM Token?
OlympusDAO strives to create a decentralised reserve currency for the crypto industry so that investors don't have to rely on the US dollar. That's where the OHM token came into play with several goals, including
Preserving purchasing power via long-term price stability;
Having high liquidity across decentralised and centralised exchanges;
Being utilised as a unit of account (e.g., by being paired against many other assets in Web3);
Being utilised as trusted backing (e.g., to collateralise other assets or be deposited into protocols' treasuries).
Price History
A quick snapshot of OHM ROI indicates that although the token has provided the users with more than %7,000 APY in the first month after its launch, Olympus has been down to almost %99 over the last year.
It was released on March 24, 2021, with a price of $384 for each OHM. Almost a month after its launch, on Apr 25, 2021, the token went to the moon and touched its All-Time High at $1,415.
Because of dealing with some ups and downs, OHM faced a tremendous downtrend and eventually, on Sep 19, 2022, the token was traded at its lowest level of $ 9.04. The following chart indicates the OHM market cap rank and price in the recent 12 months.
Read more: Bico Price Prediction 2023, 2025 and 2030: Is Biconomy a Good Investment?
OlympusDAO (OHM) Token Financial Analysis
At the time of writing this post, on Nov 8, 2022, you can purchase each OHM token at $10.04. Its circulating supply is 29 million OHM coins, with a total supply of 30.6 million. Visit here to learn more about OlympusDAO tokenomics.
ROI, Popularity And Market Cap
Having a strong community and brand awareness is one of the most effective criteria that bring the project closer to success. Olympus is followed by 143K users on Twitter and 8K on Telegram.
Speaking of its market cap, OHM holds the position of the #4000th largest cryptocurrency and recorded a %99 price decrease in its value, while similar projects reached an average ROI of 1,521% over the same period.
Read more: Spell Price Prediction 2023, 2025 and 2030: Is SPELL A Good Investment?
OHM coin ATH
OHM token started its journey with a price of $384 for each OHM token, and it went from $384 to $1,600 and recorded its All-Time High on Apr 25, 2022.
OHM Coin ATL
On Sep 19, 2022, the price of the OHM token fell to $9.04 and recorded its All-Time Low.
OHM Token Fundamental Analysis
OHM token is a reserve cryptocurrency issued by OlympusDAO in March 2021. Each OHM token is baked by a basket of cryptocurrencies in the OlympusDAO treasury.
Depending on the value of treasury cryptocurrencies, the protocol decides to burn or issue OHM tokens to maintain the value of each OHM token stable.
Is OlympusDAO a Scam?
Although OlympusDAO comes with some positive points that accentuate its legitimacy, some drawbacks put the project at risk of scams and Ponzi schemes. Accordingly, there is no certain answer to this question.
Read more: Metis Price Prediction 2023, 2025 and 2030: Is METIS Coin a Good Investment?
OHM Price Prediction 2022
Crypto experts expect an average price of $10.91 for each OHM Coin by the end of 2022. The maximum price predicted for OHM in 2022 is around $11.32.
OHM Price Prediction 2023
If the next year is the start of a bull run, OHM price can reach a maximum of $15.26, with an average price of $18.58 for 2023.
Olympus DAO Price Prediction 2024
The price of each OHM token is predicted to reach a minimum of $22.85 in 2024. If we witness a strong bull run, the OHM price can reach a maximum of $26.98, with an average price of $23.48 throughout 2024.
Olympus DAO Price Prediction 2025
Crypto experts foresee that each OHM token will be traded at a minimum level of $34.64 and a maximum level of $40.24, with an average price of $35.81 throughout 2030.
Olympus DAO Price Prediction 2030
The average price of each OHM may rise to $212.50 in 2023 if the project performs better on social media, attracts more users and survives the bear market. OHM price prediction expects a maximum price of $255.31 and a minimum price of $206.47 for OHM in 2030.
Should I Invest In OHM?
OHM was born to reduce DeFi's dependence on USD. However, Olympus is now facing a hard time and the OHM token is traded at less than $11, 99% lower than its peak.
OlympusDAO's liquidity score is %32, the team behind it hasn't released any roadmap map yet and also the token is traded only on a few exchanges. However, it doesn't stop here, you also have to have more details to see if it is a good investment. We have you covered at Cryptologist.
FAQ
Below you will find answers to the most frequently asked questions about OlympusDAO.
What Is The Future Of OlympusDAO?
OlympusDAO has lost a lot of value recently, and as far as I am concerned, with a capitulation by whales and large investors, I don't think it will be a profitable asset in the short term.
Why Is Olympus Price Dropping?
Several Crypto influencers and experts have criticised Olympus's native token OHM and considered OHM token a Ponzi scheme since the value of the token has dropped thousands of times since its launch.
One of the main reasons that triggered the drop in OHM value is that whales and large wallet investors sold their holdings and gave up on OlympusDAO.
How do you rate this post?