What Is OlympusDAO? How to Stake Olympus (OHM)?
tl;dr
Generating a lot of buzz in the crypto and DeFi industry, OlympusDAO is an Ethereum-based DAO that has suffered a sharp drop after hitting its All-Time High in 2021, providing more than %7,000 APY for its users. But what is OlympusDAO? What is OHM Staking and How to Stake Olympus (OHM)? What makes it different, and is the OHM token pegged to another asset? Let's answer all these questions and find out if OlympusDAO will end up as a Ponzi or Legit!
How do you rate this post?
What Is OlympusDAO?
OlympusDAO is a decentralised reserve currency protocol that attempts to provide users with a transparent and stable crypto ecosystem.
It is based on the OHM token, a "non-pegged stablecoin" working on the Ethereum blockchain.
Within the OlympusDAO, every OHM staker has their nickname as Ohmies. Next, we talk about OHM staking and How to Stake Olympus (OHM)?
What Makes OlympusDAO Unique?
Before elaborating on the OlympusDAO and getting into details, let me explain why OlampysDAO came into play and what makes it a talked-about project!
Living in a cryptocurrency space, you have to deal with its volatility. To tackle this issue, stablecoins came into play intending to maintain a stable price over time while their value is pegged to the price of another asset, like the U.S. dollar.
However, even these stablecoins can depreciate if the dollar value decreases or fluctuates. That's where the OlympusDAO intended to perk up the DeFi industry and overcome this issue by creating a free-floating reserve currency named OHM.
Read more: OHM Price Prediction 2023, 2025 and 2030, Is Olympus A good investment?
How Does It Work? What Does OlympusDAO Do?
OlympusDAO is made up of protocol-owned liquidity (POL), protocol-managed treasury (PMT), staking and bonding mechanisms. Let's get into the details and explain them all.
Read more: 10 Best Coins to Stake in 2023 with The Highest Staking Rewards
OlympusDAO Treasury
The key function of Olympus is its treasury which represents all the assets owned and controlled by the protocol, and it is also known as Protocol Controlled Value (PCV).
The protocol uses this treasury to back its OHM token. To maintain the OHM value, the protocol would buy back and burn OHM when it trades below $1.
Read more: What Are The Different Types of Staking? Which One Is The Best?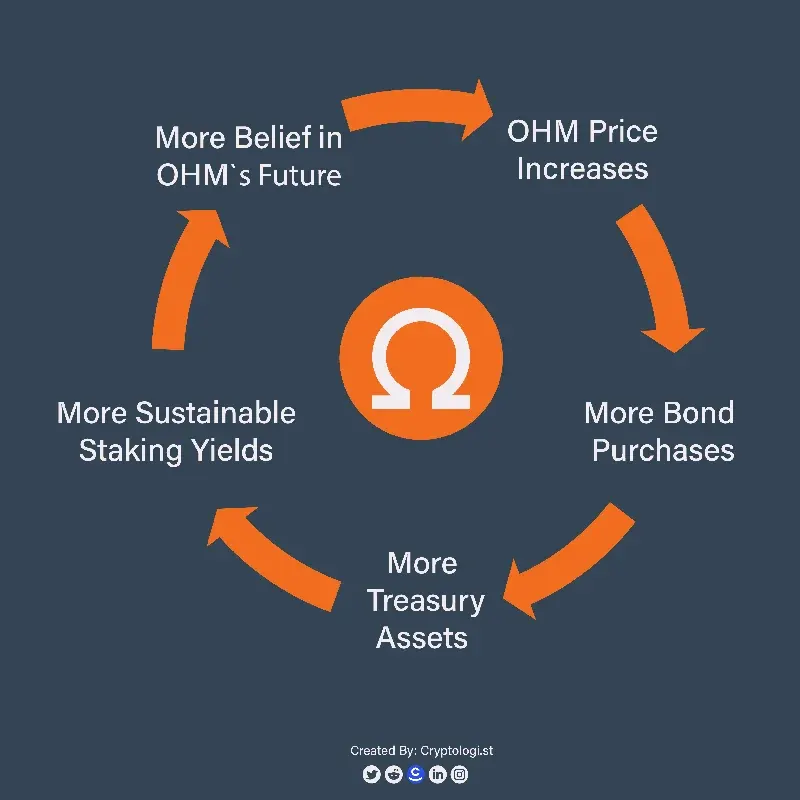 OlympusDAO LPs
Owning liquidity in the market is a must for the users to buy or sell a token at a stable price, as any large transaction will cause a fluctuation.
As a result, OlympusDAO owns its liquidity and maintains its Liquidity Pool (LPs) sustainability through bonding and staking mechanisms.
OlympusDAO Bounding Mechanism
The protocol incentives users to deposit or sell their collateral to the Olympus treasury through the bounding and staking mechanisms.
Bonding allows users to trade various tokens for OHM at a discounted price.
OlympusDAO Staking Mechanism
OlympusDAO allows its users to stake their OHM into the protocol, contributing to OHM's long-term price stability. In return, they receive their pro rata share of rebases and governance rights.
OlympusDAO 3,3 Game Theory
OlympusDAO offers different strategies for the users, like staking, bonding, selling, or a combination of these strategies. Positive and negative numbers in the picture below illustrate how much each strategy benefits the Olympus protocol as well as the users.
The (3,3) meme was developed by OlympusDAO as a variation of the classic Prisoner's Dilemma. The Prisoner's Dilemma refers to a situation where two parties are separated and unable to communicate while their behaviours in a system affect them both.
In this game theory, the highest reward for each party is gained when both parties choose to stake. In contrast, the lowest income is received when both players decide to sell their tokens.
In this way, the protocol incentives players to stake their money and prevent them from selling their OHM tokens.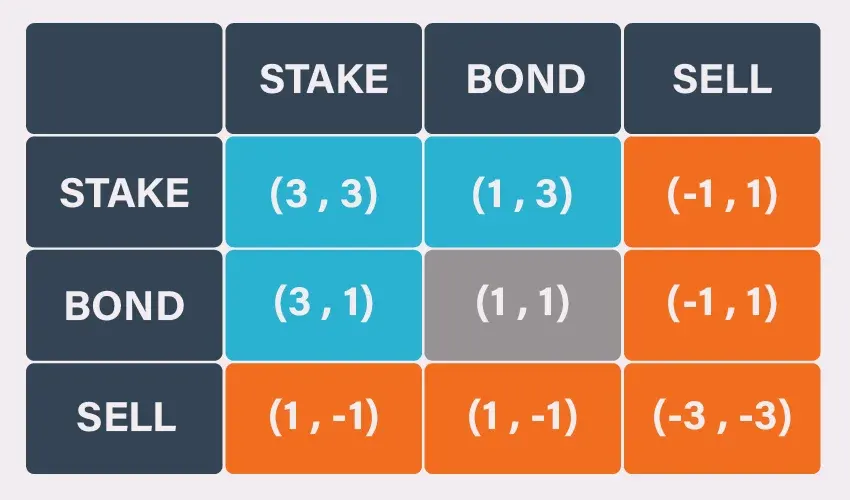 Who Is Behind OlympusDAO?
OlympusDAO is a Decentralised Autonomous Organisation (DAO) managed by the community in a fully decentralised manner through smart contracts.
The project was developed by a group of anonymous accounts, and the founder is known as "Zeus," who has a background in economics and game theory.
OlympusDAO Forks
To put it simply, blockchain forks happen when a radical change occurs to the network's protocol, and the blockchain splits into two separate branches. Here, you can find answers about "What is a fork and which fork is more secure?".
Also, you can see the hottest OlympusDAO forks below.
Warp
Metarid
Neverlan Finance
TempleDAO
Is OlympusDAO A Stablecoin?
The answer is No! Stablecoin is a kind of cryptocurrency whose value is pegged to the price of another asset, like the U.S. dollar.
However, the OHM token is not a stablecoin. Each OHM token is backed by the cryptocurrencies in the OlympusDAO treasury.
What Is OHM Token?
According to Olympus's official website, Olympus' goal is to create a credibly neutral currency for Web3 and involve onboard users in a decentralised, democratised economy, with the additional goal of becoming the reserve currency for DeFi.
To achieve this goal, Olympus uses its native currency, OHM, an ERC-20 token launched in March 2021. Apart from being a treasury-backed reserve currency, OHM is also being used as a governance token, and the amount of OHM a user has represents their voting power.
Read more: What Is Crypto Liquid Staking? Which Coin Has The Highest Reward?
OHM Tokenomics
Today, on Nov 6, 2022, Olympus's (OHM) price is $10.15, with a 24-hour trading volume of $583,181, a circulating supply of 29 Million OHM coins and a total supply of 30.6 Million.
OHM price is %99 lower than its All-Time High of $1,415, which happened on Apr 25, 2021. However, it is %12 higher than its All-Time Low of $9 on Sep 19, 2022.
At the time of writing this post, OHM is ranked #4000, held in 5,102 wallets, and has 291,998 transactions recorded.
What Is Staking In OlympusDAO (OHM)?
Going through the staking process needs you to lock a certain amount of your OHM tokens and receive an equal amount of sOHM in return, which is transferable and, therefore, composable with other DeFi protocols.
Stay tuned for more updates on this project and many more on Cryptologi.st!
Olympus Staking Calculator
As mentioned above, by staking your OHM tokens, you can increase your tokens automatically on every epoch based on the current APY (Annual Percentage Yield).
APY determines the annualised rate of return based on the reward yield. currently, the current price for each OHM token is about $10.94, and the APY is 7.4.
For instance, if you have $1000, you can get 98.522 OHM tokens and stake them. The following chart helps you find out how much you can earn after one year.
What Is Happening With OlympusDAO?
In the first months after its inception, Olympus provided more than %7,000 PY for its users, meaning that you could easily double your money only within a few days!
OlympusDAO's price went from $330 to $1,639, but after hitting its All-Time High in 2021, the OHM token dropped sharply by 99.8%, faced tremendous downtrend trends and lost investors' confidence.
It was also hit by a cyberattack on Oct 2022, when a hacker intended to steal 30,000 OHM tokens from OlympusDAO. However, after a few days, all the assets were returned.
How to Withdraw Money From OlympusDAO?
You may ask, "How can I use staking rewards, and how would it be possible to unstake my sOHM tokens to OHM?" In fact, unstacking your sOHM token is not a demanding process, and you just need to take the following steps:
1) Go to the Olympus official website. Select the "Unstake" tab.
2) Enter the amount of sOHM you'd like to unstake in the input field. If you prefer to unstake all your sOHM, press the "Max" button, and the input field will be populated with all your available sOHM balance.
3) Click "Approve" and sign the transaction.
4) After the "Approve" transaction has been processed successfully, click "Unstake" and sign the transaction.
Is the OHM Pegged?
As mentioned earlier, the OHM token is backed by the treasury's assets and
the protocol decides to mint OHM tokens when the price of its treasury assets exceeds one Die (Dai is a decentralised stablecoin).
If there are 100 million OHM tokens in circulation and 10 million dollars in Olympus treasury, each OHM token is backed by all the 10 million in treasury.
Is OlympusDAO A Scam Or Legit?
Well, it's a million-dollar question! First, let me start with the points that make the project legit.
Although the project is led by an anonymous founder called ZEUS, s/he is a very active user in the DeFi community. S/He hasn't shielded away from the difficult questions and has done many interviews. S/He believes that this price volatility will decline over time.
OlympusDAO worked with a well-known DeFi protocol known as Aave.
Also, the project came with clear and transparent documentation, and its code is also open source.
That being said, OlympusDAO comes with several red flags, including the following.
The OHM token is only used for staking and has no utility.
When the team behind the OHM token were asked why the market cap fell sharply, they didn't respond clearly.
The price of OHM tokens is being sustained by the new people who buy them, and it's a kind of Ponzi.
Furthermore, all the negative comments were deleted, and it has a risky history because of its cyber attack!
All in all, the answer to this question is completely dependent on who you are! Some people consider the drop in OHM value a scam, while others believe that the project is in its early stages of development. And although Olympus is associated with many risks, these risks may reduce over time.
Summary
OlympusDAO has been one of the most talked about projects in the DeFi industry over the past year and describes itself as a decentralised central bank. At first, the platform seemed promising by offering bonding and staking mechanisms and sky-high returns for the whole community.
However, its price dramatically dropped 99% over the last year, and it was the target of a crypto cyberattack, as a thief made off with 30,000 OHM tokens. In addition, with a low liquidity score, we can't consider a project a short-long-term investment.
FAQ
So far, we have covered the essential info you need about OHM, but if you have any further questions, you can find your answer here!
What Is Olympus Pro?
Current yield farms suffer from several drawbacks, and Olympus Pro came with the innovative bonding mechanism of Olympus as a service for other protocols. It allows other DeFi protocols to use the bonding mechanism to gain liquidity and provides secure longevity and price stability for everyone involved.
How much Is OlympusDAO Worth?
When writing this article on Nov 6, 2022, each OlympusDAO (OHM) is worth about $10.04.
Where Can I Buy An OHM Coin?
OlympusDAO (OHM) can be purchased through services like UniSwapV2 and SushiSwap.
How do you rate this post?