Near Blockchain: Build Web3 Apps Today!
#blockchain
#pos
#cryptocurrency
#decentralized
#near
tl;dr
Near blockchain has gained fame as a secure and scalable protocol to make blockchain accessible for everyone. Near protocol prioritises performance and usability for users and developers. Standing on the market cap rank #25, the NEAR token is being traded at around $4.29 today. How popular is NEAR? How Is Near token doing financially? Is NEAR a good investment? Keep scrolling to find out!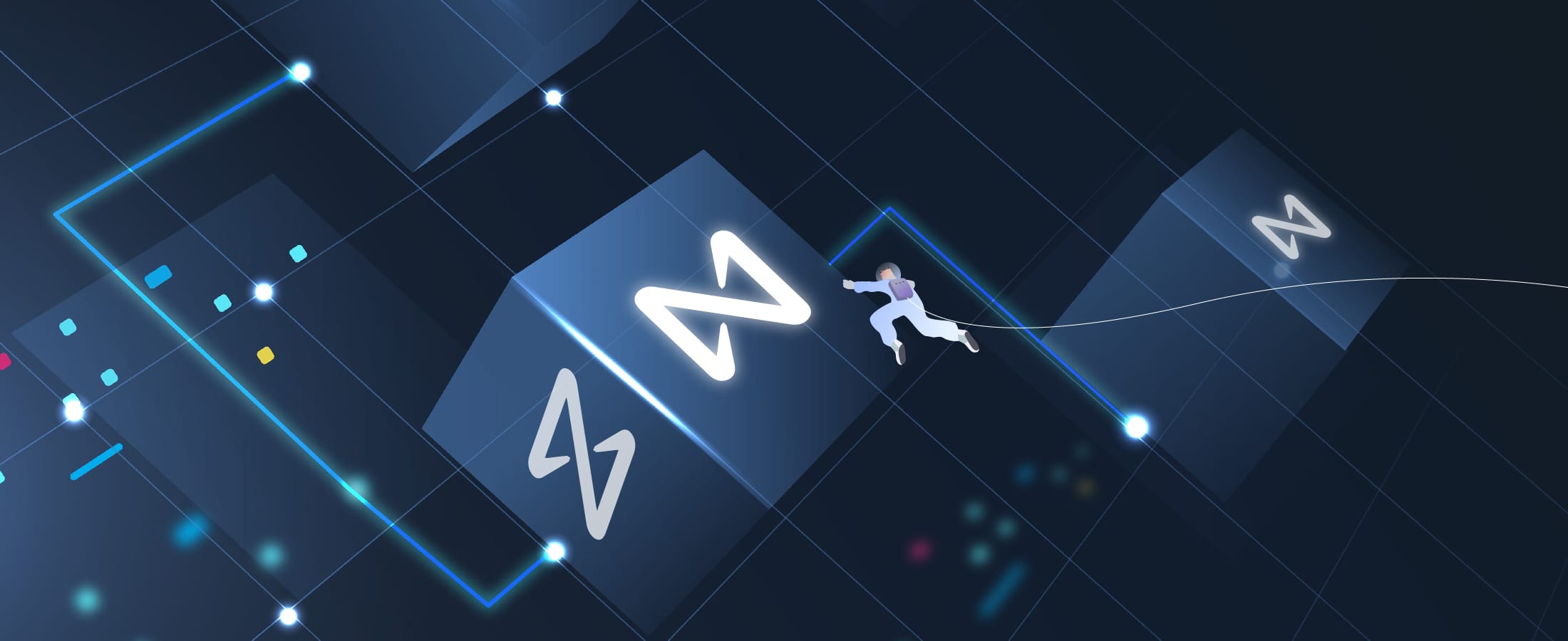 How do you rate this post?
What Is Near Blockchain?
Near blockchain cares about the users and the environment and therefore is a user-friendly and carbon-neutral platform. Near blockchain prioritises usability and simplicity with the primary objective of changing the world using Web 3.0. Speaking of simplicity, Near blockchain streamlines usage for both users and developers. For regular users, Near has provided services that remove the need for cryptic addresses and constant confirmation requests. For developers, Near blockchain has offered coding as easy as Web 2.0, so they can code in Javascript or Rust using efficient dev tools, simple SDKs and detailed documentation.
Near Blockchain Unique Features
The features that make Near blockchain stand out among the many similar platforms are fourfold: ease of use, being environmentally friendly, efficient developer tools, and technical features. Let's explore each feature in detail.
Near Blockchain Values Simplicity!
In addition to being fast and cheap, Near blockchain
employs human-readable accounts;
provides a web-based wallet, so the users won't need to install apps or add extensions; and
handles permissions via an access key system, which is simple but powerful.
Near Blockchain Is A Green Project!
You know that by green, I mean that the Near blockchain is friends with the environment as
it is carbon-neutral.
its energy consumption per year equals the energy that Bitcoin consumes in three minutes!
Near Blockchain Is Efficient for Developers!
In the Near blockchain, the developers can create smart contracts using Javascript or Rust.
Near protocol offers simple onboarding, as it provides comprehensive and detailed documentation and enough examples.
All weekdays, NEAR DevRel is open for everyone to participate.
Developers will receive 30% of the gas fees.
Near's Grant Program will cover project funding.
Near Blockchain Technical Features
Since the Near blockchain provides sharding, it can scale limitlessly and resist short-term usage spikes.
Near protocol ensures Interoperability with Ethereum using the Rainbow Bridge.
Near platform is EVM compatible with Aurora.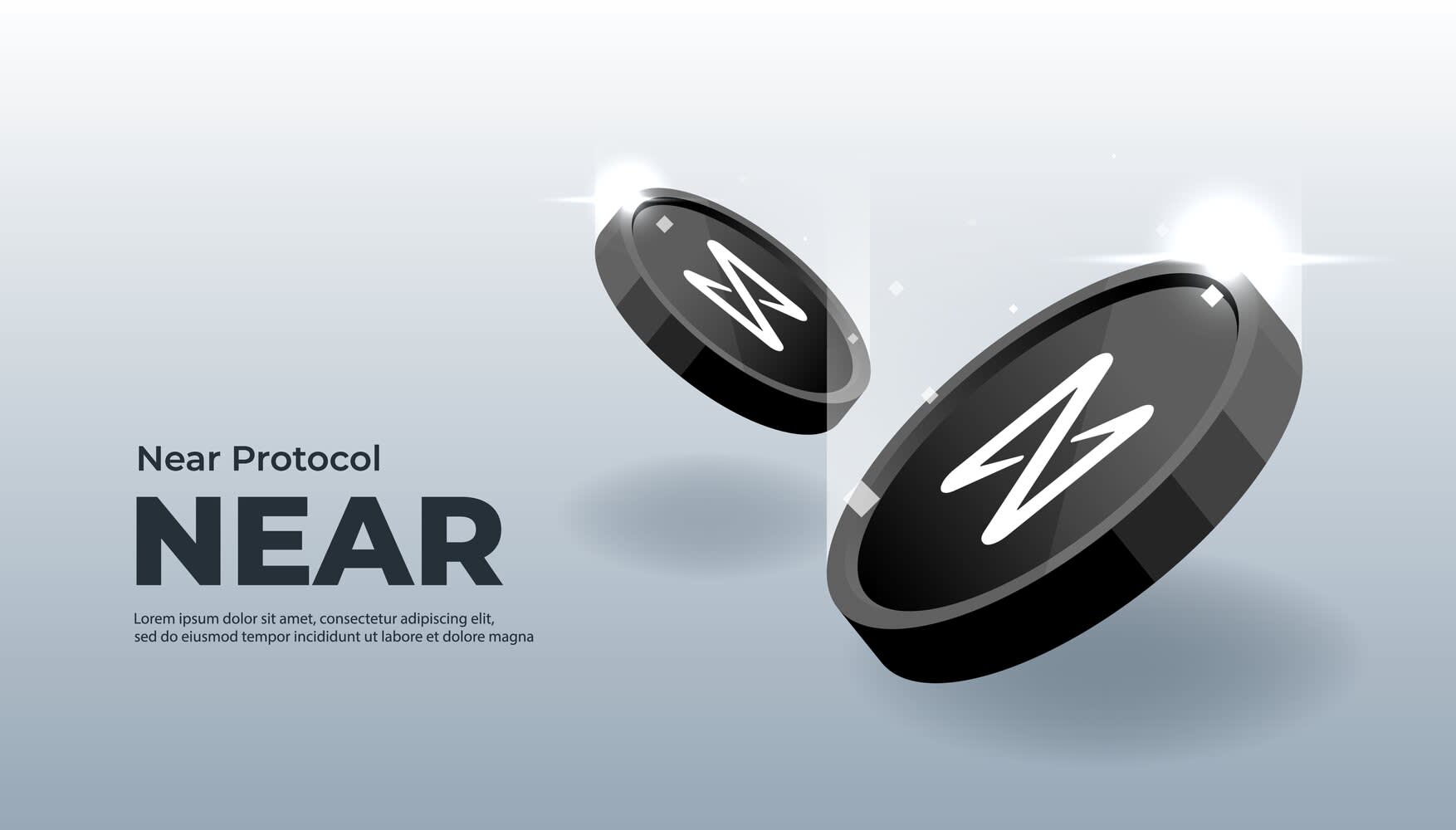 Near Blockchain Events
Near blockchain is backed by an active team that manages to host various crypto events all year long. To check out their upcoming events, take a look at this page.
What Is NEAR Token?
NEAR token is native to the Near blockchain with various use cases, including
Securing the platform by being used for staking
Processing the transactions and safekeeping data, and
Being used as a medium of exchange.
Let's open each use case a bit.
NEAR Token To Secure The Platform
NEAR blockchain follows the Proof-of-Stake (PoS) consensus mechanism, i.e., it secures the network by staking the NEAR token. The staked tokens are indicative of the decentralised basis of servers that help maintain the network and use NEAR tokens to process transactions for applications and users. NEAR tokens will be used as rewards to compensate for this service.
NEAR Token To Process Transactions
NEAR token is used as a means of setting transaction fees and storing data on the Near blockchain, i.e., the network charges are paid in NEAR.
NEAR Token To Exchange Coins
NEAR tokens are used as a way of transferring value between Near applications and accounts. In simple terms, the services provided on the apps can be paid for using NEAR tokens. It is also possible for the entities to exchange NEAR, independent of third parties, to clear and settle the transactions.
NEAR Token Allocation and Supply
On April 2020, 1 Billion NEAR tokens were created at Genesis to be allocated, as shown in the following chart. Also, the supply of the NEAR token is provided in the table below the allocation chart.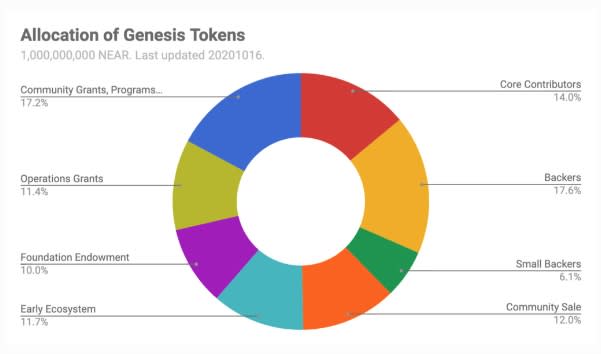 NEAR Token Financial Analysis
Financial charts at Cryptologi.st indicate that today, on Sep 5, 2022, the NEAR token holds the market cap rank #25 with a total supply of 1 Billion and a circulating supply of about 780 Million NEAR coins. NEAR Protocol's price revolves around $4.16 today, with a 24-hour trading volume of $91,177,291. In the last 24 hours, the price of each NEAR token has been down -0.2%. Its current market cap is $3,235,411,386, with the current price 79.6% lower than its all-time high of $20.44 on Jan 16, 2022. However, the price of the NEAR token is currently 690.9% higher than its all-time low of $0.526762 on Nov 04, 2020. To trade NEAR blockchain tokens, you can use FMFW.io, which is currently one of the active exchanges to buy and sell NEAR. Also, the following graph shows NEAR's market cap and price in the last six months.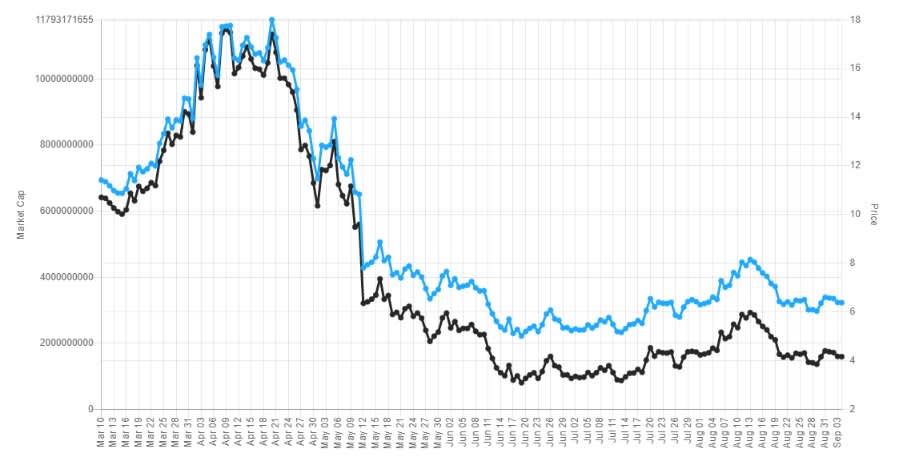 NEAR Token ROI and Liquidity Score
The Return on Investment (ROI) is a key decision factor for crypto investors as it reveals how profitable the coins/ tokens and projects have been. The 1-year ROI of the NEAR token has been -31%, i.e., your $100 investment in NEAR a year ago would result in losing $31 and no gains! However, this performance has been better than similar projects, which showed an ROI of -54% over the same period. The good news is that the NEAR token's one-week and 24-hr ROI have grown by 12% and 1%, respectively.
NEAR tokens' current liquidity score is 69%, which is higher than the market average, making NEAR a not-difficult sell in bearish markets.
NEAR Token Technical Tips and Popularity
The comprehensive body of research gathered by Cryptologi.st indicates that the Near blockchain has been quite productive on its Github, with 144 four-week code commits, 1809 stars, 360 forks, and 90 contributors. NEAR token's Twitter account has gained 82% growth in followers over the last six months. NEAR's Telegram channel has also seen a 7% growth in followers during the same period.
Who Are The Near blockchain Investors?
Near blockchain has listed some well-known figures and companies as its investors. The list includes Greater Pacific Capital, OurCrowd, Sequoia Capital India, Telstra Ventures, JPMorgan Partners (JPMP), and Global Brain Corporation.
Disclaimer: Don't take this article as financial advice. You need to DYOR (Do Your Own Research) before investment.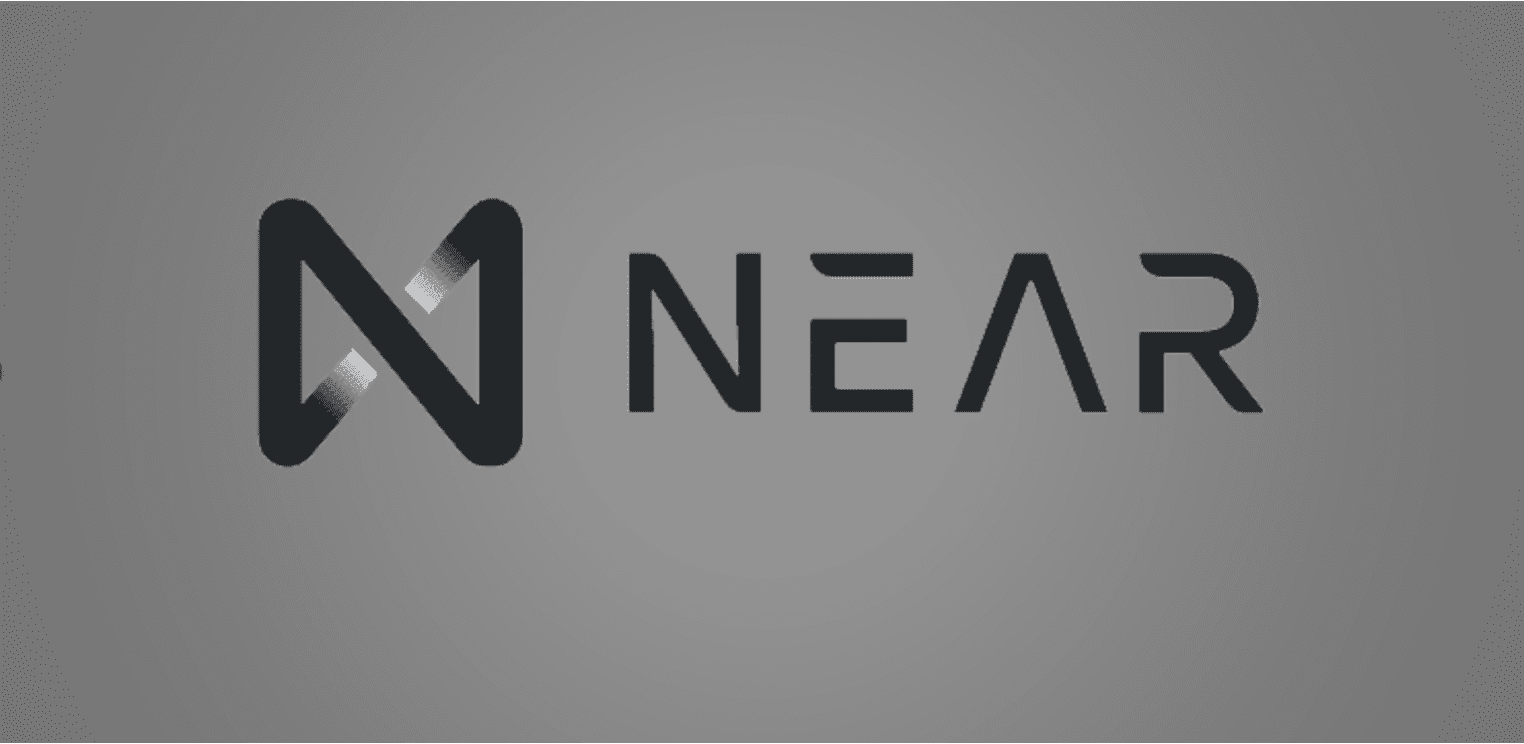 NEAR Token Price Prediction
It's no secret that price predictions are only predictions! However, before investing in any project, it is wise to get our hands on every reliable source we can to be able to come to sound decisions. Price predictions coming from crypto experts can be eye-openers as we get a general picture of the future of a given token plus the overall situation of the crypto market. In the following, we'll review the experts' opinions on the future price of the NEAR token of the Near blockchain.
NEAR Token Price Prediction 2023
Crypto experts believe that in 2023, the maximum price to trade NEAR tokens may reach $12.57. It is also expected that its average price will cross $10.57.
NEAR Token Price Prediction 2024
It is predicted that the year 2024 to end with an average trading price of $14.91 for each NEAR token. The minimum and maximum values are expected to reach $14.38 and $17.49, respectively.
NEAR Token Price Prediction 2025
Financial charts indicate that by 2025, the Near blockchain may have hit its previous ATH (all-time high). The average price to trade NEAR is expected to revolve around $21.67 in 2025. Also, its maximum price can hit a high level of $25.26.
NEAR Token Price Prediction 2030
In the long run, there is a chance that the average trading price of each NEAR token will rise to $145.83 by 2030 only if the project continues the good work to attract more investors. The maximum and minimum prices of NEAR can reach $168.42 and $141.97, respectively.
Is NEAR Token (Near Blockchain) A Good Investment?
Financial charts at Cryptologi.st and other reliable sources indicate that in the current bear market, the Near blockchain hasn't been so lucrative for its investors. However, by focusing on both users and developers and offering simplicity and usability, the NEAR protocol can be a safe investment option for the long term. This is not a trade signal by any means, just a review of the details you may overlook. Cryptologi.st has been developed with one key objective to be the all-in-one source for crypto investors by covering the hottest crypto news and project reviews, a free screening tool, and a watchlist for those who wish to keep a closer eye on their favourite projects. Follow us on social media to stay updated about this volatile market of cryptocurrencies.
How do you rate this post?