NAGA (NGC): An Immersive Social Finance Ecosystem
tl;dr
Do you wish to invest in the global financial markets without a bank account? Would you prefer not to pay fees that banks and other financial companies charge for their services? Then, NAGA (NGC) ecosystem is what you're looking for. NAGA Coin (NGC) is a cryptocurrency aiming to become the source of social finance. As a native token, NGC acts as the core fuel element of NAGA Trader, NAGA DeFi and NAGA Social Betting. The 1,253% annual Return On Investment (ROI) and 3181% growth in Telegram channel users makes it an eye-catching ecosystem. Let's learn about the NAGA trading platform, the benefits of holding NGC, and some trade hacks!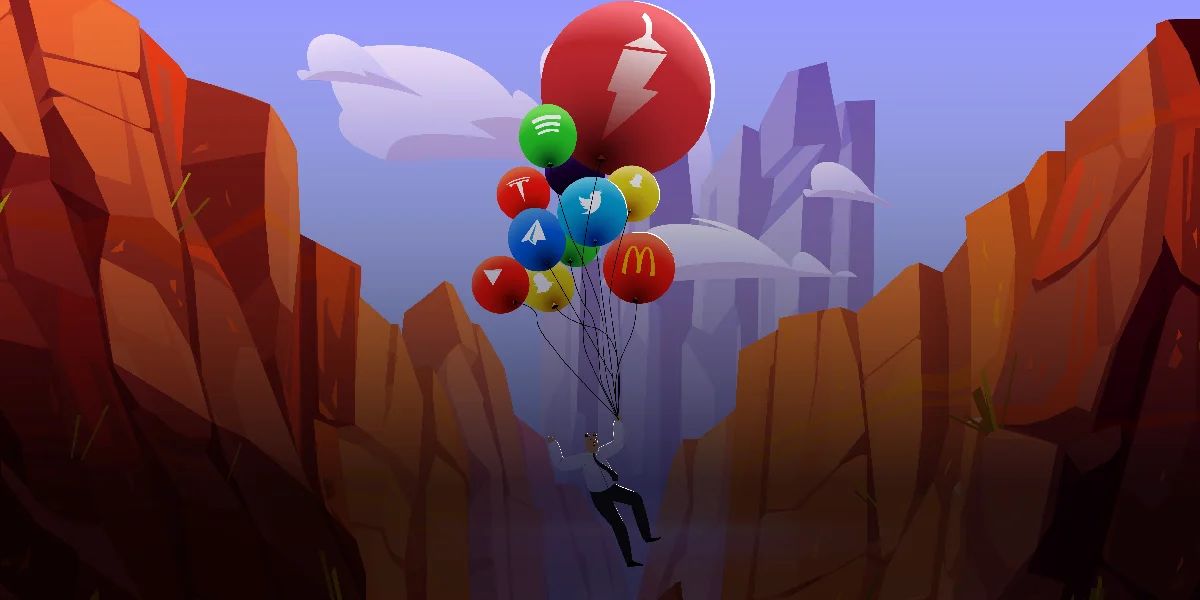 How do you rate this post?
What Is NAGA (NGC)?
NAGA is a cutting-edge online broker that enables clients to trade and invest, learn from others, follow the actions of experienced traders on the platform, and even become star traders. NAGA offers over 950 trading instruments, including Forex, cryptocurrency, commodities, stocks, indices, energies, metals, ETFs, and Contract for Differences (CDFs). NAGA ecosystem aims to modernise the outdated financial sector by introducing the NAGA Coin.
NAGA Coin (NGC) Innovations
NAGA Coin is an ERC-20 cryptocurrency based on Ethereum. NAGA Coin is the primary fuel for the NAGA innovations, elaborated on in the following.
NAGA DeFi is a revolutionary decentralised blockchain-based social trading platform that enables users to follow the on-chain activities of successful traders and earn as they do.
NAGA Social Betting is designed to be fully integrated into a copy betting platform, allowing users to copy bets of other successful bettors.
NAGA Trader is fully integrated with a financial social investing platform.
These innovations allow users to lower costs, build smart contracts for copy trading, and more. NAGA Coin seeks to be the pioneer in social finance.
Why Should I Hold NAGA Coins?
You can get significant advantages as a NAGA Coin holder by having access to innovative technologies. Investing in the financial markets using fiat money and cryptocurrencies has never been easier or more intuitive than NAGA Trader. Also, users of NAGA Coin on NAGA Trader will benefit from lower costs and special conditions, providing them with even more opportunities to compete in the markets and win.
What Does NAGA Wallet offer?
The NAGA Wallet, a user-friendly multi-currency wallet connected to NAGA Virtual, NAGA Trader, and all future NAGA projects, serves as a unifier for these services. The NAGA Wallet enables the storage of all major cryptocurrencies and the simple management of crypto portfolios, peer-to-peer fund transfers, and a variety of other unique features. You can safely and quickly buy NAGA Coin (NGC) via NAGA Wallet or at HitBTC, OKEX, BitForex, Cobinhood, etc.
What Is NAGA Trading Platform?
NAGA is a global social investment platform with over 1 million users aiming to alter the world by decentralising financial technology and providing everyone access to the most effective market tools. NAGA equips every trader with the resources, technology, and support they need to make informed trading decisions. The platform's Autocopy feature, which allows traders to follow each other's trades, creates a unique social trading environment with several benefits for the users.
What Does NAGA Trader Profile Offer?
Every trader has their own profile page, consisting of their win-rate percentage, followings, followers, the number of auto-copiers, feed consisting of other traders' moves and basic network activities, trading statistics showing their performance and an achievement tab displaying upcoming trading objectives and accomplished goals and rewards. One can also see the option of adding friends on the profile page to keep in touch with other traders. Apart from this, NAGA also has a messenger option through which the users can keep with various traders, community channels, and personal friends on the app.
NAGA's Background
The NAGA Group AG, a German FinTech firm, owns the trademark 'NAGA'. NAGA was created in 2015 and has grown steadily in popularity since then. The social trading network includes a variety of unique features customised for the new generation of traders. It gives investors access to global markets using decentralised technology and the necessary support, allowing them to achieve a greater variety of exposure.
NAGA Team Members
Over 300 people work at NAGA, including 100 developers spread across Europe. NAGA also has offices in Bangkok and Lagos and will open new ones in Australia and UAE.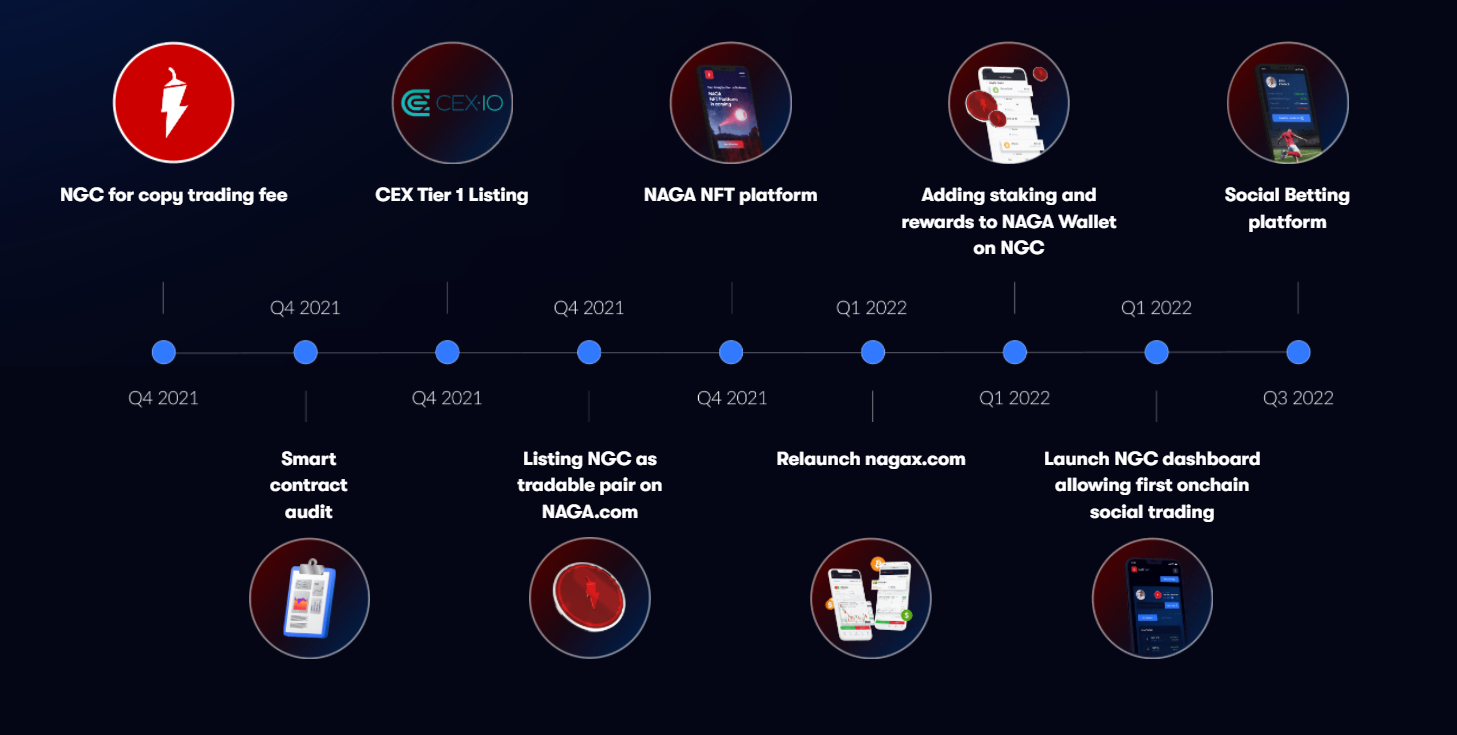 Benefits of Using NGC
The NAGA Coin, as the base currency and decentralised unit of account for all the NAGA ecosystem, provides the following services:
NAGA Traders: The social network for traders
CYBO: Robo-Advisory Services
Naga Virtual: The virtual goods exchange
NAGA Wallet: The multi-asset crypto wallet
NAGA Academy: Online trading university
NAGA (NGC) Financial Analysis
On Dec 30, 2017, NGC made its most significant breakthrough ever by reaching an All-Time-High at $3.74. But over the last two months, the price of the NGC token has been less than $0.90. On Mar 14, 2022, this token is currently traded at around $0.65. According to the short-term technical analysis provided at Cryptologi.st, the NGC sentiment is presently bearish. The majority of technical indicators are showing sell. However, it goes without saying that NGC is a potential project to invest in if it comes up with the road map provided earlier.
NGC Price Predictions
By the end of the next two months, NGC's price has the potential to touch $0.8, and by the end of 2022, its price growth potential is about 1.2%. However, since the future of this project seems promising as it facilitates trading in a decentralised environment, it has the potential to see a 5.8% growth by the end of 2023. Nevertheless, all these predictions are based on the current performance of the NAGA project. The game will, of course, change if NAGA introduces any innovation or improvement! Lagging behind blockchain technology can devastate the price growth of the coin and make it see a $0.2 range of price.
NGC Pros And Cons
One of the most astonishing statistics about NAGA is its annual return of investment (ROI), which is reported at 1,253%! Also, according to the data gathered by the Cryptologi.st research team, this project has gained considerable attention over the last six months. The Telegram channel growth rate is reported to be %3181. However, on the negative side, this trading platform is not regulated by the Australian Securities & Investments Commission (ASIC) and hedging is not allowed, so the traders cannot mitigate risks in the cryptocurrency market.
Concluding Remarks
You now have a better knowledge of the NAGA ecosystem after reading this article. Before investing in any cryptocurrency, the most important thing to do is get to know the project details and news. Every day, the cryptocurrency industry reports on a project's success or failure and changes in many critical factors. Such reports and many more can be found at Cryptologi.st.
How do you rate this post?