MXC Token Price Prediction 2025 and 2030: Is MXC Token A Good Investment?
#cryptocurrency
#dapp
#defi
#erc20
#metaverse
#nft
#mxc
tl;dr
MXC brings a major added value to the crypto ecosystem by using the power of blockchain technology to create a global data network that connects devices more efficiently than WiFi and 5G. Because of this, it has a high potential to skyrocket in the following years as the project grows. This article will go through MXC token price prediction 2025 and the following years. Keep reading to learn about MXC token's exponential price performance and to find answers to "Is MXC token a good investment?"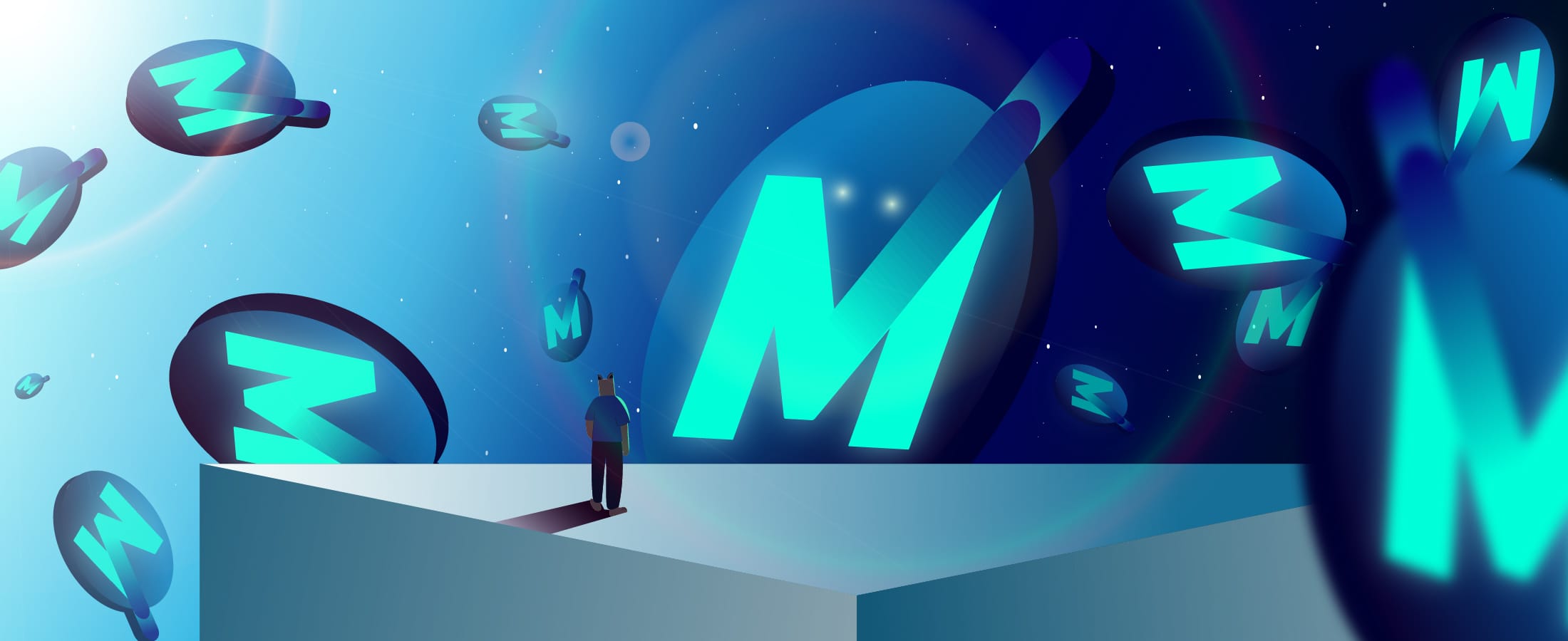 How do you rate this post?
What Is MXC Token?
MXC stands for Meta X Connect and is a public network that enables users to generate value by bringing real-world assets to the Web3 ecosystem. This non-profit organisation allows machine-to-machine transactions and uses blockchain technology to add more features to IoT technologies.
The MXC token is an ERC-20 standard token on Ethereum used in the network to help data distribution and enable IoT tokens to trade on an inter-chain NFT marketplace.
Price History
Before going through MXC token price prediction 2025 and beyond, we must first take a look at the MXC token's price performance in the past.
The price performance of the MXC token is a bit different compared to other cryptocurrencies, especially since last year.
The earliest recorded price for the MXC token was on Dec 11, 2018, at $0.008.
MXC token gradually dropped to the $0.002 price range and remained stable until July 2020.
After Jul 2020, the MXC token's price gradually increased and recorded a new All-Time High of $0.03. The token's price fell again and experienced fluctuations in the $0.01 range for the rest of 2020.
As the 2021 bull run started, the MXC token experienced price volatility and recorded a new All-Time High of $0.05. Its price kept moving around the $0.05 range multiple times in late 2021.
This part is what makes the MXC token's price performance unique. In early 2022, unlike other crypto coins and tokens that had their prices gradually fall, the MXC token recorded its current All-Time High, which is $0.13!
The MXC token's price remained in the $0.1 range during Q2 2022 when the market was experiencing extreme fear. Its price has been gradually decreasing since then and is currently in the $0.02 range.
Below is the chart of the MXC token's price performance since its launch day to help you better understand its price fluctuations.
MXC Token Financial Analysis
At the time of writing this article on Dec 1, 2022, the MXC token is being held in more than 26K wallets, and there have been more than 191K transactions with the MXC token in the past 24 hours.
The MXC token has a liquidity score of 43%, meaning it might not be as challenging to sell during a bear market, but it won't be an easy task either.
MXC Tokenomics
MXC Token has a total supply of 2,664,965,800. 100% of MXC's total supply is in circulation, and all tokens are committed to the PoP (Proof of Participation) consensus mechanism. MXC Token distribution model is as follows:
20% was allocated to early investors, and more than $5 million was invested.
30% was sold in a private sale, and more than $8 million was raised during the sale.
10% was sold during a private ICO, and more than $3 million was raised from the ICO.
20% was allocated to the team members.
20% was allocated to the MXC Foundation.
ROI
MXC has had an ROI of +300% since the day the token came into circulation. It means if you'd invested $100 in MXC token the day it was launched, you would've made $300.
2022 hasn't been the friendliest year for the crypto market. Currently, MXC token's annual ROI is -42%; all the while, other projects in categories similar to MXC have grown by 1,468% during the same period.
Market Cap
According to the MXC financial analysis, it currently has a market cap of $70 million. The MXC token ranks #299 in market cap rankings among all crypto projects.
ATH and ATL
MXC token's current price is $0.02872559, which is 248.8% higher than its All-Time Low of $0.00110900, which happened on Nov 25, 2019.
MXC token's price is currently 78.5% lower than its All-Time High of $0.133537, which was recorded on Jan 19, 2022.
MXC token Token Fundamental Analysis
We will now proceed and dig into MXC token's fundamentals and answer the following questions:
Who is behind MXC?
How popular is MXC?
Who are the MXC investors?
Team
MXC was founded in 2017 by Xin Hu, the current CEO of the project. Xin Hu has been in the tech field for ten years and has several award-winning products related to tech development, like the relayr project, which won the CES Innovation Award in 2015.
Other team members of MXC include:
CTO: Vlad Karl
COO: Aaron Wagener
Data Scientist & Blockchain Developer: Aslan Mehrabi
VP of Engineering: Sven Lund
Popularity
Since headlines and social media can significantly influence the price of cryptocurrencies, crypto projects' popularity in social media platforms directly impacts the project's success. Fortunately, MXC had a surge in popularity throughout the past year. Its popularity grew by 103% on Twitter, 21% on Reddit, and 8% on Telegram. You can check out the MXC token's popularity growth on social media during the past year below.
Investors
An outstanding investor of MXC is Huobi Capital, the investment arm of Huobi Global, focusing on blockchain and Web3 projects. Other investors of MXC include blockchain-focused investment firms, such as DWF Labs, Node Capital, and IOSG Ventures.
MXC Token Price Prediction 2023
Based on the current performance of MXC and how it has performed so far, crypto experts foresee that in 2023, the average price for each MXC token will be $0.099, with a maximum price of $0.12 and a minimum of $0.095.
MXC Token Price Prediction 2024
According to financial analyses and predictions, the average trading price of each MXC token can reach $0.14 throughout 2024. The price of MXC tokens can reach a maximum of $0.16.
MXC Token Price Prediction 2025
According to the MXC token price prediction 2025, the MXC tokens may reach an average trading price of $0.2. The token can hit a maximum price of $0.24 in 2025, provided that the market experiences a strong bull run and upward trend. Other sources have also claimed that the price of MXC tokens could fluctuate between the $0.11 and $0.14 ranges.
MXC Token Price Prediction 2030
The MXC token price prediction 2030 indicates that the token has the potential to be traded at $1.29 on average. Its price can fall to $1.24 at a minimum and rise to $1.51 at a maximum.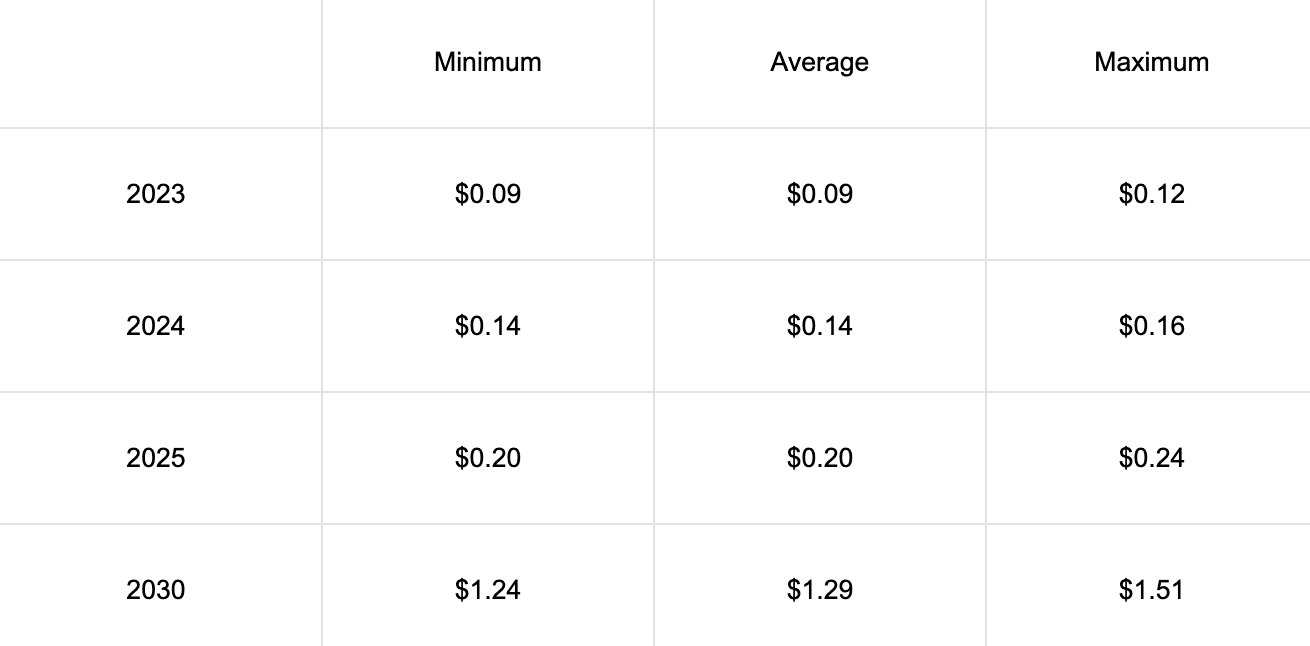 Should I Invest In MXC Token?
Considering the technologies backing up the project and how it can potentially change everyday life, MXC looks promising. Also, since its launch, the MXC token has had a pretty impressive performance in terms of ROI (+300%), popularity growth on social media platforms, and price action.
Since MXC brings utility and new, innovative solutions to the crypto world and even the technologies used in our daily lives, it would make a profitable investment, especially in the long run. However, the MXC token's price fluctuations in the short term might not be ideal for day trading.
FAQ
Below you will find answers to the frequently asked questions related to the MXC project and its token.
Does MXC Have A Future?
Yes. The price predictions of the MXC token suggest a gradual increase in the price of this token, and the MXC project offers a detailed roadmap on the features they plan to develop to bring more value to the project.
Who Owns MXC?
Xin Hu is the founder, CEO and DAO initiator of MXC.
Can You Mine MXC?
Yes, you can mine MXC along with other cryptos, such as BTC and DHX, with the MXC Foundation's M2 Pro multi-token miner device.
Where Is MXC Coin Listed?
MXC token is listed on well-known exchanges, including Coinbase, Kraken, Uniswap, Huobi, OKX, Crypto.com and Gate.io.
Is MXC Decentralised?
MXC provides the foundation of a decentralised and open-source wireless network that enables the utilisation of IoT technologies via the blockchain.
How do you rate this post?