MSOL & MNDE: Easily Stake SOL and Enjoy DeFi
tl;dr
Who doesn't want to stake SOL hoping to increase their funds and make some easy money? If you're one of us, then here's a project that enables you to stake Solana super easily. You may say, "How?". Well, by reading this article that tells you all about Marinade Finance, the platform releasing MSOL and MNDE, two tokens needed to stake SOL. Keep scrolling!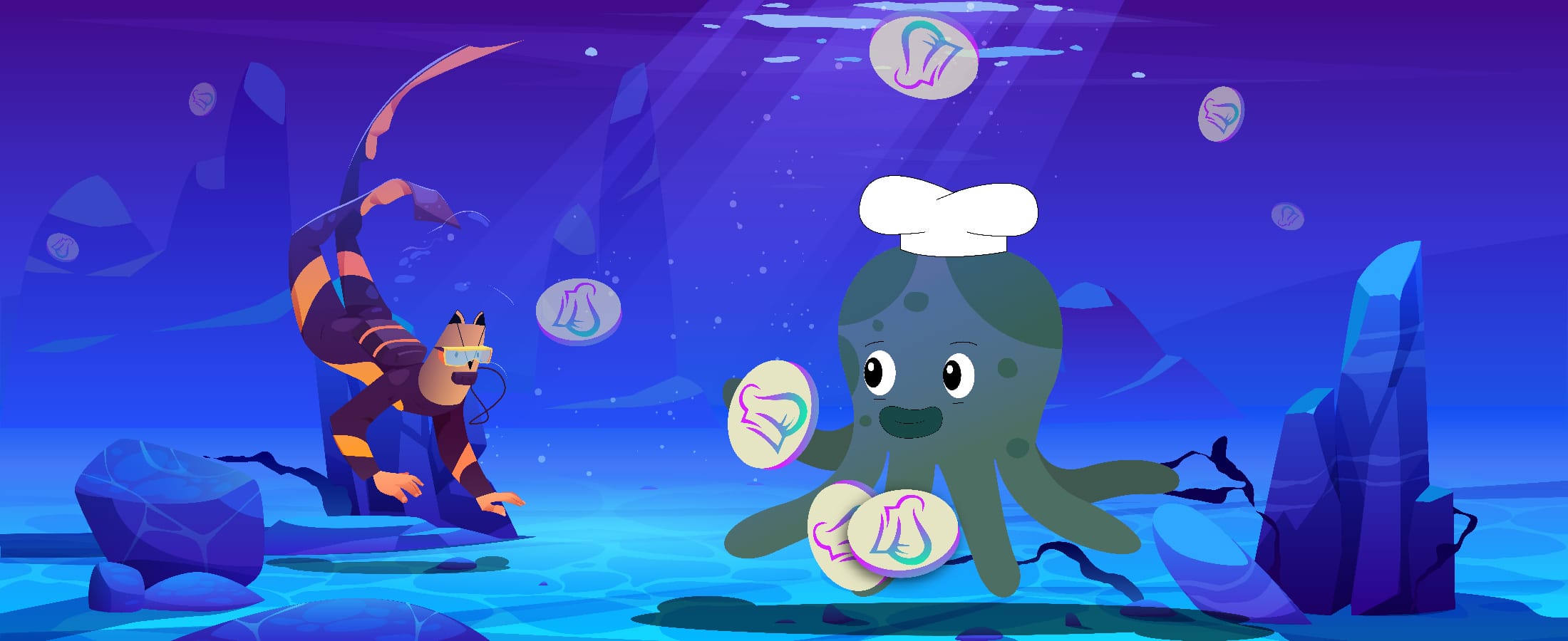 How do you rate this post?
Where Do MSOL and MNDE Come From?
MSOL and MNDE are products of Marinade Finance, which is built on Solana as a non-custodial protocol to stake liquidity. Marinade provides automated strategies for you to stake SOL tokens and receive marinated SOL or MSOL tokens, which are mainly used in DeFi. MSOL or mSOL is connected to SOL and follows its price changes, and the resulting rewards will be added to the staked SOL. Withdrawing SOL tokens can happen whenever you wish, just by unstaking and passing the unlock period (1-2 epochs) or paying some fee and withdrawing immediately. It is also possible to exchange mSOL with SOL directly on secondary markets.
Why Should I Stake SOL?
First things first! To learn all about staking, check out this article elaborating on it. It's a known fact that blockchain applies special consensus mechanisms to validate transactions while maintaining security and decentralisation. When a user stakes their SOL tokens to a validator, they participate in securing the network and decentralising Solana. The reward of staking or locking SOL tokens is earning SOL tokens! To maintain security and decentralisation on Solana, we require a lot of SOL to be staked onto productive validators. Since SOL is vastly used in DeFi, many of these tokens are not staked but used for various functions.
How Does Marinade Facilitate Staking SOL Using MSOL and MNDE?
Now that we know why we need to stake SOL, we can move on to the option that Marinade Finance offers. Marinade allows the users to stake SOL in exchange for mSOL. mSOL tokens can be used in DeFi instead of SOL, and the SOL tokens can be kept for staking rewards! Amazing, isn't it? Using MSOL and MNDE, you can enjoy both DeFi functionalities and staking rewards. The SOL tokens staked via Marinade will be distributed among +450 validators selected and rebalanced by Marinade in a transparent, permissionless way.
MSOL & MNDE Creator's Unique Features
If you stake SOL tokens using Marinade, you
get complete control over the tokens and your associated accounts,
can unlock the stake, receive a tokenised version of your asset, and use it in DeFi,
can use open-sourced, permissionless delegation strategy with over 450 validators,
can stake and have delayed unstake for free,
use a 2% fee on your rewards, and
use the governance rights.
What Does Marinade Provide for MSOL & MNDE Users?
The users of Marinade Finance can use MSOL and MNDE to
stake SOL or be one of the liquidity providers to the SOL-mSOL pool;
receive additional DeFi yields using tokenised stake positions;
participate in Marinade DAO and take part in governance activities.
MSOL & MNDE in Marinade DAO
The community builds and governs Marinade Finance by having MNDE tokens or being active in the community, making users a member of Marinade DAO. To learn what DAO is, check out this detailed article.
Also, if you're interested in DAOs, take a look at these projects.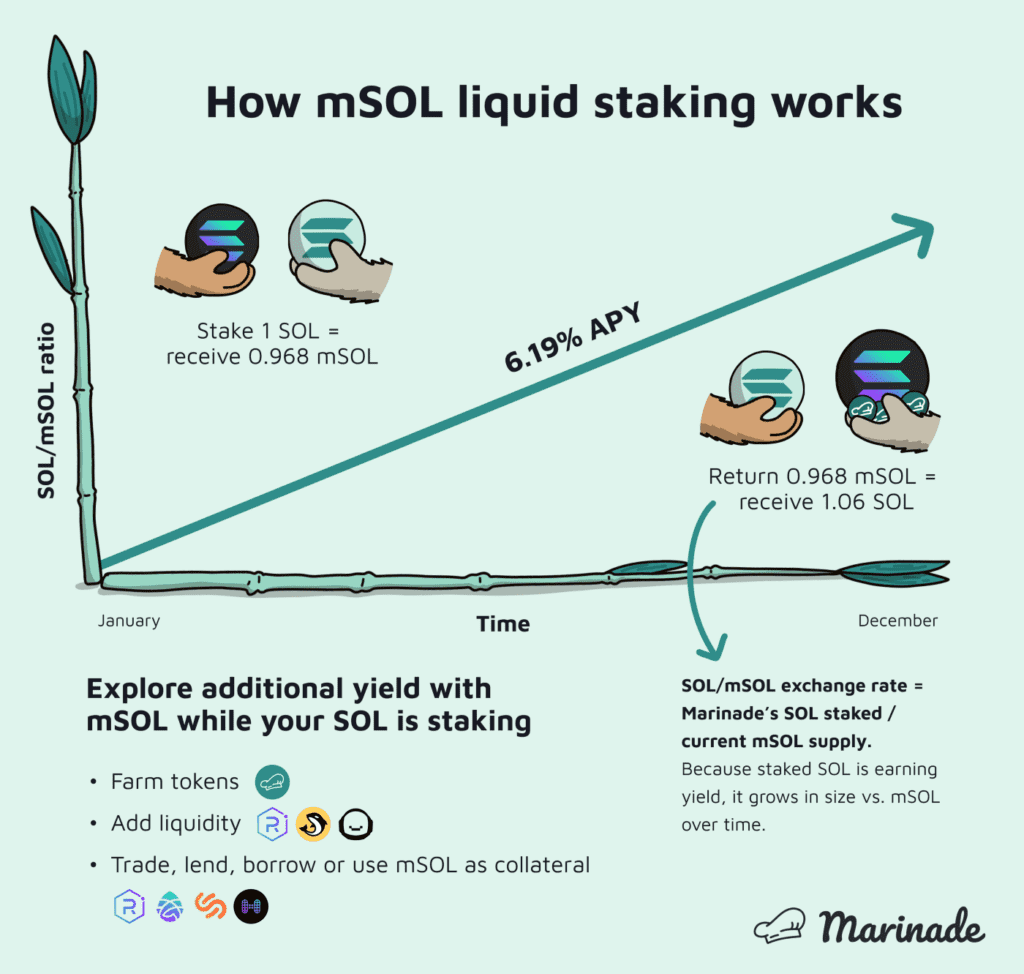 What Is MSOL?
Marinade protocol consists of two primary tokens, MSOL and MNDE. MSOL (mSOL) tokens are designed to represent the SOL tokens that the users stake. Simply put, SOL can be used for staking and DeFi, but when you stake the SOL tokens you have, there is no SOL left to be used in DeFi. The Marinade platform solves this problem by giving you mSOL tokens in exchange for your SOL. It means that you can keep your SOL tokens and get mSOL tokens to use them in DeFi.
MSOL Features
The best thing about mSOL is that you don't need to claim your rewards with it since it is a frictionless token, and in each epoch, its value is recalculated. The reward you get for staking is earned for the SOL staked in Marinade. The price of mSOL is calculated using the following formula:
mSOL price = total staked/ tokens minted
Since the protocol cannot create new mSOL tokens without exchanging SOL for them, just the total staked amount increases.
Is mSOL Safe?
To ensure the security of mSOL tokens, the team has put the Marinade platform open to a series of audits. It is also striving to provide open-source codes. To know more about mSOL security, check this out.
What Are MSOL Use-Cases?
Borrowing/ Lending
Liquidity Provision
Single-asset Staking
Trading on DEXs
MNDE Token
Launched on Oct 7, 2021, the MNDE token enables the users to participate in the Marinade protocol and treasury governance. MNDE token details are as follows:
MNDE Tokenomics
The allocation of MNDE tokens is as follows:
35% for DAO Distribution
35% for DAO Treasury
30% for the Team
MNDE Token Utilities
The main utility of the Marinade token, MNDE, is being used in DAO governance. A big part of MNDE tokens is reserved for the DAO and treasury reserve to create effective community governance among the users. Prior to making the on-chain governance voting platform ready, the main contributors of the protocol will make critical decisions based on the Marinade vision and input from its community Discord. In short, the MNDE token is developed to
Form the DAO
Incentivise liquidity
Capitalise the treasury
MNDE Governance and NFTs
Another interesting point about Marinade is that it applies governance through NFTs. To obtain an NFT and participate in network governance, the users need to lock MNDE tokens once. To Unlock their MNDE tokens, the users should wait 30 days.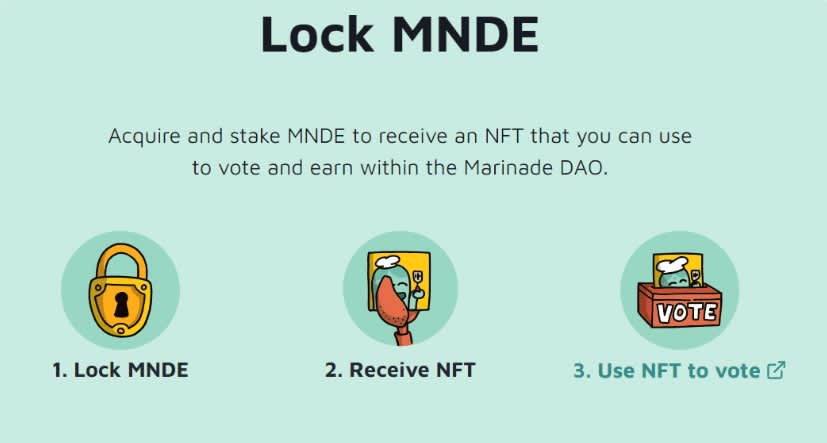 MSOL & MNDE Financial Analyses
In the following section, we'll elaborate on the data provided at Cryptologi.st regarding MSOL and MNDE.
MSOL Financial Analysis
Marinade staked SOL (MSOL) currently holds the market cap rank of #156 among all crypto projects. Today, on May 31, 2022, its price is $48.63, with a 24-hour trading volume of $12,845,165. In the previous 24 hours, MSOL's price has been up 0.5%. Marinade staked SOL has a circulating supply of 6 Million MSOL coins and a total supply of 5.95 Million. Its current price is 98.6% lower than its all-time high of $3,541.84 on Aug 23, 2021, but 19% higher than its all-time low of $40.89 on May 12, 2022. The current liquidity score of MSOL is 50%, which means it's like average projects in the market and not so hard to sell MSOL tokens in bear markets. Currently, Gate.io is one of the active exchanges to trade MSOL.
MSOL Return On Investment
Return on Investment is one of the significant factors to consider when investing in a crypto project since higher ROI equals more profit. The ROI of MSOL exceeded similar projects by -22%. However, it underperformed the top 1500 projects, which showed 2,571% growth in ROI.
MNDE Financial Analysis
Marinade Token, MNDE, currently holds the market cap rank of #942 among all crypto projects. Today on the last day of May 2022, the Marinade price is $0.100400 with a 24-hour trading volume of $16,264.43. In the recent 24 hours, MNDE's price has been up 1.1%. The circulating supply of Marinade is 99 Million MNDE coins, and its total supply is 1 Billion. Its price is 96% lower than its all-time high of $2.54 on Oct 8, 2021, but it is 98.8% higher than its all-time low of $0.050504 on Mar 12, 2022. MNDE's liquidity score is 13%, making it a risky project and a hard sell in bearish markets. Currently, Orca is one of the active exchanges to trade MSOL.
MNDE Return On Investment
Financial charts at Cryptologi.st indicate that the Return on Investment of MNDE tokens has been positive in the recent year compared to similar projects with -22%. However, Marinade underperformed in the crypto market, which had 2,571% growth over the past year.
Disclaimer: Don't take this article as financial advice. You need to DYOR (Do Your Own Research) before investment.
MSOL and MNDE Price Prediction
Nobody can foresee the future, especially in a volatile market like crypto. But sometimes, experts analyse the previous and current performance and price and predict the future price of given crypto projects. It's no secret that these are merely predictions and not facts. You need to do your own research and consider your priority and preferences before investing. The following sections provide the price prediction for MSOL and MNDE in the coming years.
MSOL and MNDE Price Prediction for 2022
In 2022 the average price of each MSOL token is predicted to be $66.42. Its minimum price can be $64.30, and it may hit a maximum of $75.09.
Experts predict that the average price of MNDE can reach $0.18 in 2022. It is also possible that it will fall to a minimum of $0.17 and go up to a maximum price of $0.21.
MSOL and MNDE Price Prediction for 2023
The average price of MSOL is predicted to reach $94.64 throughout 2023. Its minimum and maximum price can reach $91.32 and $109.36, respectively.
The average trading price of each Marinade token, MNDE, is expected to revolve around $0.26 throughout 2023. It can hit a minimum of $0.25 and a maximum of $0.30.
MSOL and MNDE Price Prediction for 2024
The average trading price of each MSOL token is expected to reach $138.85. Pessimistically, its price can hit a minimum of $135.07, and optimistically, it can reach a maximum of $156.90.
In 2024, the average price to trade MNDE is predicted to be $0.37. At the minimum level, it can be $0.36, and at the maximum, it can hit $0.43.
MSOL and MNDE Price Prediction for 2025
The average price to trade one MSOL is expected to be $211.74 throughout 2025. Its minimum and maximum price are expected to reach $206.19 and $239.48, respectively.
The average price of one MNDE is expected to reach $0.53 throughout 2025. Crypto experts predict that its minimum and maximum price can reach $0.51 and $0.63, respectively.
Regarding popularity, MSOL has progressed on Twitter with a 21% growth in the recent six months. However, Cryptologi.st popularity charts show no progress for MSOL on Telegram and Reddit.
Should I Invest In MSOL & MNDE of Marinade Protocol?
On the positive side, Marinade offers a good solution to a common problem and has a detailed whitepaper, showing the team's focus and dedication to the project. On the negative side, the ROI has not been so promising recently, but it is not the end! Remember that the two tokens (MSOL and MNDE) have different market cap ranks, and things may change drastically in the future. The price predictions paint a better future for this project, and we should consider many factors before saying YES to investing in any project. Cryptologi.st has provided everything you need to make confident crypto decisions. You can have access to a free screener tool to compare various projects, put them on your watchlist to control their changes, and read the related news and articles to monitor the crypto market closely. Stay in touch with us to stay updated!
How do you rate this post?