Metis Price Prediction 2023, 2025 and 2030: Is METIS Coin a Good Investment?
tl;dr
Metis has previously surprised investors with a 500% growth in less than a week. It wasn't just a pump-and-dump scheme - the pump lasted longer than many had estimated. Moreover, the Metis price prediction tells us that a 2000% price pump is on the way! Read through this article to find out what Metis offers and if it should have a place in your portfolio.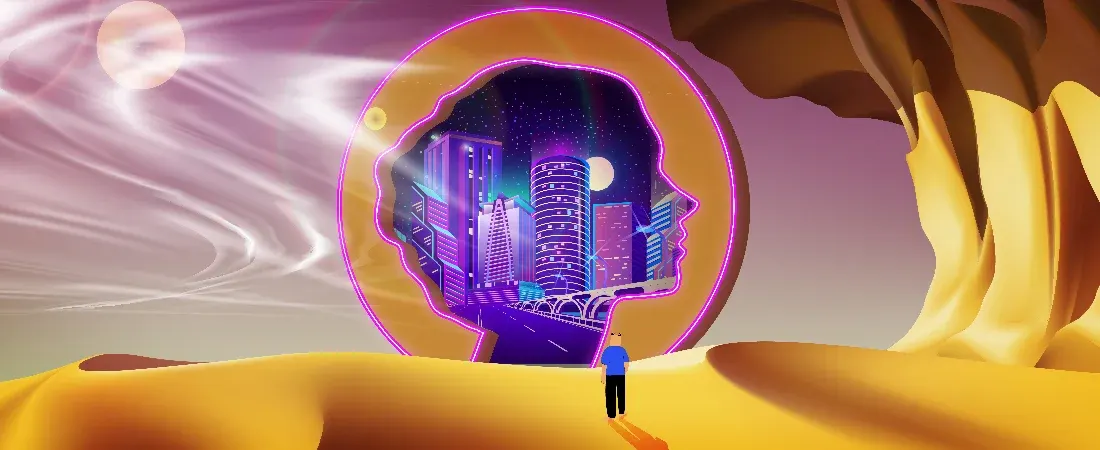 How do you rate this post?
What Is MetisDAO?
We first need to know what this MetisDAO offers before digging into its native currency, Metis. MetisDAO is a layer-2 solution for Ethereum, a hard fork of Optimism that utilises Optimistic rollups.
Rollups are communicators between layer-1 (Ethereum) and layer-2 (Metis). Rollups move transaction computations off-chain by transferring them from layer-1 to layer-2.
Once the transaction is executed, layer-2 would "roll up" the transaction data back into a block. This block is then sent to layer-1 as a whole for verification. We've learned rollups, and now let's learn what Optimistic rollups are.
Optimistic Rollups
There are two participants in the Optimistic rollup model: the L1 validator and the L2 aggregator. Once L2 executes the transaction, the transaction data gets "rolled up" into a block.
The L2 aggregator will send the block data back to L1, and by default, L1 assumes the transaction data to be valid, which is precisely why this mechanism is called optimistic.
Optimistic rollups allow transactions to be distributed evenly, enabling Mentis to be scalable and low-cost compared to Ethereum's crowded and expensive network.
Moreover, since Ethereum is Mentis' L1, this project has a great level of security and decentralisation, which is equal to Ethereum itself. It is also safer than other L1 alternatives, such as Solana and Fantom.
Let's now head toward learning the features that make Metis stand out among other L2 solutions.
Read more: Alchemy Pay Price Prediction 2023, 2025, and 2030: Is It A Good Investment?
MetisDAO Features
According to MetisDAO, Decentralised Autonomous Organisations (DAOs) will revolutionise business management and the daily operations of a business.
However, Ethereum's current framework can't handle this, especially because of the high gas and low Transaction Per Second (TPS) speed.
MetidDAO's layer-2 Ethereum solution aims to solve Ethereum's six main challenges, i.e.,
Simplicity
Speed
Storage
Scalability
Security
Saving
According to MetisDAO whitepaper,
"Metis creates an ecosystem to build a truly decentralised economy based on Layer 2. We believe this is the future of organisations, communities and the economy."
The native token of MetisDAO is Metis (METIS), and one of its core use cases is to incentivise decentralised autonomous companies (DACs) to use Metis' solutions. Let's learn what place this coin has in the Metis ecosystem.
What Is The Metis Coin?
The Metis coin is an ERC-20 standard token on Ethereum, which is used for governance, paying transaction fees, and staking on DACs that confirm transactions and send them back to Ethereum.
To learn if Metis coin is a profitable investment, we need to look at its price performance since its launch.
Read more: Read more: Cudos Price Prediction 2023, 2025 and 2030? Is CUDOS A Good Investment?
Price History
The earliest trading price of Metis was recorded on May 18, 2021, at $8.
Its price fluctuated in the $4 - $8 zone until August 2021.
On Aug 23, 2021, Metis' price began a progressive price pump.
On Nov 26, 2021, Metis reached $115 before falling to $55 in May 2022.
After the dump, Metis started to skyrocket and reached its All-Time High on Jan 16, 2022, at $323.
Metis' price gradually fell, and as of today, on Jan 29, 2023, each Metis coin is traded at $31.
The following price chart on Metis showcases the Metis price performance since this token was launched and helps you get a visual idea of its general price performance.
We will go further and analyse the financial aspects of Metis to make a better Metis coin price prediction in the following sections.
Metis Financial Analysis
As of writing, on Jan 29, 2023, Metis has a 24-hour trading volume of $5 million. The Metis coin is being held in 27K wallets, and in the same time span, there have been 732K transactions made with this coin.
Metis has a liquidity score of 29%, meaning it is currently illiquid, and selling this coin during a bear market is challenging.
The other key financial factors of Metis that we need to take a look at are Tokenomics, ROI, Market Cap, ATH, and ATL.
Read more: XEN Crypto Price Prediction 2025 and 2030: Is XEN a Good Investment?
Metis Tokenomics
Metis has a maximum supply of 10 million, and currently, 5,410,000 METIS coins are in circulation. The Initial token distribution of the Metis coin is as the following pie chart shows.
MetisLab Foundation - 7.6%
Gate io IEO & Paid Network IDO - 0.6%
Community Development - 17.2%
Liquidity Reserve - 11.5%
Strategic Investors - 2.9%
Private Investors - 13.4%
ROI
The Return On Investment (ROI) is a financial factor that measures the profit you've made on an investment over a certain period. The Metis ROI over different timespans is as follows.
The Recent Year: -76.36%
The Recent Month: 91.24%
The Recent Week: 39.62%
The Recent Day: -0.47%
To better understand these numbers, let's take a look at an example: If you invested $100 in Metis last year, you would've had only $23.64 left; that's why its annual ROI is negative.
Market Cap
Metis financial analysis signifies that this coin has a live market cap of $135 million and a market cap rank of #225 at the time of writing on Jan 29, 2023.
ATH And ATL
Metis's current price is $31.87, which is 90.2% lower than its All-Time High (ATH) of $323.54, seen on Jan 16, 2022.
Metis's current price is 822% higher than its All-Time Low (ATL) of $3.45, recorded on May 23, 2021.
In addition to the financial factors of Metis, fundamental aspects also significantly impact the Metis coin's future performance. These fundamental factors are team members, investors, and popularity, which we'll go through below.
Read more: Reef Price Prediction 2023, 2025 and 2030: Is Reef A Good Investment?
Metis Fundamental Analysis
For making the Metis price prediction, we also need to check the non-economic aspects of this coin. In the following subsections, we will analyse Metis' fundamentals, i.e., its team members, investors, and popularity on different social media platforms.
Team
Metis was co-founded by Elena Sinelnikova, Kevin Liu, and Yuan Su.
Sinelnikova is the winner of Canada's Top Women in Blockchain award.
Liu is an active researcher of the Token Economy, DAO, and DeFi, who has been active in the finance industry since 2003.
Su has previously been in the tech giant and corporation IBM and the IT scene for more than 20 years.
Popularity
Popularity plays a major role in the overall success of a crypto project by influencing the performance of a crypto's price and helping the project remain competitive.
During the past six months, Metis's popularity has grown 8% on Twitter. However, the number of Metis fans on Telegram has dropped by 20% during the same time, which could suggest that older users are losing interest in Metis while new users are entering it.
The popularity chart below helps you better understand how Metis' popularity growth has been in the past six months.
Read more: JUST Coin price prediction. Is JUST Coin a Good Investment?
Investors
One of the biggest investors of Metis is Waterdrips Capital, which is venture capital with other successful blockchain projects, such as Polkadot, Cosmos, Filecoin, The Graph, and Saito, in its portfolio.
Other investors of Metis are as follows.
Cryptomeria Capital
AC Capital
Chain Capital
Kernel Capital
Reviewing Metis' fundamentals and financial analyses, we can now take a look at the Metis price prediction.
Metis Price Prediction 2023 - 2030 At A Glance
We've summarised Metis' price prediction from 2023 to 2030 in the table below in a digestible way. Keep reading to find out the growth rates of the Metis coins in the coming years in the sections below.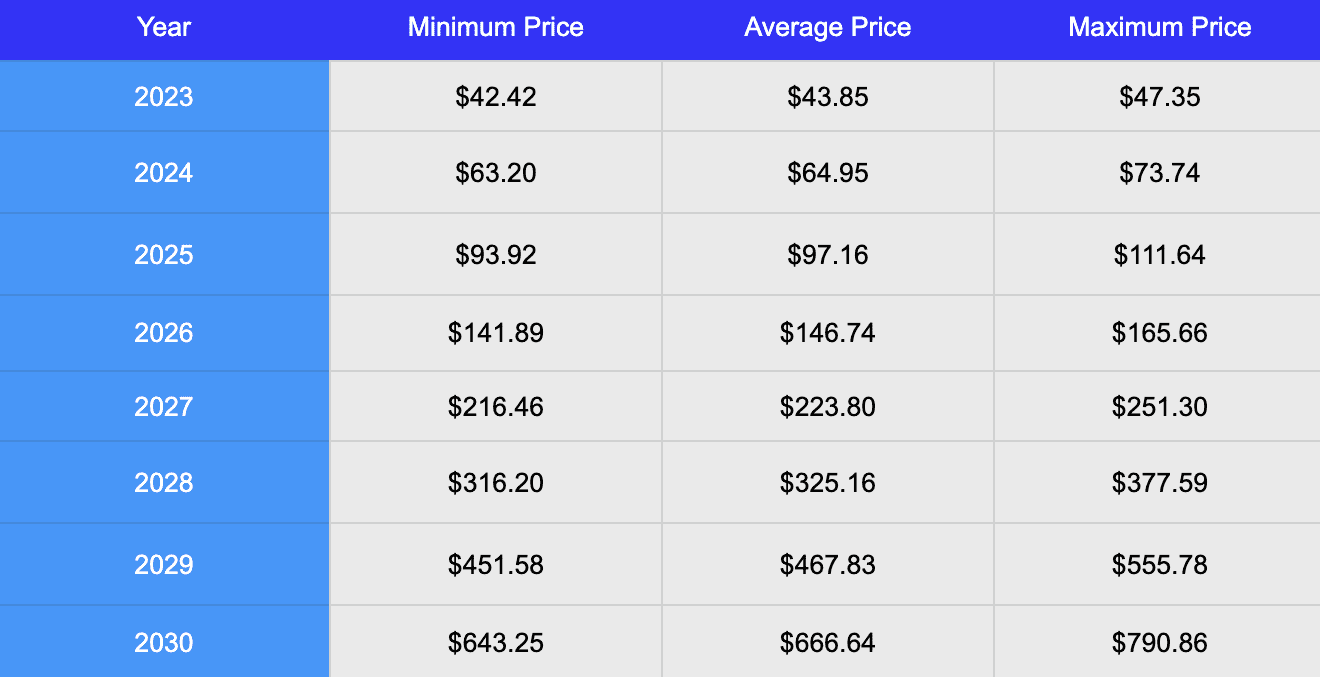 Metis Price Prediction 2023
Metis has the potential to grow by 37% in 2023 and cost $43.85 on average. The minimum price growth of Metis can be 33%, and its maximum can be 48% throughout 2023.
Metis Price Prediction 2024
Price prediction resources suggest that Metis coin can have an average price of $64.95, which means a 103% growth compared to its current price. The minimum and maximum growth rates of Metis are 98% and 131%, respectively.
Metis Price Prediction 2025
The Metis price prediction 2025 suggests that the Metis coin can cost $97.16 on average, which showcases a 204% growth rate. The minimum and maximum growth rates of the Metis coin are estimated to be 194% and 250% in 2025.
Metis Price Prediction 2030
Metis price prediction 2030 estimates that the average price of Metis coin can be $666.64, marking a significant growth rate of 1991%. Metis coin's price can grow by 1918% at a minimum and 2381% at a maximum.
Is MetisDAO A Good Investment?
Although MetisDAO is not considered a low-risk investment, the project shows significant growth potential. It has
Known team members,
A well-designed tokenomics system,
Multiple use cases,
Good price performance so far, and
An active community.
If you're willing to take some risk to make huge profits, you can add Metis to your crypto portfolio.
Cryptologist not only helps you find amazing crypto projects like Metis but also offers tools, such as a crypto screener, you can use to enhance your investment experience.
Cryptologist gathers everything you need in your crypto investment journey in one place and aims to help you make confident crypto decisions.
FAQ
Let's answer some frequently asked questions about Metis coin and MetisDAO.
Will Metis Go Up?
Yes, although the market still carries a bearish sentiment, Metis is predicted to go up and reach $43 on average in 2023.
Is Metis A Good Coin?
Yes, Metis is considered a risky yet profitable investment. It has an acceptable price performance, an active community, multiple use cases, and a smart tokenomics system.
What Problem Is Metis Solving?
Metis' goal is to solve the scalability issues of Ethereum via its Layer-2 network solution.
When Did Metis Crypto Launch?
Metis was founded in 2018, and its mainnet was launched on November 2022.
How do you rate this post?