Luffy Coin: The World's First Anime Token
#gaming
#investment
#metaverse
#luffy
tl;dr
We all know that Blockchain Technology has diversified tremendously into various fields like finance, sports, gaming, and so on. Are you one of the crypto nerds looking for more? Well, it's your lucky day as we want to narrate a different story for those who love anime! The article will introduce the Luffy coin, the world's first anime token. Let's delve into the Luffy coin ecosystem and see if it's a good investment.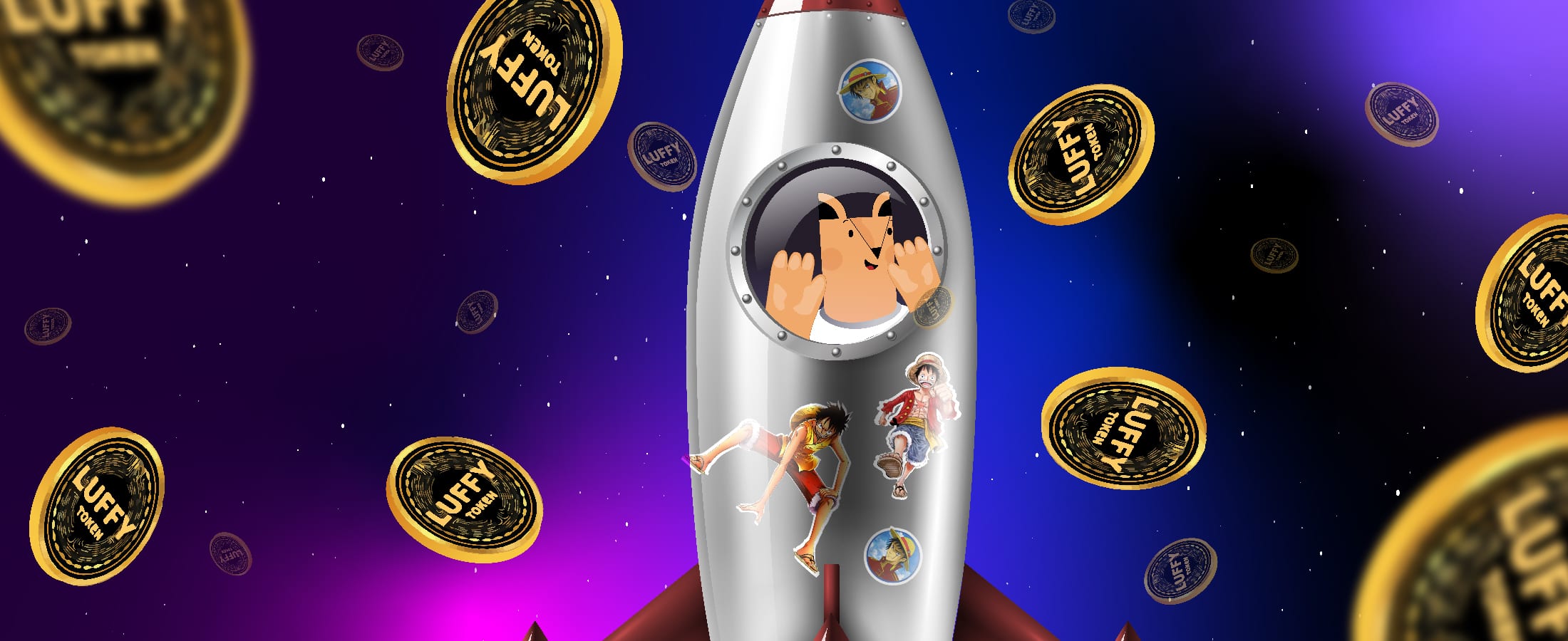 How do you rate this post?
What Is Luffy Coin?
Luffy coin came to play as the world's first anime token in 2021 with a mission to revolutionise the crypto-verse, create an ecosystem combined with its own blockchain, and become the leader of anime and meme tokens. It's a German community token based on the Ethereum blockchain. Luffy coin is a deflationary token that ranks #603 with a circulating supply of 68 quadrillions LUFFY coins. (as the time of writing this post on Jun 09, 2022)
How Does Luffy Coin Ecosystem Work?
Luffy coin ecosystem provided all the needs of crypto investors, gamers, and anime fans by creating multiple utilities, including an NFT Marketplace, Land Of KAi Game, Crypto Academy, Anime Mask, and Anime Dext, Anime Swap, Metaverse Studio and Anime blockchain. Let's learn about each of them below.
Luffy Coin NFT Marketplace
Luffy NFT Marketplace allows all the Mangakas and fans to use the Ethereum blockchain to buy and sell anime/ manga NFTs.
Luffy Coin Land Of Kai
Land Of Kai is a Play-to-Earn game in the Luffy ecosystem that enables users to earn tokens while challenging real opponents.
Luffy Coin Crypto Academy
Crypto Academy is a learning tool that provides educational content for beginners, intermediate, and advanced investors.
Luffy Coin Anime Mask
Anime Mask is an advanced DeFi multi-chain platform to buy crypto with your credit card and trade and stake your tokens.
Luffy Coin Anime Swap
Anime Swap, as its name suggests, is an Advanced DeFi multi-chain platform that allows users to create and manage their wallets on the Ethereum blockchain and check token details and history directly in the app.
Luffy Coin Anime Dext
With Anime Dext, all the users can view live charts and find detailed information about their favourite tokens within seconds.
Luffy Coin Multiverse Studio
By using Multiverse Studio, you can start your adventure in our Virtual Reality Multiverse Studio!
Luffy Coin Anime Blockchain
Anime Blockchain is a protocol for building and connecting all the meme and anime tokens in the Luffy coin ecosystem.
Luffy Coin Financial Analysis
Luffy coin is a deflationary token with an initial burn of %30 of total supply and ranking as the #603 largest cryptocurrency by market cap among all cryptocurrency projects. When writing this post, on Jun 09, 2022, each Luffy coin is traded for $0.00000000039 with a 24-hour trading volume of $8,410,953, a circulating supply of 68 Quadrillion LUFFY coins, and a total supply of 100 Quadrillion. According to recent data at Cryptologi.st, Luffy coin wasn't a lucrative token during the last month, and if you had invested $100 in the Luffy coin token, you would have lost %75 of your money! Luffy coin's current price is 88% less than its highest price of $0.0000000034 on Nov 14, 2021, but is being traded 4134% higher than its lowest price of $0.000000000009 on Apr 18, 2022.
Luffy Coin Team Members
Luffy was born on Aug 4, 2021, hoping to bring anime lovers into the digital asset space by Terry, who is responsible for decision making and leading. The CMO of this project is Peter Thai, who promotes the project through marketing strategies. The team behind Luffy coin consists of blockchain experts that try to provide a transparent and secured ecosystem. If you are interested in learning more about them, you can visit their official website.
Luffy Coin Roadmap
Here is the way ahead of Luffy coin. Currently, they are on phase 2 of their roadmap, which you can see in the following image.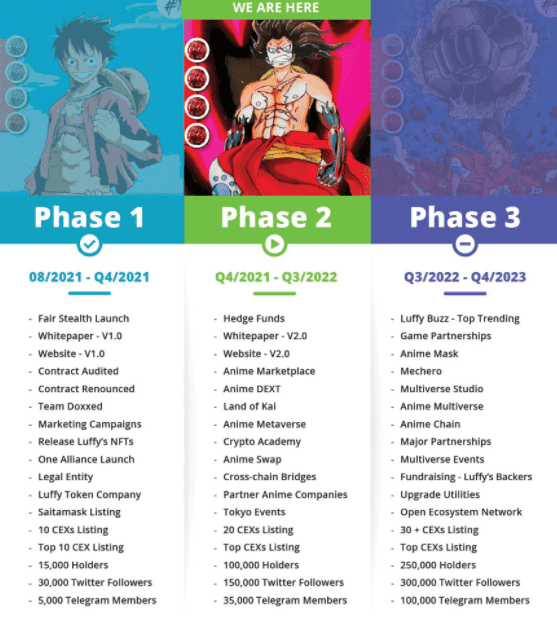 Should I Invest In Luffy Coin?
Luffy coin has built a solid foundation based on transparency with a creative burning mechanism, advanced DeFi tools, P2E gaming, and Metaverse to create a safe and exciting space for investors and fans alike. Regarding popularity, Luffy coin has had a %75 growth on Twitter and a %45 growth on Reddit in the recent six months, which are great numbers. However, as far as finance is concerned, the data at Cryptologi.st shows that you would have lost %75 of your funds if you had invested in Luffy in the last month, and its liquidity score is 28%, which may make Luffy coin a risky investment.
Putting it together, you now have a better insight into this project. Remember that we are not financial advisors, and you should do your own research. Follow Cryptologi.st for more crypto project analyses on the top 1500 coins and recent news, and use our free screener tool and watchlist to make more confident investment decisions.
How do you rate this post?