Klima DAO: An Algorithmic Carbon-Backed Currency
tl;dr
The effects of global warming caused by emitting harmful gasses like carbon dioxide have no bounds. You may think you're reading the wrong article and consider how the environment is related to crypto! But the crypto market is one of the most effective tools we have at our disposal to decarbonise our current operations. Klima DAO is a project that will address the critical issues plaguing the carbon markets, like opacity, illiquidity, and inefficiency. Let's learn how this project will help the earth breathe!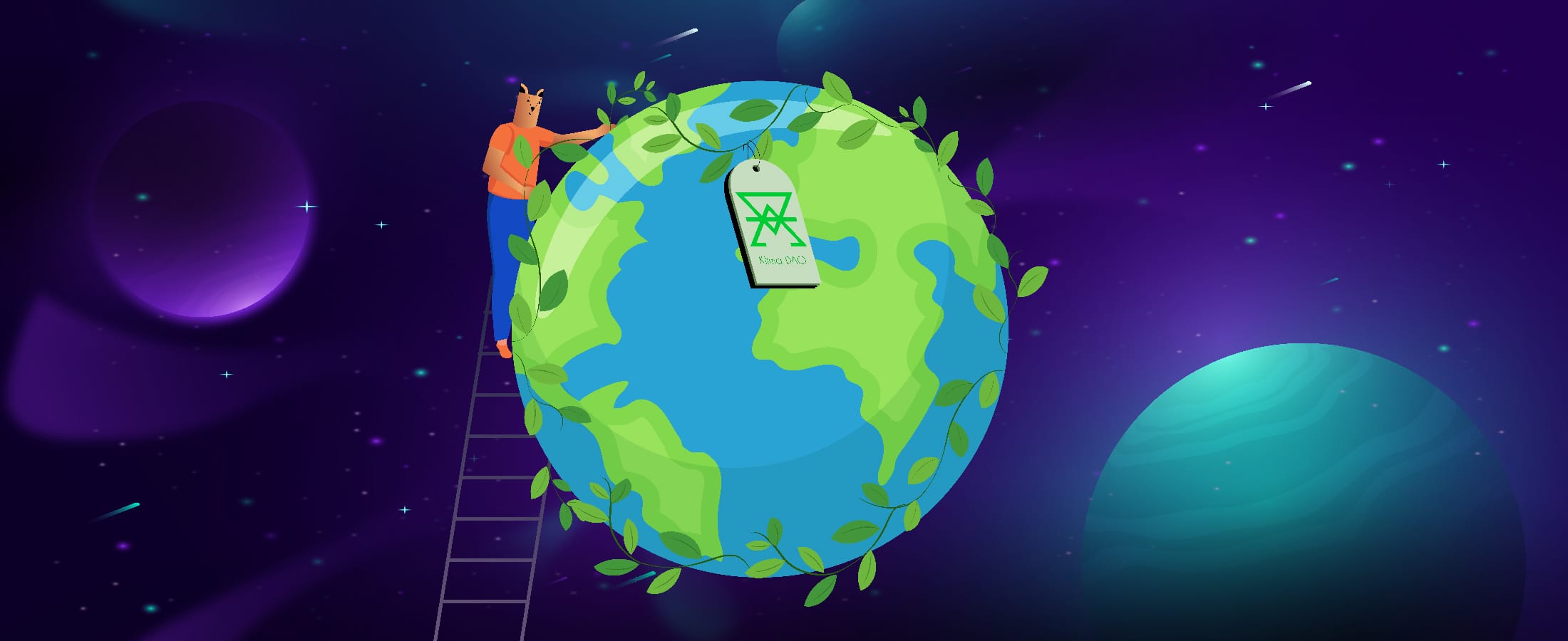 How do you rate this post?
Klima DAO In A Nutshell
As the name suggests, Klima DAO is a DAO, a Decentralized Autonomous Organisation. This ecosystem intends to raise the cost of carbon emissions to disrupt the market for emitting carbon. Klima DAO seeks to incentivise firms to cut emissions by accelerating the price increase of carbon assets. Klima DAO incentivises the new supply of Base Carbon Tonnes (BCT), a tokenised version of carbon credits, on the blockchain by using the OHM-pioneered bonding mechanism to internalise carbon credits. Furthermore, by purchasing BCT for KLIMA (Klima DAO's native token), the project wants to store as many as possible in its treasury.
What Makes Klima DAO Unique?
Klima DAO applies an Olympus-popularized DeFi concept to a real-world problem, resulting in a new layer of blockchain protocol applications. The protocol can reduce the supply of carbon offsets on traditional carbon markets by boosting the supply of KLIMA, backed by a Base Carbon Tonne. As a result, real-world markets are directly influenced. The protocol emphasises that establishing a stable carbon price is not the protocol's priority.
Stable Price with Klima DAO
Klima DAO is well aware of the volatility-prone mechanism to eliminate carbon credits from the market, which is a necessary tradeoff for the stability it seeks. It emphasises that the protocol's goal is long-term success, estimating that a stable price will be found only by the middle of the century.
More Transparency with Klima DAO
With the addition of Klima DAO, carbon markets are expected to become more transparent and liquid. Klima DAO has already impacted carbon credit markets, as reported by media outlets. Klima DAO had already purchased 2% of the whole voluntary carbon market in 2021, according to Carbon Pulse. The Australian Financial Review reported that Klima DAO was already raising the carbon offset floor price.
How Does Klima DAO Work?
It is possible for market participants to bond their BCT bought on the market to KLIMA for a discount. The discounted KLIMA will be sent to their accounts, which can be sold for a profit or staked with the protocol to expand the participants' share of the KLIMA supply. This is a similar mechanism firstly used by Olympus DAO to acquire the liquidity of the protocol. In Klima DAO's case, the price of KLIMA is backed by the BCT in its treasury, which, in turn, is backed by the price of real-world carbon emissions certificates.
What Are The Main Goals of Klima DAO?
Klima DAO aims to follow three main goals to fill the gap in the market and offer a solution to the carbon emission problem. These three goals include driving climate action, becoming a carbon-based reserve currency, and facilitating the climate markets.
Who Can Use Klima DAO?
Klima DAO is developed on a transparent and open-source infrastructure, allowing multiple stakeholders to participate in the ecosystem. Web 3.0 developers, carbon projects, and climate experts can contribute to building this new economy and receive rewards for their efforts. Klima DAO plays its role as "the central bank" of this new economy, governing the monetary policy of KLIMA and aiming to build a whole economy around KLIMA to boost the growth of the crypto-carbon economy.
Klima DAO Solves Critical Problems!
Klima DAO will solve some of the critical problems of the carbon markets as the protocol grows. The issues of illiquidity, opacity, and inefficiency.
Illiquidity: Carbon Credits come in many different forms, with buyers and sellers using carbon brokers and intermediaries to divide the market's total liquidity.
Opacity: Trades often occur behind closed doors, allowing buyers to underbuy the market.
Inefficiency: Buying and retiring carbon credits is fraught with obstacles; however, by employing the polygon ecosystem, this friction is removed for all users.
How Is the Klima DAO Network Secured?
Klima DAO was built on Polygon, a layer 2 scaling solution of Ethereum. Developers can create various scaling solutions, like optimistic rollup chains, ZK rollup chains, or side chains on Polygon. A customised version of the Plasma framework developed on Proof-of-Stake checkpoints that run through the Ethereum mainnet is used in Polygon.
Who Runs Klima DAO?
Klima DAO is currently trying to become fully decentralised. At the moment, all decisions are formed by community members on the forum and then passed to KLIMA holders for voting through Snapshot. After making and announcing the decisions by KLIMA holders, changes are implemented by the Klima Core Team.
Klima DAO Token (KLIMA)
Web 3.0 builders can participate in the carbon market on Klima DAO using the KLIMA token, the native cryptocurrency of the platform. KLIMA is an ERC-20 token backed by at least one tonne of tokenised verified carbon offsets locked in the Klima DAO treasury. By holding KLIMA, users can participate in the governance of Klima DAO and vote for the platform's policies.
Klima DAO Token (KLIMA) Financial Analysis
KLIMA's market cap rank saw a negative trend over the last six months, reaching from #137 on Nov 5, 2021, to #505 on May 2, 2022, with approximately $60 million. Moreover, its liquidity score is below the market's average score, making it a challenging sale if the market is falling.
Klima DAO Popularity
While financially analysing a project, popularity is a crucial factor to consider. A good marketing team that builds strong brand awareness directly impacts the success of a project. The data provided at Cryptologi.st shows that KLIMA's popularity on Twitter has increased by 86% over the last six months, surpassing 70k followers.
Disclaimer: Don't take this article as financial advice. You need to DYOR (Do Your Own Research) before investment.
KLIMA Price Prediction
Knowing financial experts' expectations about the future of a crypto project would be a huge help in deciding on an investment. In the following, we will take a look at the report Priceprediction.net published about KLIMA. Before proceeding, we emphasise that you need to do your own research, and these are only predictions, not financial advice.
KLIMA Price Prediction 2022
Experts forecasted the price of KLIMA to reach a minimum of $19.35 in 2022 and a maximum of $23.06. They believe that the average price of KLIMA would be $20.11.
KLIMA Price Prediction 2023
It is predicted that KLIMA's price will be at least $28.79 in 2023. From an opportunistic point of view, it is expected that its price can touch a maximum of $34.55. Experts claim that KLIMA will be traded with an average price of $29.79.
KLIMA Price Prediction 2025
It is expected that the minimum price of KLIMA will be $59.97. However, there is a good chance that the price will go up and see a maximum of $72.90, while the average trading price is expected to be $61.68 throughout 2025.
KLIMA Price Prediction 2030
Experts forecasted that KLIMA's minimum price will be $375.04 in 2030, with the maximum expected trading price being $441.89. KLIMA is predicted to be traded for the average price of $388 over 2030.
To Wrap It Up
We tried to give you an overview of Klima DAO. After reading this article, you now have a better understanding of the project. Deciding to invest in a crypto project is a big one, and you should do your research and keep up with the latest developments. To stay up with the latest trends, check out Cryptologi.st, which offers reports, coin reviews, educational content, and more!
How do you rate this post?